Love Shakespeare and great scenery? Utah Shakespeare fest is just the ticket
Reporting from CEDAR CITY, Utah —
North America's major summer theater festivals invariably conjure up cozy descriptives: "timeless" (all five have been around for decades), "bucolic" (a small town environment amid pleasant nature) and "Shakespeare" (celebrating his 400th birthday this year, he remains summertime's most produced playwright).
"Expansion" is not part of the lexicon. But it's why this year the most noteworthy summer theater complex in North America is the Utah Shakespeare Festival.
Ambition and execution were front and center in July in southwest Utah: After a lengthy fundraising effort the festival invigorated an existing arts campus, building a new indoor theater, a second, outdoor replacement Elizabethan theater, adding about 80,000 feet including increased backstage, rehearsal and administrative space. There is a new art museum, too.
The $39 million-plus arts buildup is happening at Southern Utah University, a regional public college that owns the festival, which sits on the lip of the campus.
The surprising wrinkle is that the university's dedicated charter and mission are neither liberal arts nor performing arts, but something very different: the hard sciences. The place is as Science/Technology/Engineering/Math -- STEM-ish, if you will -- as it gets.
Yet at the expansion's unveiling, there was Utah Gov. Gary Herbert lauding a project for what he and everyone else in town refers to as "S.T.E.A.M."
That added "A"? It stands for arts
The festival's co-artistic director Bryan Vaughn is especially energized by the new indoor Anes Theater. At 199 seats, the black-box space is the smallest part of the expansion, but potentially the most artistically significant.
"We are a theater festival with broad appeal and we will continue to give audiences what they want," Vaughn explained in an interview earlier this summer. "But we also want to push audience expectations and boundaries a bit."
*
The Utah Shakespeare Festival has been around for 55 years. In 1961, a Southern Utah University theater professor named Fred C. Adams – still a hands-on presence in 2016 – had an epiphany at the Fluffy Bundle Laundromat: Shakespearean theater would be a wonderful thing for this small Mormon mining town.
Amateur entrepreneurship and a community zeal for summer-stock theater evolved into what's now a four-month long, Tony-award-winning festival with a $7 million annual budget, a professional staff of 368 full- and part-time employees and a repertory company of 65 actors. All this, along with an idyllic setting in southern Utah's red rock country, has made the festival a desirable destination for thousands of Southern California theater fans who make the six-hour drive north on Interstate 15.
The 100,000-plus who attend annually find a mix of Shakespeare, musicals and comedies, all home-grown productions. The fare leans toward family-friendly -- for instance, beyond the Bard, other productions on stage this week include "Mary Poppins," "The Three Musketeers" and the classic Marx Brothers vehicle "The Cocoanuts."
The festival is not a hotbed of au courant theatrical themes -- the exploration of identity, for instance, is relegated to centuries-old Shakespeare cross-dressing comedies or casting across gender lines to fill out supplemental roles in big casts.
Over the decades performance talent has been a constant in Utah. Some familiar faces, for instance, a pre-"Modern Family" Ty Burrell starring in "The Lion in Winter," have played here in the past.
This season, leads are filled by equity waiver-caliber actors. Co-artistic directors (and actors) Vaughn and David Ivers bring a strong ear for language to their productions. Shakespeare (this season's highlights include bold productions of "Henry V" and "Much Ado About Nothing"), is powered by sumptuous staging and eye-catching costuming, particularly in period pieces.
Vaughn sees the Anes fostering creative options and on a scale that also limits financial risks.
To fund the space, the company has announced a production initiative called Words3 (sourced from the line in "Hamlet," "words, words, words"), with the purpose of staging submitted and commissioned new plays.
A premiere of Neil Labute's "How to Fight Loneliness," previously heard here as a reading, will be the initial production in 2017 as the festival's slate expands from eight to nine shows.
One thing Utah has not done so far is export its plays or productions.
"I would be lying if I said we haven't talked about this," said Vaughn. "We like the synergy of sharing our work and ideas elsewhere so that more people know about us."
Meanwhile, the rebuilt site unifies the theater complex, and capitalizes on the outdoor grounds between the major theaters, with a grove to hold morning play seminars between artists and audiences; two gardens; and a small grassy commons that hosts one of three free, pre-theater Greenshows, each featuring themed music, singing and dance organized as an English Country Faire, Irish Pub Night or Paris Bistro.
It makes sense that the festival taps into the natural landscape because, at 5,800 feet, Cedar City is nestled in a spectacular environment.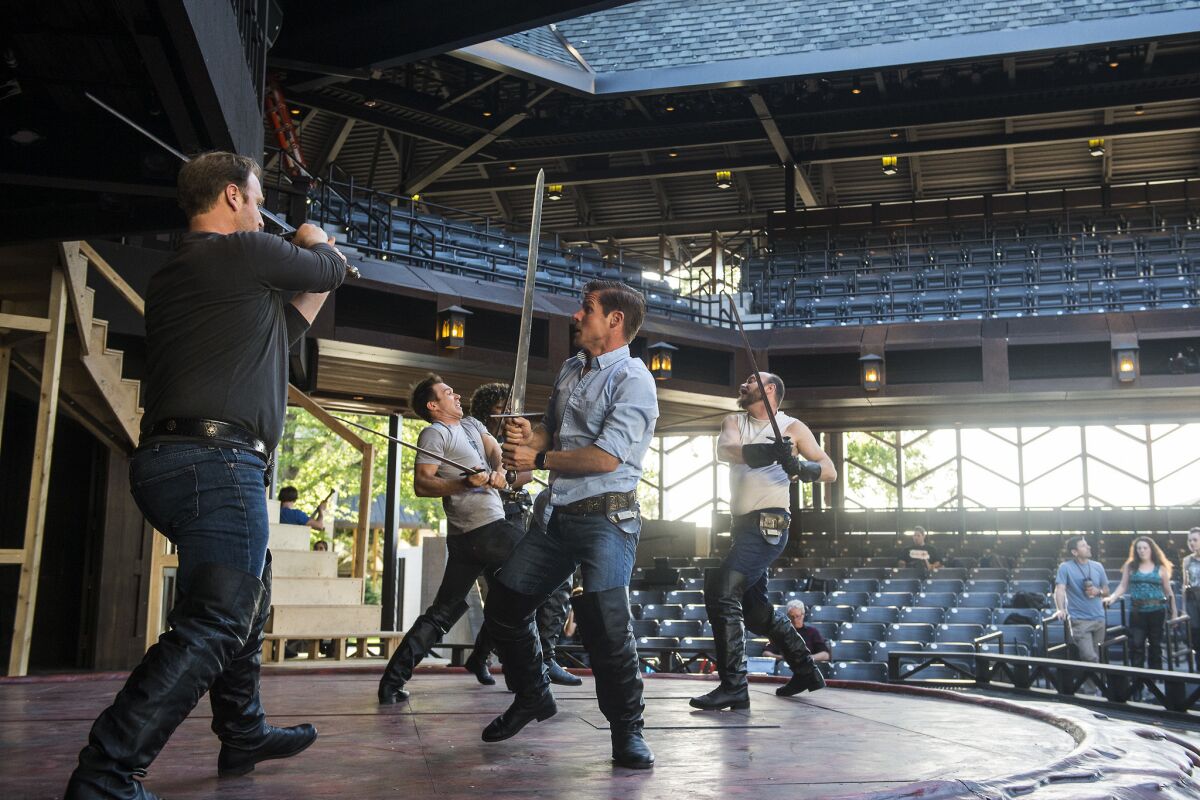 Here, birds tweet, while people, phones off, seem content to stroll and chat. The world's doings feel distant, conversation starters more about the musical just seen or which of the killer pies at nearby Centro Woodfired Pizza to order for dinner.
The dramatic Innermountain West region of southern Utah certainly encourages being outdoors. Tremendous hikes in Kolob Canyons – as paths wind and perspectives shift, views of the towering red rock turn rose, then ocher, then salmon – are only a 20-minute drive away.
*
Of course, it's not just the geography that is red.
Scott Wyatt, SUU's president for the past 2 ½ years who steered the expansion across the finish line, remains a bit bemused about the convergence of local political leanings and the passion for the arts he has encountered because, he said, "this is a red community, in a red state."
"I mean, it's shocking, we've got 50 nonprofit arts organizations in a town of 28,000! We have all of these galleries and festivals… it's a hotbed."
Wyatt, 55, a prosecutor and state legislator before turning to academia, cheerfully makes no claim on aesthetic achievement. "I have been a very poor artist all my life. I took piano lessons as a kid and I can maybe still do a little 'Chopsticks,' not all of it.
"The arts I engaged with taught me from a young age that watching rather than doing was probably where I would be strongest."
But where the country's commitment to education spending on the arts in this century has, at the very least, felt passe, or, more often, a flat-out waste of money, Wyatt spoke as passionately as any other Cedar City arts acolyte.
"My personal take is the arts are indispensable," he said. "It's unfortunate that [during the recession] a war on arts education was framed, often due to economic challenges, as 'arts versus science, we can only afford one, choose.' "
Wyatt offered a visual contrast to explain the virtues of both disciplines rather than one: "A telephoto lens has virtues, but a wide-angle lens is what gives us vision and understanding and makes us better people."
Beyond the particulars of the expansion, of which he expresses pride in the community and the school, Wyatt offers a philosophic answer to how the arts "make us better people."
"At present, the world seems very polarized," he said. "The arts help us understand people of different backgrounds, how to collaborate with people whose lives are different than ours, how to get along and revel in human creation that we might otherwise never know about."
Wyatt feels that in appreciating creative endeavors, and, if we're lucky, encountering genius, "we respond in an empathetic way that pushes aside the barriers of tribalism or language or whatever else.
"Science gives us knowledge and the arts give us ourselves."
Steam, indeed.
Details: Season runs to end of October, no shows Mondays. Three stages, eight productions. Tickets are $20-$73; Bard.org
More summer theater festivals
North America has four other major summer theater festivals, each a multi-theater complex with multiple productions in repertory running into the fall:
Oregon Shakespeare Festival, Ashland, Ore.: The festival is 81 years old but this southern Oregon site traces roots to the late 1800s Chautauqua movement, which brought culture and entertainment to rural America. Shakespeare here shares the stage with musical revivals and commissioned works such as "All The Way," the President Lyndon B. Johnson political drama that debuted here and won the Tony for best new play in 2014.
Current season highlights: "Roe," festival director Bill Rausch directs the premiere of a play about the principals in the landmark 1973 court case that legalized abortion, and "The Yeoman of the Guard," an 80-minute production of the rarely produced Gilbert & Sullivan operetta that involves audience members in the staging.
Details: Season runs to end of October, no shows Mondays. Four stages, 11 productions. Tickets are $30-$121; Osfashland.org
----
American Players Theatre, Spring Green, Wis.: Wall Street Journal theater critic Terry Teachout calls this ensemble "the finest classical repertory group in the country." This season the company is probing the canons of Shakespeare, Miller and Beckett among others.
Current season highlights: "The African Company Presents Richard III," a backstage story of what happens when an African theater company presents Shakespeare's tragedy in 1821 while a white company next door is doing the same work, and Oscar Wilde probes past brittle surfaces in a well-reviewed production of "The Ideal Husband," one of the wit's infrequently staged works.
Details: Season runs to mid-October, no shows Mondays. Two stages, nine productions. Tickets are $47-$85; Americanplayers.org
----
Stratford Festival, Stratford, Canada: Sumptuous productions and acting titans, including Maggie Smith, Brian Dennehy, Julie Harris and Christopher Plummer, have filled the four stages spread throughout this small town, which, other than being Justin Bieber's hometown, is known as the site of what is essentially Canada's national theater. Everything done here – refreshed revivals and commissioned premieres -- has a high-gloss gleam, all of it displayed effortlessly.
Current season highlights: The first North American production of the stage adaption of the Oscar-winning "Shakespeare in Love," timed to celebrate Shakespeare's 400th birthday, and a critically praised production of Stephen Sondheim's romantic gem "A Little Night Music."
Details: Season runs to early November. Four stages, 13 productions. Tickets are $40-$145 (Canadian); Stratfordfestival.ca
----
Shaw Festival, Niagara-on-the-Lake, Canada: The Shaw eschews Shakespeare, instead revolving around Irish playwright George Bernard Shaw, works by his contemporaries, or productions set during Shaw's long lifespan, from 1856-1950. The festival's four theaters are set on gleaming George Street, the main drag through this bucolic Georgian architectural gem of a village bordered by a lake, a river and a wine-growing region.
Current season highlights: Shaw's "Mrs. Warren's Profession" is being staged in the Royal George Theatre, a former vaudevillian music hall that is the most attractive small theater at any of the summer festivals, and "Sweeney Todd" is the Shaw's annual production of a major musical with interesting edges.
Details: Season runs to end of October. No shows Mondays. Four stages, 10 productions. Tickets are $35-$117 (Canadian); Shawfest.ca
--Christopher Smith
Get our L.A. Goes Out newsletter, with the week's best events, to help you explore and experience our city.
You may occasionally receive promotional content from the Los Angeles Times.