Dubai development may be down, but it's not out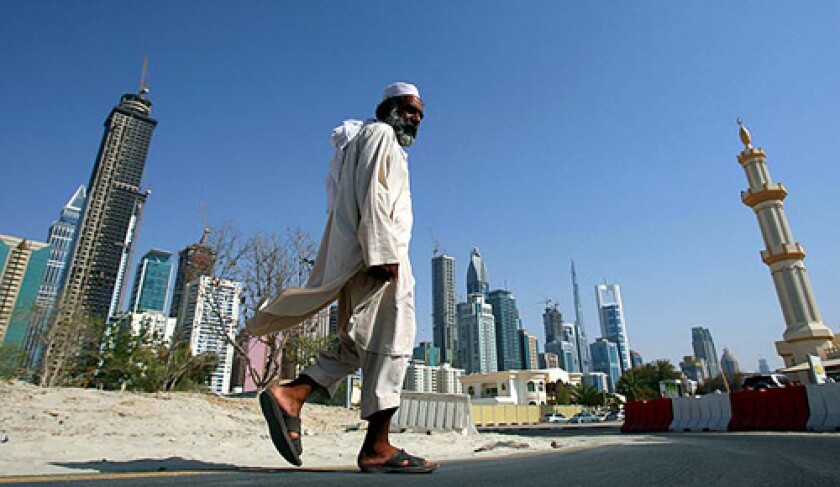 Architecture Critic
Reporting from Dubai, United Arab Emirates —
If a city can be spectacularly quiet, this waterfront city-state has certainly qualified in recent months. Hundreds of abandoned construction cranes languish above Dubai's gated communities and beach-side developments and, most dramatically, up and down Sheikh Zayed Road, its high-rise spine. According to a recent estimate in the Middle East Economic Digest, projects worth a staggering $335 billion in the United Arab Emirates -- of which Dubai, with a population of about 2 million, is the largest member -- are stalled or have been canceled outright.
Dubai's residents, roughly 85% of them expatriates, have been left to wonder if the current crisis is merely a pause, a recessionary lull that will be painful but temporary, or closer to a fundamental reckoning that will entirely reorder the emirate and how it does business. The same question is being asked in cities around the world, of course. But it's a particularly acute, even existential one here, since it goes right to the heart of Dubai's self-image.
During the boom years of the last decade, the emirate -- which has only a tiny fraction of the oil reserves held by the capital of the UAE, Abu Dhabi -- became synonymous with frenzied real estate speculation and headlong growth. It operated as a highly efficient machine for attracting capital from around the globe -- in some cases from investors who, for political reasons, rejected the idea of sending it to the U.S. -- and turning it into real estate. In a fundamental sense, many of Dubai's skyscrapers were conceived and designed primarily as vessels to store excess liquidity. If the endless rows of stalled towers now resemble mere shells, perhaps shells are all they were ever meant to be.
You wouldn't have to be hopelessly cynical to conclude that it was all a kind of Ponzi-scheme urbanism: city planning à la Bernard Madoff. "During the boom," as the Economist put it, "supply seemed to create its own demand."
But charting the economic collapse and its fallout is not the only story worth telling about Dubai as the global downturn grinds on. Scrape away the signs of financial distress, plentiful though they are, and what you find is an experiment in a new kind of urbanism here -- one that has both winning and alarming elements and that is likely, for a range of reasons, to outlast the current crisis.
Like many first-time visitors, I expected to find in Dubai a messy, vital hybrid of architectural and urban strategies, reflecting the city's history as a regional crossroads and trading center. I could hardly have been more wrong. Dubai is not some Middle Eastern Venice, a polyglot city where the combination of construction workers from Pakistan, bankers from London and Hong Kong and tourists from around the world creates a mash-up of contemporary urbanism.
It is, instead, carved into a series of separate, perfectly ordered miniature cities, each performing a remarkably persuasive imitation of the place that inspired it. There is the Manhattan-like Sheikh Zayed corridor, where skyscrapers line up shoulder to shoulder and where, just off the boulevard, work continues on an impossibly lanky beanstalk skyscraper known as the Burj Dubai. Designed by Adrian Smith when the architect was a partner at Skidmore, Owings & Merrill, the tower will officially become the tallest building in the world when it's completed later this year.
Between Sheikh Zayed Road's skyscrapers and the Dubai beachfront, meanwhile, is a series of low-rise gated communities that look just like those in Orange County. Farther inland, the Emirates Golf Club re-creates an artificially green slice of suburban Houston or Phoenix. To the west is a center for high-tech and media companies whose office-park architecture -- mid-rise, mirrored-glass office blocks set into a landscape of rolling grass and ponds -- is an almost perfect replica of Silicon Valley, the Microsoft campus in Redmond, Wash., or new high-tech outposts in China and India. Other Dubai neighborhoods mimic the urbanism of Miami, Cairo and Mumbai.
Overlapping ambitions
George Katodrytis, an architect who teaches at the American University in Sharjah, the emirate just northeast of Dubai, calls the resulting condition "cut and paste" urbanism. It's as if Dubai's leaders had taken sections from cities around the world that appealed to them -- or that they decided would appeal to foreign investors -- and imported them wholesale to the shores of the Persian Gulf.
One major reason that the city has been divided up this way is that the emirate's ruling family, led by Sheik Mohammed bin Rashid al Maktoum, controls all the major real estate companies operating here. In Dubai, the urban planners and the developers are essentially one and the same. Market ambition and civic ambition are similarly intertwined: Sheik Mohammed has often been called Dubai's chief executive. Instead of building a monumental city hall or war memorial, Dubai builds shopping centers and office towers at a monumental scale.
In the heart of most cities, the biggest piece of land that a single developer is typically able to control is one square block. (In a dense, layered city, of course, the average parcel is far smaller.) In Dubai, whole districts of the city, many covering dozens of square blocks and hundreds of acres, have been given over to single developments. Seeing architectural diversity within any project as a threat to the bottom line, their creators usually hire a single firm to design them around a recognizable theme: the golf community, the office park, the vaguely souk-like waterfront combination of retail outlets and condominiums.
The result is a surprising twist on the privatization of cities like Los Angeles, where public space is notoriously scarce. In the privatized city, as the well-known critique goes, people aren't forced to mix with people who are different from themselves. They are hidden from that interaction inside their private cars and gated developments. (Cue the opening music from "Crash.") In Dubai, remarkably enough, the same is true for buildings, which tend to cluster together with other pieces of architecture just like them.
The strategy takes some obvious cues from aggressively themed environments, like the casinos lining the Las Vegas Strip. But in Dubai, the illusion is far more powerful. In Dubai, the themed architecture is not only authentic, or nearly so, but is produced at a far more dramatic level. Along Sheikh Zayed Road, the rows and rows of skyscrapers don't just suggest or symbolize a Manhattan-like scale -- they match that scale tower for tower.
At the Mall of the Emirates, a 4-year-old behemoth designed by the Pasadena-based firm F+A Architects, there is an indoor alpine resort, Ski Dubai, whose signature black-diamond run is a remarkable 1,300 feet long. Seen from the front, the mall resembles a big version of any newish Sun Belt shopping center, all pastel stucco and oversized fashion-label billboards. But if you walk around back you notice that the structure bulges dramatically. That enormous bulge holds the ski slope, which is longer than the U.S. Bank Tower in Los Angeles is tall. The mall's main attraction is not some small-scale, irony-laden re-creation of a ski slope. It is a ski slope.
The over-chilled, hyper-ambitious exoticism of such projects has helped give the UAE the biggest ecological footprint, per capita, of any country in the world. That is not Dubai's only black mark. Its labor record, though recently somewhat improved, has been dismal. The construction workers who have built its new towers often live a version of indentured servitude. The BBC aired a documentary in April exposing wretched conditions in one of the emirate's largest labor camps.
Dubai's brand of city-making hasn't produced much important architecture, at least at the level of individual buildings. Though the emirate has lately enlisted some well-known and innovative architects, most of their projects -- including an opera house by Zaha Hadid -- aren't built and because of the downturn may never be.
If the architecture that has emerged here over the last two decades does cohere around a single, particular style, it is a sort of cruise ship modern. Dubai's malls and hotels are lined with loud carpeting and over-polished marble floors, its skyline draped in the architectural equivalent of gold chains and leisure suits. The most obvious example of the type is the 9-year-old, 1,000-foot-tall Burj al Arab hotel, which is shaped like a billowing sail and sits on its own man-made peninsula. The rooms, which, even in the current downturn, start at $1,000 a night, offer countless amenities and sweeping views of the Persian Gulf. Also, there are mirrors above the beds.
Dubai's architecture will be familiar to anyone who has spent time in a quickly modernizing and growing part of the world lately. Its new towers look a lot like the new towers along Chang'an Avenue in Beijing, for example, or those rising alongside elevated expressways in Shanghai.
In those cities, though, new buildings and neighborhoods are laid over or replace old ones, and the tension between modernization and maintaining some links to an urban and cultural past are palpable everywhere (and in many cases have a sharply political dimension). Dubai's new neighborhoods, by contrast, have been colonized by builders simply pushing out into virgin desert -- or, in the case of the emirate's now-iconic island developments, into the gulf. That makes Dubai -- its neighborhoods unburdened by history, its developers unconstrained by zoning codes, preservation battles or community activism -- an unusually pure, unfiltered example of what new cities look like in the age of globalization.
Global reach
Of course, the very attractiveness of Dubai as a place to invest led directly to the current crisis, creating a dangerously speculative bubble that grew and grew until, last year, it popped. But Dubai's economy is likely to recover, for a number of reasons. Chief among them are Abu Dhabi's interest in keeping its neighbor healthy -- already it has bailed out Dubai to the tune of $10 billion, with more perhaps to come -- and Dubai's ability to manipulate the local financial and real estate markets in ways that U.S. Treasury Secretary Timothy F. Geithner can only dream of.
Increasingly, Dubai also is likely to be a force in exporting a certain approach to architecture, urbanism and real estate development to cities around the world, in particular through the investments overseen by its various sovereign wealth funds. Among the best studies to date of gulf urbanism is a dense 2007 book called "Al Manakh," a co-publication of the architectural journals Archis and Volume. A sequel will be released early next year; significantly, its editors say it will focus on how Dubai and other city-states that make up the UAE "are reaching out beyond their borders to export development and urbanization."
Dubai's wealth funds have so far tended to sink their money into projects -- including the $8.6-billion CityCenter development on the Las Vegas Strip, funded in part by an investment group called Dubai World -- that re-create a version of Dubai urbanism in other cities, responding as nimbly to global capital flows as to the streets around them.
Even the now-abandoned plan by Frank Gehry and developer Forest City Ratner for Brooklyn's Atlantic Yards, though it wasn't funded by the UAE, had Dubai written all over it. Designed to cover 22 acres and include 16 towers, all by the same architect, if built it would have been an example of the same themed, city-within-a-city, triple-XL approach that has shaped the emirate. In this case the theme happened to be not golf or financial services but Frank Gehry.
That project was doomed by bitter community opposition -- as well as by market timing that could not have been worse. In the U.S., once the economy revives, similar mega-projects will be attempted again. And in parts of the world where governments, like Dubai's, can approve such developments by fiat, they are likely to be even more popular and their chances of taking root far greater.
In the Western press, reports of Dubai's economic crisis have been marked with more than a bit of hopeful schadenfreude. Since Dubai's rise was in part a result -- and therefore a symbol -- of American decline, U.S. reporters have been quick to play up the emirate's subsequent troubles, sometimes in breathless if largely anecdotal stories about its artificial islands sinking into the gulf or laid-off expats abandoning their cars at the airport, tracing plaintive goodbye messages with their fingers in dust-covered windshields. It's as if Dubai's real estate crash somehow represents a green shoot for the notion of unshakable American wealth and influence.
No such luck. Dubai's strange, singular brand of development may offer a cautionary tale for the age of globalization, and it may have been dealt a serious body blow by the economic crisis. But it's far from dead. And it may be coming soon to a city near you.
---
Inside the business of entertainment
The Wide Shot brings you news, analysis and insights on everything from streaming wars to production — and what it all means for the future.
You may occasionally receive promotional content from the Los Angeles Times.