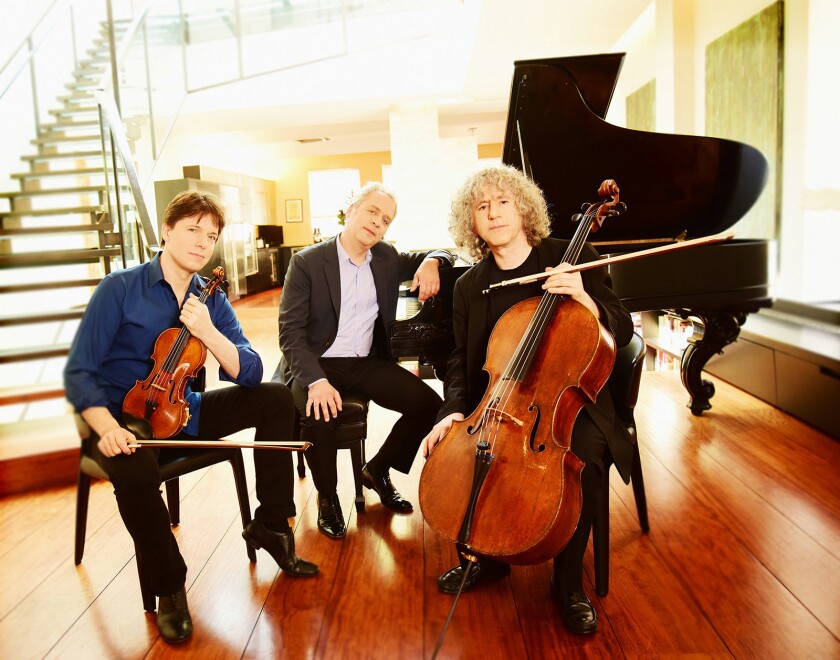 Michael Chapdelaine The classical and finger-style guitarist performs. Simi Valley Cultural Arts Center, 3500 Los Angeles Ave., Simi Valley. Sun., 7:30 p.m. $22, $27. (805) 583-7900. www.simi-arts.org
El Gato Montés: The Wildcat Plácido Domingo and Ana María Martínez star in Manuel Penella's early 20th-century musical thriller about a bandit and a bullfighter in love with the same woman; in Spanish with projected English translations. Dorothy Chandler Pavilion, 135 N. Grand Ave., L.A. Sun., 2 p.m.; Wed., 7:30 p.m.; Sat., 7:30 p.m.; ends May 19. $19 and up. (213) 972-8001. www.LAOpera.org
Emanuel Ax Plays Mozart The pianist joins the LA Phil under conductor laureate Esa-Pekka Salonen for Mozart's Piano Concerto No. 22; program also includes Beethoven's Symphony No. 1 and the world premiere of Louis Andriessen's "The only one" featuring vocalist Nora Fischer. Walt Disney Concert Hall, 111 S. Grand Ave., L.A. Sun., 2 p.m. $61-$199. (323) 850-2000. www.laphil.com
Fire & Grace & Ash The guitar-violin-mandolin trio mixes classical, bluegrass and Celtic music in this Da Camera Society presentation. Rancho Los Alamitos, 6400 Bixby Hill Road, Long Beach. Sun., 1, 3 and 5 p.m. $80. (213) 477-2929. www.DaCamera.org
Great Opera & Film Choruses Los Angeles Master Chorale presents score selections from the "Star Wars" and "How to Train Your Dragon" franchises, etc., plus works by Verdi, Wagner, Philip Glass, et al. Walt Disney Concert Hall, 111 S. Grand Ave., L.A. Sun., 7 p.m. $29 and up. (213) 972-7282. www.lamasterchorale.org
In the Penal Colony Long Beach Opera and California Repertory Company co-present Philip Glass' chamber opera inspired by a Franz Kafka short story. CSULB Studio Theater, 1250 N. Bellflower Blvd., Long Beach. Ends Sun., 2:30 p.m. $49-$150. (562) 470-7464. www.LongBeachOpera.org
Le Salon de Musiques The intimate chamber-music series presents "Nordic Legends," a program of works for strings and piano by Grieg and Dvořák. Dorothy Chandler Pavilion, 5th Floor Salon, 135 N. Grand Ave., L.A. Sun., 4 p.m. $45, $85. (310) 498-0257. www.lesalondemusiques.com
Los Angeles Children's Chorus Spring Concert Pergolesi's "Stabat Mater," Harold Arlen's "Over the Rainbow" and more. Pasadena Presbyterian Church, 585 E. Colorado Blvd., Pasadena. Sun., next Sun., 7 p.m. $27-$46; students 17 and under, half-price. (626) 793-4231. www.lachildrenschorus.org
Hear Now Festival Ninth annual showcase for new works by L.A.-based composers concludes with a chamber music concert featuring the Lyris Quartet, pianists Vicki Ray and Nic Gerpe and others. First Lutheran Church of Venice, 815 Venice Blvd, Venice. Sun., 5 p.m. $10, $35. (323) 226-0326. www.hearnowmusicfestival.com
New West Symphony Borodin's Polovtsian Dances, Tchaikovsky's Violin Concerto featuring violinist Philippe Quint and Prokofiev's score for the film "Alexander Nevsky" featuring the Los Robles Master Chorale. Oxnard Performing Arts Center, 800 Hobson Way, Oxnard. Sun., 3 p.m. $30-$120. (866) 776-8400. www.newwestsymphony.org
Organ Superstar: Hector Olivera The organist performs works Bach, Franck, et al., plus improvisations on pop songs, show tunes and more. Segerstrom Center for the Arts, Renée and Henry Segerstrom Concert Hall, 600 Town Center Drive, Costa Mesa. Sun., 7 p.m. $10 and up. (714) 755-5799. www.PacificSymphony.org
The Palisades Symphony Guest vocalists join the orchestra for Haydn's "The Creation." Community United Methodist Church, 801 Via de la Paz, Pacific Palisades. Sun., 7:30 p.m. Free. www.palisadessymphony.org
Restoration Concerts The New Hollywood String Quartet performs works by Mozart and Schubert. South Pasadena Public Library, Community Room, 1115 El Centro St., South Pasadena. Sun., 4 p.m. $20. (626) 799-6333.
Sundays Live Pianist Daniel Schlosberg performs Brahms' Piano Sonata No. 3 and the world premiere of Stanley Walden's "Deadications." LACMA, Bing Theater, 5905 Wilshire Blvd., L.A. Sun., 6 p.m. Free. (323) 857-6234. www.lacma.org
2019 Instrumental and Vocal Competition Showcase presented by Kaleidoscope Chamber Orchestra concludes with an instrumental program. First Presbyterian Church of Santa Monica, 1220 2nd St, Santa Monica. Sun., 2 to 5 p.m. Free. www.kco.la
Voices Within Fifth-graders perform songs they wrote themselves as part of Los Angeles Master Chorale's outreach program. Huntington Park Elementary School, 6055 Corona Ave., Huntington Park. Mon., 9:30 and 10:45 a.m. Also at Sheridan Street Elementary School, 416 Cornwell St., L.A. Fri., 9 and 10:15 a.m. Free. (213) 972-7282. www.lamasterchorale.org
Bell-Isserlis-Denk Trio Violinist Joshua Bell, cellist Steven Isserlis and pianist Jeremy Denk play works by Mendelssohn, Ravel, et al. Younes and Soraya Nazarian Center for the Performing Arts, 18111 Nordhoff St., Northridge. Wed., 8 p.m. $49-$109. (818) 677-3000. www.TheSoraya.org. Also at the Renée and Henry Segerstrom Concert Hall, Segerstrom Center for the Arts, 600 Town Center Drive, Costa Mesa. Thu., 8 p.m. $38 and up. (949) 553-2422. www.PhilharmonicSociety.org
Baroque Conversations Harpsichordist and guest conductor Matthew Halls leads the Los Angeles Chamber Orchestra in Bach's Orchestral Suite No. 1 plus works by Purcell and Lully. Zipper Concert Hall, Colburn School, 200 S. Grand Ave., L.A. Thu., 7:30 p.m. $52 and up. (213) 622-7001. www.laco.org
Archives, Friends, Patterns Contemporary-classical composer Nico Muhly and guests perform in this three-part program. CAP UCLA at The Theatre at Ace Hotel DTLA, 929 S. Broadway, downtown L.A. Fri., 8 p.m. $29-$59. (310) 825-2101. www.cap.ucla.edu
David Finckel & Wu Han The cellist and the pianist perform. Conrad Prebys Performing Arts Center, 7600 Fay Ave., La Jolla. Fri., 8 p.m. $35-$85. (858) 459-3728. www.theconrad.org
Dudamel Conducts Mozart and Adès Gustavo Dudamel leads the LA Phil in Mozart's Symphony No. 41, "Jupiter," and Violin Concerto No. 1 featuring violinist Michael Barenboim, plus the world premiere of "Thomas Adès' "Inferno." Walt Disney Concert Hall, 111 S. Grand Ave., L.A. Fri., 11 a.m.; Sat., next Sun., 2 p.m. $20-$209. (323) 850-2000. www.laphil.com
Friends of Music West Coast premiere of Carson Cooman's "Be Ye Broken," plus works by Alec Rowley, Leo Sowerby and Benjamin Britten. Pasadena Presbyterian Church, 585 E. Colorado Blvd., Pasadena. Sat., 7:30 p.m. Free; donations accepted. (626) 793-2191. www.ppcmusic.org
Second Saturday Series The Vieness Piano Duo performs works by Schubert, Brahms, Barber, Dvořák and Bolcom. Glendale City Church, 610 E. California Ave., Glendale. Sat., 5 p.m. Free; donations accepted. (818) 244-7241.
Sounds Delicious: Game of Thrones Salastina Music Society pairs live musical selections with a multi-course meal. Lately, 970 N. Broadway, #114, L.A. Sat., 6:30 p.m. $195; no walk-ins or refunds. www.salastina.org
Pierre-Laurent Aimard The pianist performs Bach's Goldberg Variations. Walt Disney Concert Hall, 111 S. Grand Ave., L.A. Next Sun., 7:30 p.m. $20-$114. (323) 850-2000. www.laphil.com
Camerata Pacifica All-Beethoven program with the Calder String Quartet, et al. Museum of Ventura County, 100 E. Main St., Ventura. Next Sun., 3 p.m. $58. (805) 884-8410. www.cameratapacifica.org (Also in San Marino, May 14; downtown L.A., May 16; and Santa Barbara, May 17)
Inna Faliks The pianist performs a world premiere by Richard Danielpour plus works by Schumann, Chopin and Rodion Shchedrin. Wallis Annenberg Center for the Performing Arts, Bram Goldsmith Theater, 9390 N. Santa Monica Blvd., Beverly Hills. Next Sun., 7 p.m. $25-$55. (310) 746-4000. www.TheWallis.org
Free Neighborhood Concert Gustavo Dudamel leads members of the LA Phil and Youth Orchestra Los Angeles in works by Bach, Mozart, Mendelssohn, Susato and Moncayo. First Congregational Church of Los Angeles, 540 S. Commonwealth Ave., L.A. Next Sun., 7 p.m. Free. (213) 385-1341. www.laphil.com
Second Sundays at Two Violinist Linda Wang and pianist Robert Thies perform. Rolling Hills United Methodist Church, 26438 Crenshaw Blvd., Rolling Hills Estates. Next Sun., 2 p.m. Free; donations accepted. (310) 316-5574.
Sundays Live Pianist John Bayless performs works to be announced. LACMA, Bing Theater, 5905 Wilshire Blvd., L.A. Next Sun., 6 p.m. Free. (323) 857-6234. www.lacma.org
---