Megan Mullally at the age of freedom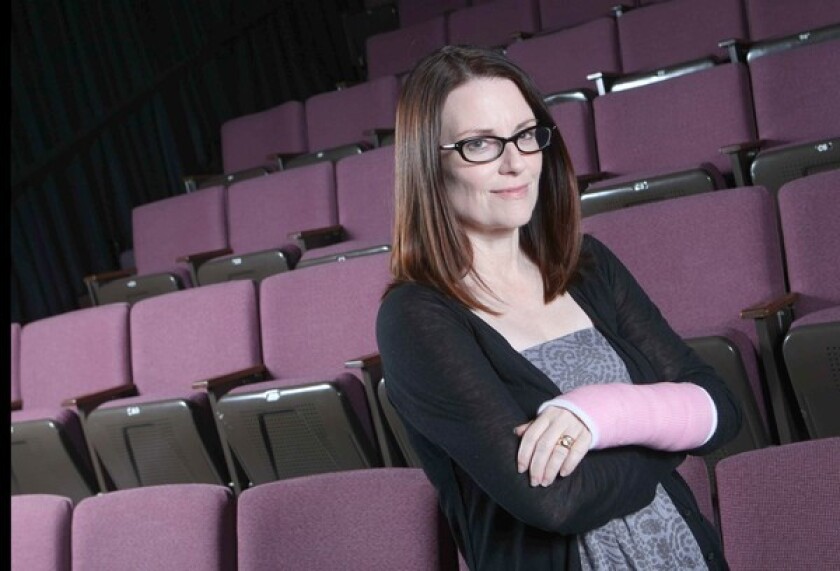 Megan Mullally comes through the door of a small office at the Odyssey Theatre, dressed in a long, flowy strapless dress, a black cardigan and Chinese slippers. Her fashionably straight auburn hair brushes her shoulders, and she looks radiant.
Or is that a bit flushed?
"I think I'm having a hot flash," she says, wiping beads of sweat off her brow. The Emmy- and Screen Actors Guild award-winning "Will & Grace" star has passed the threshold of 50, a milestone most actresses dread in youth-obsessed Hollywood. But Mullally is frankly delighted about it.
"It's just been the best thing," she says. "Once I turned 50, any shadow of a feeling that I had to be a babe, I thought certainly I don't have to do that now that I'm 50. So that was freeing."
Mullally believes her good looks blinded some directors to her potential for character roles over the years, and she hasn't missed a beat in throwing off her glamorous shackles.
In Adam Bock's dark office comedy "The Receptionist," which runs through Nov. 21, Mullally is nearly unrecognizable as the titular Beverly, an old biddy fond of office gossip, putting calls through to voice mail and desk accessories featuring cuddly animals. As the frumpy Beverly, she holds together the center of the office and the play as both spiral down from the mundane rituals of daily life into a bleak commentary on the values of the business world.
Mullally earned plaudits for her sharp, funny and ultimately heart-rending transformation, but a humble 99-seat theater might not be the first place one would expect to find a celebrated star of a long-running series and a Broadway veteran. It is precisely because she had a success like "Will & Grace," with the financial cushion a long-running network series that goes into syndication provides its stars, that Mullally was able to take the role.
"I'm interested in storytelling, and I like the challenge of a character that's significantly different from the way I am in real life," she says, perched on a couch at the Odyssey, which co-produced "The Receptionist" with the Evidence Room under the direction of the company's founding artistic director, Bart DeLorenzo.
"I'm not interested in celebrity culture at all, and I would much rather do something like this, a little Equity-waiver play, than do some high-profile television show that's not good. And I can because I can pay my rent, because I've got the luxury."
Mullally has had close ties to the Evidence Room as an actor and assistant director over the past nine years, working with the company during breaks in shooting "Will & Grace" (1998-2006), which hurtled her to global fame as the wealthy glamazon Karen Walker. In 2000, she starred as a Chanel-loving socialite in Charles Mee's raucous "The Berlin Circle," where she met her husband, Nick Offerman of TV's "Parks and Recreation," who pursued her both on and offstage.
'A clean slate'
Last spring, she came to the Odyssey to see another play directed by DeLorenzo, Caryl Churchill's "A Number," which starred John Heard. Mullally enjoyed it, and after the performance she grabbed DeLorenzo and said she wanted to work with him on a play. "I had a clean slate, which is really fun, and he said, 'Well, they have a slot in this exact theater in August and September,' " she recalls.
A few days later, DeLorenzo handed her a stack of nine plays to read. "The Receptionist" rose to the top, featuring the kind of character role she had trouble getting during her babe period.
"She has an extraordinary range," says DeLorenzo, "but I think to put Megan Mullally in a play where she can't be somewhat funny would be a crime against nature. This play was so funny, but ultimately it's a tragic role, and I knew she wanted to do something unexpected."
Mullally says she was moved by Beverly's sense of loyalty to her co-workers. "When I read this, I just felt an affinity with the character," she says, flipping her hair off her shoulder. "I just knew what I would like to do with it emotionally."
Not that she'd ever worked in an office, nor did she have a picture in her mind of what the character would look like. "I just knew I had to change my appearance completely," says the youthful Mullally. "I'm 50, but I don't think the way I look with regular makeup and my regular hair would have worked for this at all."
A quick trip to New York to see "The Norman Conquests" on Broadway provided the answer. Mullally looked around the audience and noticed "the hairdo of choice right now for women of a certain age -- real short with kind of a bump" at the crown. "And wire-rim glasses are very, very big."
Mullally and costume designer Ann Closs-Farley picked up a frosted wig and glasses on Hollywood Boulevard, then she put on the wig and tried on matronly jackets at the Glendale Galleria, where they bought two. Her new look in the bag, Mullally went home to create makeup for the character. "I knew I wanted to do black eyeliner with white on top," she says. "Anything bright I had to take out of my face and just do a lot of age. It was really, really fun."
Beverly continued to evolve during rehearsals. Mullally considered sewing a pad into her costume to suggest osteoporosis, "and then I realized that if I just completely relax my back, it looks like that. And when I did that, it made me walk more slowly.
In late September, Beverly's evolution took an unexpected detour when Mullally broke her wrist in a car accident. A few days later, she appeared onstage with her left arm in a sling -- no mean feat, considering the character was constantly in motion.
For the most part, though, crafting Beverly was an intuitive process. "I think there's a lot of mystery to the process of creating a character. I know that sounds horrible, and I hate actors who pronounce things like that, but I do think that it's true. I just let the character let me know who she wanted to be. That's what happened with Karen when I did 'Will & Grace.' "
Banquet of choices
After Karen, Mullally was offered a broad array of opportunities on TV and the stage. Some worked and some didn't, like her short-lived talk show and the series "In the Motherhood." Nonetheless, her choices proved she hadn't been typecast as a narcissist with a high-pitched voice. And that knowledge freed her to contemplate creating a Broadway show around her popular character, tentatively titled "Karen: The Musical."
She recently secured the rights from NBC and backing from Fox Theatricals. "The Drowsy Chaperone" director Casey Nickolaw is attached to the project, and Jeff Blumen- krantz, an actor-composer she met in the 1995 Broadway revival of "How to Succeed in Business Without Really Trying," is writing the songs. Leslie Jordan, who played Karen's nemesis, Beverley Leslie, on "Will," is set to return. And now the creators are looking for a book writer.
"The main thing is Karen is such a great character, and people really want to see her again," she says. "Even jaded people in our business are giggling. Also, nobody has taken their sitcom character and done a big Broadway musical."
She envisions a limited run in L.A. before taking the show to New York and around the world. Of course, she'd have to work that into a busy schedule that includes appearing in "Children's Hospital" -- Rob Corddry's Web satire of doctor shows, which has been picked up by Adult Swim -- and in "Party Down," replacing Jane Lynch's character in Starz's offbeat comedy about a catering company.
"I don't like to be elitist in any way," she says. "I like to do little things, like 'Children's Hospital,' which is very, very cult. But then I also like doing really commercial things like the talk show and 'Karen: The Musical.' I like to keep all my options open. I don't see why you wouldn't."
---
The complete guide to home viewing
Get Screen Gab for weekly recommendations, analysis, interviews and irreverent discussion of the TV and streaming movies everyone's talking about.
You may occasionally receive promotional content from the Los Angeles Times.