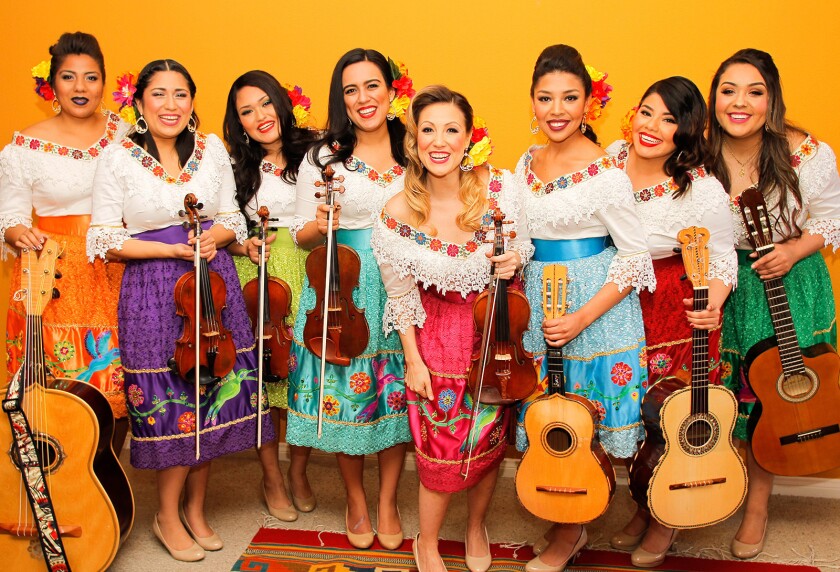 The Los Angeles Philharmonic, with a little help from the car-free-streets initiative CicLAvia, is throwing the mother of all bashes to celebrate the launch of the orchestra's 100th season, and guess what? We are all invited.
What follows is a hub-by-hub rundown of what's happening on each of six area stages on Sunday as part of this massive street festival they're calling "Celebrate LA! LA Phil 100 x CicLAvia."
Grand Ave Hub (Grand Avenue between 1st and 3rd streets)
111 S. Grand Ave., downtown L.A.
MAIN STAGE
8:30 a.m.
Kickoff With Los Angeles Philharmonic Brass, Youth Orchestra Los Angeles (YOLA) and the Centennial High School Marching Band
9:45-10:30 a.m.
Yoga with Cristina Fernandez and Maestro Aloke Dasgupta Yoga with Indian sitar music
11-11:30 a.m.
Members of the Los Angeles Philharmonic
12-12:40 p.m.
Las Cafeteras Veracruz-style son jarocho music
1:10-1:40 p.m.
The Calder Quartet Classical music for strings
1:40-2:20 p.m.
Phoebe Bridgers L.A.-based indie singer-songwriter
2:50-3:35 p.m.
Poncho Sanchez Grammy-winning Latin jazz artist, bandleader and conguero
4-4:15 p.m.
Jason White & Co. Gospel music
4:15-5 p.m.
DaM-FunK DJ set
6-7:30 p.m.
Pink Martini Old-school jazz and pop
7:30-8:30 p.m.
WDCH Dreams Multimedia artist Refik Anadol projects live 3-D images onto the exterior of Walt Disney Concert Hall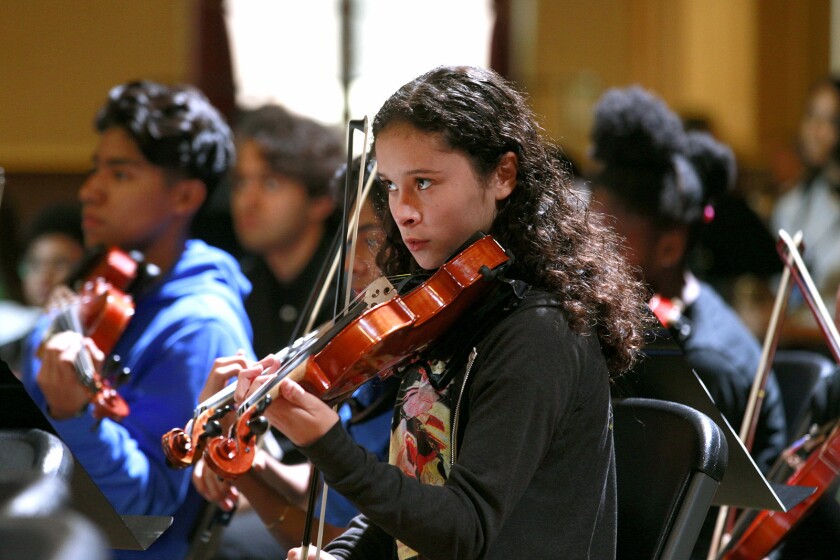 DANCE STAGE
10:30-11 a.m.
Bollywood Step Dance with Yogen Indian dance
11:30 a.m.-noon
Cleary Irish Dance Traditional Irish dance
12:40-1:10 p.m.
Kayamanan Ng Lahi Philippine Folk Arts Traditional Filipino dance
2:20-2:50 p.m.
Versa-Style Dance Company Break dancing and hip-hop
3:35-4 p.m.
Halau Hula Keali'i O Nalani Dancers Traditional Hawaiian dance
5:15-6 p.m.
Lula Washington Dance Theatre L.A.-based contemporary dance company
MacArthur Park Hub (Levitt Pavilion Los Angeles; Park View between Wilshire and 6th, inside Park)
2401 Wilshire Blvd., L.A.
MAIN STAGE
9:40-10:10 a.m.
Taikoproject Japanese drum ensemble
10:45-11:15 a.m.
Chloe Arnold's Syncopated Ladies Female tap dance troupe
11:45 a.m.-12:20 a.m.
Alfredo Rodriguez Cuban jazz pianist
12:20-12:45 p.m.
USC Trojan Marching Band
12:50-1:30 p.m.
YOLA with members of the Los Angeles Philharmonic
2-2:30 p.m.
Convite Oaxaqueño Traditional music of Oaxaca, Mexico
3-3:45 p.m.
Ozomatli Veteran L.A. band mixes rock, Latin, urban, hip-hop and world music
Koreatown Hub (Wilshire between Western and Serrano)
3731 Wilshire Blvd., L.A.
MAIN STAGE
9:30-10:10 a.m.
Los Angeles Electric 8 Chamber music played on electric guitars
10:45-11:15 a.m.
Members of the L.A. Phil
11:45-12:15 p.m.
Korean Classical Music and Dance Company
12:45-1:15 p.m.
Georgia Anne Muldrow Vocalist blends hip-hop, soul and jazz
1:45-2:30 p.m.
Dustbowl Revival Roots rockers from Venice
3-3:45 p.m.
Dengue Fever Cambodian American pop, surf rock and psychedelia
OXFORD STAGE
11:15-11:45 a.m., 1:15-1:45 p.m.
Hwarang Youth Drumming Group
12:15-12:45 p.m., 2:30-3 p.m.
Infinite Flow Socially-conscious dance company for those with disabilities
Melrose Hub (Melrose at Windsor)
5555 Melrose Ave., L.A.
9:30-10 a.m., 11-11:30 a.m., 12:30-1 p.m., 2-2:30 p.m.
Leon Mobley and the Djembe West African Drummers and Dancers
10:15-10:45 a.m., 11:45 a.m.-12:15 p.m., 1:15-1:45 p.m.
Las Colibrí All-female mariachi group
2:30-3:30 p.m.
YOLA & Harmony Project
Hollywood Hub (Vine between Hollywood and Yucca)
1750 Vine St., Hollywood
MAIN STAGE
10-10:45 a.m.
Mehdi Bagheri & Daneshvar Family Ensemble Traditional Persian music
11:15-11:45 a.m.
Rivers Cuomo The Weezer frontman performs with members of the L.A. Phil
12:15-1 p.m.
Jeff Goldblum and the Mildred Snitzer Orchestra The "Jurassic Park" actor and pianist performs with his jazz band
1:30-2:30 p.m.
Jazz at Lincoln Center Orchestra with Wynton Marsalis The trumpeter leads his acclaimed ensemble
3-3:45 p.m.
Ricardo Lemvo & Makina Loca Afro-Cuban music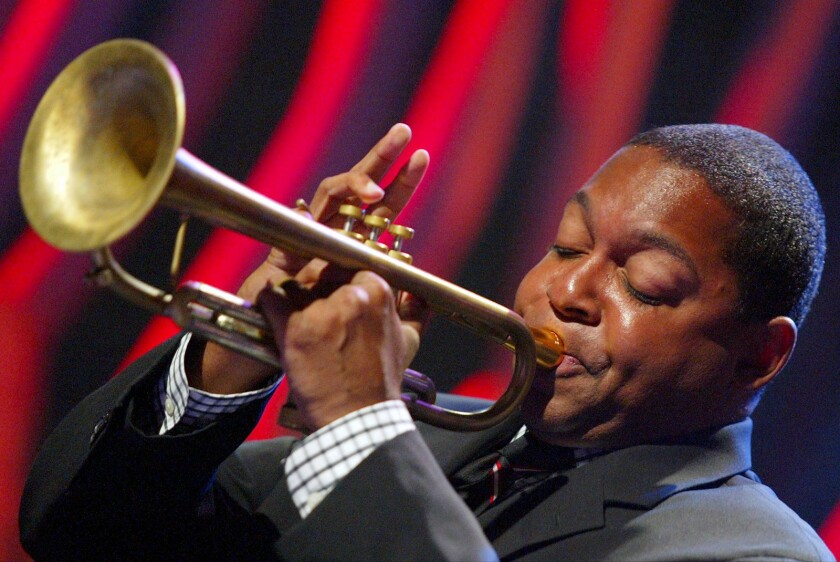 Hollywood Bowl Hub (off the 101 Freeway at Highland Avenue)
2301 N. Highland Ave., Hollywood
KAGAN PATIO STAGE
10-10:45 a.m., 12-12:45 p.m.
Members of the Hollywood Bowl Orchestra
11-11:45 a.m., 1-1:45 p.m.
YOLA
---