The 2008 economic crash hit L.A.'s cultural institutions hard. 10 years later, many are bouncing back — and thriving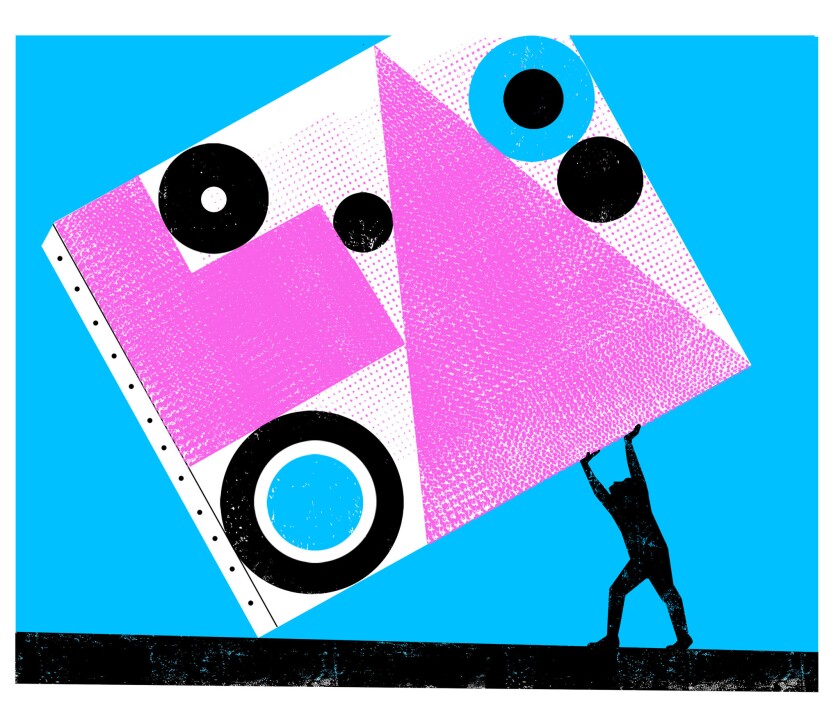 When artist Carmen Argote graduated from UCLA in 2007, she was only beginning to get her footing as other MFA grads were breaking big on the art market.
"The scene in Culver City was really heating up," she says of the area's burgeoning galleries at the time. But a year later, while she was living in a loft in downtown's Arts District, the nation's economy collapsed. It was the country's worst economic crisis since the crash of 1929. "The galleries — like the gallery where I showed my work — were closing," she says. Many collectors stopped buying. Her rent — despite the slump — did not go down. At one point she had $50 in her bank account, she says, and used it to apply to a residency in Maine so she could get out of town.
Argote was not alone.
The nation saw the first double-digit unemployment since Ronald Reagan's presidency; Los Angeles County's was above 13% for months at a time. Between 2006 and 2014, foreclosure or short sale took the homes of more than 9 million U.S. families. In 2008 alone, more than a million homes in California were in foreclosure, and housing prices fell by 30%. And communities of color were hit the hardest. When the recovery finally arrived in earnest in 2011, the realization that its spoils went heavily to the very rich led to widespread anger and protest; that autumn, Occupy LA camps set up in downtown Los Angeles, not far from the shining sails of Walt Disney Concert Hall.
Today, a few weeks past the 10th anniversary of the biggest Dow Jones drop in history, skeletons of skyscrapers have risen in city's core, while unemployment rates have fallen. Occupy is gone from downtown, but homeless encampments have taken their place. When historians look back at Los Angeles cultural landscape in the years after the Great Recession — reflecting on the lives of cultural figures like Argote and the well-being of our city's arts institutions — they'll find a strange mix of obstacles and successes.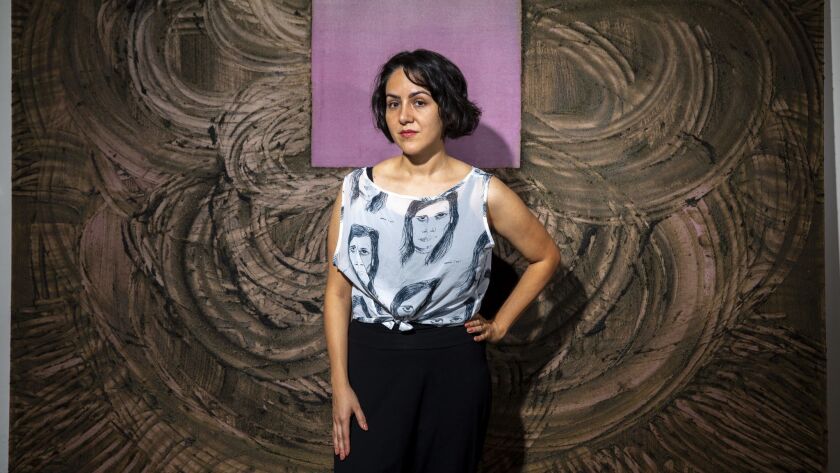 RELATED: Times critics reflect on how the Great Recession affected theater, music and the arts »
It's been a period of great institutional abundance, growing cultural confidence, and a staggering cost of living, especially for the artists who make it all happen. The long-term effects of the crash are not entirely clear because some are sorting themselves out.
The story of Los Angeles arts after the crash may be better understood as a novel rather than a work of history: It includes multiple strands, unexpected ironies and unlikely sub-plots.
The recession and the housing crisis it helped provoke worked itself out very differently for various characters in the drama. Yuval Sharon was a young director who had done innovative work in theater and opera in New York. He began visiting L.A. shortly after the crash to assist in the Los Angeles Opera's ambitious cycle of Wagner's Ring. The economic slump dogged ticket sales, and its critical reception was mixed; the opera came out of "the Ring" with a deficit nearing $6 million.
But Sharon decided that the city was the perfect place to launch a new, small-scale, unorthodox series of creative projects. For him, the city stood for openness and freedom. "L.A. just feels like a lot of freedom and potential," he told me soon after his move. "There are great things being done here, but there's room for more."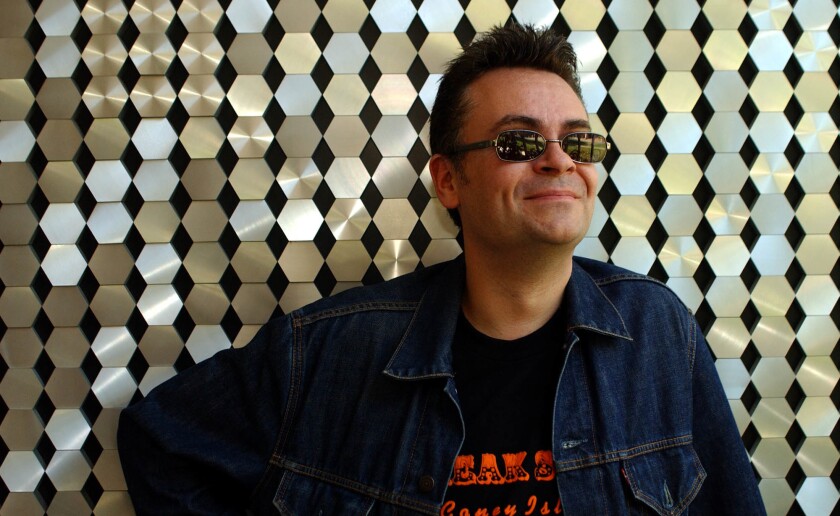 RELATED: 10 years after the Great Recession, American playwriting thrives, but obstacles for local theaters still linger »
David Sefton, a brash native of Liverpool who'd spent years making UCLA Live into an adventurous performance series in Southern California, was especially proud of an international theater festival that brought to town experimental groups that had never played here before. After the crash, the whole season had to be shrunk and revised — with the directive from above to cancel the flagship festival.
But there's no way to argue that fine arts offerings in town have not burgeoned in recent years, recession or not. "Los Angeles has become a pretty remarkable arts capital over the last 20 years," says Danielle Brazell, general manager of the Department of Cultural Affairs. At the same time, she says, the recession made life difficult for many individual artists, creating and deepening wounds that have not healed.
"It's a challenging dichotomy."
RELATED: Success for classical music was forged by ambition »
The survivors
When we zoom out from the individuals of our story, for a wide-angled vision of city's institutions, we still get a picture that is vastly varied. This city has countless small cultural organizations. But as we survey the cultural landscape today, our flagship groups are faring well.
Soon after the crash, the Museum of Contemporary Art turned out to have used nearly all of its endowment; it looked, briefly, that the place might be absorbed into another institution, and it saw years of high-profile departures and erratic management. But it's still with us, logging 324,000 visitors last year and, at $134 million, its highest endowment ever. During LACMA's fiscal year 2008 (which concluded before the fall's stock market crash), the museum saw about 825,000 visitors; a decade later, in fiscal year 2018, visitation had jumped to 1.2 million. The Huntington has recently expanded its art galleries and Chinese and Japanese gardens. The LA Opera's ambitions surged a decade ago, with "The Ring," numerous new productions, and the Recovered Voices series. In the 2007-08 season, the opera put on 69 productions and sold about 169,000 seats; last season, it sold 114,000 seats for 52 productions. But no one who has seen the recent production of Philip Glass' "Satyagraha" could say the institution is not presenting impressive work.
Over all, then, the blue-chip institutions in town are offering a wide range of well-attended and critically acclaimed work. For some of them, it's almost as if nothing really happened.
RELATED: How the Great Recession spread the idea that art could be an asset class »
Three satellite venues have appeared over the last decade — the Wallis Annenberg Center for Performing Arts in Beverly Hills, the Soraya at Cal State Northridge, and the Broad Stage in Santa Monica. These organizations exist near residential neighborhoods and are partly responsible for the increased energy of the region's dance scene. Their more intimate theaters also make a good fit for chamber music and acoustic jazz, which don't have a perfect home here in 2018. The Broad museum, Hauser & Wirth gallery, and the Theatre at the Ace Hotel are also recent arrivals. All three of these were established at times when downtown real estate was less expensive; the hotel is the outpost of a national chain, and the gallery part an international brand.
And even before its centennial season, the Los Angeles Philharmonic was among the most creative, most envied arts groups in the nation. Rivals grumble that the Phil has the Hollywood Bowl (owned by LA County) as a guarantee against tough times. But the combination of Walt Disney Concert Hall's 2003 opening, the arrival of conductor Gustavo Dudamel at the start of 2009, imaginative programming and good management combined to deflect economic blows.
Another coincidence of timing helped as well, says Chad Smith, the Phil's COO: A falloff of subscriptions, that would eventually hit every arts group in the country dogged the Phil early enough that it had time to pivot — before the crash hit. "We saw it as an opportunity to think differently about how we program," he says, aiming especially at single-ticket buyers. "We began to aggressively program festivals, cycles and special programs, partnerships and collaborations."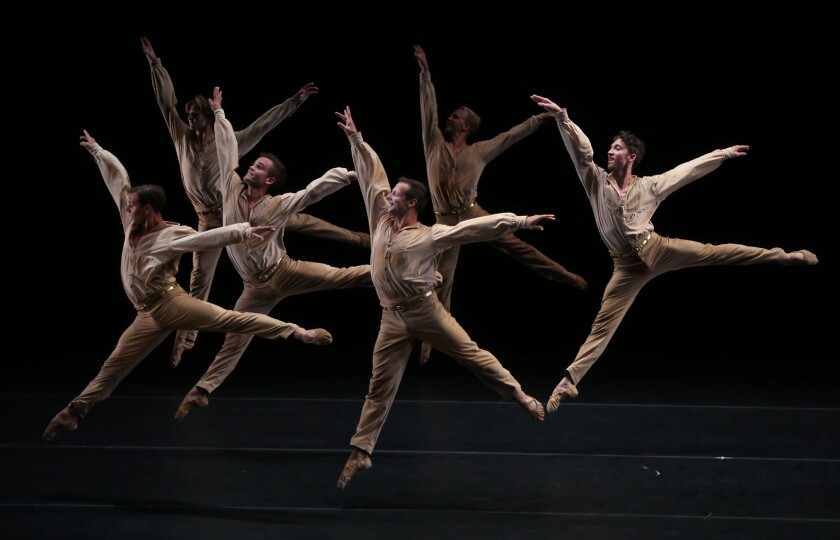 Strained finances
Look underneath the older, established institutions — and the flashier newcomers — and things aren't quite as rosy.
The most significant, for artists and performers, is the rising cost of living here. The surge in rental costs — the average two-bedroom apartment is now around $2,800 — has numerous causes, some of which involve urban planning. But the decline in new housing construction during the downturn, the massive arrival of speculators and investors, the need of foreclosed home-owners to rent, and monetary policy that benefited the wealthy sent urban rents up in many U.S. cities, this one included. Home prices have never been so unaffordable. Argote calls herself "really miserable" during a period where she lived in the Arts District. For a few years, she says, "Things completely didn't add up financially. Asking family members for money became something you had to do."
"The housing crisis is a doozy," says Shizu Saldamando, an artist whose work has been exhibited at LACMA and Washington's National Portrait Gallery and who also works as a tattoo artist. "There are so many luxury 'artists lofts' where no artists can afford to live. Older artists — like my professors — are being pushed out of housing. Everybody is always looking for a roommate or a room to rent." Says photographer Catherine Opie: "A lot of artists were hurt, especially when the smaller galleries started closing. They are still closing."
Brazell, of Cultural Affairs, says that hundreds of dance, theater and performance groups in town have budgets under $200,000 and are far more vulnerable than organizations with development teams and established connections to the billionaire class. "These are the groups that are really struggling, and there is no rent control for nonprofits."
A lot of artists were hurt, especially when the smaller galleries started closing. They are still closing.
— Catherine Opie
The departure of corporate headquarters — civic-minded companies that supported things like the Olympic Arts Festival — puts pressure on public funding, which hasn't come back. "We have such a small scale and such a small pot," Brazell says. Cultural Affairs and other groups like it, she says, are still climbing back to pre-recession levels, and the result is difficulty for smaller groups.
Los Angeles has been attracting visual artists, actors and other creative types for decades now, in part because the vast amount of space, and the variety of bohemian neighborhoods, meant that space was cheaper than in many other big cities. But with the rising cost of living, which began before the recession but came back steeply afterward, the creative middle class began to strain, or disappear. It's the creative class version of the widening rich-poor division in the nation at large.
But seeing beneath the surface of wealth and fame is rarely easy. Most artists know someone who had to leave L.A., or quit acting or shooting photographs, because of the cost of living and now lives in Portland or works in real estate: For every Lena Dunham or Moby who moves to town (and blogs about it), there are hundreds — perhaps thousands — of people in the creative middle class who had to leave. But fewer of us know their names.
"I know gallerists who gave up and took day jobs, actors who sold up in LA and went back to Europe," says Sefton. The crash "was devastating for hundreds of organizations — the more vulnerable the company, the worse it was."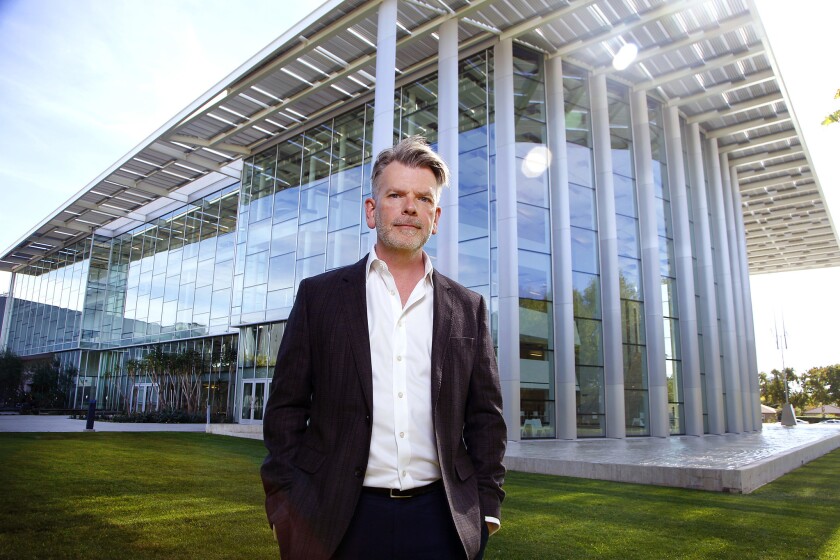 A resilient city
Whatever the flaws and gaps in Los Angeles cultural landscape, though, the recession casualties were mostly contained and temporary for arts institutions.
Other cities were hit harder. Baltimore, Cleveland and Orange County lost their operas; San Diego's and New York City Opera nearly disappeared. The crash provoked strikes or musicians' lockouts around the country; even groups in wealthy Seattle struggled.
Yet several arts organizations in L.A., though, have weathered the storm. What's the difference?
An invisible shift occurred just before the recession, says Dana Gioia, the L.A. native who led the National Endowment for the Arts from 2003 to 2009. "For the first time ever," he says of an NEA survey that used 2005 data, "Los Angeles had more artists than any city in North America — including New York. That reflected a huge growth of institutions throughout the Southland. Los Angeles had acquired critical mass."
This forward motion kept arts life here moving, even after the market crash. "And our old downtown has gone from a liability to an asset."
The Bay Area has priced out the next generation of artists. Those people are coming to Los Angeles.
— Dana Gioia
Michael Ritchie, the artistic director of the Center Theater Group, remembers three difficult years after the crash. "Around that time, Los Angeles was getting a sense that it was an international arts city. That pride" — and the donations it spurred — "helped to soften some of that pain." The Getty's 2011 Pacific Standard Time initiative had a similar effect, directing the world's attention (and dollars) to visual artists here, past and present.
Some of L.A.'s stability came from an unexpected source. "You had cities that struggled harder and longer," says Thor Steingraber, who spent the first years after the crash struggling to sustain an arts complex in Philadelphia and now runs the Soraya. "The biggest difference is where you had a fixed base of support, as opposed to a variable base. L.A. County provides an amount of support that nobody I know can tell you, because it comes from so many sources." But that support quietly kept a lot of groups afloat.
Every year, Otis College issues a report on the creative economy in California; the most recent one shows one in seven workers here employed in the creative sector, with $59.6 billion in wages. It also points out that L.A. benefits from being in a state that's grown economically and created numerous jobs. But all of California is not thriving culturally.
"Despite the greatest creation of wealth in human history, the Bay Area has become in some ways less friendly to the arts," says Gioia, now the state's poet laureate. "The Bay Area has priced out the next generation of artists. Those people are coming to Los Angeles."
This is another way L.A. has kept its cultural life alive even with huge rent jumps: For an artist in Brooklyn or the Mission district of San Francisco, L.A. is still a relative bargain.
Then there's our space. It was during those post recession years that Sharon launched his "Invisible Cities" opera in Union Station, and "Hopscotch" performance that took place limos coursing through L.A. — two projects inconceivable in another other American city.
A space of their own
When we check in with our trio of characters, Argote, Sefton, and Sharon — just three people of the nearly 60,000 who work in visual or performing arts, according to the Otis Report — how are they doing today?
The economy had started to heal a bit by 2010, when Sharon started his new venture, The Industry. "But it was still a big leap into the unknown to found a company without any seed money, and to hope to attract donations to establish a company for new and experimental opera." Almost immediately, his projects drew widespread acclaim, locally and internationally. He later won a MacArthur "Genius" Award, became the first-ever American director at the Bayreuth Festival, and is now completing a three-year stint with the LA Phil. His new production, with the Industry and LA Phil, of John Cage's "Europeras 1 & 2," debuts Nov. 6.
Sefton resigned from UCLA Live and moved to Australia, where he programs international arts festivals. "Everyone back then was focused on the art walks and the food trucks," he writes, "but the slow and steady re-emergence of those Broadway Theatres was what really counted for our industry." Under his successor, the university series has rebuilt itself as the Center for the Art of Performance and even expanded into offsite venues downtown and in Westwood. And under the leadership of Kristy Edmunds, it is thriving.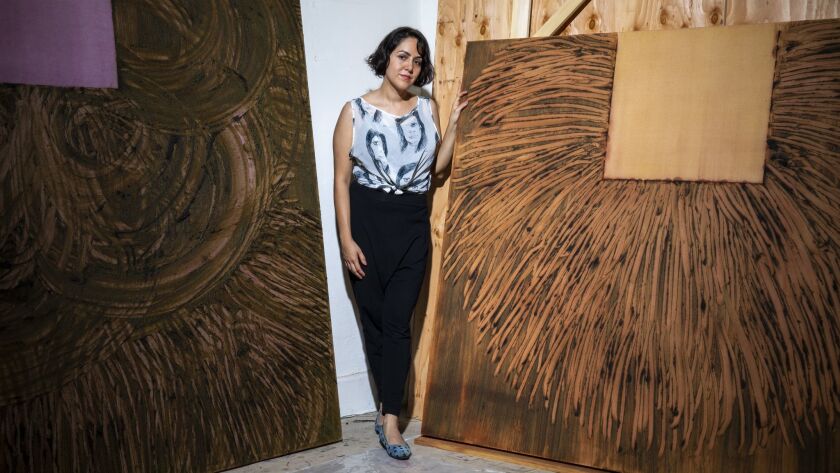 Argote bobbed and weaved, taught art to kids, valet parked in downtown L.A. But today she is dedicated to art full time. Her works have garnered critical praise, with her large-scale pieces shown at LACMA and prominently displayed in the most recent "Made in L.A." at the Hammer Museum. "The collapse had the effect of deconstructing my expectations," says Argote, who lives in her Lincoln Heights studio. "Home ownership went out the window. The most important thing is to have time, and have space. Everything else became extras – I had to let them go."
And despite all of the challenges, that space — our imperfect city — continues to be fertile grounds for creativity.
---
Get our daily Entertainment newsletter
Get the day's top stories on Hollywood, film, television, music, arts, culture and more.
You may occasionally receive promotional content from the Los Angeles Times.