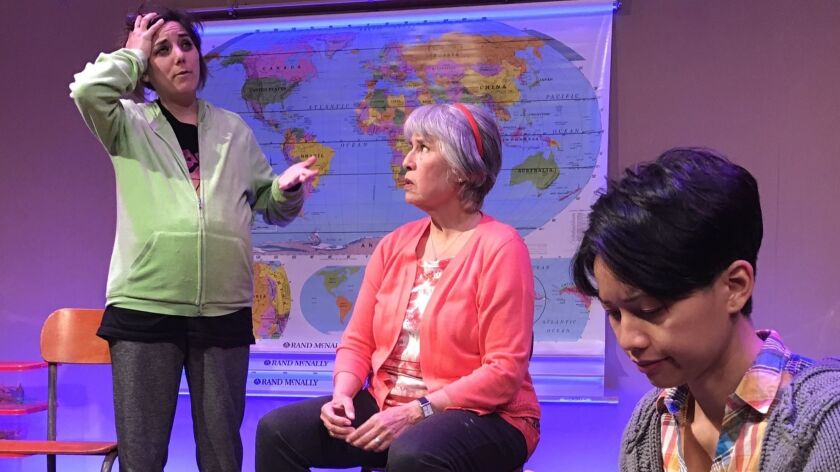 Women's History Month this year comes in the midst of what is developing into the Women's History Era. One way to participate: Applaud strong, resourceful, vital women as depicted in shows at Los Angeles' smaller theaters.
Among the productions to choose from are "Of Government" by Son of Semele, a festival of plays by Latinas at Casa 0101, "Through the Eye of a Needle" by the Road Theatre Company and "Engaging Shaw" by Theatre 40.
---
'Of Government' by Son of Semele
What: Based on the surroundings, we seem to be at a community performance of a "Little Mermaid"-style musical. But wait, now we're in a Montana schoolhouse, where answers are sought, and, good grief, now we're in the Alps, where local concerns go global. Where is this crazy ride headed?
Why this? The above scenario is not what you would expect from a play called "Of Government," right? That was just one of the rugs pulled from under audiences when this play was introduced in June by the New York play-development group Clubbed Thumb. Reviewers had a great time at Alexander Borinsky's play but had a difficult time describing what they'd seen. Helen Shaw, writing for Time Out New York, seemed to be onto something, though, when she wrote: "Everything that goes wrong in 'Of Government' can be traced to some systemic failure." The Brooklyn-based Borinsky offers this further hint: "Freedom isn't something we can achieve meaningfully as individuals. Government is an ongoing activity, a project we can take on together, like organizing a bake sale, or putting up a school play." The characters are all female, so every rolled-up sleeve here is a woman's. The feisty Son of Semele is just the company to bring this unconventional show to L.A.
Details: Son of Semele Theatre, 3301 Beverly Blvd., L.A. 8 p.m. Fridays and Saturdays, 5 p.m. Sundays; ends April 1. $20 and $25. www.sonofsemele.org
---
Chicanas, Cholas y Chisme festival at Casa 0101
What: Twelve new 10-minute plays written and directed by — and about — Latinas. Topics include racism, sexual assault, LGBTQ issues, the Deferred Action for Childhood Arrivals program and the 1968 East L.A. walkouts protesting school conditions.
Why this? As Casa 0101 determinedly raises funds to keep its doors open, it continues to program the material that makes it such a vital part of the city. This sixth edition of the Chicanas, Cholas y Chisme festival reverberates with the energy of a nation reawakened to social and political action as women speak out together. Casa 0101 has been an outlet for such voices since Josefina López, a writer best known for the play and movie "Real Women Have Curves," founded it in 2000. Finances tightened after a period of lower than usual ticket sales and grant income, Executive Director Emmanuel Deleage told The Times in early February, and shutdown loomed, possibly by June, if income didn't improve.
A fundraising campaign launched in January is bringing in $3,650 a month, based on commitments made as of Wednesday, Deleage says. That's not quite 42% of the target — $8,750 a month — that could be raised if 350 people pledged at least $25 monthly. "We've inspired a lot of artists and youth, and we hope to do that for many years to come, but as a community theater we need the community's support to do that."
Details: Casa 0101 Theater Main Stage, 2102 E. 1st St., Boyle Heights. 8 p.m. Fridays and Saturdays, 5 p.m. Sundays; ends April 15. $18-$23. (323) 263-7684, www.casa0101.org
---
'Through the Eye of a Needle' by the Road
What: The Keens, a family in 2011 New Jersey, are trying to make it through their first Christmas Eve without a Navy corpsman daughter who was killed in Iraq. Mom, Dad and their younger daughter try to tough out a dinner to which their pastor has invited himself and his wife. Then more news from Iraq arrives at the door.
Why this? "Through the Eye of a Needle" "explores the effects of war both on an American family and an Iraqi family," says its North Hollywood-based playwright, Jami Brandli. Leavening drama with comedy, she hopes to show that "the gift of healing often comes from the most unexpected places." Watch especially how the story's women give and receive this gift. Brandli's "Technicolor Life," also about war's effects, was a finalist for the 2016 PEN Center USA Literary Award for drama, and her "Bliss (or Emily Post Is Dead!)" drew enthusiastic reviews this winter in a production by San Diego's Moxie Theatre and will be presented by L.A.'s Moving Arts in October. The Road Theatre moved ahead with the world premiere of "Needle" based on the strength of its showing in the company's 2016 Summer Playwrights Festival, when it was given a reading, and a workshop last October.
Details: The Road Theatre at Lankershim Arts Center, 5108 Lankershim Blvd., North Hollywood. 8 p.m. Fridays and Saturdays, 2 p.m. Sundays; ends May 26. $15 and $34. (818) 761-8838, www.RoadTheatre.org
SIGN UP for the free Essential Arts & Culture newsletter »
---
'Engaging Shaw' by Theatre 40
What: At 41, playwright and social activist George Bernard Shaw remains a bachelor, although well known for intense flirtations. Then he is introduced to Charlotte Payne-Townshend, who is as opinionated and headstrong as he is. They spark something in each other, but can Payne-Townshend get him to commit?
Why this? In imagining this biographical moment in "Engaging Shaw," playwright John Morogiello adopts Shaw's brainy style of comedy to deliver a "Pygmalion"-like exchange of ideas. Shaw declares marriage "an abomination and a nightmare" and proudly affirms that "No woman has defeated me yet." But when Payne-Townshend squares her shoulders, Shaw must marshal every ounce of his intellect to answer her challenges. When I reviewed the play at San Diego's Old Globe in 2011, I enjoyed the spirited debate, heated emotion and occasional flinty spark of desire. Theatre 40 does well by this sort of material, posing the possibility of a fascinating match, much like Shaw and Payne-Townshend.
Details: Theatre 40 in the Reuben Cordova Theatre, 241 S. Moreno Drive on the Beverly Hills High School campus. 8 p.m. Thursdays-Saturdays, 2 p.m. Sundays; ends April 15. $30. (310) 364-0535, www.theatre40.org
---
The 99-Seat Beat appears every Friday. Our reviewers shortlist offerings with an emphasis on 99-seat theaters and other smaller venues. You can find more comprehensive theater listings posted every Sunday at latimes.com/arts.
Twitter: @darylhmiller
---