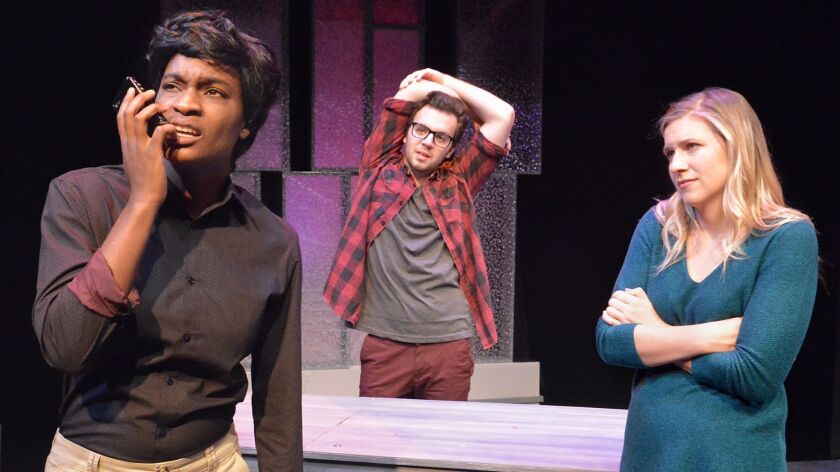 Los Angeles' smaller theater companies this week are taking a look at a couple weathering major change, a coterie of classic Pedro Almodóvar heroines, 150 years of Los Angeles history and a singing, dancing "King Lear."
---
1. "Rotterdam" by Skylight Theatre
The essentials: Create an email, plug in Mom and Dad's address, tell them you're a lesbian. Alice is ready to break the news to her parents, but before she can, her girlfriend, Fiona, has some news of her own: She's always identified as a man and is ready to live as one.
Why this? English playwright Jon Brittain won the 2017 Olivier Award for achievement in an affiliate theater and nabbed attention in a brief festival run in New York. Although the situation he depicts is freighted with questions, Brittain has written it as a rom-com to keep audiences laughing while they're thinking. In Los Angeles, the Skylight's production is directed by Michael A. Shepperd, whose staging of "The View UpStairs," wrapping an extended run at the Celebration, confirms his sharp eye and winning instincts. As specific as "Rotterdam" is, it's also universal, Shepperd says. "What happens when one of the people in a long-term relationship decides to make a huge change in their life? What happens to the relationship?"
Details: The Skylight Theatre, 1816½ N. Vermont Ave., L.A. Opens Saturday and performs at 8:30 p.m. Fridays and Saturdays, 2 p.m. Sundays, 8 p.m. Mondays; ends Dec. 11. $15-$41. (866) 811-4111, www.skylighttheatre.org
---
2. "Women on the Verge of a Nervous Breakdown" by Musical Theatre Guild
The essentials: Based on Almodóvar's 1988 film of the same name, this musical follows women through 48 hours in Madrid as their love lives turn particularly chaotic. A missing lover, an attempted dive off a balcony and sedative-laced gazpacho figure into the plot.
Why this? Patti LuPone and Brian Stokes Mitchell were part of the 2010 musical's Broadway cast, but reviews were dicey and the show closed three weeks shy of its limited 16-week run. It's been largely invisible ever since, which is why it's so handy to have the Musical Theatre Guild in town, specializing in little-seen musicals. The music and lyrics are by David Yazbek, the book by Jeffrey Lane, who collaborated on "Dirty Rotten Scoundrels." Yazbek's résumé also includes "The Full Monty" and the new Broadway show "The Band's Visit." Richard Israel, one of L.A.'s surest directors of musicals, is at work with a cast that includes area powerhouses Kim Huber and Eileen Barnett, as well as Broadway cast member Nikka Graff Lanzarone, advancing here to a larger role. The semi-staged, book-in-hand presentation is one night only.
Details: The Alex Theatre, 216 N. Brand Blvd., Glendale. 7 p.m. Sunday. $10-$45. (818) 243-2539, www.alextheatre.org
SIGN UP for the free Essential Arts & Culture newsletter »
---
3. "This Land" by Company of Angels
The essentials: History — 150 years of it — unfolds on a piece of land in what is now residential Watts. Successive inhabitants reflect the area's changing ethnic makeup, each generation caught up in traditions and recipes, loves and betrayals, gentrification and displacement.
Why this? This new drama is by Los Angeles native Evangeline Ordaz, whose plays "Visitors' Guide to Arivaca," about lives that intersect near an active Arizona border crossing, and "Bordering on Love," touching on marriage equality and immigration reform, also were presented by Company of Angels. A former public interest lawyer, she writes with a strong sense of social consciousness. Armando Molina directs, as he did the other plays. He is Company of Angels' artistic leader and a busy director whose credits include last year's well received "My Manaña Comes" at the Fountain.
Details: Company of Angels, 1350 San Pablo St., L.A. 8 p.m. Fridays, Saturdays and Mondays, 7 p.m. Sundays; ends Nov. 20. $12-$25; Mondays pay what you can. (323) 475-8814, www.companyofangels.org
---
4. "deLEARious" by Open Fist
The essentials: Shakespeare has had just about enough of King James I. The meddling monarch has him translating Scripture for a soon-to-be famous new Bible while expecting the Bard to sit back while Francis Bacon is brought in to tweak "King Lear." That's just part of this play-within-a-play about the creation of a present-day musical based on "Lear."
Why this? Shakespeare is mightily put-upon these days. He's also besieged in the touring Broadway musical "Something Rotten!" — now playing at Segerstrom Hall in Costa Mesa, then moving to the Ahmanson. "deLEARious" is by writer-director-actor Ron West — a stalwart of the Second City comedy troupe — and composer Phil Swann. Don't be surprised to find them as characters in the show. West directs the Open Fist production, which is a reprise of its 2008 production. "Reviving a show about a crazy, narcissistic king that is both sublimely silly and remarkably smart feels right for the moment," says Open Fist's artistic director, Martha Demson. "It's a marvelous antidote to the heaviness of this time."
Details: Open Fist at Atwater Village Theatre, 3269 Casitas Ave., L.A. 8 p.m. Fridays and Saturdays, 3 p.m. Sundays; ends Dec. 16. $30. (323) 882-6912, www.openfist.org
---
The 99-Seat Beat appears every Friday. Our team of reviewers — people with more than 50 years of combined experience tracking local theater — shortlist current offerings at 99-seat theaters and other smaller venues. Some (but not all) recommendations are shows we've seen; others have caught our attention because of the track record of the company, playwright, director or cast. You can find more comprehensive theater listings posted every Sunday at latimes.com/arts.
Twitter: @darylhmiller
MORE THEATER:
'Something Rotten!' delivers on fluffy, fizzy, frolicsome fun
In 'Deferred Action,' an unexpected call to end DACA
'Mr. Burns' mines a classic 'Simpsons' episode for dark comedy
The future of Asian American theater? East West Players' new leader charts a course
'War of the Worlds' to invade Disney Hall and the streets of downtown L.A.
---