Review: American Ballet Theatre's 'La Bayadère' raises questions of cultural stereotypes amid the classics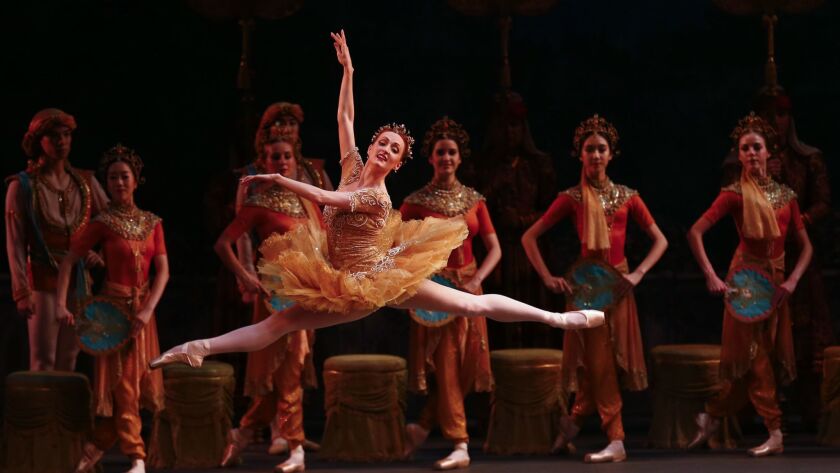 Can a classic be offensive? Certainly reactions to certain scripted narratives, from Shakespeare's "Taming of the Shrew" to D.W. Griffith's "Birth of a Nation" have changed with time and sensibilities, but what about a ballet classic?
When Natalia Makarova staged her full-length version of "La Bayadère" for American Ballet Theatre in 1980, the performing arts and entertainment worlds were still oblivious to questions about cultural insensitivity and appropriation that are currently prevalent and arguably overdue. But those issues haunted the popular 38-year-old production when the company performed it Friday through Sunday at the Dorothy Chandler Pavilion.
Originally choreographed by Marius Petipa in 1877, and then substantially revised by others in 1941, the ballet depicts ancient India as a realm of unprincipled fancy-dress barbarism, akin to Petipa's treatment of Egyptians in "Pharaoh's Daughter," Turks in "Le Corsaire" and Arabs in "Raymonda." And although he might be guilty of nothing more than buying into and exploiting the xenophobic mind-set of Imperial Russia, why exactly are we still subjected to his corrupt vision of nonwhite societies?
The answer is "The Kingdom of the Shades," a 37-minute interlude midway through this three-hour ballet in which a guilt-stricken warrior dreams that he's searching for his lost love in the land of the dead. Choreographed with a sublime classical purity, it has become a touchstone for the art and a test of the skill and dedication of every female corps. The sequence doesn't gain much from being seen in its melodramatic context — and some companies wisely present it as a stand-alone excerpt — but on Saturday, ABT's 24 bayadères (plus three soloists) proved the highlight of an evening marked by reliable professionalism but little inspiration.
One exception: Hee Seo's ravishingly supple, delicate and weightless dancing in the title role. Perhaps the stamina needed to conquer every challenge in the "Shades" marathon eluded her, but she otherwise expressed the character's spiritual and emotional conflicts as superbly as she embodied its refined classicism.
As her warrior-lover, Cory Stearns capitalized on elegance of bearing and partnering skill, but husbanded his spectacular jump and virtuoso technique as if saving them for some other occasion. As a result, male prowess pretty much belonged to Joseph Gorak's solid-gold dancing as the Bronze Idol.
Gillian Murphy brought her imposing technical attack to the role of the treacherous princess Gamzatti, and Alexei Agoudine pumped delirious gesticulation and wild jumps into overdrive as the lead fakir. Principal mime assignments fell to Thomas Forster (a forceful High Brahmin), Alexandre Hammoudi (an icy Radjah) and Isadora Loyola (an impossibly fleet slave to Gamzatti's whims).
Catherine Hurlin had fine showcases as a soloist in the D'Jampe divertissement (opposite Brittany DeGrofft) and in the "Shades" specialties (along with Zhong-Jing Fang and Katherine Williams).
American Ballet Theatre performs "La Bayadere" at the Music Center's Dorothy Chandler Pavillion in Los Angeles.
(Kent Nishimura / Los Angeles Times)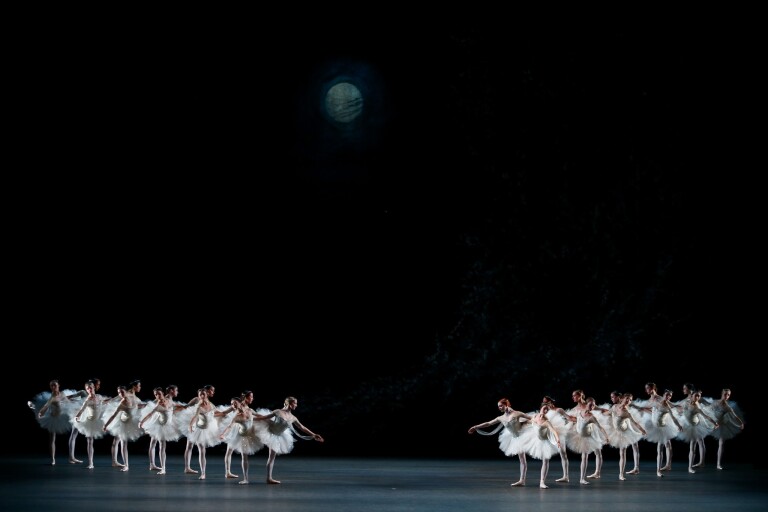 Ballerinas split the stage.
(Kent Nishimura / Los Angeles Times)
Ballerinas strike a pose.
(Kent Nishimura / Los Angeles Times)
Hee Seo as Nikiya and Cory Stearns as Solor perform.
(Kent Nishimura / Los Angeles Times)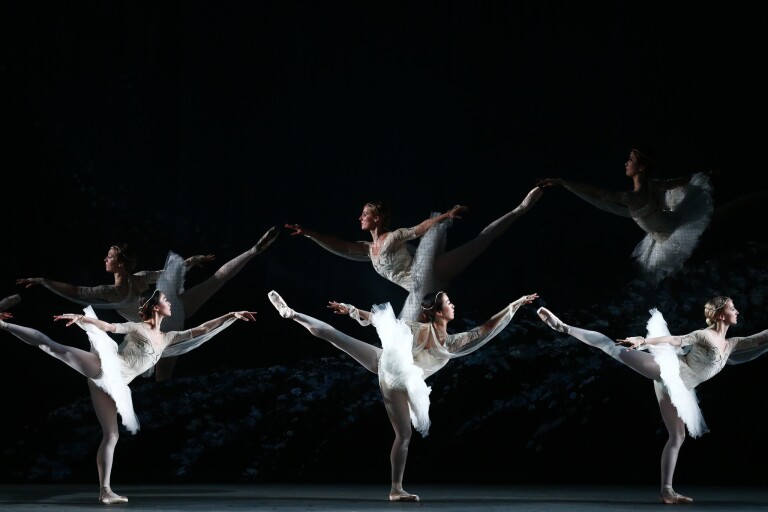 Rows of performers dance.
(Kent Nishimura / Los Angeles Times)
Hee Seo as Nikiya and Cory Stearns as Solor perform.
(Kent Nishimura / Los Angeles Times)
Ballerinas perform in formation.
(Kent Nishimura / Los Angeles Times)
Gillian Murphy performs as Gamzatti.
(Kent Nishimura / Los Angeles Times)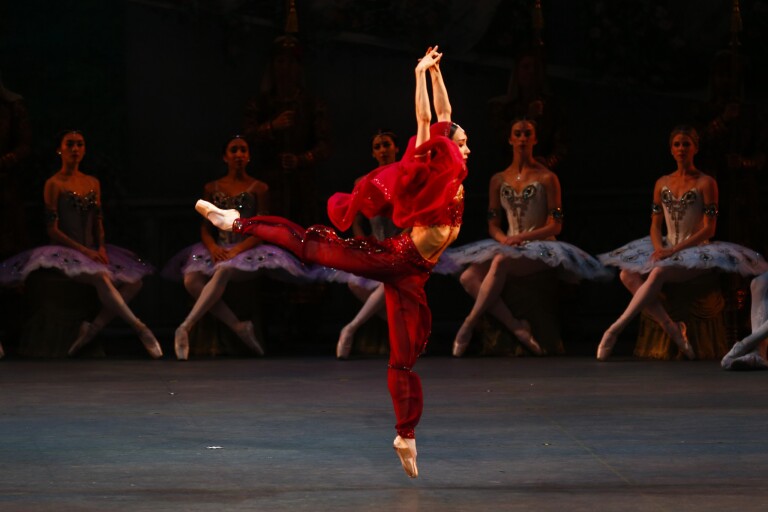 Hee Seo as Nikiya.
(Kent Nishimura / Los Angeles Times)
Cory Stearns as Solore.
(Kent Nishimura / Los Angeles Times)
Shrewdly, the Makarova production keeps the emphasis on classical dance, pruning away Petipa's ridiculous attempts at local color. But even without the platoons of stuffed parrots that adorn more complete versions, there are lapses in taste: Designer Pier Luigi Samaritani's giant scowling Buddha, for example, all too ready to crush unfaithful lovers. And you could argue that the classical choreography was reworked and manhandled long before Makarova learned it and doesn't represent top-tier Petipa — except, of course, for the "Shades."
On Saturday, Ormsby Wilkins ably conducted John Lanchbery's artful arrangement of a Ludwig Minkus score replete with trivialities and anachronisms. A waltz in ancient India? Silly, of course. But at least it doesn't insult or belittle people of color and their heritage as Petipa's "exotic" repertory so often does.
"Sleeping Beauty" anyone?
See all of our latest arts news and reviews at latimes.com/arts.
---
Inside the business of entertainment
The Wide Shot brings you news, analysis and insights on everything from streaming wars to production — and what it all means for the future.
You may occasionally receive promotional content from the Los Angeles Times.