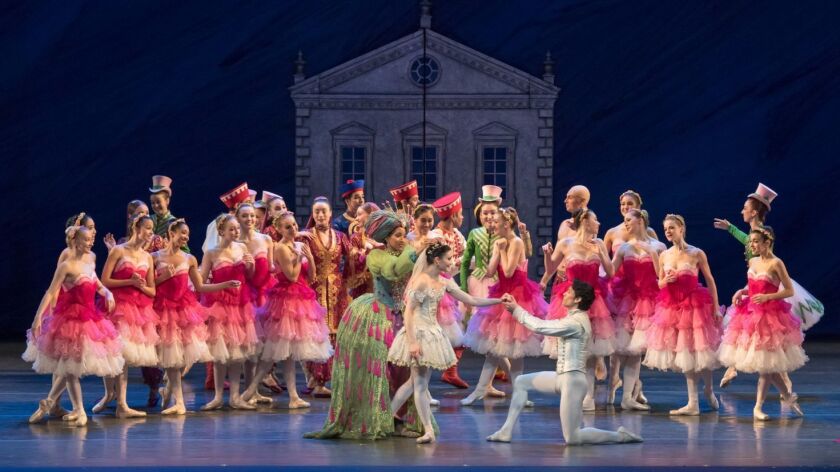 The advantages of watching a ballet once, twice or even more, year after year? Not only do you get to know its intricacies, but in the case of "The Nutcracker," you also get to watch its child performers grow up into lead parts.
Of course, not every "Nutcracker" is worth repeated viewing. The 1892 Russian ballet is bah-humbug for some viewers, even with Tchaikovsky's luscious and romantic music.
Choreographer Alexei Ratmansky's 7-year-old production for American Ballet Theatre, however, is already an unreserved classic. It's back for its annual performances at the Segerstrom Center for the Arts with the Pacific Symphony in the pit and rotating casts of children and adults, including San Pedro native Misty Copeland as the Princess in some performances.
Among the scads of children at Friday night's performance (all local and many from the ABT William J. Gillespie School at Segerstrom), Julianna Dove portrayed Clara with warmth and fearlessness; two years ago, she was a skittering Little Angel. Chase Rogers, as Nutcracker Boy, has moved up the solo ranks each December, first as Little Mouse and last year as Fritz; he is a gifted actor and a budding dancer. Salvatore Lodi made his debut as Little Mouse, while Kellan Hayag was a floppy-haired, scampering scalawag Fritz.
The little ones happen to be a personal favorite, but most of the audience is there for the grownups. Veteran principal dancer Herman Cornejo was a glorious Prince, who managed to naturally balance regal and humble. He moved with fullness, drawing distinct shapes with his body that oozed with rhythm, embodying the music in all its qualities. See him while you can; he's approaching his 20th anniversary with ABT.
Sarah Lane, the Princess, wavered on this evening. She was mostly in command when Cornejo was nearby but insecure during her solos. Lane tended to rely on her steely legwork, as though her upper body port de bras were tacked on as an afterthought. She appeared to lose confidence during the grand pas solo. Conductor David LaMarche saved the day at the end, holding the orchestra's final chords as the couple maneuvered into their last position.
Dancers throughout the ranks distinguished themselves Friday: Marshall Whiteley played up the Mouse King's make-believe fearsomeness, making his debut in the role; Courtney Lavine turned the Nanny/Sugar Plum Fairy part into a whimsical Mary Poppins; and Gabe Stone Shayer and Betsy McBride sharply defined the mechanical dolls, Harlequin and Columbine. Craig Salstein was the night's energetic Drosselmeyer, perhaps a bit too high-voltage, and for my taste a tad too young yet to be the magical uncle and toymaker.
Shayer, joining Patrick Frenette and Nathan Vendt, amped up the antics for the Russian dance, which Ratmansky has transformed into a balletic Three Stooges. Likewise, the Arabian dance is no longer the skin-showing seduction scene of past productions but a comedic vignette of a husband under pressure from his four-woman harem. Considering the current headlines, that one needs a very light touch, and Roman Zhurbin, Kathryn Boren, Claire Davison, Scout Forsythe and Catherine Hurlin achieved the right tone.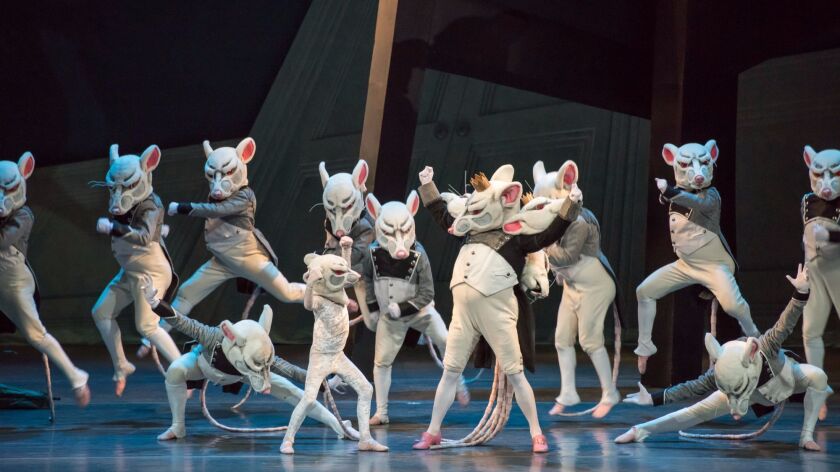 SIGN UP for the free Essential Arts & Culture newsletter »
There seems a never-ending supply of subtle complexities to uncover in Ratmansky's work. In the Waltz of the Flowers, I noticed for the first time the women's shivering arm gesture, suggesting they're quaking with joy. And in the Snow scene, the 24 female snowflakes continuously reform new angles and shapes, as though there were a real storm blowing them about. Richard Hudson's colorful costumes set the mood as much as his painterly scenic designs.
Finally, the Pacific Symphony, though occasionally thin-sounding in the strings, kept a sprightly and joyful pace.
♦ ♦ ♦ ♦ ♦ ♦ ♦ ♦ ♦ ♦
American Ballet Theatre's 'The Nutcracker'
Where: Segerstrom Hall, 600 Town Center Drive, Costa Mesa
When: Through Dec. 17 (dancer lineup varies by performance)
Tickets: $29-$299
Information: (714) 556-2787 or scfta.org
See all of our latest arts news and reviews at latimes.com/arts.
ALSO
Children of 'The Nutcracker' work for their moment in the spotlight
In a season full of 'Nutcracker,' the brilliance of Balanchine shines through
Peri Gilpin on ugly sweaters, holiday treats and her 'Miracle on 34th Street'
---