Review: We're still on a sugar high: Run (or leap) to American Ballet Theatre's 'Whipped Cream'
It took almost 100 years, but composer Richard Strauss' ballet "Whipped Cream" is finally a bewitching success, thanks to the pairing of artist Mark Ryden with choreographer Alexei Ratmansky.
Cheers first to Ratmansky, the artist in residence at American Ballet Theatre, which premiered "Whipped Cream" — known in German as "Schlagobers," in its short-lived version from 1924 — at Segerstrom Hall on Wednesday evening. This is Ratmansky's lucky 13th work made for ABT since he joined the company in 2009.
Like his other story ballets, it adheres to the classical tradition while excising Old World stuffiness. In "Whipped Cream," the corps de ballet enter for their big number by sliding on their bottoms down a ramp. "La Bayadere," this is not.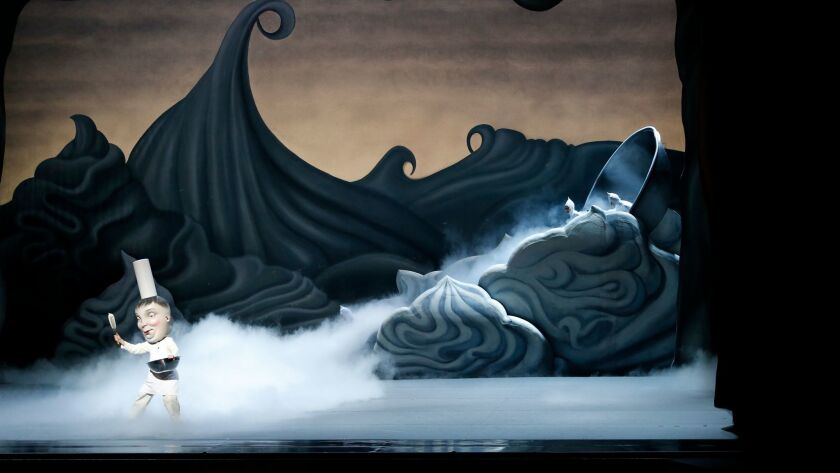 Ryden, an art-world star who did the scenic and costume designs, has an equally perfectionist mind-set and simpatico high-low sensibility. The five major set changes — outside a village church, a pastry shop, a whipped cream world, a hospital room and a European-style plaza — are devastatingly tasteful and lavishly detailed, both realistic and fanciful. (Note the portrait of Lincoln, a Ryden signature.) The carriage driver, parish priest, chef and doctor have oversized heads, reminiscent of Mardi Gras. There's a white horse with pink bows in its mane to pull the carriage, and a giant snow yak (the best stuffed animal ever).
In contrast, the hospital room set is a fearsome place with a single blinking eye on the wall. American Ballet scenic design supervisor Camellia Koo, costume design supervisor Holly Hynes, and lighting designer Brad Fields have magically lifted Ryden's drawings and paintings off the page to the stage.
SIGN UP for the free Essential Arts & Culture newsletter »
In resurrecting Strauss' programmatic score, the choreographer has music that helps him narrate the story. It veers from dramatic percussive solos and village brass band passages to whiny strings, dark dissonance and cheerful waltzes. It received a sterling performance from the Pacific Symphony under the spirited guidance of ABT conductor and music director Ormsby Wilkins.
The whimsical story has been deftly modified from Strauss' libretto. Loosely, it's about a boy with an overactive sweet tooth and imagination: Treats come alive and frolic, then save him, and he retreats happily ever after to Princess Praline's kingdom. Ratmansky turns the story-ballet formula on its head; the first act has thematic dances, plus romantic pas de deuxs, while the narrative action takes place mostly in the second act.
The choreographer has gifted his characters with signature steps and personalities. Princess Tea Flower, the beguiling Stella Abrera, is a flirtatious charmer who strikes pinup poses and graciously unfurls her limbs and bats her eyes. Prince Coffee, the elegant David Hallberg, making a long-awaited return after an injury, kisses her feet and celebrates her charms in fast-paced but luxuriant love duets displaying the couple's expressiveness. Joseph Gorak, as Prince Cocoa, fails to woo her with his air-catching leaps, and neither does Blaine Hoven with jaunty jumps and slides into splits.
Wednesday's young hero was Daniil Simkin, delivering a keen portrayal of immaturity minus overt silliness. What Ratmansky was looking for dance-wise is youthful virtuosity, and Simkin hung on for the rousing finale of leaps and spins, encircled by the clapping cast. Petite Sarah Lane, portraying Princess Praline, has purposeful attack in her jutting leg kicks. The Three Stooges-like, comically sweet liqueurs Catherine Hurlin, Duncan Lyle and Roman Zhurbin won plenty of laughs and succeeded in getting the doctor (Alexei Agoudine) and 12 nurses inebriated, enabling Simkin's escape.
Children from the Segerstrom Center-ABT school made delightful if brief appearances. The corps was in top form. Scattered opening night stumbles, collisions and one footwear malfunction were noted and quickly remedied.
All in all, it would have been difficult to sour this confection.
♦ ♦ ♦ ♦ ♦ ♦ ♦ ♦ ♦ ♦
American Ballet Theatre's 'Whipped Cream'
Where: Segerstrom Hall, Segerstrom Center for the Arts, 600 Town Center Drive, Costa Mesa
When: 7:30 p.m. Friday, 2 and 7:30 p.m. Saturday, 1 and 6:30 p.m. Sunday.
Tickets: $29 and up. Subject to change.
Info: (714) 556-2787, SCFTA.org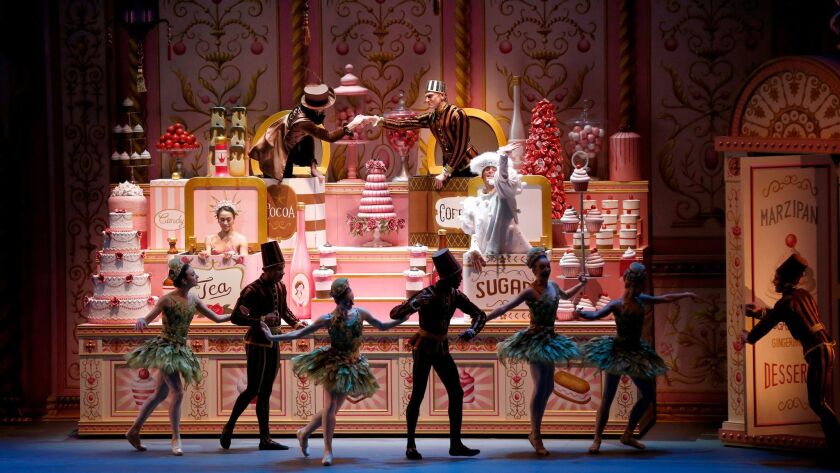 Follow The Times' arts team @culturemonster.
ALSO
Mark Ryden's foray into set design is a fantastical ballet of candyland delights
Misty Copeland bows out because of injury, but David Hallberg returns
Gene Kelly's widow recalls magic of the film 'An American in Paris' as the stage version comes to SoCal
---
From the Oscars to the Emmys.
Get the Envelope newsletter for exclusive awards season coverage, behind-the-scenes stories from the Envelope podcast and columnist Glenn Whipp's must-read analysis.
You may occasionally receive promotional content from the Los Angeles Times.