Mark Ryden's foray into set design is a fantastical ballet of candyland delights
Mark Ryden is on something of a sugar high. Backstage at Costa Mesa's Segerstrom Center for the Arts, the painter giddily navigates a luscious candyland of his own creation — something he's now seeing fully realized, onstage, for the first time.
Dressed in black with round, wire-rimmed glasses, a black fedora and a silvery goatee, the Pop Surrealist looks like a magical wizard as he surveys the fantastical haven of desserts he's created for American Ballet Theatre's new production of "Whipped Cream." Ginormous sugary confections glint under draping stage lights: velvety swirls of sugar plum pastry, strawberry-topped cupcakes, powder-coated chocolate drops and glossy, melon-sized gum balls. Theatrical technicians, like Willy Wonka factory workers, scramble around the artist. Stage hands roll towering peaks of whipped cream across the floor on dollies while prop artists affix Swarovski crystals to vanilla-iced tarts.
"C'mere," Ryden beckons, slipping behind a cotton candy-pink dessert counter, a proverbial kid in his self-conjured candy store. The black backside of the giant set piece exposes the infrastructure behind the magic — ladders and trap doors that the dancers scurry up and through.
"It's all these details," Ryden says, showing off the underside of a monstrous tin coffee can that one of the characters pops out of. "We had to make these openings big enough for the dancers' tutus to get through."
Painter Mark Ryden, known for his vaguely unsettling fairy tale images, has designed sets and costumes for American Ballet Theatre's production of "Whipped Cream."
(Allen J. Schaben / Los Angeles Times)
Characters in "Whipped Cream" include Princess Tea Flower, who wears this costume.
(Allen J. Schaben / Los Angeles Times)
Painter Mark Ryden tries on a cape he designed for "Whipped Cream," a revamped Richard Strauss ballet about a boy who falls ill after eating too many sweets.
(Allen J. Schaben / Los Angeles Times)
A costume confection for American Ballet Theatre's "Whipped Cream" is held by wardrobe supervisor Tomoko Ueda-Dunbar.
(Allen J. Schaben / Los Angeles Times)
Costume supervisor Tomoko Ueda-Dunbar and designer Mark Ryden hold a costume for Princess Tea Flower backstage at Segerstrom Center for the Arts, where "Whipped Cream" will be given its world premiere.
(Allen J. Schaben / Los Angeles Times)
A Mark Ryden-designed costume is held by Tomoko Ueda-Dunbar. With the ballet "Whipped Cream," Ryden makes his first foray into stage design.
(Allen J. Schaben / Los Angeles Times)
Costume supervisor Tomoko Ueda-Dunbar stands amid a sugar rush of costumes and props.
(Allen J. Schaben / Los Angeles Times)
Giant gum balls are given a coat of clear gloss by scenic artist Chrissy Skubish.
(Allen J. Schaben / Los Angeles Times)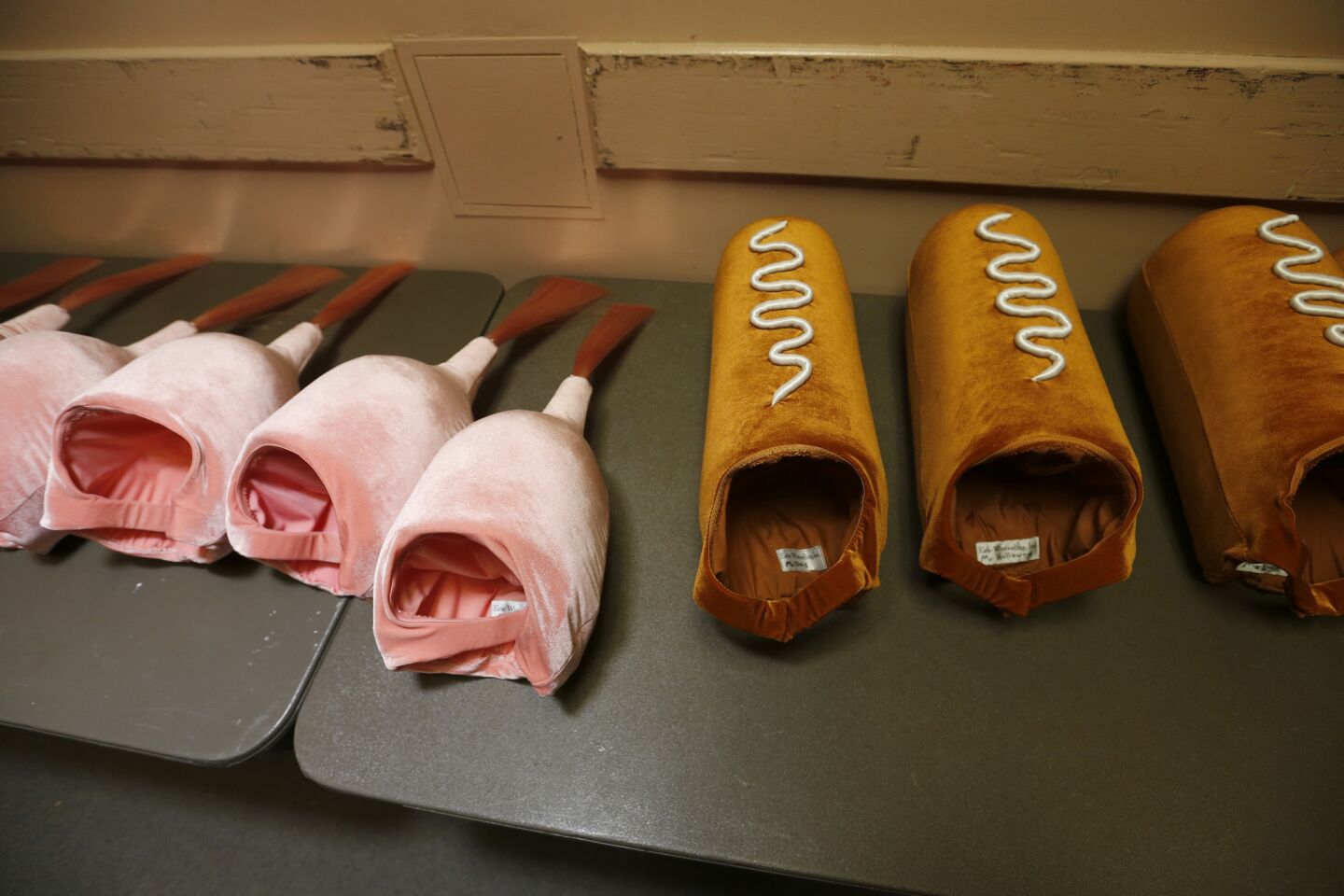 These cavity-inducing hats will be worn in American Ballet Theatre's production of "Whipped Cream," a reworking of a Richard Strauss ballet.
(Allen J. Schaben / Los Angeles Times)
Painter-designer Mark Ryden, left, and American Ballet Theatre's director of production, N. James Whitehill III, inspect a whipped cream-style slide.
(Allen J. Schaben / Los Angeles Times)
Costumes designed by Pop Surrealist painter Mark Ryden await their moment in the spotlight in American Ballet Theatre's production of "Whipped Cream" at Segerstrom Center in Costa Mesa.
(Allen J. Schaben / Los Angeles Times)
Ryden designed the sets and costumes for "Whipped Cream," which features choreography by ABT artist-in-residence Alexei Ratmansky, formerly artistic director of Moscow's Bolshoi Ballet. The fanciful production seeing its world premiere at Segerstrom Hall on Wednesday is based on an obscure, 1924 two-act ballet called "Schlagobers," written and composed by Richard Strauss. It's about a young boy who, after his first Communion, celebrates by wolfing down too many sweets at a Viennese pastry shop. He falls into a sugar-induced delirium and is rushed to the hospital, where a series of hallucinations bring his beloved desserts to life.
The character of Princess Praline was to be played, in select performances, by Misty Copeland, but the dancer had to bow out because of an injury. The opening performance features ABT principal dancer David Hallberg as Prince Coffee and South Pasadena native Stella Abrera as Princess Tea Flower, with Sarah Lane as Princess Praline. The Pacific Symphony will perform the score live. Daniil Simkin plays the character known as "the boy."
Ryden, nicknamed the "godfather of Pop Surrealism" by Interview magazine, is known for his kitschy, brightly colored paintings blending pop culture elements and old master techniques for a glossy, danger-tinged, fairy-tale-like aesthetic. His first European retrospective, at the Centro de Arte Contemporáneo de Málaga in Spain, closed on March 5.
"Whipped Cream" is his first foray into theatrical design.
"It just seemed like an exciting adventure," Ryden says of why he was drawn to the project. "And it hit at the right time for me. I'd just finished a series of art shows, and this seemed like something different. Just bringing the other dimensions beyond a static painting — story, action, movement, music, all those things."
The result is an explosion of fantasy, surrealism and traditional ballet — "Willy Wonka & the Chocolate Factory" meets "Miss Peregrine's Home for Peculiar Children" meets "The Nutcracker."
Ryden, who launched his career designing book and album covers, including Michael Jackson's "Dangerous," did more than simply design the costumes and backdrops though. His cutesy, seemingly saccharine style with a darkly humorous, Tim Burton-like twist inspired the creation of the production.
Ratmansky had toyed with the idea of reinventing "Schlagobers" in the early 1990s, and he developed a short piece of the ballet in a choreography workshop. Then, almost a decade later, he stumbled on a book of Ryden's art in a Tokyo store and was so taken with the imagery, it reignited his desire to develop the ballet. He now considers Ryden a co-creator of "Whipped Cream"; the artist's style informs nearly every aspect of the production, even the choreography, Ratmansky says.
There's something very unsettling, disturbing, about his paintings, which hides behind the sometimes very sweet surface."
— Alexei Ratmansky
"His style is completely original, it's very precise and detailed. He uses classical techniques, but the story he tells is very contemporary," Ratmansky says. "There's something very unsettling, disturbing, about his paintings, which hides behind the sometimes very sweet surface. I just thought it was a good fit for the music and that it would make this 1920s work feel contemporary."
The two met in 2015 at a Paris flea market and clicked right away, says Ryden, for whom the location, with its vintage toys, old furniture and discarded oddities, is one of his all-time favorites. He was "beyond excited" to tackle such a new and different project. But there were obvious challenges.
Ryden typically works solo, painting on flat canvases in his Portland, Ore., studio. He and his wife, the artist Marion Peck, moved there last year after Ryden had spent 35 years in L.A.
For ABT he had to create three-dimensional pieces up to 36 feet tall and 60 feet wide that would visually work in a venue with more than 3,000 seats. He scoured classical theater design books and Internet imagery for inspiration, listening to Strauss in his studio while he worked.
What proved especially difficult, Ryden says, was "letting go." He collaborated with ABT director of production N. James Whitehill III as well as independent costume supervisor Holly Hynes and scenic design supervisor Camellia Koo on his sketches, paintings and digital renderings. Ryden's designs for 150 costumes and backdrops for nine scenes were then sent to costume shops and scenic design houses, mostly in New York, for fabrication.
"I'm a very hands-on person and I like to create things myself," Ryden says. "A lot of artists like [Takashi] Murakami and Jeff Koons, Damien Hirst, they have a team of people that they direct to make their art, they don't actually do it themselves. And that's what their personalities are suited for. And I'm very much not that way. I like to have total control. So it was hard for me to let go and have other people execute things."
But letting go also opens doors. Not only will Ryden present his "Whipped Cream" paintings and drawings in a May exhibition at Paul Kasmin Gallery in New York, but also he has found a new love of ballet.
"I'd been on and off," he says. "I always liked it when I went — 'The Nutcracker,' 'Swan Lake' — but I wasn't a big, huge fan or anything."
As research, Ryden and Peck attended Ratmansky's "Firebird" at the Metropolitan Opera in New York twice last year, viewing it once from the audience and once backstage in the wings.
"It was just amazing to see the dancers out onstage. They fly around like they're weightless, and then they come offstage and just collapse in exhaustion," Ryden says, eyes wide. "And to see it in that intimate setting, what they put into their performance, it was one of the most moving things I've ever done. It was so inspirational."
Given Ryden's art stardom among a particular young and online-savvy audience — he has 360,000 followers on Instagram, where he's been posting about "Whipped Cream" — the production is also a chance for Segerstrom to diversify its audience.
"He's a big deal," says Segerstrom Executive Vice President Judy Morr. "And we know that people who are followers of his are going to come to see ballet probably for the first time. The whole concept of his doing this production in canon with Alexei Ratmansky — they're among the most creative people alive today."
When the curtain rises, Ryden's influence may or may not be immediately evident to his fans in the audience. His paintings are often shot through with mysterious symbols, religious iconography, mathematical and scientific fodder and cabinet-of-curiosity ephemera, not to mention Abraham Lincoln heads. The ABT backdrops backstage, however, are pink and frothy candy-landscapes, noticeably lighter and more innocent than the artist's typical work.
Suddenly, the answer to the question, "Where is Ryden in all this?" lands with a slap as one last backdrop is lowered onto the stage.
The piece, from Act II when the boy is hallucinating, is a psychedelic explosion of eyeballs, flowers, single-celled organisms, sea creatures and other primordial elements.
"I was trying to depict what might be lurking in his deep subconscious, what was swirling around," Ryden says.
Ryden doesn't care much for sweets himself, he says, but this one backdrop is particularly delicious for him.
"I think that's where I got to start to really go into my own territory," he says, "when the boy is truly into the fantasy world and it's more open-ended."
His face breaks into a wide grin.
"Like: This is what I would start to see if I fell into a sugar delirium myself."
♦ ♦ ♦ ♦ ♦ ♦ ♦ ♦ ♦ ♦
American Ballet Theatre's 'Whipped Cream'
Where: Segerstrom Hall, Segerstrom Center for the Arts, 600 Town Center Drive, Costa Mesa
When: 7:30 p.m. Wednesday-Friday, 2 and 7:30 p.m. Saturday, 1 and 6:30 p.m. Sunday.
Tickets: $29 and up. Subject to change.
Information: (714) 556-2787, SCFTA.org
Follow me on Twitter: @debvankin
ALSO
Alvin Ailey translates MLK speeches into dance
'Runway' finalist's costumes create character for Jessica Lang Dance
Movement as bleak theater, with some terrific Pharrell music too
The opera about Walt Disney, and how Long Beach landed 'The Perfect American'
Spring preview: What to see in dance, theater, art, classical and more
---
Get our L.A. Goes Out newsletter, with the week's best events, to help you explore and experience our city.
You may occasionally receive promotional content from the Los Angeles Times.