Academy Museum reveals what you'll see inside — though you'll have to wait for the opening
The Academy Museum of Motion Pictures — the $388-million Los Angeles project that promises to showcase the past, present and future of film — on Tuesday offered not only the first details of what movie fans will see inside but also news of a delay: The opening has been pushed back to "late 2019."
The initial target was mid-2019, but "we weren't 100% sure when the contractors would be done with the building and how much time we'd need to install afterwards," Director Kerry Brougher said in an interview.
Brougher cited the complicated nature of multi-screen exhibition installations, along with the scheduling of other film academy events in the fall, including the Governors Awards.
"These are complex exhibitions," he said. "We'll have hundreds of projectors. There's a lot of technology involved, so we need installation time, testing time, burning time."
When it does open after repeated construction delays, the Renzo Piano-designed museum — a restored 1939 May Co. building at Fairfax Avenue and Wilshire Boulevard plus a new globe-shaped theater — will have 50,000 square feet of exhibition space. It will be the largest museum of its kind in the country, Brougher said.
The permanent exhibition will be a sweeping presentation on the evolution of filmmaking, spanning two floors and more than 60% of the gallery space.
The inaugural special exhibition is a retrospective of filmmaker Hayao Miyazaki that will run for about eight months. The show, organized by Academy Museum curator Jessica Niebel in collaboration with Miyazaki's Tokyo animation studio, Studio Ghibli, is touted as the first major U.S. exhibition of Miyazaki's work.
"I wanted to show that this museum was going to be global in its scope and not just about Hollywood," Brougher said. "Miyazaki is an international figure. He's well loved by such a variety of people over all ages, a contemporary filmmaker who also uses traditional cel animation. So it's a kind of coming together of so many wonderful things."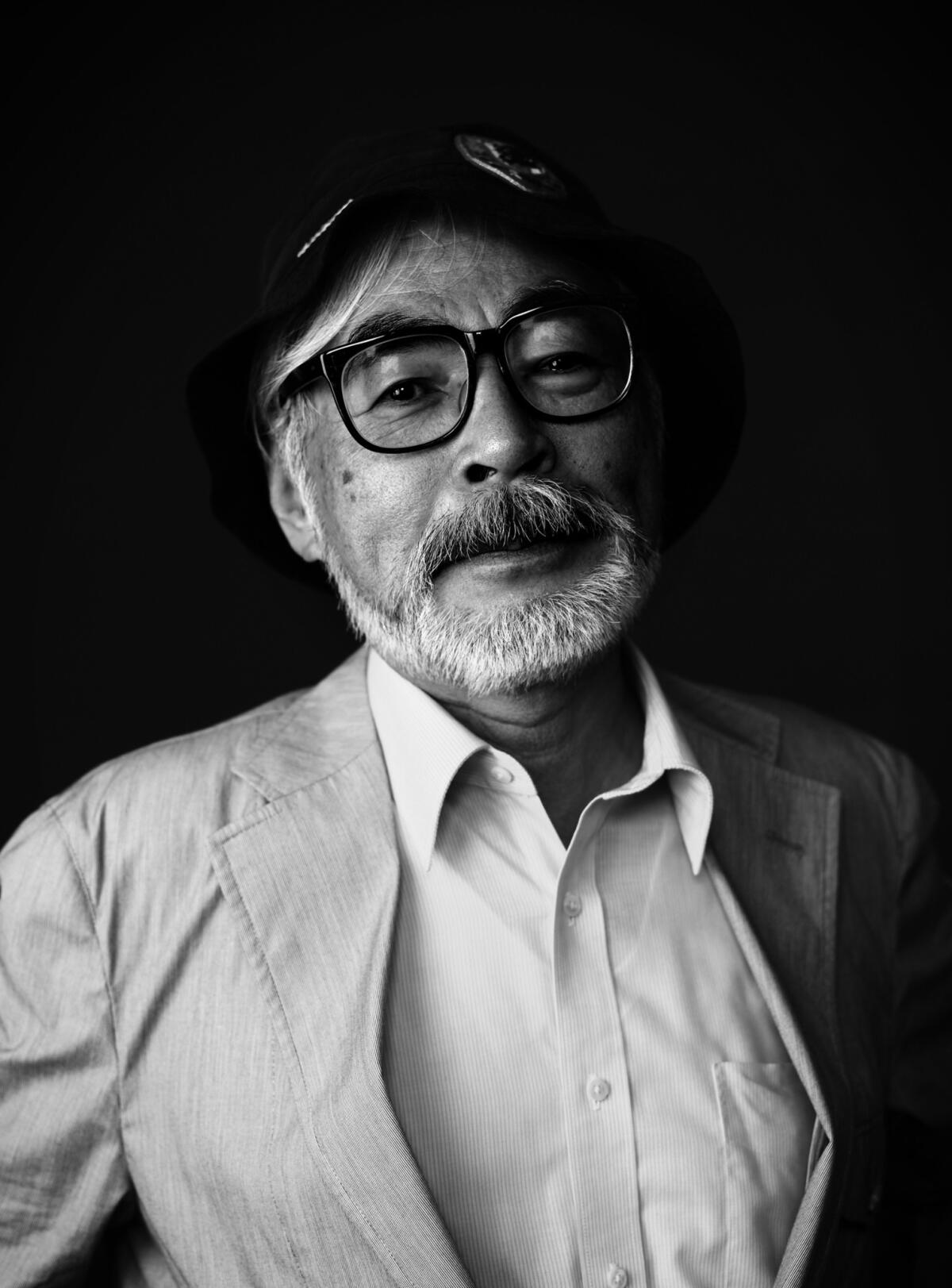 Miyazaki may be best known for his 2001 animated coming-of-age fantasy, "Spirited Away." The retrospective will include screenings of that film and others, including 1988's "My Neighbor Totoro." It will include character designs, storyboards, film clips and concept sketches. And it will feature "immersive environments" transporting the visitor into Miyazaki's worlds through 3-D build-outs and wall projections in the Marilyn and Jeffrey Katzenberg Gallery, a 12,000-square-foot space for temporary exhibitions.
In fall 2020, the gallery will house "Regeneration: Black Cinema 1900-1970," about the history and representation of African American filmmakers from the birth of cinema through the civil rights era of the late 1960s. It's co-curated by Doris Berger, the Academy Museum's acting head of curatorial affairs, and Rhea Combs, supervisory curator of photography and film at the Smithsonian's National Museum of African American History and Culture. The exhibition was just awarded the annual Sotheby's Prize, a $250,000 grant to help shine light on under-represented areas of art history.
The Hurd Gallery, a 34-foot-tall space that cuts through two floors in the building, will be dedicated to contemporary visual artists and filmmakers working in more experimental media. It will debut with the site-specific, interactive installation "Transcending Boundaries" by the Tokyo-based art collective teamLab. The exhibit debuted in 2017 at the Pace Gallery in London.
"But it takes on a quite different form every time it's installed," Brougher said of the project, in which a large, interactive, simulated waterfall takes over the walls and the floor of the gallery.
"Cinema is existing in so many different forms now — not just the movie theater, but galleries, projection mapping on buildings, in virtual reality and mixed reality, on the iPhone — and I wanted to make sure we had a space in the museum to explore new forms of cinema and technology," he added.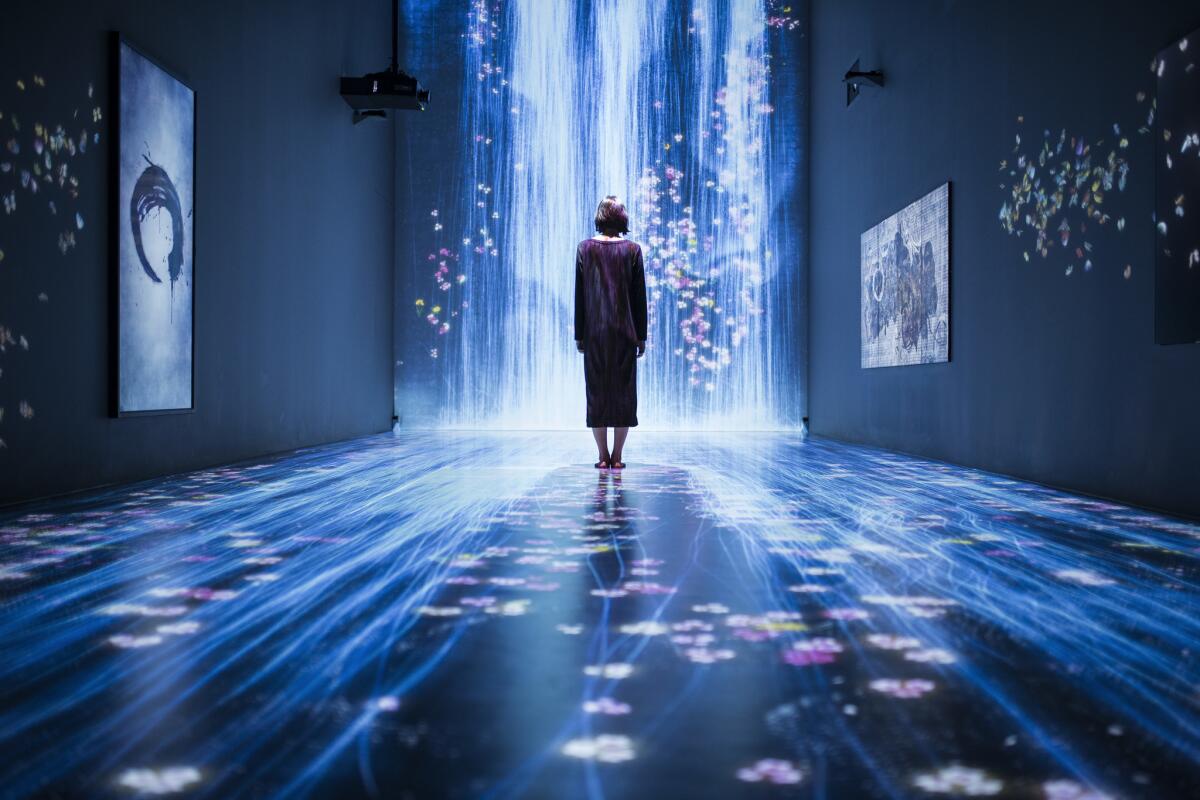 The museum's collection — nearly 3,000 objects now — consists largely of equipment, costumes, production design paintings, maquettes, puppets and animatronics, among other 3-D objects. But seven full-time curators and assistant curators also will draw on the Academy of Motion Pictures Arts and Sciences' 190,000-plus film archive and its Margaret Herrick Library, a collection of mostly works on paper, including more than 12 million photographs, posters, animation cels, scripts and letters.
The museum's permanent exhibition, "Where Dreams Are Made: A Journey Inside the Movies," will dip into all of those collections. As it traverses film history and pulls the curtain back on the magic of how movies are made, the exhibition also will explore the broader cultural and social effect of film.
"The most important thing to me is to preserve the history of the motion picture," Brougher said. "While there are many, many art museums in the world — and other kinds of museums — that are there to make sure the legacy of those art forms continue, there are very few film museums.
"It's also extremely important for us to see this as a continuity, from the past all the way into the present, and even to look at what the future of cinema might look like."
Areas dedicated to the Academy Awards will showcase snippets of speeches, memorable backstage moments and show highlights as well as ephemera such as Oscar statues given out in the 1930s.
The museum's two movie theaters, Brougher said, will be equipped with laser technology as well as "old technology" to show 16 millimeter, 35 millimeter and 70 millimeter films. Its 1,000-seat David Geffen Theater will have nitrate capabilities to show prints made during or before the early 1950s.
"As a museum, unfortunately, we're becoming one of the only places to show a film the way it was meant to be seen," Brougher said.
The overall effect at the museum, he added, is to transport visitors "into a world that exists somewhere between reality and illusion."
It's a sort of dream state, Brougher said — "but a lucid dream, moving through a magical space like cinema itself but awake enough to learn about it."
Follow me on Twitter: @debvankin
Get our L.A. Goes Out newsletter, with the week's best events, to help you explore and experience our city.
You may occasionally receive promotional content from the Los Angeles Times.