Ali Stroker on her wheelchair moves in 'Oklahoma!' and learning to run with her voice
Reporting from New York —
From her first song in Daniel Fish's daring revival of "Oklahoma!" actress Ali Stroker presents an Ado Annie like audiences have never encountered before.
Partly it's her amazing voice, strong and clear and beautiful as she sings "I Cain't Say No." And partly it's her delicious portrayal of the show's man-crazy Annie, who wheels around tables, the onstage band and other cast members singing and joking.
The performance has made her a favorite for the Tony Award as featured actress in a musical, and if Stroker wins she will become the first actress in a wheelchair to take home Broadway's biggest honor.
ALI STROKER WINS: She makes Tony history with her win for featured actress »
A seasoned performer at 31, Stroker got her break in 2012 as a finalist on "The Glee Project," Ryan Murphy's reality competition series in which contestants vied for a role in "Glee." Her varied TV credits include "Drunk History" and "Lethal Weapon," and she performed in regional theater and off-Broadway, eventually becoming the first actress in a wheelchair to appear on a Broadway stage, in Deaf West Theatre's "Spring Awakening" revival in 2015.
"When I started singing, it was the first time I felt like there were no limits," the blonde, blue-eyed actress said over coffee in Chelsea during the following conversation, which has been edited for length. "My voice didn't have walls. I could jump, skip and run with it. Singing for me is like going for a run for other people. My endorphins go up, and I feel so good after I sing. I was not given the ability to walk or run. But I was given the ability to sing."
What intrigued you most about playing Ado Annie?
We studied a lot of Rodgers and Hammerstein shows in college, and I really liked her. I felt that many times, people played her as a caricature, as somebody who's not that smart. But she's very smart, and she doesn't apologize for who she is. Her song "I Cain't Say No" is really an anthem for not apologizing for who we are and what we want, and I think we all need a little bit of that.
One of my favorite parts about doing this role is that all of a sudden, without needing to talk about it, we were addressing disability and sexuality. People are so unsure about how to tackle these subjects, and what I loved is that we didn't need to talk about them. We just got to see them in action.
How did you work with director Daniel Fish and choreographer John Heginbotham to prepare for the show?
Before we began rehearsals, I met with them to chat a little about all the ways I move and all the things that we could explore. Then, once we were in rehearsal, the director allowed me to articulate how some of these moments could work.
Do you usually meet with the choreographer at the beginning of a show?
It depends on the project, but I think it's important for me to have a dialogue with the choreographer. And the first thing I always say is, "you do your thing and don't change anything for me yet. I am going to translate the way I know how to do it for my body. Then, let's collaborate."
Are choreographers receptive?
Very. They're looking out for movement. So, if I am having trouble, they may be able to help me.
Let's talk about those wheelies.
Not a lot of people have seen someone use a wheelchair the way I do. I have been in my chair since I was in an auto accident when I was 2 years old, so the way I move is very organic. The wheelies are an unpredictable movement I use throughout the show and on purpose. I compare it to someone doing a dance movement. How I move in my chair is one of the most thrilling parts for me of doing this revival.
How did you get into performing?
After I was injured, my mom would play music all the time. It was really soothing and healing, but I didn't make the connection that I could sing until I was introduced to musical theater. When I was 7, my 12-year-old neighbor decided she wanted to direct a production of "Annie," and I would play Annie. I remember watching the "Annie" VHS over and over, learning the songs, and at the end of the summer, we put on a backyard production.
HEIDI SCHRECK: "What the Constitution Means to Me" creator talks about how another actress will play the role of Heidi Schreck »
I'll never forget what it felt like to have everyone's eyes on me while I was singing. Until that time, I was used to people looking at me because they felt sorry for me. It was like the whole thing was flipped on its head; they were looking at me because I was a star, and that changed how I saw myself.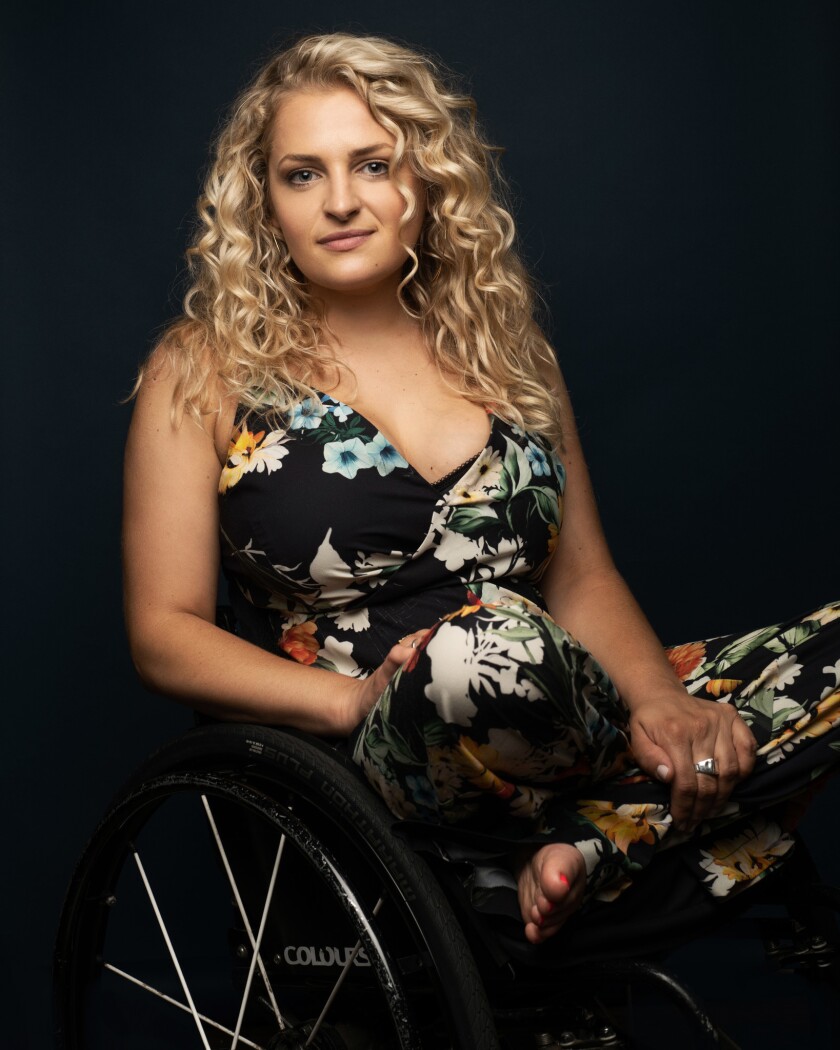 So you then went on to theater camp, summer theater programs, performing in high school and studying at New York University's Tisch School of the Arts.
I was able to thoroughly immerse myself in theater, and I think that was another part of my parents' strategy. There was no time to look at what I was not able to do. We were not going to put our attention on the fact I couldn't play soccer. We were just going to put all of our effort on what I could do.
What sort of challenges do you face each day in terms of performing?
I leave home an hour and 45 minutes before curtain. The show has been so supportive of my needs, providing a car for me to get to and from the theater and helping me inside the theater. Because there are a lot of stairs at the theater's main entrance, I go in through the office building next door, and then Circle in the Square put in a stair lift for me to get down to the dressing rooms and stage level. They also put in a ramp backstage so I can get around. Theaters have made shows accessible for patrons, but most are not accessible backstage. So, this was a big deal.
What's next for you?
I've written a book with my writing partner about a young girl in a wheelchair who discovers theater for the first time. I also dream of having my own TV series and would love to be part of producing it as well as acting because I have such a specific lens about how disability can be represented. It would be part of the story line, like in "Oklahoma!" and "Spring Awakening," and every scene doesn't have to be about disability.
'HADESTOWN': Director Rachel Chavkin on creating opportunities for women, the disabled and others »
To this day, I credit so much of my survival and happiness to finding theater. I know what it's like to be recognized for overcoming the physical challenges of being paralyzed, but I also wanted to be recognized for my abilities. I know now that if I wanted to be accepted by the world, I first had to accept myself. You have to learn how to host your own party.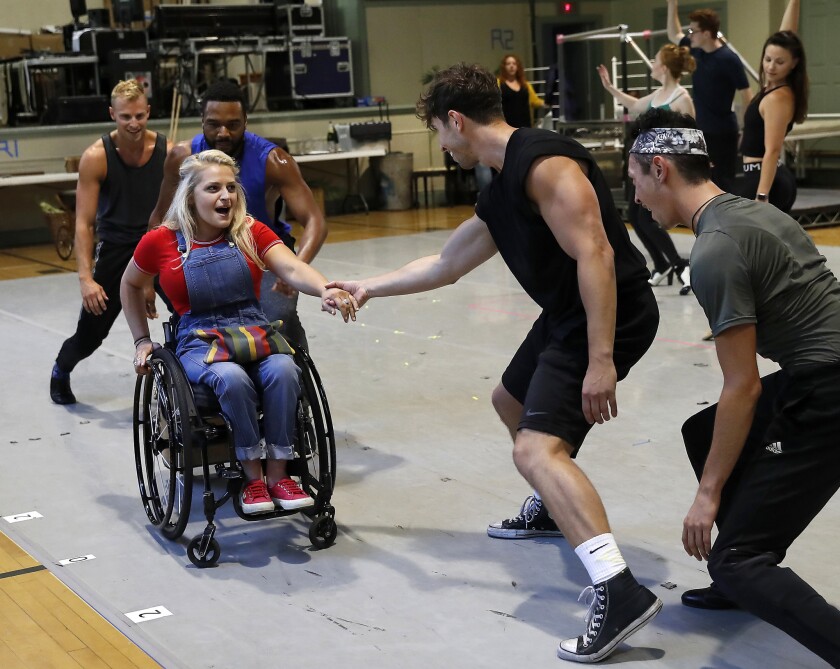 See all of our latest arts news and reviews at latimes.com/arts.
---
From the Oscars to the Emmys.
Get the Envelope newsletter for exclusive awards season coverage, behind-the-scenes stories from the Envelope podcast and columnist Glenn Whipp's must-read analysis.
You may occasionally receive promotional content from the Los Angeles Times.