How Heidi Schreck is revising 'What the Constitution Means to Me' after Broadway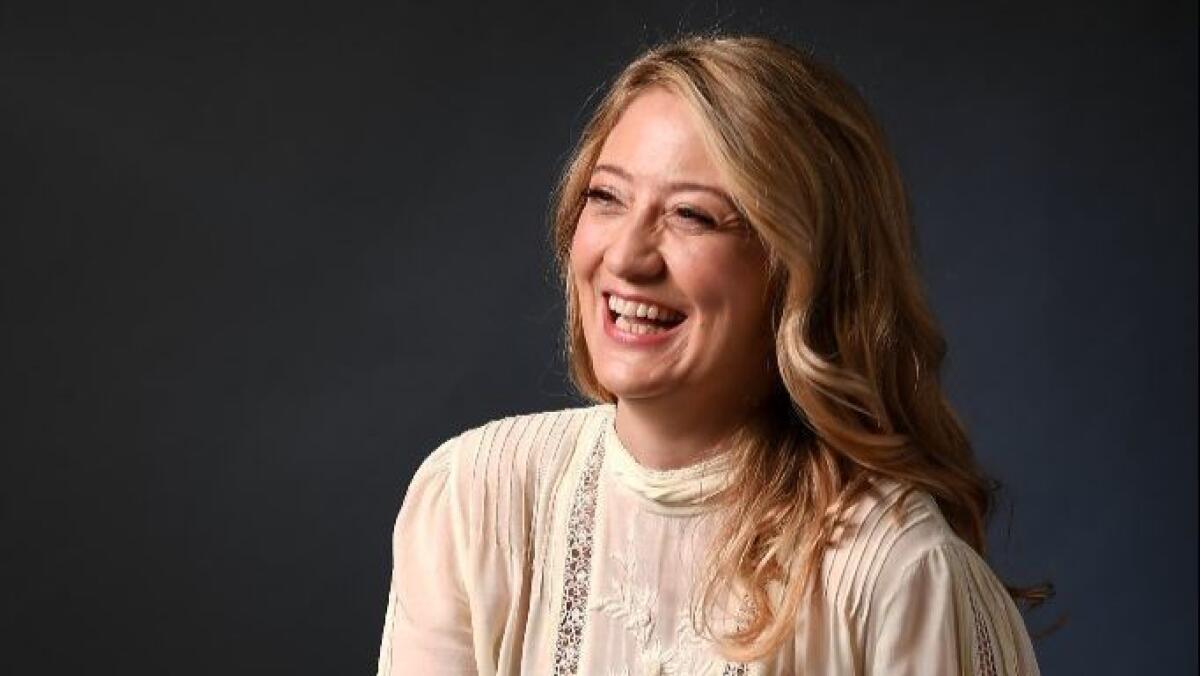 Playwright and performer Heidi Schreck, whose deeply personal tour de force "What the Constitution Means to Me" was a finalist for the Pulitzer Prize and is the surging dark-horse contender for best play at the Tony Awards, has a surprising encore planned for the acclaimed work: revisions.
In an exclusive L.A. Times interview, Schreck said she will alter the nearly one-woman show — a piece of theater embraced enthusiastically by critics and audiences alike — because of a second bit of "Constitution" news: She is currently not planning to perform in the much-anticipated national tour of the show.
Although Schreck, also Tony-nominated for lead actress in a play, said she is open to performing "Constitution" for small-town audiences, she will skip big-city stops on the 40-week tour, which kicks off with a January run at the Mark Taper Forum in Los Angeles.
Instead the writer-actress, who wrote for "Nurse Jackie" and was a producer on "Billions," will be prioritizing other projects including an adaptation of Patricia Lockwood's book "Priestdaddy" for Amazon and a new translation of Anton Chekov's "Three Sisters" for New York Theatre Workshop.
After two years of performing the intermission-less catharsis, "I'm just worn out," Schreck said. "I need a little break."
It's understandable. In the Broadway hit, Schreck recalls how as a teen, she earned money for college by giving speeches on the Constitution in debate competitions. She informs the audience that she is playing her "psychotically polite" 15-year-old self and will be attempting to re-create that speech from memory.
But as the show goes on, the layers of theatrical artifice come off. Schreck sheds her young character and exposes how the Constitution does not protect the 47-year-old woman who spent her youth defending it — or any woman, actually.
"The hardest part of the show is playing the 15-year-old me who is not angry yet, who really believes this country cares about her," Shreck said in an interview — a sentiment that was especially true when she performed during Brett Kavanaugh's Supreme Court confirmation hearings and while states were passing "heartbeat" abortion laws. "To come out onstage with all that optimism is really painful right now," she said.
Schreck's play includes gut-wrenching anecdotes about abortion and domestic violence. She often pauses to choke back tears and responds to spontaneous audience interruptions. While realizing her personal connection to that political piece of paper, she inches away from the play's original frame.
"I know some of you think I've gone off on a tangent but I promise you I haven't," she says onstage. "In spite of what some people think, this show is actually quite carefully constructed."
Indeed, it is "cannily crafted," wrote Times critic Charles McNulty. "It's not simply the urgency of the message on reproductive freedoms that makes this for me the Broadway play of the year. What sets 'Constitution' apart is the way its political concerns have been so thoroughly humanized."
The unconventional production has found fans in Steven Spielberg, Meryl Streep, Hillary Clinton and Gloria Steinem, among others. "Constitution" regularly sells out the Helen Hayes Theater — a rarity for a play, especially one that doesn't lionize a Hollywood star — and has been extended on Broadway twice, after two runs off-Broadway. It must close Aug. 24.
But what happens when a play that experiments with memoir and has its author playing herself onstage tries to live on with another actress in the role? Does unconventional theater get flattened into conventional work if an actor merely repeats the playwright's personal revelations? With someone else playing Schreck, will it be possible to still follow the rules of the show, or must they be changed?
A radical approach requires both: Yes, someone will play Heidi Schreck, first as an optimistic 15-year-old and then as a disillusioned 47-year-old. This actress also will find a moment to pause the play, address the audience directly as herself (not Heidi Schreck), and share her own powerful story related to Constitutional rights.
"I think there's a great opportunity here in that someone can, at some point in the show, say, 'I have my own experience with this as well,'" director Oliver Butler said. "I hope it's an additional layer of meta theater in a piece about becoming one's true self. If it's true that other people doing the role is both moving for that person and other people seeing it, and that it doesn't hinge solely on Schreck telling her story herself, that's just great added value for the play."
Schreck and Butler will work with the actress to create a monologue in which she discloses "something personal that relates to the Constitution and something that probably costs something to share." Though it's not easy to talk about oneself in this way, Schreck said, for her the play has been "like a safe container for bearing witness."
"I've learned how common these stories are, how much we share particularly if we identify as women," she said. "If the actor playing me is willing to share something personal, she will get a lot of positive energy back from the audience."
Depending on the topic, Schreck will rewrite a section of the script so the new moment feels off the cuff and allows the actress to transition back into the role of Heidi. It's an unusual amount of additional effort for a Broadway tour, most of which leave scripts untouched, "but the extra work is deeply worth it," said Schreck, who is in talks with actresses for the role.
The process will be similar for the role played by Mike Iveson, the debate's moderator, who breaks character for a brief personal soliloquy.
"I said things I had never said out loud before, memories that I feel like I live with but hadn't actually told anybody about," he said of initial conversations with Schreck, who finessed his confessions into a repeatable address. "But that's part of the job. If it's a story that's easy and that you've already been telling, it does not belong in the show, which is about things that are hard to talk about."
The touring production may also tweak the play's third-act debate, which sees Schreck in a lively showdown against a black female teenager about whether the country should keep the Constitution or replace it. Off and on Broadway, the role has been split between Thursday Williams and Rosdely Ciprian, New York-based competitive debaters.
Before each performance, the teen selects which side she'd like to argue that night, because "there's an ethos to the show that nobody should ever have to say something they don't believe in," Schreck said. The basic arguments of each side are scripted, but the cross-examination section is not, allowing the actors to be spontaneous and even reference the latest political developments.
The touring production may cast a local debater for many of its lengthier stops. "That's a fun way to potentially evolve the debate a little bit more, as we go to places with people who have very different ideas about the Constitution," Butler said. "Part of me is OK if the debate loses a little bit of Broadway-theater punch in the process of including a hometown hero."
The local debater must identify as a young person of color, Schreck said. "I always wanted the play to keep opening up the perspective. It can't uphold the lie that whiteness is the central narrative," Schreck said. "It doesn't need to be a cis teenage girl in the role; I think it'd be exciting too if a trans or nonbinary teenager would want to play it."
The tour's actors may be confronted for their onstage remarks, as Schreck has been in New York. Her shows have been interrupted by conservative male audience members; her inboxes have been flooded by anti-abortion activists. "I hope it won't be traumatic, but that could be part of it," she said.
"But I've also had conservative people come to the show and tell me afterward, 'I disagree with a lot of the things you said, but you made me think about things I haven't thought about. And I've had conservative white women come to the show and say it transformed the way they thought about a lot of things, which gives me a lot of hope."
It's because of these comments that Schreck is open to selectively reprising her role on the road. She said she would love to perform "Constitution" in places like her hometown of Wenatchee, Wash. "I grew up with a lot of conservative white women, and if I could reach some of them and maybe inspire them to think about our country a little bit differently, that would be a hopeful thing," she said.
Schreck, Butler and dramaturg Sarah Lunnie want to create a podcast or television series in which people can trace their histories in relationship to the Constitution. "It could be a fascinating way to continue to widen the lens of the project beyond my personal story," Schreck said.
The team is also finalizing the methodology used to craft the actors' monologues — narrowing it down to a series of introspective questions and precise guidelines on length and story arc, so that the play can be licensed by theaters for years to come.
Could "Constitution" work in high school theaters, which make up a notable percentage of the licensing business? Maybe, with so many teens already attending the show and so much of the story centered on teenage girlhood. A student could play Schreck as a teen and an adult thinking about all the things she wished she knew as a teen.
"Oh my God, that's really beautiful," Schreck said. "I think about all the times in high school when I played someone older than I was. And I've been astonished by how many teenagers are excited by the show. It could be quite extraordinary. I would love for it to be in high schools. I didn't create the piece thinking it would be for young people, that wasn't my goal when I started working on it years ago."
As the play illustrates, the Constitution wasn't necessarily created to protect women or people of color either. "That's right!" Schreck said with a laugh.
TONY AWARDS: Why 'Constitution' and not 'Ferryman' should win best play »
Get our L.A. Goes Out newsletter, with the week's best events, to help you explore and experience our city.
You may occasionally receive promotional content from the Los Angeles Times.