Rachel Chavkin on 'Hadestown,' female directors and her dream of a TV miniseries
When "Hadestown" director Rachel Chavkin was a child in Silver Spring, Md., politics and theater both were beloved at home. "My grandfather grew up in the Amalgamated Clothing Workers union housing in the Bronx," she said. "He would put on plays with other kids in the complex, including plays by Clifford Odets. My grandparents loved the theater, and so did my parents, who are both civil rights lawyers."
It wasn't long before Chavkin developed similar interests. She started at Stagedoor Manor theater camp when she was 11.
"I would not be in theater without having gone there," she said, adding that she was hooked by the team aspect of theater while in high school. By the time she was a junior at New York University's Tisch School of the Arts, she was adapting Allen Ginsberg's poem "Howl," colliding it with bebop jazz and Norman Mailer's essay "The White Negro."
It was a harbinger of things to come. Two years after "Natasha, Pierre & the Great Comet of 1812" earned 12 Tony Award nominations, including Chavkin's first for best director, she finds herself nominated again — this time at the helm of the folk opera "Hadestown," which has a leading 14 Tony nods.
THE WOMEN BEHIND 'HADESTOWN': Creator Anais Mitchell on revising her work in the public eye — for 15 years »
THE PRODUCER: She quit as artistic director of the Broad Stage to work on 'Hadestown' »
Anaïs Mitchell's song cycle of Hades and Persephone, and of Orpheus and Eurydice, comes to life with a New Orleans jazz band, a workers chorus, a strutting trio of singing Fates, swinging chandeliers, three turntables and more.
Nestled in a lounge at Manhattan Theatre Club, where she was previewing "Continuity," Bess Wohl's play about climate change, the intense and spirited Chavkin, 38, talked about the long road to get "Hadestown" to Broadway. The conversation has been lightly edited.
What attracted you to "Hadestown"?
The first thing that hooked me was the music. The thing that kept me engaged was its political heart, in particular Anaïs' vision of human fellowship and how she uses the original myth and image of these two lovers, Orpheus and Eurydice, as a metaphor for solidarity and faith and walking with your fellow humans into the darkness.
You've said you're not interested in making work other people know.
You could also say I'm not interested in making work that I know. I love reading books. I worked at Barnes & Noble for eight years, and I've always been attracted to learning. I don't want to be bored. If it's a new play or musical, I want to learn something about being alive now and about history and mythology and the way they refract on the present. That definitely governs all that I do. It makes me both a really relentless and useful dramaturge for writers I work with because I am constantly pushing to try to get both a thoroughness of vision and a uniqueness of conversation within what is being worked through.
You're the only woman directing a new musical on Broadway this season. Why do you think that is?
I would add not just women but artists of color and artists with disabilities. And trans artists. I would ask, "Why aren't there more artists who are not white men working on Broadway?"
The answer is very, very simple: Producers and other artists seeking collaborators have the damaging belief that directing on Broadway is prerequisite to directing on Broadway. You need to be a confident director. You need to be experienced leading a room. But there are dozens, if not hundreds, of women, artists of color and the like who are ready to go. So when you hear that there just aren't enough of them in the pipeline, it's just crap and simply a failure of imagination on the part of producers and artistic directors of institutions growing shows that may have commercial intent.
What can be done to change that?
Our industry needs to prioritize, pushing women, artists of color and trans voices forward. It just takes putting money where your mouth is, and I mean that quite literally. Occasionally altruism is part of their motivation; there are shows every season that are there primarily because producers felt moved by the content of a show and felt others needed to see it. Not that money is the sole motivator, but money has to be part of the conversation. We have women and artists of color who are not risky and who have shown themselves to be gangbusters in the nonprofit or regional sphere.
What draws you to projects? The storytelling? The music? Your collaborators?
I think it's all of the above. I'm doing Bess Wohl's play "Continuity" now. I love the play, and I love Bess. I would pretty much say yes to anything Bess is doing because I love being in a room with her. I feel the same way about Dave Malloy [who wrote "The Great Comet"]. I want to know the artists I work with are bringing rigor of thought to the table. And if there's music, the music's got to be good.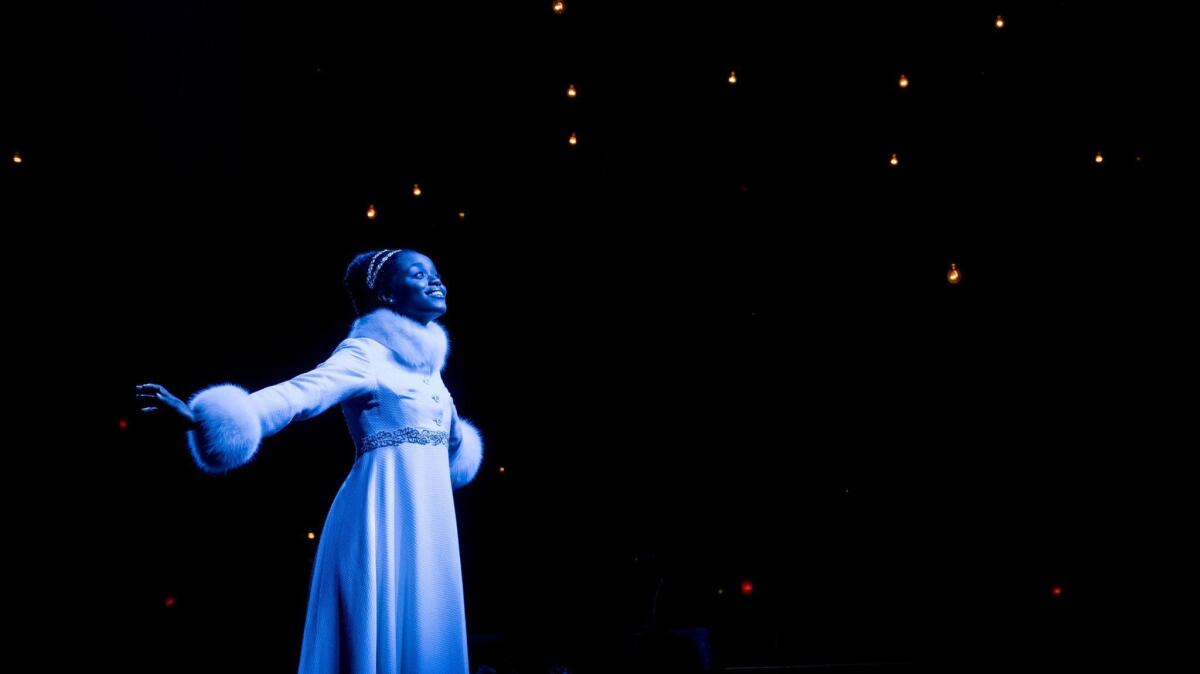 What's the most fun part of a show for you?
Technical rehearsal. That's when I put all the pieces together and am in the theater with sound and lights and costumes. I love tech, and I think that's why I would enjoy making films someday. I tend to love actors and believe in their process, but typically it's a very uneven playing field because, as the director, I've probably been thinking about a piece for over a year before I walk into the rehearsal room. I've … staged many things in my mind. On the first day of rehearsal, I try to vomit it all up, then back off for quite some time and let the actors live in chaos. I let them drive, so they can own what they're going to do. Then tech comes, and I get to make everything look the way I always knew it would look in my mind but with the added humanity of the cast. Suddenly, everything stops being abstract. My work is a lot of spiritual chaos meeting incredibly precise choreography.
How did you come up with the idea of setting "Hadestown" in a New Orleans-style world?
I began to think about all the different figures in the "Hadestown" cosmology as front people for a band. I asked myself: If Hades and Persephone had a band, who would they be? And if Orpheus and Eurydice had a band, what would their album cover look like?
Costume designer Michael Krass was attracted to the idea of dressing Patrick Page, who plays Hades, as inspired by Huey Long. So if Hades is inspired by Huey Long, what does his wife look like? We began talking about mob bosses and looking at pictures of their wives. And I thought she'd look like Dolly Parton.
When we were in Edmonton, Canada, for a pre-Broadway "Hadestown" production at the Citadel Theatre there, Michael found a green velvet dress from an old production in the theater's basement. He added puff sleeves and crazy jewels on the stomach and shortened the skirt. Our Persephone, Amber Gray, put it on and, with a big grin on her face, said, "I feel like a gangster's wife."
THE TATTOOS: An annotated guide to Rachel Chavkin's ink »
Is this sort of collaboration typical for you?
I hugely look to actors and designers, and it's sort of why I love directing musicals. They are so big, one brain cannot do it all. I respect auteurs and often wish I was an auteur. But what I love even more is democracy, and you get that on a musical. I look to my collaborators to take what I'm saying and expand and detail it.
What's next?
I'm in and out but soon to be very deeply back on the musical "Lempicka." It's about the painter Tamara de Lempicka, the wild life she led and the work she made between the wars in Paris. I am in the early stages on a film; it's my first feature and it's too early to talk about. And Dave Malloy and I go back into the rehearsal room this fall for a world premiere of our musical "Moby-Dick" at ART [American Repertory Theater, at Harvard] in December.
There are no concrete plans, but one of my life dreams is to do a TV miniseries on the founding of community health centers. My stepdad grew up building and running one of the nation's first rural community health centers. It's just a great story of liberal, progressive renegades working against the system to get change.
CRITIC'S TAKE: Why 'Hadestown' deserves the Tony for best musical »
Get our L.A. Goes Out newsletter, with the week's best events, to help you explore and experience our city.
You may occasionally receive promotional content from the Los Angeles Times.