Review: The craziest opera yet: Gerald Barry's 'Alice's Adventures'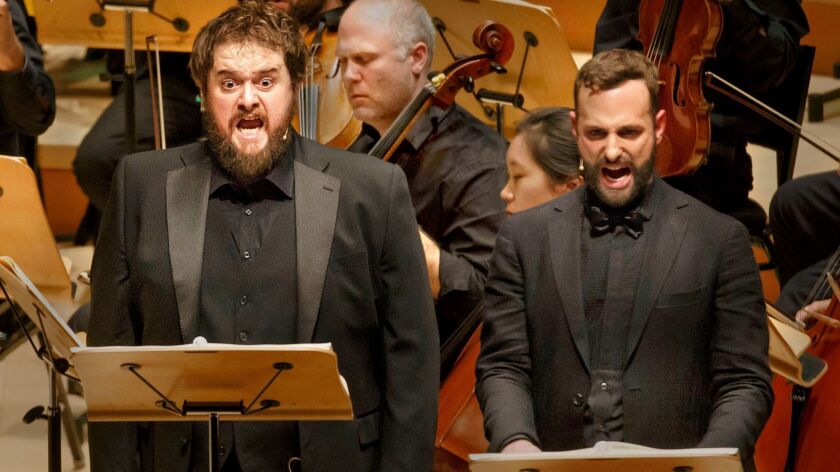 The Los Angeles New Music Group was onstage Tuesday night at Walt Disney Concert Hall, the players tuned up — and, no doubt white-knuckled ready — for the Green Umbrella concert.
Six of the seven singers were on hand, including Barbara Hannigan, wearing a frilly Victorian white dress (be it with a slit up the side and modern boots) and displaying a sassy attitude. She was to be Alice, the one in Wonderland. Conductor Thomas Adès stood on the podium.
But before anything could happen, a tenor in a tux — the White Rabbit — ran onstage in a panic, howling, "I shall be too late!" A startled orchestra played panicky C-major chords. Hannigan started vocalizing warm-up scales, fast and crazy, that immediately got out of hand, the runs faster and higher as though the soprano were inhaling a compound of laughing gas laced with LSD as she sang.
The premiere of Gerald Barry's "Alice's Adventures Under Ground," the irrepressible Irish composer's sixth opera, was off and, it would be an understatement to say, running.
I'm not sure I know where to begin in describing it, but Barry certainly knew where to begin. Already within his score's first minute, the Mad Hatter had serious competition in the madcap department.
The velocity never let up. The opera got topsier and turvyier by the minute. Even a brief silence felt somehow gravity-defying, as though we were accelerating into a black hole that sucked up sound along with light and matter. After 50 such minutes, and a phenomenal performance in which the seven singers assumed the roles of 52(!) characters and the orchestra turned on enough dimes to add up to serious money, a dazed sigh of relief seemed to come from both the stage and the auditorium.
Fifty minutes may seem pretty short for a full Green Umbrella program, but there were enough notes, and there was enough exhausting nonstop insanity, that anything more would have been … what, absurd, overkill? Barry's "Alice" is already that, a wild ride like none other in opera.
Not that there was any reason to expect anything less from Barry. Five years ago, at the instigation of Adès, the L.A. Phil commissioned Barry's "The Importance of Being Earnest," which hilariously unhinged Oscar Wilde's play and has happily become the most celebrated absurdly comic opera of the decade.
With its new commission, the L.A. Phil and Barry have done it again, only more so. Barry has gone back to Lewis Carroll's original 1884 manuscript "Alice's Adventure's Under Ground," before it was changed to "Wonderland." The opera libretto is Carroll's text condensed and fractured. Everything happens so fast, you hardly know where you are. Indeed, it will take more hearings to start to put it all together.
I really can't begin to remember what actually happened onstage. The opera is too fast and crazy and unpredictable and virtuosic for that. What was maybe most remarkable though, was that as it was all happening, you actually did think you, maybe, knew what was what in the well-known scenes with the Dormouse and March Hare, the Queen of Hearts and Cheshire Cat, the trial of tarts and all the rest.
Still, Carroll is ever turned on his head. Barry sets "Jabberwocky" in Russian, German and French (still nonsense, just foreign nonsense). The Queen's croquet becomes a master class in piano technique, with players guillotined left and right.
The music is all over the map. Much of it is tonal, but unhinged tonal. Barry quotes from various unexpected sources (he described himself as a kleptomaniac in a pre-concert talk), some easier to recognize than others.
The most notable is Humpty Dumpty's solo, a bass applying the "Ode to Joy" tune from Beethoven's Ninth Symphony to such verses as: "My heart went hop, my heart went thump:/I filled the kettle at the pump." It was laugh-out-loud funny. It was also — and, like so much about this opera, I can't tell you why — unusually moving.
Then again the genius of Barry's "Alice" is how he keeps you completely surprised, amused, bemused, amazed yet also moved without you knowing why. Could it be that by making the absurd Carroll we all know from our childhoods newly absurd, Barry has flipped what was upside down now right side up?
The performance simply took the breath away. Is there anything that Hannigan can't do? Along with a spectacular vocal display, she portrayed a feisty, not-your-grandfather's-Alice and even did a bit of conducting. But she had only one character. Mezzo-soprano Allison Cook, contralto Hilary Summers, tenors Allan Clayton and Peter Tantsits, baritone Mark Stone and bass Joshua Bloom were the 51 other characters, and were they ever.
Somehow Adès kept an impressive cool keeping it all together. There was one staggering instrumental solo after another, with Thomas Hooten's trumpet solos and Norman Pearson's tuba ones particular standouts.
Next week, the cast takes Barry's opera to the Barbican Centre in London, with Adès conducting the Britten Sinfonia. A performance is scheduled for Dublin in March. But with the world showing no indication of becoming less topsy turvy any time soon, there will surely be a continuing demand for these subversive Alice adventures able to illuminate the incongruous.
---
The complete guide to home viewing
Get Screen Gab for weekly recommendations, analysis, interviews and irreverent discussion of the TV and streaming movies everyone's talking about.
You may occasionally receive promotional content from the Los Angeles Times.