Amanda Peet, playwright: How the actress became the author of the Geffen's upcoming premiere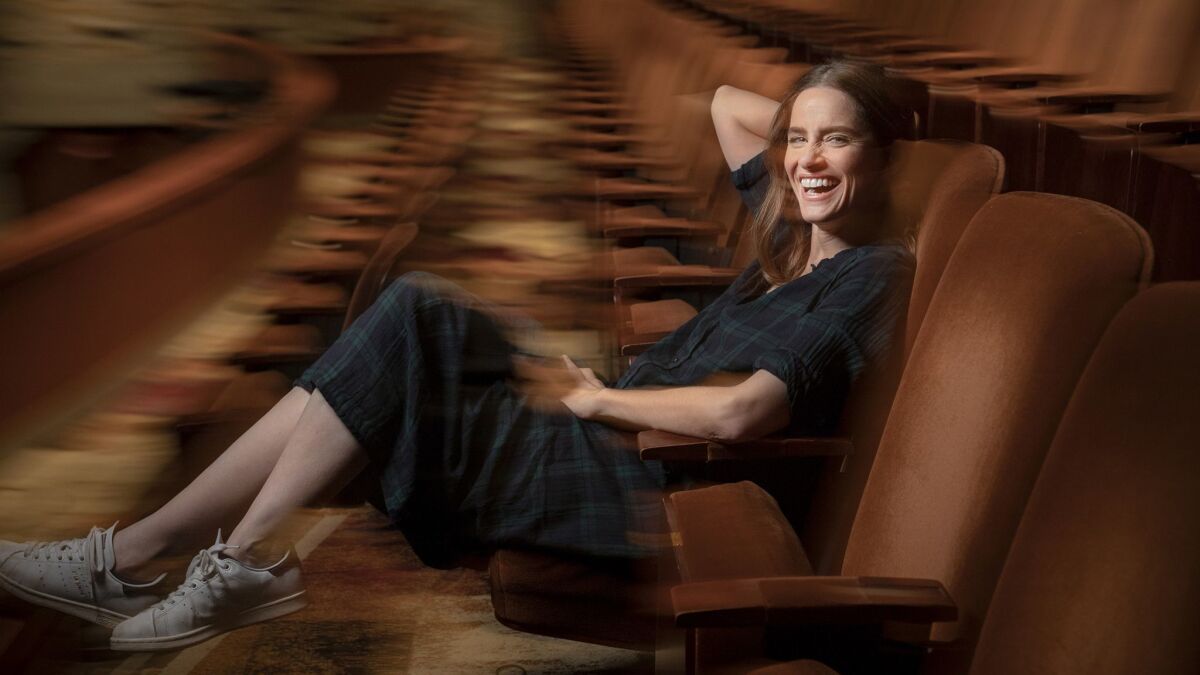 Amanda Peet says her house often resembles a lunatic asylum. That's largely in reference to the outsized creative endeavors of her three young children, but it's also a description of a household devoted to writing — a solitary and crazy-making pursuit.
Peet may be best known as an actress, having appeared in films such as "The Whole Nine Yards" and "Syriana" and in TV shows, including the Duplass brothers' family dramedy, "Togetherness." But she's also a serious writer, with her second play, "Our Very Own Carlin McCullough," set to begin previews Tuesday for its world premiere at the Geffen Playhouse.
Peet's husband is David Benioff, also a serious writer. He adapted his first novel, "The 25th Hour," into a screenplay for a movie directed by Spike Lee. He also writes many of the episodes for a little HBO show called "Game of Thrones," which he co-created with D.B. Weiss.
"My husband always says the difference between a writer and a non-writer is finishing," Peet says on a recent afternoon before rehearsal at the Geffen. "It's the most irritating thing he says in my household."
Peet, 46, did a lot of writing when she was at Columbia University studying American history. But finishing often presented a problem. Acting was a distraction that became a passion and then a career. She has more false starts in her digital desk drawer than she'd like to count.
She feels very comfortable in the gray area and doesn't give simple answers to complicated questions.
— Tyne Rafaeli on Amanda Peet
Peet made her debut as a playwright in 2013 with "The Commons of Pensacola," starring Sarah Jessica Parker and Blythe Danner. Inspired by an obsession with the post-scandal life of Ruth Madoff, wife of disgraced Wall Street magnate Bernie Madoff, the play opened at City Center in Manhattan to solid reviews, including one from the New York Times that praised Peet's "easily flowing dialogue, laced with biting humor and a brash streak of vulgarity."
As seamless as a final piece of work may appear, Peet says that, for her, writing is a bloody battle. She makes an analogy comparing the birth of her second child, Molly, to her writing process.
"My mom and my husband and the OB were like, 'She's here!' and I had pushed and pushed and pushed and I felt this elation, and I could feel her head, and I looked between my legs and the OB was like, 'Now you just have to get the shoulders out,' " Peet says, throwing in the caveat that low blood pressure prevented her from receiving a full epidural to ease the pain. "That's how I felt with this play on more than one occasion, and now it's really mortifying to look back and to know that I thought I was finished."
That sense of reaching the end of a brutal struggle only to realize that there is still a great deal of struggle ahead — it's a feeling she knows well. Early in her writing career, she would show her work to writers she respected far too early in the process.
"I can't call Scott Frank more than once," she said of the screenwriter recently nominated for an Academy Award for "Logan." "He's one of the people who I love, and who actually reads closely and generously, so you really don't want to waste your Scott Frank read, and boy did I waste it, way too early!"
Peet is embarrassed to say that she sent Frank the script for "Our Very Own Carlin McCullough," which she is still tweaking daily, more than a year ago.
Frank read it and told her to "rise above cliché."
"I almost lost my lunch," Peet says, adding that she believes that 90% of the time, the reason that plays, films or TV shows don't get produced is because writers go out with the work too early, before they have fully realized the work's nuanced potential.
Peet is lucky to count Benioff, along with his writing partner, Weiss, and Weiss' wife, Andrea Troyer (all of whom went to writing school together), among her first readers. She also relies on them to keep her from racing into the world until the work is ready.
"He's just brutal," Peet says of Benioff as a reader and editor. "I'll give him 60 pages and he's like, 'Keep this one.' So he's a cutter. Cut your babies. It's really debilitating when you think you have 60 pages, and you only have a few."
Taking herself seriously as a writer means writing every day, even when she doesn't feel like it, Peet says. She writes in bed and, sometimes, because she has a bad back, on the floor — on her knees, hands on the keyboard, eyes squinted at the screen.
She likens the process to baseball: For three hours on the field, there seems to be just two minutes of action. "Except for me, I'm online shopping in between," she jokes. "So it's like five hours of J. Crew and two minutes of scene work."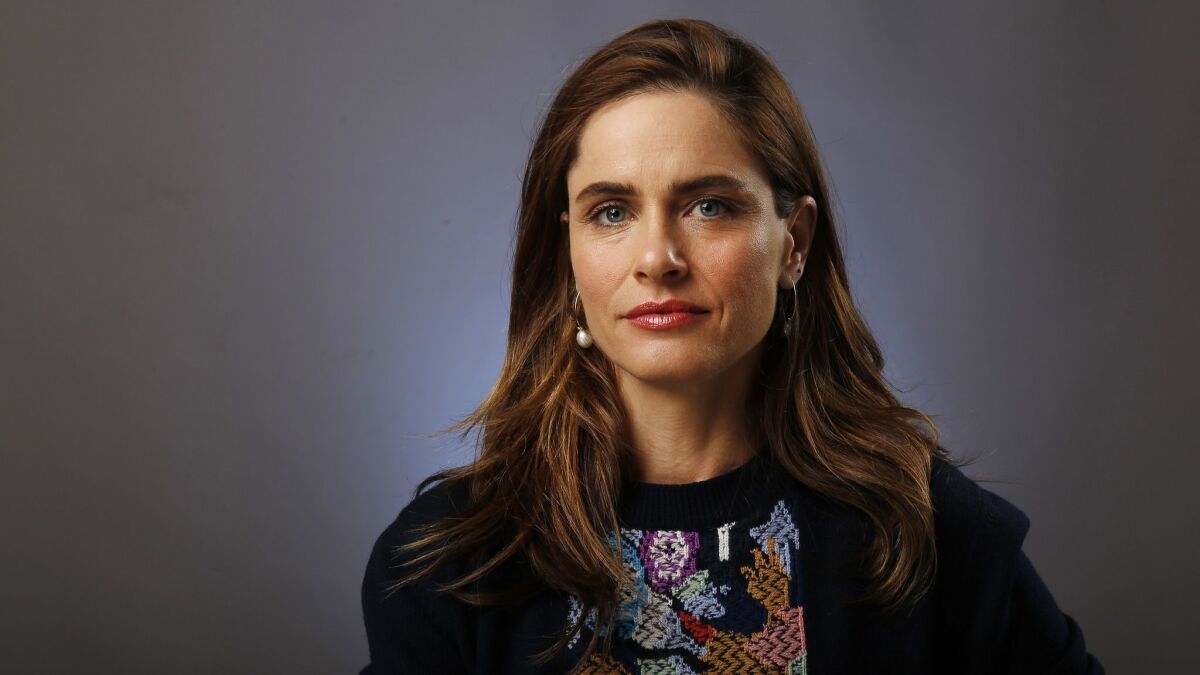 The Duplasses ruined me, because after that job, nothing seemed very interesting and I wanted to continue working the way they work.
Peet has a dry, self-deprecating sense of humor. She is soft-spoken until she gets going on a particular subject or joke, at which point she becomes extremely animated — making a point by physically miming it out, and laughing at herself in the process.
Laughter is a subterfuge for an artist who is thinking about important subjects on multiple levels, says Tyne Rafaeli, the director of "Our Very Own Carlin McCullough."
"She feels very comfortable in the gray area, and doesn't give simple answers to complicated questions," Rafaeli says of Peet's script, which examines the relationship between a 10-year-old tennis prodigy, her mother and the young coach who has devoted himself to the girl's success. "There was this particular kind of collaboration, playfulness and openness to her writing process that I responded to immediately."
Peet says that for the Geffen production — with a cast that will include Mamie Gummer, Abigail Dylan Harrison, Caroline Heffernan, Tyee Tilghman and Joe Tippett — she was most interested in examining the mother-daughter relationship and "the idea of how to parent and to what degree you can keep your narcissism in check."
Peet has always craved collaboration when it comes to her writing, but she says that it became indispensable after she worked on "Togetherness."
"The Duplasses ruined me, because after that job, nothing seemed very interesting and I wanted to continue working the way they work," she says. "They embrace chaos. They like to hear your opinion. The best idea in the room wins. There's no point in shutting people up too early, or ever."
Peet has, indeed, embraced that ethos, Rafaeli says. They will be sitting next to each other in rehearsal reading something, and Peet will suddenly offer to scrap a whole page of writing without Rafaeli even having to ask.
"It's extraordinary," Rafaeli says.
And not surprising, given how Peet describes the coaching habits of her husband. At the moment, the only question he asks her is, "How many pages?" When she answers, he says, "Too long."
"You wouldn't think there were any more shoulders to push out, but apparently there are," Peet says, smiling and shrugging.
The critical working relationship between Peet and Benioff does, however, cut both ways. When he was in the very early stages of adapting "Game of Thrones," he asked her if she thought it was a good idea.
What did she say?
"I said, 'It's the worst idea I ever heard of,' " Peet says, eyes sparkling. "His partner's wife and I saw the first dailies and basically just stared at the screen and took each other's hands like Thelma and Louise before they killed themselves."
She stops talking and nods, introspective.
"We have yet to live that down, trust me."
♦ ♦ ♦ ♦ ♦ ♦ ♦ ♦ ♦ ♦
'Our Very Own Carlin McCullough'
Where: Geffen Playhouse, 10886 Le Conte Ave., L.A.
When: Previews starting Tuesday, opens June 27, ends July 29. Performances 8 p.m. Tuesdays-Fridays, 3 and 8 p.m. Saturdays, 2 and 7 p.m. Sundays
Tickets: $60-$85
Information: (310) 208-2028; geffenplayhouse.org
Get our L.A. Goes Out newsletter, with the week's best events, to help you explore and experience our city.
You may occasionally receive promotional content from the Los Angeles Times.