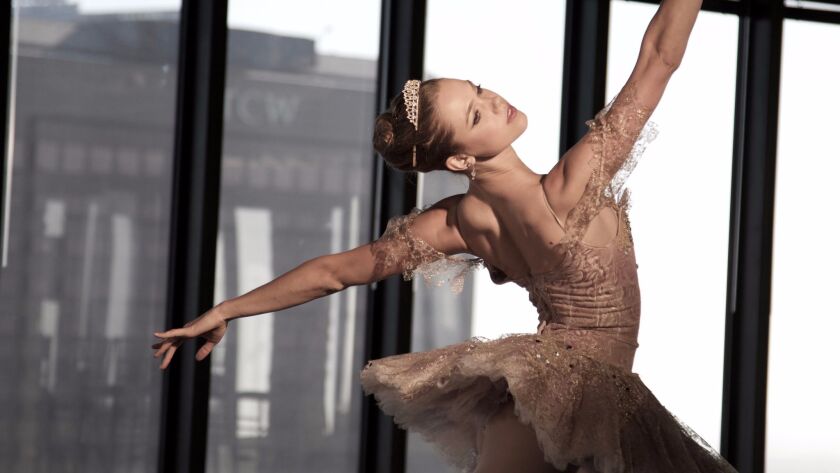 High above downtown Los Angeles, in a cavernous room with almost as many mirrors as windows, the dancers of American Contemporary Ballet and seven valiant musicians used short pieces to explore one of the most profound themes in human culture: the influence of the past on the present.
Nearly every company that dances 19th century ballets uses edited, revised, hand-me-down editions — what literary scholars would call corrupt texts. In contrast, ACB's "Tchaikovsky in Ballet" began with authentic Marius Petipa choreography: six Prologue solos from "The Sleeping Beauty" (1890) as reconstructed from antique dance notation by Doug Fullington. The freshness, intelligence and stylistic unity of this suite immediately established the credibility of the program and the dancers' skill, with Anabel Alpert perhaps earning pride of place in the fluttery "Canari" variation. ("Tchaikovsky," which opened Thursday, runs through Sunday.)
The heart of opening night came in two sets of "Nutcracker" performances — one reconstructed by Fullington from Lev Ivanov's original 1892 choreography, the other restaged by Zippora Karz from George Balanchine's brilliant 1954 remake. That's right: two Sugar Plum Fairies, two Cavaliers, two approaches to the same music. Balanchine wasn't always the winner: At close range, his adagio sometimes looked overloaded compared with the purity and flow of the Ivanov. But his debt to Ivanov remained consistently evident in dancing that made the historical switch from classical to neoclassical an exciting juxtaposition of styles.
Shelby Whallon and David Morse emphasized elegance and musicality in the Ivanov, and Cara Hansvick and Mate Szentes went for bold attacks and glittering technique in the Balanchine. And because the genius is truly in the details, it was enlightening to hear the dancers speak of such niceties as bent knees and curled arms in a question-and-answer session afterward.
The "Nutcracker" performances also included Fullington's startling discovery in the notation archives: a charming dance for eight women performed to the music that normally accompanies the one and only male solo in the ballet, the Act 2 Tarantella. It was reportedly intended for the Sugar Plum Fairy's retinue but hadn't been danced anywhere in more than a century until Thursday. A real find — and a mystery.
American Contemporary Ballet also showcased traditional ballet pantomime with an intense performance by Morse and Emily Smith of the first lakeside meeting of Siegfried and Odette in "Swan Lake" (1895). Finally Hansvick, Szentes and Whallon returned to demonstrate their versatility by showing us how Balanchine transformed and abstracted the treatment of women in Romantic ballet into statements of almost supernatural serenity.
Indeed, Karz's staging of excerpts from "Tchaikovsky Suite No. 3" (1970) and "Mozartiana" (1981) revealed that company artistic director Lincoln Jones isn't content with merely educating the Southern California ballet audience, paying tribute to Tchaikovsky and restoring much abused old masterpieces. He wants to send us all home dreaming of meeting our secret, lifelong fantasy-partners down by the lake or deep in the woods.
It may seem unlikely, but Romanticism is clearly in flower on Flower Street.
Support coverage of the arts. Share this article.
MORE FROM OUR CRITICS
With 'Thumbprint,' witness an opera's power to empower women
The astrophysicist's rom-com: 'Constellations' at the Geffen
How New York's rising trend of 'supertall' towers looks from the 92nd floor
---