The famous image was taken 150 years ago: On May 10, 1869, photographer Andrew Russell captured the triumphant moment when the East and West halves of the Transcontinental Railroad met and shook hands prior to the tapping of the golden spike into the ground at Promontory Summit, Utah, opening up the nation's westward expansion.
Russell was a painter and a Civil War photographer from New Hampshire commissioned by Union Pacific to bring the railroads and the American West to a larger audience. His images reveal the tension between the technological advances and economic potential the railroad represented versus the consequences to the land and the displacement of native peoples that would result.
Coinciding with the anniversary, the Oakland Museum of California is celebrating Russell's epic works with the exhibit "Pushing West: The Photography of Andrew J. Russell."
REVIEW: Miho Dohi turns scrap materials into sculptural poetry »
"Russell hasn't received anywhere near the attention that somebody like Mathew Brady, Carleton Watkins, Eadweard Muybridge or Timothy O'Sullivan," Oakland Museum curator Drew Johnson said. About 650 of Russell's original glass-plate collodion negatives survived and are part of the museum's collection along with 60 prints from the 1860s.
Although Russell was hired to glorify the railroad, his distance from his employer allowed him to be free to photograph what he wished. In some cases that meant vast plains, colossal mountain ranges and the insignificance of humans in the landscape, including an incredible shot of a man sitting, seemingly perilously, beneath the massive Hanging Rock by Echo City, Utah.
But Russell's photos also capture a human toll. A series of images focused on a Shoshone Indian camp, the mythic and poetic accomplishment of the railroad matched with reminders of what else was at stake.
"Some look at the railroad and gold rush as a triumph of American ingenuity," Johnson said. "But if you were a native person then, you looked at the gold rush as a holocaust."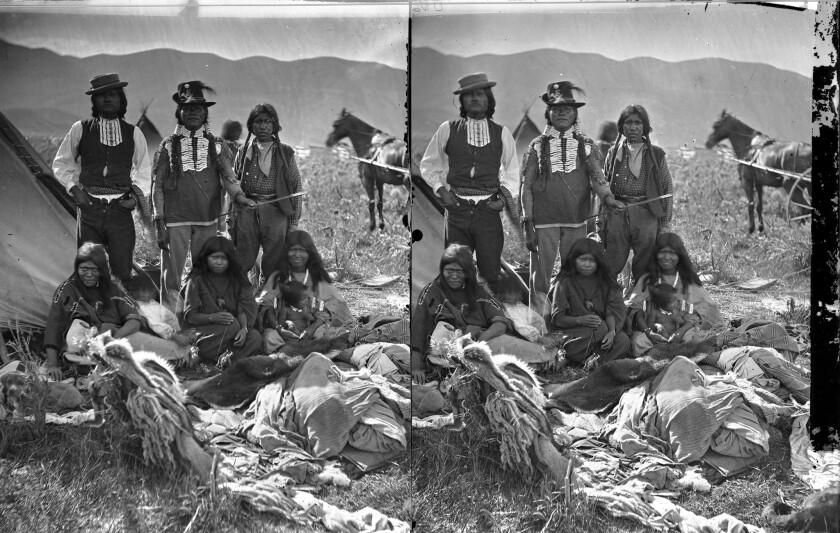 A DTLA SPECIAL: The past, present and future of Grand Avenue »
Part of what's remarkable about Russell's work was his primitive printing process. In the middle of nowhere, without a real studio, he made do with a tent darkroom built inside a ramshackle wagon.
The exhibition is on view through Sept. 1.
See all of our latest arts news and reviews at latimes.com/arts.
---