Review: For the Berkeley Rep revival of 'Angels in America,' the play is the thing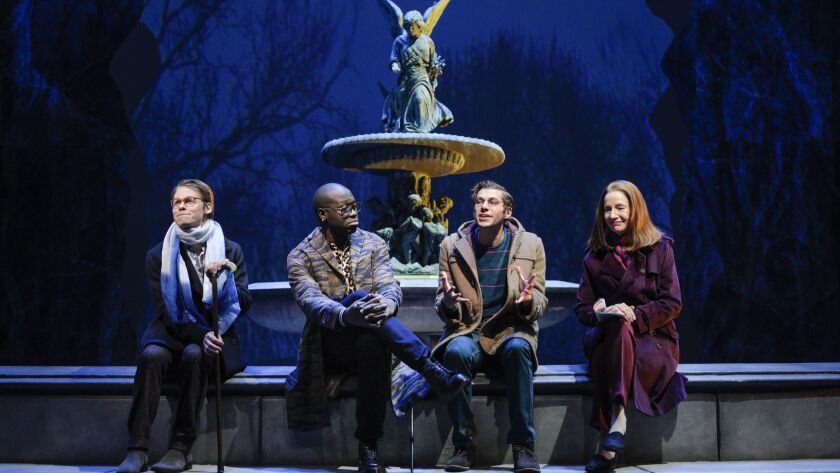 Theater Critic
Reporting from Berkeley —
It should come as no surprise that the man who commissioned Tony Kushner to write "Angels in America" would have unwavering faith in the drama. But the outstanding feature of Tony Taccone's production at the Berkeley Repertory Theatre is the way all elements of the staging are superbly harmonized to serve the storytelling.
There are two major revivals of Kushner's masterwork on opposite coasts at the moment. The critically hailed National Theatre production on Broadway, starring Andrew Garfield and Nathan Lane, has been nominated for 11 Tony Awards. The Berkeley Rep "Angels" may be less heralded, but it is no less welcome.
The cast, full of surprising choices who work wonderfully well, includes Randy Harrison ("Queer as Folk") as Prior Walter; Stephen Spinella (who originated the role of Prior on Broadway) as the historical heavy Roy M. Cohn; and Caldwell Tidicue (better known as Bob the Drag Queen, the Season 8 winner of "RuPaul's Drag Race") as Belize and Mr. Lies. But in the Bay Area, where "Angels" was originally coaxed into existence, the play, with its visionary sweep and passion for community, is undeniably the thing.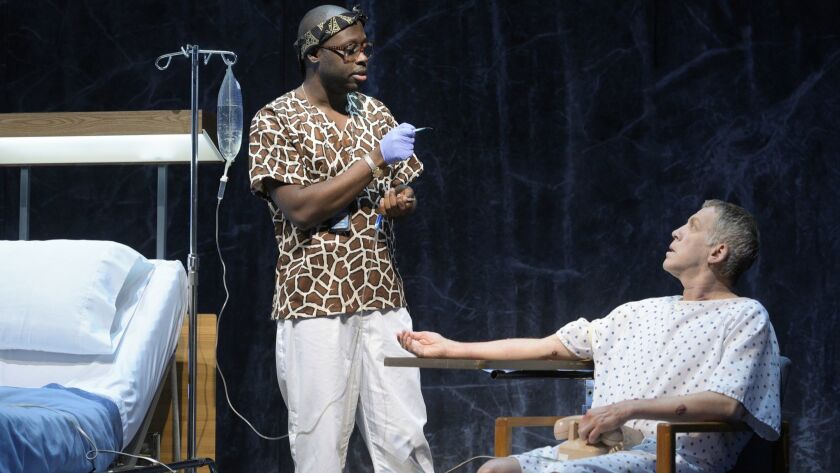 When Taccone was the leader of San Francisco's Eureka Theatre Company, he and dramaturg Oskar Eustis took a gamble on an unknown American dramatist, who would go on to become the most important political playwright of his generation. Having been there at the inception, Taccone, who later co-directed with Eustis the world premiere of "Angels in America, Parts One and Two" at the Mark Taper Forum, has a unique understanding of the way the political and historical concerns of the play are inseparable from the lived-experiences of the characters.
The boundary between public and private is porous in an epic chronicling the dark days of the AIDS epidemics in Ronald Reagan's America. The expansive lens through which Kushner dramatizes these plague years exposes the lie of separate categories of experience. The politics, focused on the plight of vulnerable bodies, are defiantly personal even when Roy, the play's ideological villain, is engaging in right-wing power games on his horribly abused multiline phone.
Taccone's integrative production respects the characters too much to convert their stories into shoulder-tapping editorials. Neither the comedy nor the uncanny Trump-ian relevance is overplayed. The fictional universe Kushner constructs already speaks so directly to eternal American contradictions and conundrums that no topical updating is required.
The impressively balanced direction, incorporating an impressionistic backdrop of panels and projections (the work of scenic designer Takeshi Kata and projection designer Alexander V. Nichols), allows for smooth and steady concentration. The grand design of this more than 7½-hour work is revealed only through the gradual movement of the minds of the characters, who are flailing in extremis for a path out of abandonment, betrayal, bad faith and overwhelming terror.
It's the quiet honesty of the company that repays our investment in this marathon drama.
It is no backhand compliment to say that the modesty of the acting is one the production's signal virtues. Not that there's any lack of vivid color or sparkling humor.
Harrison's Prior losing himself in Norma Desmond drag as a refuge from the horror of a body erupting in opportunistic infections is a courageous sight to behold. (Kudos to costume designer Montana Blanco.) The abject way Spinella's satanic Roy tempts Joe Pitt (Danny Binstock), his closeted Mormon lawyer acolyte, with a career-making opportunity in Washington is cringingly unforgettable. And when Tidicue's Belize raises an ironic eyebrow at some spouted hypocrisy by Louis (Benjamin T. Ismail), Prior's politically progressive, emotionally regressive lover, the floodgates of laughter are open.
But it's the quiet honesty of the company that repays our investment in this marathon drama. The unified commitment of the ensemble inspires a similar spirit in the audience. I opted to see "Part One: Millennium Approaches" and "Part Two: Perestroika" on a single day, and the strangers seated around me when the production began at 1 p.m. felt more like fellow theater citizens after Prior blessed us with "more life" during the last scene in Central Park that ended just a few minutes shy of 11 p.m.
It's a credit to Taccone's direction that, even when the performers momentarily waver, they quickly get back on track. Bethany Jillard, who plays Harper, Joe's valium-zonked wife, has some difficulty early on sharply defining her character, but the blandness mostly dissipates when marital sorrow turns to angry resolve.
Ismail's Louis seems to skip a few internal steps in the decision to abandon Prior at the hospital, but he rediscovers the emotional thread over time. And just as I was beginning to wonder whether his Louis had the necessary intellectual fervor, he rises to the challenge in the coffee shop scene with Belize in a dizzying political monologue fueled by his guilt over leaving Prior in the lurch.
Yes, it's slightly strange that Harrison's buffed and beautifully coiffed Prior appears at moments more like a model headed to a photo shoot than a man besieged by illness. But Harrison discovers a Prior that today's gay community would have no trouble recognizing. If Garfield captures the spiritual dimension of the role with majestic anguish, Harrison clarifies that the character's camp flair isn't merely an affectation but how he moves through an oppressive world.
Likewise, Tidicue's Belize, Prior's stalwart friend and Roy's fierce nurse, is a thoroughly inhabited characterization, one that never devolves into arch zinger or flamboyant gesture. Even in his scenes as Mr. Lies, the tour guide Harper hallucinates, Tidicue stays theatrically grounded. His promise as an actor extends far beyond drag dazzle.
Carmen Roman nicely differentiates her suite of roles. If the intimidating crackle of her Hannah Pitt is slightly subdued, the patient sadness with which she imbues her Ethel Rosenberg, the ghost returning to usher Roy (her de facto executioner) out of this world, is especially haunting.
Spinella, Kushner's long-standing muse, won two Tony Awards for playing Prior. His unparalleled success in that role makes his casting as Roy somewhat counterintuitive, but it's a fascinating, sneaky-good portrayal.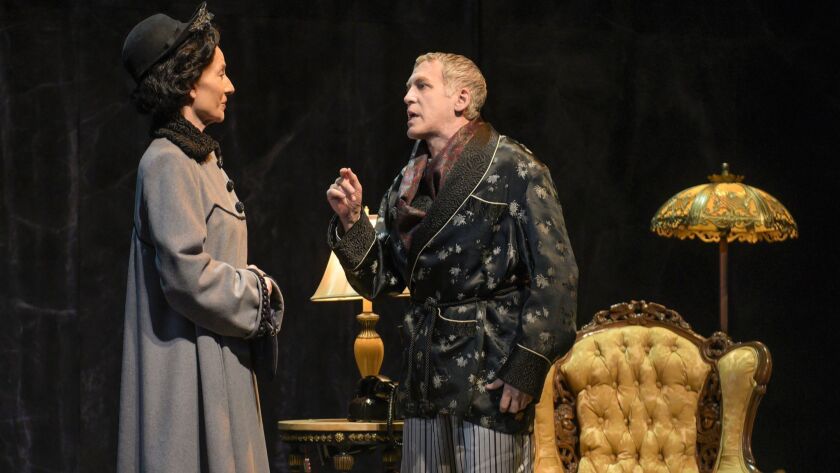 Roy's demonic theatricality is unleashed, but Spinella's performance is always as internal as it is external. His Roy registers a quality that can easily get lost in all the predatory bluster — that Roy is a cheater because he feels cheated by the world. When Joe questions his ethics, Roy explains that it's not about decency but winning the battle of politics, "the game of being alive" — an attitude all too prevalent in today's White House, where Roy Cohn's most famous mentee, Donald Trump, is now enthroned.
If the celestial scenes are the least effective part of Taccone's production, it's not because of the performance of Lisa Ramirez, who played the Angel (among other of her well executed roles) at the reviewed performance. The staging is mechanical and the writing can feel a tad laborious in places, though I was fascinated by the way Kushner keeps revising "Perestroika," testing new combinations and returning to earlier drafts in his quest for thematic clarity. (Future theater historians shuffling through the different versions of the play will have textual challenges as daunting as those posed by the competing quarto and folio variants of Shakespeare's "Hamlet.")
But the overwhelming feeling this smart, rigorous and deeply stirring production of "Angels in America" left me with is gratitude. Gratitude for a play that grapples so complexly with contemporary America. Gratitude that this "Gay Fantasia on National Themes" still lives up to its audacious subtitle. And gratitude that a playwright of genius had the imaginative scope to create a theatrical world that artists and audiences can enter for an extended period to rediscover care, compassion and mutual responsibility as fundamental democratic values always in need of defending.
Follow me @charlesmcnulty
MORE THEATER:
Our critic's take on this year's Tony nominations
Susan Stroman is back, this time waltzing with 'The Beast in the Jungle'
'Soft Power': How David Henry Hwang's latest play takes on China, Trump and more
---
The complete guide to home viewing
Get Screen Gab for weekly recommendations, analysis, interviews and irreverent discussion of the TV and streaming movies everyone's talking about.
You may occasionally receive promotional content from the Los Angeles Times.