'Annie' to the rescue: Hollywood Bowl show aims to provide hope amid the dark daily headlines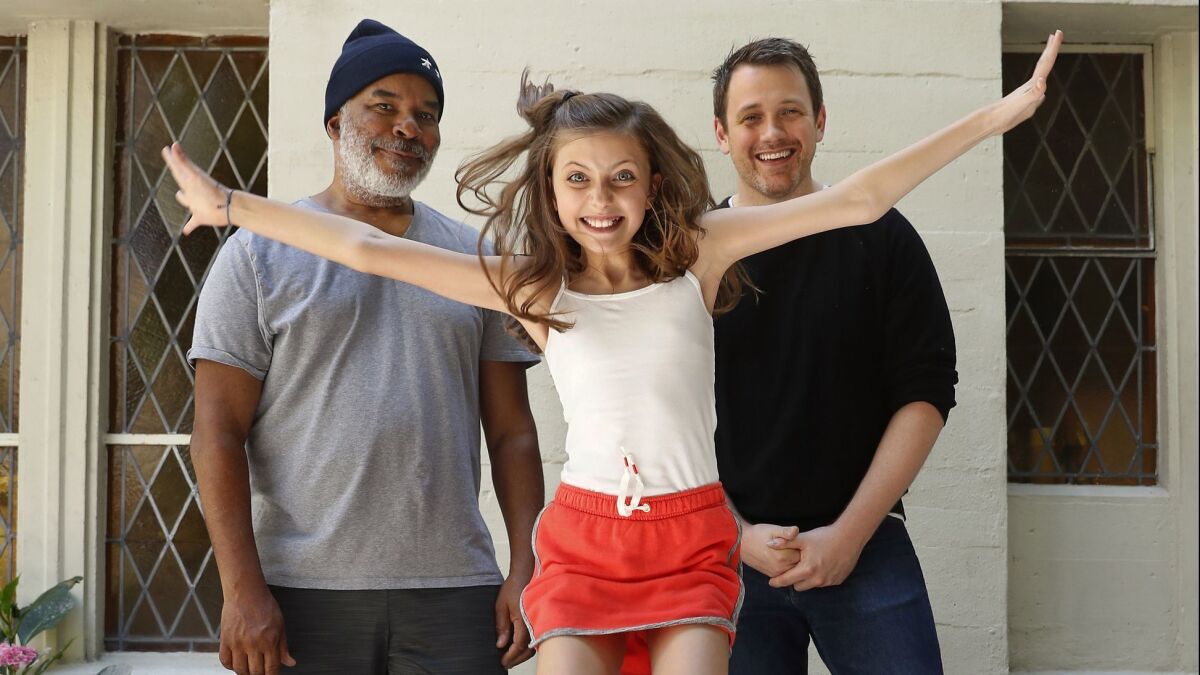 The scene inside the gymnasium at the Hollywood United Methodist Church is controlled chaos. It's one week until the opening of "Annie" at the Hollywood Bowl, and the cast is barely getting in the swing of rehearsals. Some are off book. Some aren't. And a good many of the actors are ages 6 to 12.
"You can see how excited I am to have this cast together, which really shows the tapestry of the great diversity in Los Angeles," says director Michael Arden, whose production of "Once on This Island" scored the biggest upset win of the recent Tony Awards, winning best revival of a musical.
The mood is one of unbridled enthusiasm as Arden steps aside and actors launch into numbers from the show, which first opened on Broadway in 1977 and spread globally in 1982 with a movie version directed by John Huston.
I hope people leave inspired by the idea that one voice can change the minds of multitudes.
— "Annie" director Michael Arden
The Hollywood Bowl production, whose three-day run opens Friday, aims to stay true to the spirit of the original while nodding to salient themes of today, Arden says.
Many will recall that "Annie" centers on an orphan who wants to find her parents so she can escape a dismal orphanage, run by a sadistic alcoholic named Miss Hannigan. Annie's path crosses with the gruff but beneficent billionaire Oliver Warbucks, who eventually adopts her despite some conniving behavior on the part of Hannigan and her brother, Rooster.
But what many don't know or don't often remember is that "Annie" takes place in 1933, during the Great Depression.
In one scene Warbucks takes Annie to meet President Franklin D. Roosevelt, who is inspired by her song "Tomorrow." The resonant themes of hope and faith in the book and lyrics attracted Arden to the show. He saw striking parallels with America's present political environment.
"We're in a time much like 1933, in which we feel like we've lost our voice and our agency, and a lot of people seem so exhausted by the news of the world and politics that they feel a sense of hopelessness," he says. "I hope people leave inspired by the idea that one voice can change the minds of multitudes, and I hope it will help people to go to the polls, or reach out to someone with different ideas."
Where Arden sees the story of a little girl who, out of adversity, inspires people from social and political divides to come together, the diminutive actors cast as the orphans see it as something else.
Eight little girls were cast based on open audition tapes submitted to the production's creative team via YouTube. Six are from Southern California, including Santa Monica, Los Angeles, Murrieta and Eastvale. Sitting together after the rehearsal, the girls chatter excitedly about having come from community theater and suddenly finding themselves about to perform before an audience of more than 17,000.
"This is going to be a big step in all of our careers for acting, singing and dancing," says 12-year-old Olivia Zenetzis of Reseda. "I'm also excited because we'll get to perform it for so many people and they will get to experience the joy of 'Annie.' "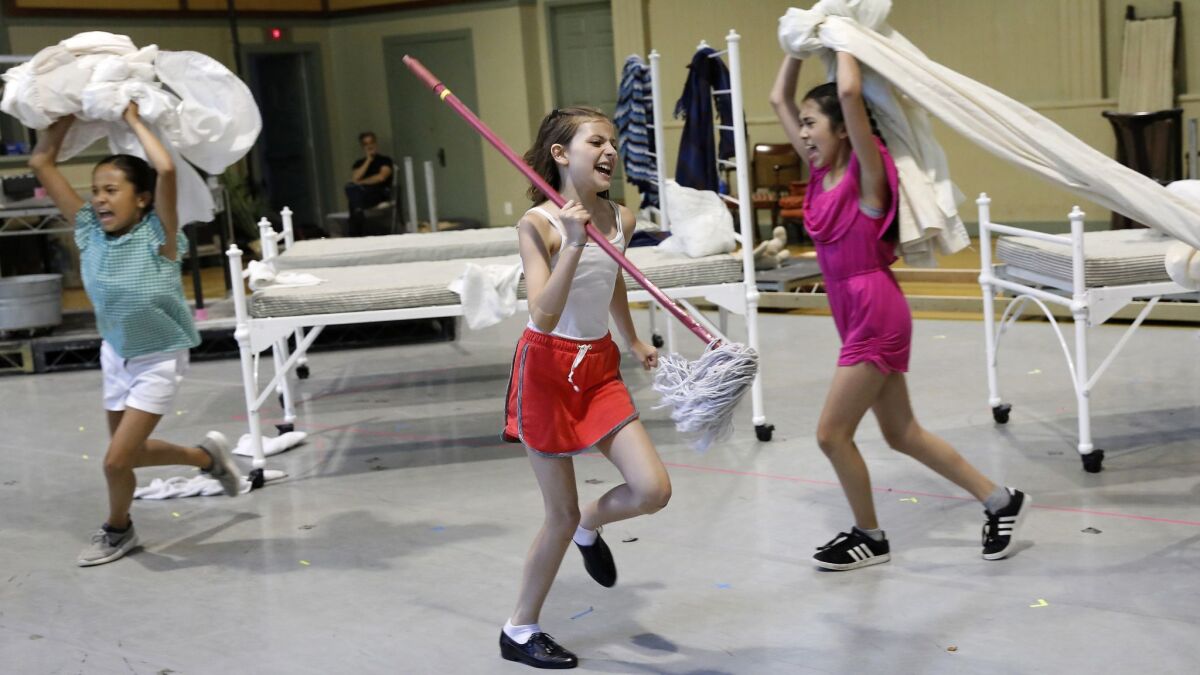 It's really great that once I perform on the stage, all the little girls in the audience might be like 'Oh, maybe I want to do this when I grow up'
— Kaylin Hedges, who will play Annie
"I can't believe I get to perform with Megan Hilty and Roger Bart," says 9-year-old Marlow Barkley of Altadena. "They are so inspiring, and I feel like I can follow in their footsteps, hopefully."
Hilty, who played Ivy Lynn in NBC's musical drama "Smash," will be the scheming Lily St. Regis, Rooster's girlfriend. Bart, who originated the role of Carmen Ghia in "The Producers" on Broadway and won a Tony for "You're a Good Man, Charlie Brown," plays Rooster.
Comedian David Alan Grier, the three-time Tony nominee and former star of the comedy series "In Living Color," will play Oliver "Daddy" Warbucks. Ana Gasteyer ("Saturday Night Live") will be Miss Hannigan; Lea Salonga ("Miss Saigon") will be Warbucks' secretary, Grace Farrell; and Ali Stroker (the 2015 revival of "Spring Awakening") will play Star to Be.
The role of Annie belongs to Kaylin Hedges, 10, a New York actress who auditioned for her first show at age 6 and played a sheep in "The Best Christmas Pageant Ever." Kaylin recalls this early role while sitting beside the rescue dog who plays Annie's dog, Sandy.
"I started acting when I was 6, but I wanted to act when I was 4," she says, smiling. "I got in my first show at 7, and I got to play a lamb."
Three years later Hedges is the seasoned veteran of the "Annie" cast along with 12-year-old Amadi Chapata, who is from Atlanta and appeared in "School of Rock" on Broadway.
"It's really great that once I perform on the stage, all the little girls in the audience might be like 'Oh, maybe I want to do this when I grow up,' " Hedges says. "It's fun to try to encourage them."
Arden does hope to inspire the young dreamers of Los Angeles, particularly because he got his start as a director here and feels a special kinship with the city. He was artist in residence at the Wallis Annenberg Center for the Performing Arts in Beverly Hills, and his revival of "Spring Awakening" landed on Broadway in 2015.
"They have so much energy; they love what they do," Arden says of the young actors. "The Bowl only gets a week to rehearse the show, and it's a huge musical, so it's pretty demanding. But they are having a good time and they have great snacks. I think it's working out well."
♦ ♦ ♦ ♦ ♦ ♦ ♦ ♦ ♦
'Annie'
Where: Hollywood Bowl, 2301 N. Highland Ave., L.A.
When: 8 p.m. Friday-Saturday, 7:30 p.m. Sunday
Tickets: $14-$202
Information: (323) 850-2000, hollywoodbowl.com
---
Get our daily Entertainment newsletter
Get the day's top stories on Hollywood, film, television, music, arts, culture and more.
You may occasionally receive promotional content from the Los Angeles Times.