Review: Israeli and Syrian musicians brighten these Brooklyn Knights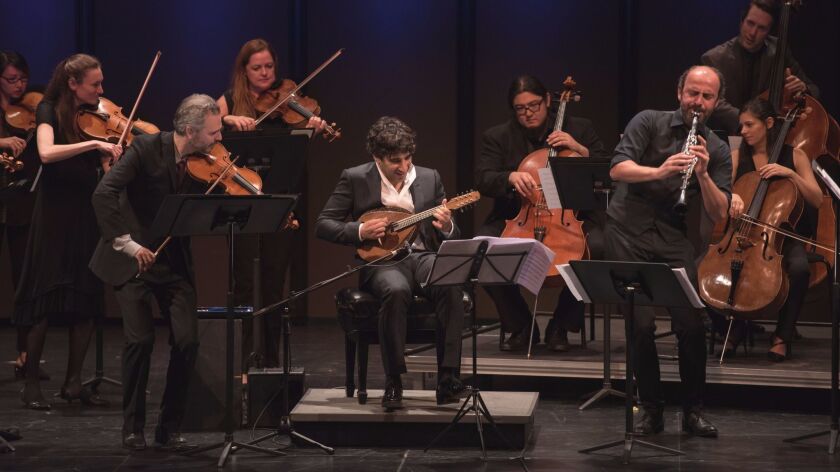 Music Critic
The Brooklyn-based ensemble the Knights bombed when it was in residence at the Ojai Music Festival in 2014. Although the chamber orchestra has friends in high places through its association with Yo-Yo Ma and his Silk Road Ensemble, there was noticeable annoyance among sophisticated patrons who recognized artistic and musical standards not comparable with those of the finest and most progressive Southern California ensembles.
Ojai, however, hardly meant goodnight, Knights. The group has continued to perform regularly around New York City, to tour (including to prestigious European festivals) and to work with top-flight soloists. The main attraction of its latest recording is a powerful performance of Osvaldo Golijov's gripping cello concerto "Azul," featuring Ma as soloist. On the other hand, the recording also includes an embarrassingly schmaltzy arrangement of Dvorák's "Song of the Moon" that might have otherwise voided the Knights' hip credentials.
On Wednesday night, the Knights opened fall's classical season, or what little there is of one, at the Broad Stage in Santa Monica. The main attraction this time was the exceptional Israeli mandolinist Avi Avital, who seemed to be the draw for a well-dressed crowd and maybe the reason for ticket prices that began at $70 and rose to $120.
The news, though, included the evening's other soloist. Syrian clarinetist Kinan Azmeh performed along with Avital and also premiered his new concerto, Concertino Grosso.
One of the more promising aspects of the international classical music scene is that the inspiring camaraderie of these two great players from opposing countries is no longer uncommon. The spectacular results of Daniel Barenboim's West-Eastern Divan Orchestra, which trains promising Israeli and Arab musicians together, is now a triumphant fact of musical life.
What was striking about Avital and Azmeh was not their differences but what they shared. The concert began with violas standing in the back and intoning middle C as Avital and Azmeh gingerly began a joint improvisation. A tentative noodle on the mandolin, and its softly sugared response on the clarinet, gradually grew into exuberance. The mandolin evoked an Arab oud. The Middle Eastern character of Azmeh's rhapsodic clarinet brought to mind klezmer.
Throughout the inconsistent evening, these thoughts of like-mindedness came and went. Some of what transpired was awful. Some of it was acceptable. And moments were truly inspired.
To begin at the bottom, the orchestral arrangement of Schubert's song "The Shepherd on the Rock" by Knights' leader, violinist Colin Jacobsen, was cringe-worthy. Schubert's piano part was transferred to strings, sliding from note to note as though playing on the soupy soundtrack of a 1930s Hollywood tearjerker. Avital accompanied the middle section with the kinds of mandolin tremolo you might expect to hear in an Italian restaurant of yesteryear.
The vocal part oddly went to Knights' flutist Alex Sopp. Azmeh played Schubert's original clarinet part with ostentatious freedom that actually wasn't free enough. Had he let go all the way, this could have become an effective jazz piece, and Jacobsen could have gotten away with anything he liked as backup.
Avital's big piece was his arrangement of Bach's First Harpsichord Concerto. It didn't work, either. Too much harpsichord counterpoint was lost. The Knights do not have the focus for Baroque music, and that was also a problem in Purcell's "Fantasia Upon One Note," the followup to the improvisation that opened the concert. Ironically, the Knights might have been just right for Anna Clyne's exquisite mandolin concerto, "Three Sisters," that Avital premiered this summer in Hamburg.
Azmeh's own Concertino Grosso, which had had its world premiere two days earlier in Ithaca, N.Y. (not far from where Clyne wrote "Three Sisters"), is likable. He is a versatile clarinetist, able to seduce with a rare intimacy and explode in ecstasy. He wrote in a dialogue with Jacobsen that was full of nostalgia. He allowed for a melodic nostalgia for his homeland, also the source of his earlier "November 22nd," which also was on the program.
But it wasn't until the evening's final work — Jacobsen's arresting arrangement, in collaboration with Siamak Aghaei, of an Iranian folk tune — that everything came irresistibly together. Avital and Azmeh added their two cents' worth, improving further what is already an authentically brilliant multicultural arrangement. The Knights clearly have something meaningful to say, just not in traditional classical music.
MORE MUSIC:
How Plácido Domingo taught L.A. to love opera
'War of the Worlds' to invade Disney Hall and the streets of downtown L.A.
---
Inside the business of entertainment
The Wide Shot brings you news, analysis and insights on everything from streaming wars to production — and what it all means for the future.
You may occasionally receive promotional content from the Los Angeles Times.