Review: Shakespeare in Disney Hall: An L.A. Phil 'Dream' deferred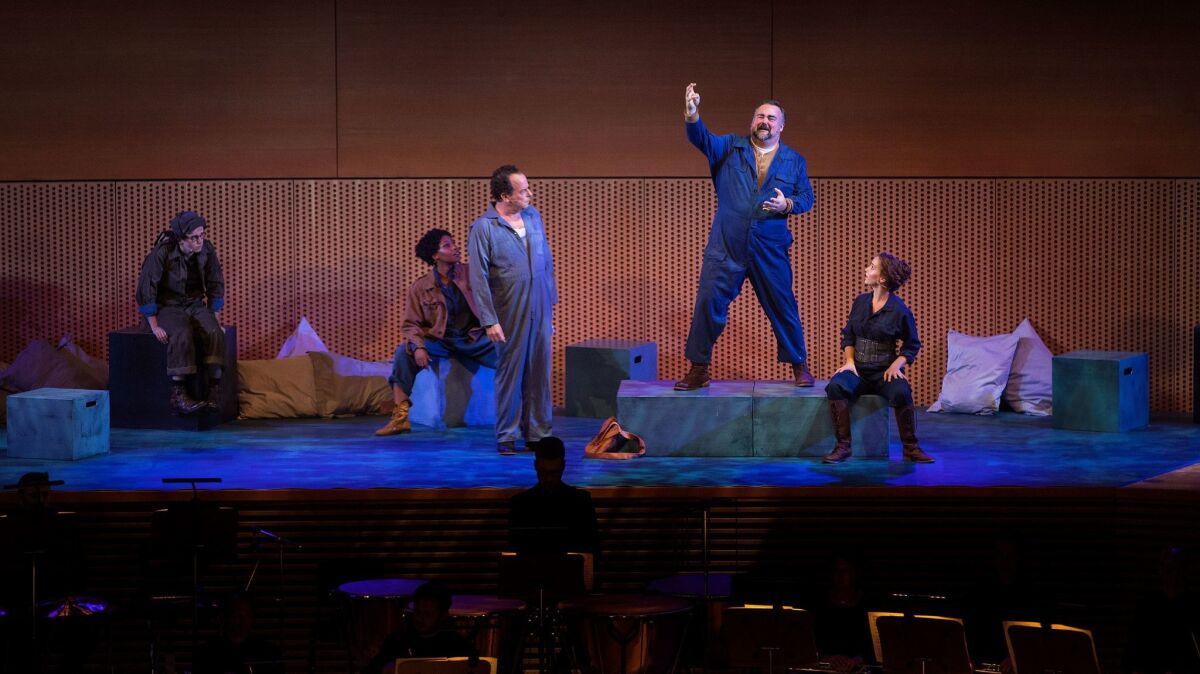 Mendelssohn's beloved overture to "A Midsummer Night's Dream" can be used two ways, both wondrous. One is as the standalone piece that the 17-year-old composer originally intended. In this fashion, as it is usually heard, it conveys, like few teenagers have ever been able to do, the fanciful first awakening to a world sensually real while still holding on to one that's sensually, magically unreal.
The score can be employed just as successfully as an actual overture. The mature Mendelssohn 16 years later added about 45 minutes of incidental music to go with Shakespeare's play. In this way and when performed with the right spirit, the overture is capable of creating exceptional expectations for a theatrical world about to be conjured up.
Such were the expectations Thursday night at Walt Disney Concert Hall for the latest Los Angeles Philharmonic extravagance, a full-scale production of bleeding chunks of the play along with the incidental music. This was the second program of the orchestra's new principal guest conductor, Susanna Mälkki, who is creating substantial buzz in L.A Phil-land and way beyond.
Wednesday night in Stockholm, Mälkki was awarded the Nordic Council Music Prize, whose judges praised her for "surprising the listener with fresh new details and soundscapes." The Finnish conductor joined Björk (the 1997 winner) in that prestigious honor.
Sure enough, Mälkki, found in Mendelssohn's magical score fresh details. The problem, though, was what to do with her enthralling, color-infused soundscape.
The L.A. Phil has had good luck in that department in the past. The summer of 1934, the orchestra mounted a famed, elaborate production of the play directed by Max Reinhardt that had a cast including Olivia de Havilland and Mickey Rooney. More than 170,000 are said to have attended a run of performances that helped to lift Angelenos out of the doldrums of the Depression. Erich Wolfgang Korngold, who added sumptuous musical meringue to the score, was the music director. This production inspired an enchanting Hollywood movie the next year, and it also provided substantial impulse for the Hollywood career of Korngold, who became the first of the great symphonic soundtrack composers.
Exactly 70 years after that L.A. Phil "Dream," Esa-Pekka Salonen helped to inaugurate the new Hollywood Bowl shell with the incidental music and a likable theatrical contribution from A Noise Within. Two of the best recordings of Mendelssohn's incidental music happen to have been made by former L.A. music directors Otto Klemperer and André Previn (though with other orchestras).
The L.A Phil clearly hoped to do it again for Mälkki, staging a sizable amount of the play. A British director with Shakespearean and ballet credentials, Nancy Meckler, came to Disney, along with a large and talented cast of actors, dancers and singers for a nearly two-hour version performed without intermission. Little, alas, worked this time.
Part of the problem is that "A Midsummer Night's Dream," Mendelssohn style, is innately unwieldy, and Disney is an inherently untheatrical venue that requires the extravagant imagination of a Peter Sellars or Yuval Sharon. What might have worked for Meckler with the Royal Shakespeare Company would not in Disney and with a Hollywood cast.
The first challenge is updating. Unlike in opera, where there is a built-in suspension of disbelief, music of an earlier era that stands apart from a play evokes its own era and ends up in conflict with modern costumes and staging, however clever. Meckler's approach had elements of situation comedy and older British music hall (Will Bradley's Puck flipping his bowler) and slapstick. The back-and-forth between Mendelssohnian magic and this made little sense, at least until the Wedding March, which timelessly fit everything.
It might be assumed that the audience will have at least a passing acquaintance with the play, but it took a lot more than that to know what was going on. The scenes came out of nowhere. The action took place behind the orchestra, and for many of us that was too far away to get a proper sense of the characters or their complicated funny business. Amplification muddied individual vocal quality. Enough words were lost to reverberation that intelligibility got eliminated. Straining to listen is never a good thing at a concert.
Under the circumstances, Mälkki was required to concentrate on efficiency as Oberon and Titania (Andy Robinson and Paige Lindsey White) lorded over the scene like wealthy Hollywood producers; Hermia (Katherine Ko), Helena (Alexandra Ruth Wright), Demetrius (Burt Grinstead) and Lysander (Nic Few) romped like good-natured, athletic college students in a dorm; fairies flitted; and the Mechanicals, led by Raymond McAnally's boisterous Bottom, did their slapstick business. Loren Lester's Egeus was like the studio lawyer who putting the kibosh on romance (never a good thing in Mendelssohn).
Choreographer Kitty McNamee got everyone moving fluidly. Soprano Amanda Forsythe and mezzo-soprano Emily Fons sang prettily but little, as did the women of the Los Angeles Master Chorale.
All need not be lost. Fixing the amplification, doing some last-minute cutting and adding just a touch of narration might prevent quite so many walkouts as there were during Thursday's performance.
♦ ♦ ♦ ♦ ♦ ♦ ♦ ♦ ♦ ♦
Los Angeles Philharmonic's 'A Midsummer Night's Dream'
Where: Walt Disney Concert Hall, 111 S. Grand Ave., L.A.
When: 8 p.m. Friday and Saturday, 2 p.m. Sunday
Tickets: $20-$194
Information: (213) 850-2000, www.laphil.com
MORE MUSIC COVERAGE:
Russia's secret weapon? Valery Gergiev and the Mariinsky's rapturous music
With a farewell on the horizon, Zubin Mehta's concert with the Israel Philharmonic is a triumph
A Venezuelan life force for the Master Chorale's Day of the Dead program
---
Get our L.A. Goes Out newsletter, with the week's best events, to help you explore and experience our city.
You may occasionally receive promotional content from the Los Angeles Times.