Review: Jane Anderson gives her 'Baby Dance' some smart new steps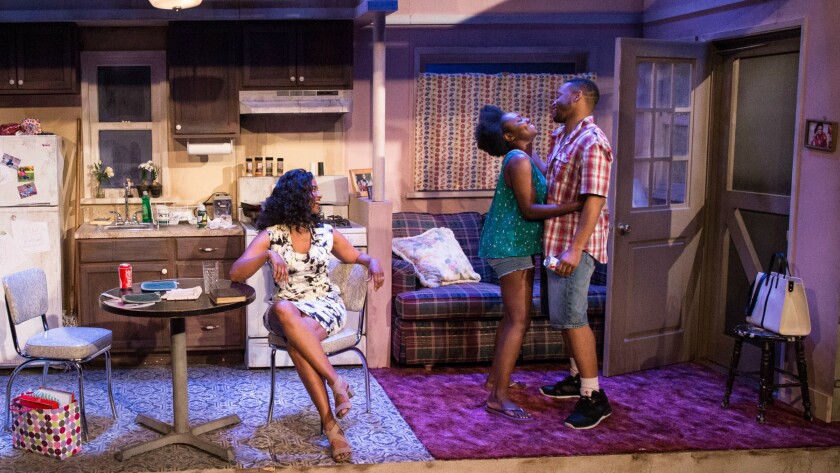 The character specificity that distinguished "The Baby Dance" ultimately convinced playwright Jane Anderson that adapting her 1989 drama for a racially diverse cast required more than a few editorial baby steps.
Reteaming with Jenny Sullivan, the play's original director, Anderson has created a substantially revised version, "The Baby Dance: Mixed," premiering at the Rubicon Theatre in Ventura.
The plot retains the same contours: an infertile, affluent L.A. couple enter an adoption contract with a poor Louisiana expectant woman who can't afford to care for the child. In this version, however, the birth parents are African American, and the would-be adopters are a mixed-race couple.
The racial emphasis risks piling an additional set of topical issues onto the play's class and cultural flashpoints. As it turns out, however, the changes open up new opportunities to personalize and deepen the characters — surpassing the original version in key respects.
The improvement is immediately apparent in the relationship between birth mother Wanda (Krystle Rose Simmons) and the African American woman, Regina (Tracey A. Leigh), who wants to adopt with her husband. The tone modulates from comical culture clash to edgy conflict as sophisticated Regina tries to mask her growing discomfort with the trailer-park existence that Wanda leads with her crude, hot-tempered husband, Al (Gabriel Lawrence). When Regina insists she knows how hard giving up the baby will be, Wanda's simple rebuttal, "No you don't," rings all too true.
Yet the polarization is not as black and white as in the original. Regina may lead a thoroughly different lifestyle, but she and Wanda find an emotional bridge.
Lawrence's superbly nuanced Al may still be a hot-headed racist (his invectives now target his Latino neighbors), but he's also a smooth operator making the most of the limited socioeconomic hand he's been dealt. His genuine love for Simmons' Wanda is evident in the two actors' smoldering chemistry — a trailer-park version of "A Streetcar Named Desire's" Stanley and Stella.
In contrast, the stilted relationship between Regina and her Jewish husband, Richard (Brian Robert Burns), is built more on diplomacy than real understanding — an even more credible obstacle than we saw between the original play's uptight privileged white characters.
Burns' decent, sympathetic Richard genuinely wants to fulfill his wife's longing to raise a child, but his concerns about the adoption are implicitly grounded in fears that a black child will never look like his biological son or daughter. While he and Regina may be well-off, they're not "money is no object" wealthy — a factor amplified by racial animus when he calls out Al for exploiting the financial terms of the adoption.
The escalating argument between Richard and Al draws on the complicated relations between blacks and Jews. A moment where Richard invokes civil rights-era history seems jarringly on-the-nose (fixable by making the point in terms of his personal experience).
For the second act's forward leap to delivery day (signified by Thomas Buderwitz's stunning set transformation from cluttered trailer to maternity ward recovery room), Anderson has rewritten the fifth character of a baby-broker lawyer. Played with smug assurance by Carl Palmer, his glib manipulation underscores the commercialization of childbirth and the sad futility of looking to the legal system to take the place of shared values.
It would be interesting to see the lawyer played by a woman in a future version. After all, "The Baby Dance" has already shown its willingness to be fruitful and multiply.
♦ ♦ ♦ ♦ ♦ ♦ ♦ ♦ ♦ ♦
'The Baby Dance: Mixed'
Where: Rubicon Theatre, 1006 E. Main St., Ventura
When: 2 and 7 p.m. Wednesdays, 7 p.m. Thursdays, 8 p.m. Fridays, 2 and 8 p.m Saturdays, 2 p.m. Sundays; ends May 20
Tickets: $55
Info: (805) 667-2900 or www.rubicontheatre.org
Running time: 1 hour, 55 minutes
See all of our latest arts news and reviews at latimes.com/arts.
MORE THEATER
'Noises Off': The laugh factory is open
'School of Rock': When Axl Rose meets Andrew Lloyd Webber
Asian cast: Why that remains a radical idea for American theater
David Henry Hwang on the wild, winding road to 'Soft Power'
---
Inside the business of entertainment
The Wide Shot brings you news, analysis and insights on everything from streaming wars to production — and what it all means for the future.
You may occasionally receive promotional content from the Los Angeles Times.