Street artist Ron English vowed to whitewash a $730,000 Banksy mural. Then things got even weirder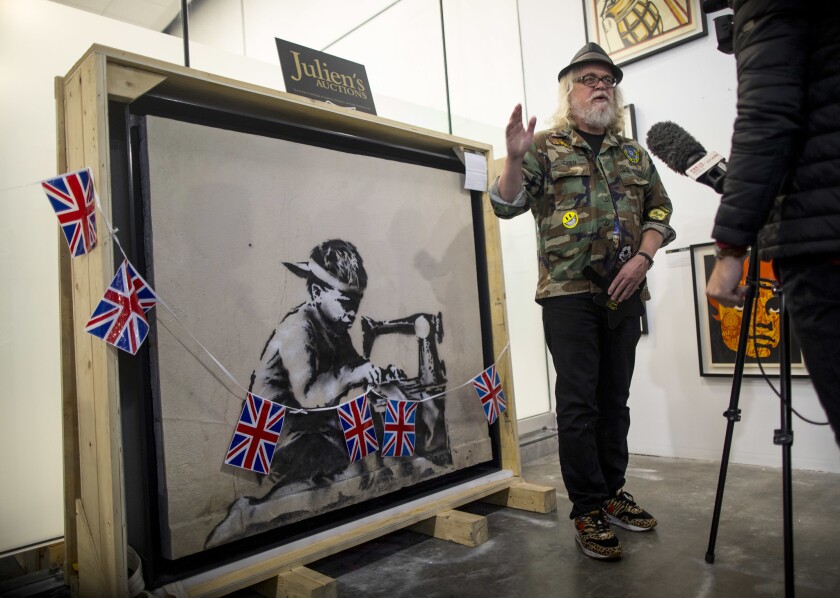 When street artist Ron English acquired the Banksy mural "Slave Labour" for $730,000 at auction in Beverly Hills in November, he had an immediate, albeit vague, thought: Wouldn't it be interesting to reinvigorate it by doing something strange?
Then, English said recently in a phone interview, somebody shoved a microphone in his face, and before he could think much more about it, he vowed to whitewash the work.
The pronouncement sent English into an even brighter spotlight.
"My phone has not stopped ringing," he said, listing off the various offers and ideas that he has since fielded.
Whitewash the mural at my gallery, one person said. Charge admission, someone else suggested. Do it on pay-per-view, advised a third.
"I had a lot more friends than I thought," English said.
What is his latest thinking? First, he said, the act of whitewashing the mural would be a form of protest against the monetization of street art — something that Banksy also has decried. In this case, "Slave Labour" was removed from a wall in London and put up for auction in Miami. The work, painted in 2012 to protest the use of sweatshops, was not created to travel, English said.
"We don't make street art to have it ripped off the wall and sold," he said. "They're not baubles for billionaires."
His second thought is more cunning. The act of whitewashing the mural is a meta commentary on the bizarre state of the art world — a world in which art gains ever more value after being stolen, defaced or worse. This is believed to be the case with the "Mona Lisa," which was relatively unknown until it was stolen from the Louvre in 1911, after which it was catapulted to international stardom.
More recently, the "Girl With Balloon" painting that Banksy rigged to shred after being sold at auction, has gained value because of the stunt. English also cites Robert Rauschenberg's "Erased de Kooning Drawing," which Rauschenberg created by erasing a de Kooning work in 1953.
"If I did something like that, it would be frustrating for people, but it would become the 'Whitewashed Banksy,'" English said, adding that he expects the piece to gain value after his intervention and that he will resell the result for a profit. He said he plans to donate the profit to a charity that fights sweatshops.
English doesn't know who the enigmatic artist Banksy is, but they have corresponded via email in the past and both painted on the separation wall between Israel and the Palestinian territories in the mid-aughts. English is not worried about Banksy's reaction to the whitewashing.
"I'm about to paint over a stencil," English said. "He still has the stencil; he could put that same stencil on the same wall."
Asked if that stencil would be a new work of art and not the work of art English acquired at auction, English said the question is more interesting than the answer.
"If that's the game people are playing, I can play it," he said.
English promised a forthcoming announcement about when and where he will do the whitewashing, indicating he will indeed move ahead with what started as an off-the-cuff idea.
"Your first reaction," he said, "is usually your best idea."
---
Get our daily Entertainment newsletter
Get the day's top stories on Hollywood, film, television, music, arts, culture and more.
You may occasionally receive promotional content from the Los Angeles Times.