Review: Art that looks expensive but ultimately is still just trash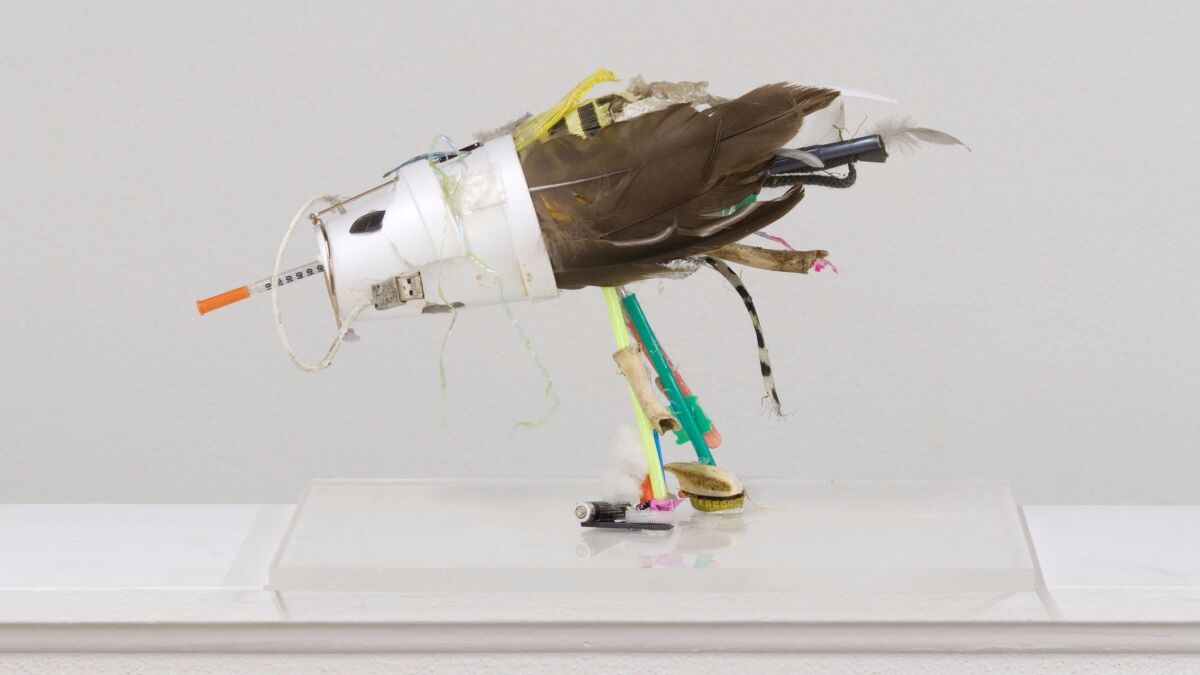 "The Gay Signs," an installation of works by Bernadette Corporation, is not the worst exhibition to appear in a Los Angeles gallery this season. But five years from now it may have earned that honor.
That's because exhibitions that are less compelling are also less memorable. "The Gay Signs," a half-baked echo chamber at House of Gaga/Reena Spaulings Fine Art, stands out because it does so little with so much.
The title refers to Friedrich Nietzsche's "The Gay Science" (also translated, in 1882, as "The Joyful Wisdom") and to semiotics, which was the sexiest subject an undergraduate could study in the late 1980s.
Founded in 1994, Bernadette Corporation is an art, film and fashion collective committed to undermining institutional authority. Its members include Bernadette Van-Huy, Antek Walzcak and John Kelsey, who is also co-director of Reena Spaulings Fine Art in New York.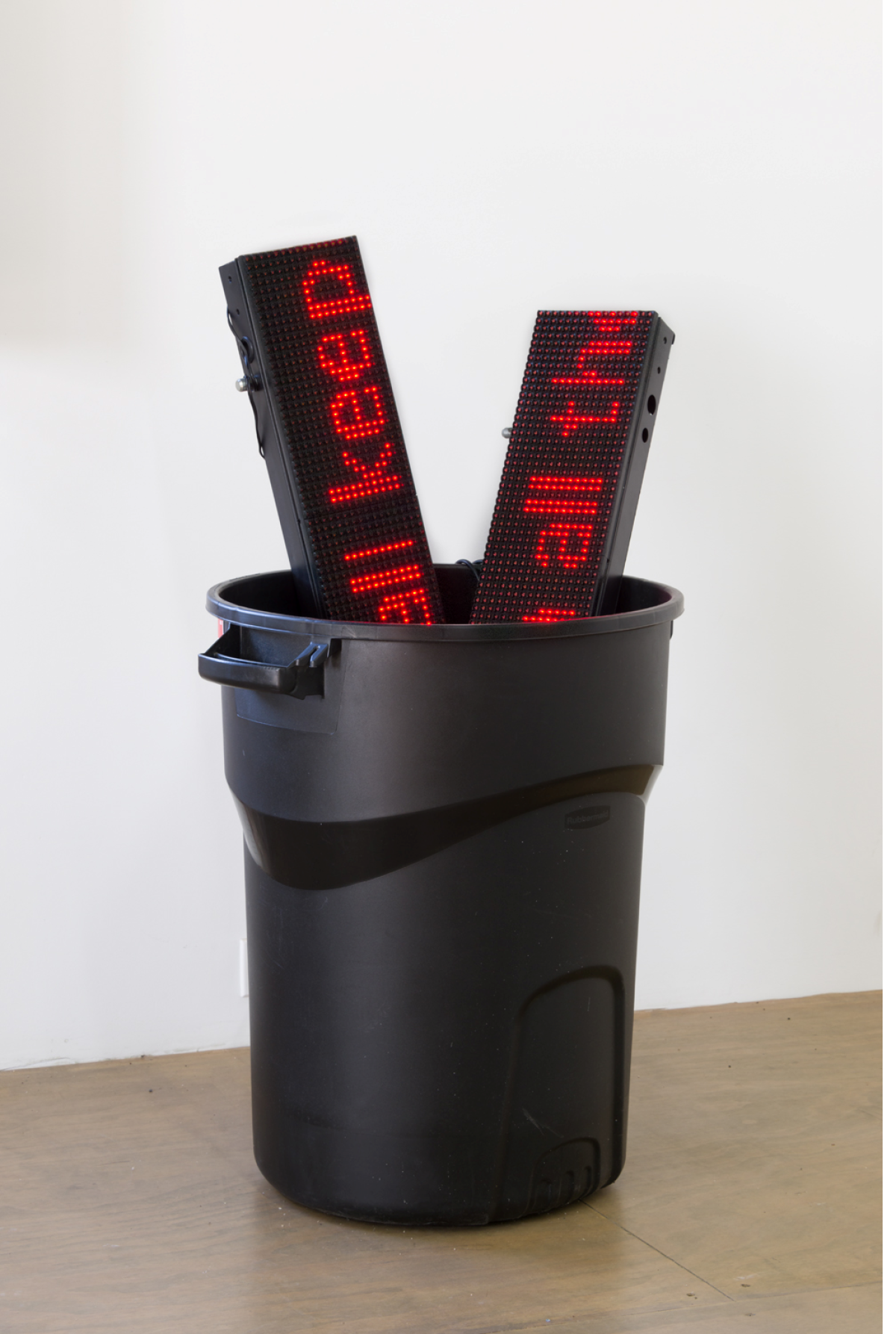 All but one of the works in "The Gay Signs" are simple things — tables, posters and, of course, signs (beer and bathroom) — on which lavish production budgets have been spent.
The tables are the most elaborate. Some do double duty as vitrines. One contains litter picked up in MacArthur Park. Others include LEDs and mirrors configured to create the illusion of infinite regress. Set in one table is a 40-minute video of Sylvere Lotringer. The mischievous professor, who was a magnet for wanna-be semioticians in the 1980s, has not lost his touch — or any of his charisma.
Words, like those an eager student might jot down during a lecture, have been engraved, laser-etched and printed on aluminum and acrylic panels, some clear and others mirrored. References to Antonin Artaud, Kim Kardashian and Kanye West are interspersed with narrative snippets and nods to Heliogabalus, emperor of Rome from 218-222, when he was assassinated at the ripe old age of 18.
As a whole, the exhibition is far less interesting than any of its sources. Think of it as the visual equivalent of flatulence in a bubble bath.
Only one piece does more than highlight its desire to be academic. It's also the crudest. With a syringe for a beak, bent drinking straws for legs and a foam cup for its head, "Gull Sculpture" is an antidote to the overproduced nonsense that makes up the rest of the exhibition. This show would be better if it were forgettable.
House of Gaga/Reena Spaulings Fine Art, 2228 W. 7th St., L.A. Open Wednesday-Saturday, though July 8. (213) 908-5033, www.gagareena.com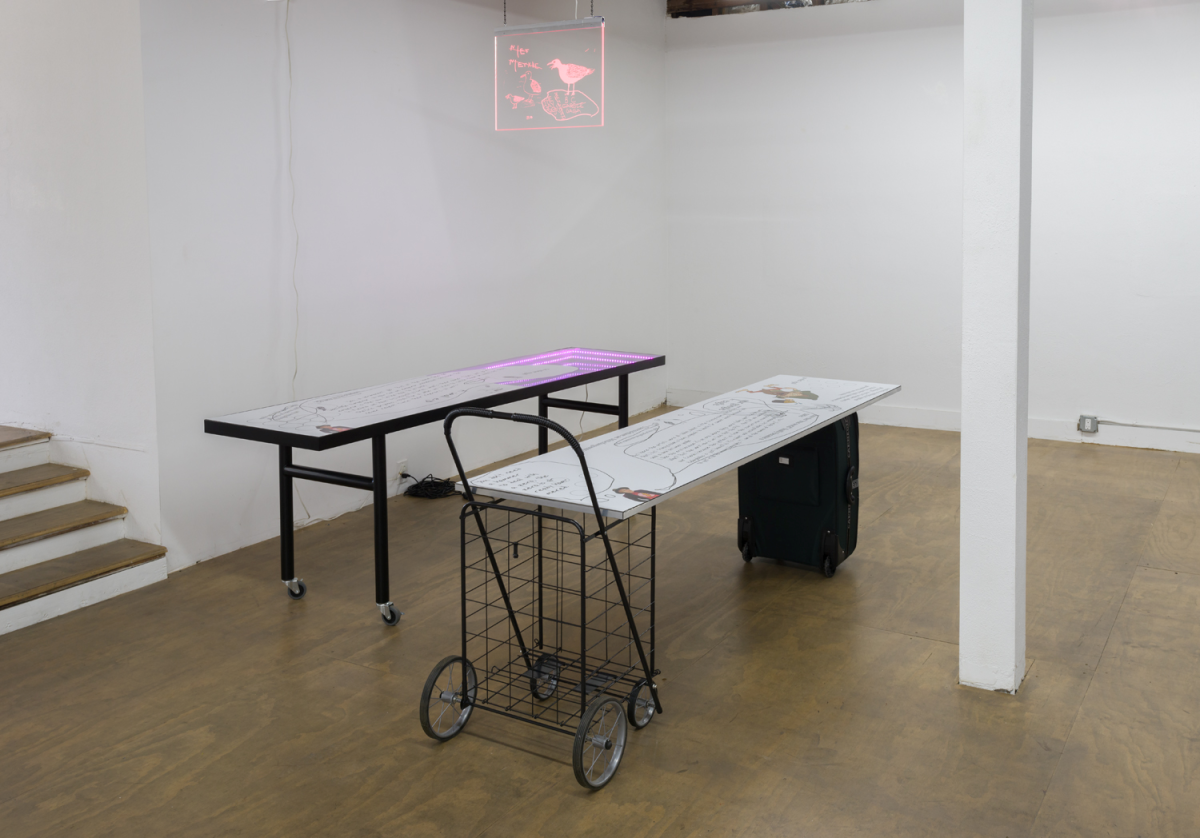 SIGN UP for the free Essential Arts & Culture newsletter »
ALSO
The strange, surreal photography of Heather Rasmussen
Turning the humble quilt into a powerful symbol of choice
Male or female? Black or white? The paintings of Lezley Saar play with labels and expectations
---
UPDATES:
For the Record
This article lists Antek Walzcak as a member of Bernadette Corporation. He is a former member.
---
Get our L.A. Goes Out newsletter, with the week's best events, to help you explore and experience our city.
You may occasionally receive promotional content from the Los Angeles Times.