Billy Al Bengston 'Dento' paintings at Parrasch Heijnen: Life through reflected light
Art Critic
Whaling away at an aluminum painting support with a ball-peen hammer to dent and dimple the surface before hitting it with lacquer and polyester resin paints might not seem like the best idea. Unless, of course, you've seen Billy Al Bengston's "Dento" paintings. Then, the idea seems frankly charmed.
Bengston made an unknown number of Dentos between 1965 and 1970. The best ones are ravishing. At Parrasch Heijnen Gallery, 17 have been brought together. All are centered on an image of sergeant stripes, which first turned up in Bengston's paintings four years earlier.
In the context of postwar art, resolutely flat, abstract images were being championed. So were demands for so-called "American-type" painting that could distinguish a work from European Modernism. Sergeant stripes kill those two birds with one very well-placed, very witty stone.
To further seal the deal, the 14 paintings that sport titles — "Fighting Kentuckian," "Three Faces West," "Seven Sinners," etc. — are all named for John Wayne movies, famous and obscure.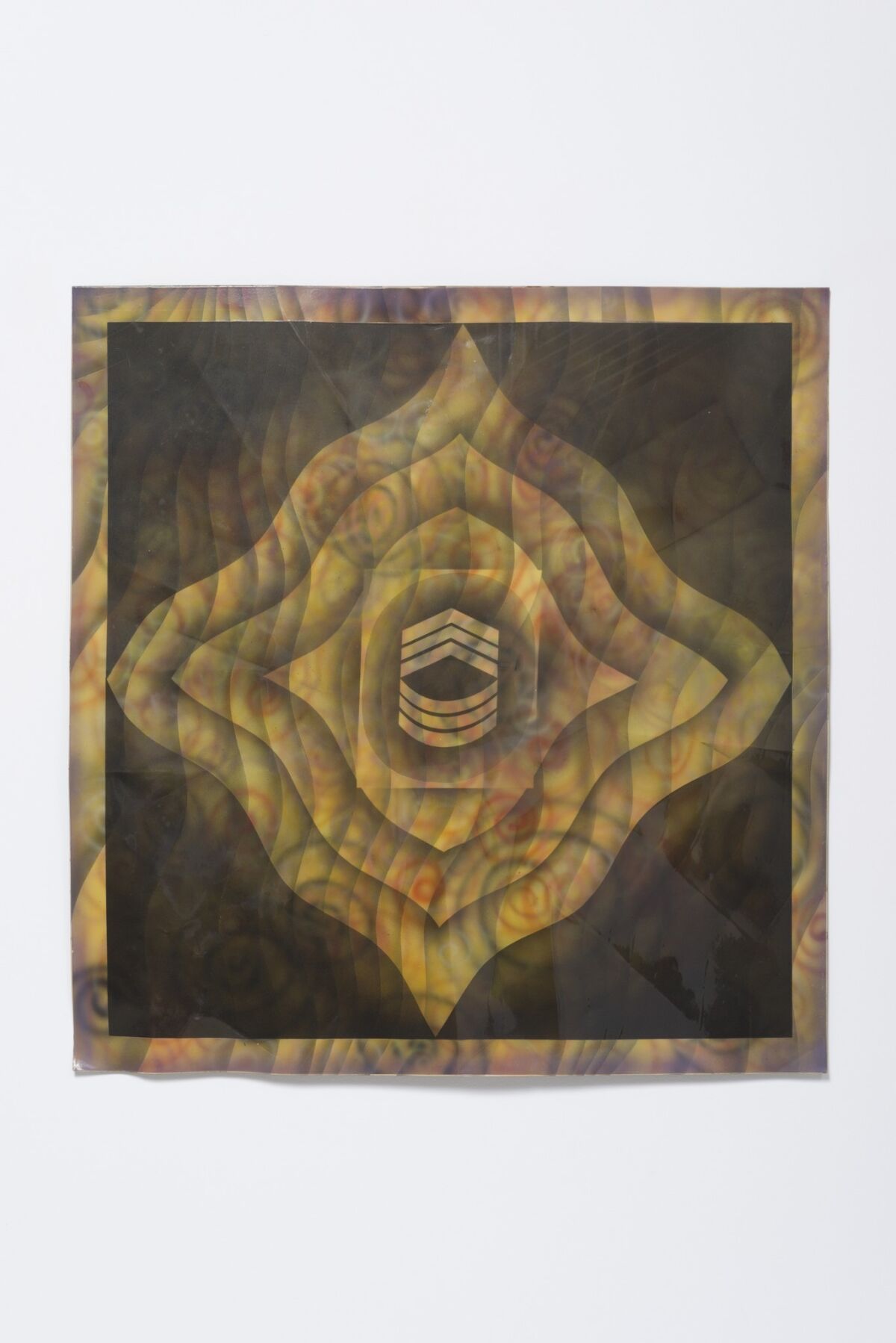 Speaking of flatness, a work produced on a wafer-thin sheet of aluminum meant that the painted plane would hang in front of the wall, emphasizing its two-dimensional quality. Even the convention of a picture frame was absorbed into the flat picture-plane, as Bengston painted a neat border-stripe around all four edges of each Dento.
And, wham! Having smacked that flat plane with a hammer, sometimes gashing the surface or even bending the sheet, two dimensions were transformed into three. A painting is asserted as a material object — not a metaphorical window onto another world or mirror reflection of this one, but an independent thing with its own pictorial demands.
Lacquered dents, dings and ripples in a resin-coated Dento catch the light, flickering and glinting as you move past, animating an otherwise static surface. The image is given life through the mechanism of reflected light, not unlike all those John Wayne movies up on the silver screen.
These paintings, none of them quite square, are all just slightly taller than they are wide; a vertically oriented picture implies a figure, unlike the landscape suggestion of a horizontal one. A viewer standing in front of them is being consciously addressed.
Given all that glamour, it's refreshing to see Bengston simultaneously bring things down to earth. The palette is varied, although secondary and tertiary hues far outpace primaries. Surprisingly, the colors are anchored by the frequent use of a warm, buttery ochre — not bright yellow or gold, but a pale, earthy pigment that is the opposite of glitzy.
All of it adds up to a resounding refutation of "finish fetish," the term coined by critic John Coplans to describe the industrially slick, often pretty appearance of '60s L.A. art, which was picked up as an unfriendly put-down by detractors. Bengston's glamorous yet banged up Dentos run finish fetish through a ringer.
These are also not paintings that pretend they exist outside an art market. They come in small (about a foot on a side), medium (2 or 3 feet) and large (one is more than 7 feet by 6, a sheet assembled from three welded aluminum strips). Something for every wall, in other words, whether at home or in a museum.
It's surprising to realize that Bengston's Dentos, while included in many group and survey exhibitions, have never been the subject of a focused museum show. (Among other things, they anticipate the Pattern and Decoration movement that would not emerge until the mid-1970s, itself a type of painting ripe for reconsideration.) On the evidence of this striking presentation, which is the tip of a larger iceberg, the subject is overdue.
Parrasch Heijnen Gallery, 1326 S. Boyle Ave., L.A. Through Nov. 4; closed Sundays and Mondays. (323) 943-9373, www.parraschheijnen.com
christopher.knight@latimes.com
Twitter: @KnightLAT
MORE ART NEWS AND REVIEWS:
Gary Simmons at the California African American Museum
'Spaghetti Dress for World Peace' at Park View Gallery
Jeffrey Gibson: American. Native American. Gay. An artist's life outside labels
Laura Aguilar: Turning a lens toward Latinas, lesbians and the large-bodied
---
Get our L.A. Goes Out newsletter, with the week's best events, to help you explore and experience our city.
You may occasionally receive promotional content from the Los Angeles Times.