Review: Audra McDonald captivates a Bowl audience, but she's meant for more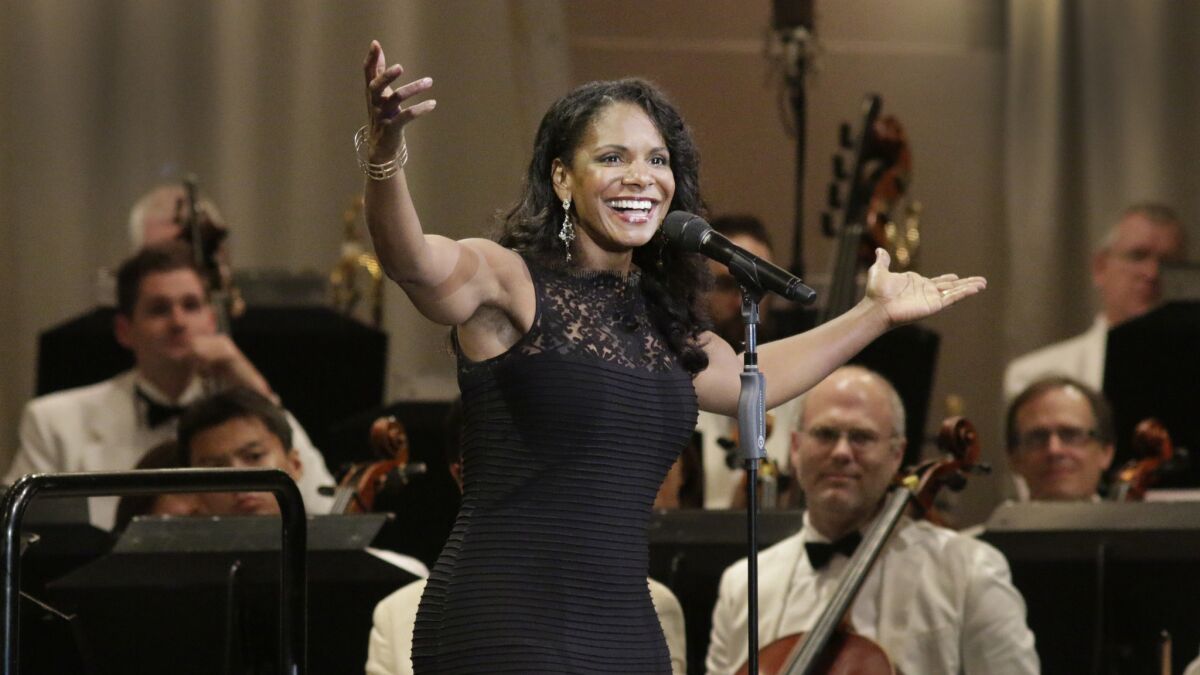 Los Angeles Times Music Critic
The Los Angeles Philharmonic turned to New York of the 1940s and '50s Tuesday night at the Hollywood Bowl, for which Bramwell Tovey drolly apologized to his Angeleno audience. I certainly noticed no objection to Audra McDonald, in magnificent form, holding the Bowl in her sway with Broadway standards.
Can anyone sing Frank Loesser's patter-song "I Can't Stop Talking About Him" faster or funnier? I don't think so. Bringing ravishing sentiment to "Make Someone Happy," she surely did.
The program was framed around Leonard Bernstein, opening with the overture to "West Side Story" and closing with a visit from American Ballet Theatre, which brought considerable élan to the composer's early ballet "Fancy Free." Set, costumes and Jerome Robbins choreography re-created the original 1944 dance sensation.
SIGN UP for the free Essential Arts & Culture newsletter >>
There is much interest in this. The previous Thursday at the Bowl, members of the L.A. Phil orchestra had played the suite from Copland's classic ballet score, "Appalachian Spring," which premiered the same year as "Fancy Free." While composing his ballet, Bernstein, a then-25-year-old boy genius, recorded two-piano versions of each number with Copland and sent them off to Robbins. Bernstein became, of course, the greatest Copland conductor, and his recording of "Appalachian Spring" with the L.A. Phil (made following a Bowl performance 30 years ago) profoundly captures the American spirit.
It's all tied together.
We are in a "West Side Story" moment. The 60-year stronghold by various estates — including and especially Robbins' — to keep the musical tied to its original production seems to be loosening. A reportedly revelatory production directed by Barrie Kosky (responsible for Los Angeles Opera's hit "Magic Flute") was a recent sensation in Berlin, and lawyers are trying to find a way to allow it in the States. Gustavo Dudamel will be conducting a new production of "West Side Story" in Salzburg next year directed by Phil McKinley and starring Cecilia Bartoli.
An ABT star, Misty Copeland, is currently wowing Broadway in the first relatively fresh major production of Bernstein's "On the Town," the musical about three sailors with a 24-hour leave in Manhattan that was inspired by "Fancy Free." Oh, yes, Dudamel will also later this season turn to "Appalachian Spring" and take it on the L.A. Phil's tour to Europe.
Clearly, there was much timely at the Hollywood Bowl on Tuesday. The entertainment level was high on many levels for a program to be repeated Thursday (with different ABT dancers). Tovey is a Brit who gets this music. The L.A. Phil was its flexible self. This is what the Bowl might seem made for, especially now that it has up-to-date audio-visual gear. And yet the evening left me as maybe the only someone not made to smile.
McDonald is far too important a singer to do what she does, and sandwiching her in between Bernstein didn't help. Yes, her "Climb Ev'ry Mountain" was downright inspirational and without an ounce of treacle. "Moon River" was beautiful. Every word in every song meant something. Her voice has taken on weight, but not lost its eloquence. She is in her prime. No one on Broadway can touch her.
But we need her for more than reminding us what wonderful songs these are. Her interpretations are original, of course, but limited to standard arrangements played by an orchestra also underemployed. Twenty years ago, McDonald was poised to be the muse for a new, sophisticated Broadway. Now she classes up an otherwise degraded "Porgy and Bess." She will already go down in history as the best Broadway singer of her day. But if she wants a legacy of one who, as Bernstein did, mattered to Broadway and music, time is running out.
Bernstein's own breaking down of musical barriers (and what he might have created for McDonald!) was the product of his abhorrence of complacency and insistence on complete commitment at all times. I once saw him throw a fit at a morning Bowl rehearsal when he thought the L.A Phil was phoning it in.
"Fancy Free" was, intellectually, phoned in. That '40s stylized set of a bar may be authentic, but there could be no historical re-creation under Tuesday's conditions. Modern dancers' bodies fill old costumes differently than they did 70 years ago. We listen through modern speakers, watch on modern video screens (which needed some color correcting). Tovey's tempos, no doubt insisted upon by the dance, were moderate, not nearly as quick as Bernstein's 1944 recording.
In its day, Bernstein's jazzy score — which opens with a Billie Holiday song, "Big Stuff," played on a jukebox — may have actually been less original (given its rip-offs of Stravinsky and Holst's "The Planets") than Robbins' choreography. But the reverse is now true. In hindsight, though, we find traces of much of the Bernstein to be in the inner details (which Bernstein emphasized in his later performances) that it now gives the score a special quality. Watching the original ballet, on the other hand, is more like seeing an old movie than experiencing meaningful modern dance theater.
The sailors — Craig Salstein, Cory Stearns and Marcelo Gomes — were as suave, graceful and peacocky, and gruffly sexual, as they needed to be. The women they tried to pick up — Stella Abrera, Gillian Murphy and Leann Underwood — were marvelously sensitive to flirtatious detail and acidic rebuff. But in no relevant way were they allowed to portray the sexual implications of sailors on the prowl.
Like so much "faithful" Bernstein on the modern stage, this "Fancy Free" lacks fancy and freedom.
Twitter: @markswed
Get our L.A. Goes Out newsletter, with the week's best events, to help you explore and experience our city.
You may occasionally receive promotional content from the Los Angeles Times.