Broad museum sets a Sept. 20 opening and a February sneak peek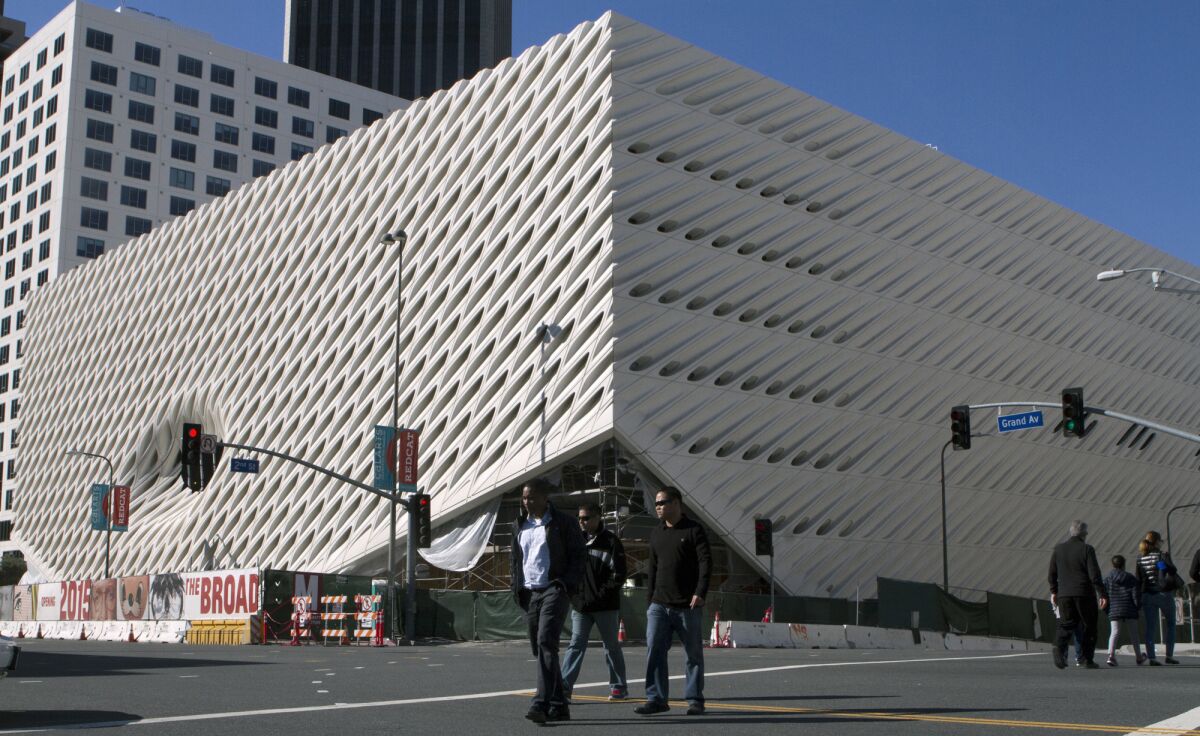 The Broad museum will open Sept. 20 as the downtown showcase for Eli and Edythe Broad's contemporary art collection, the founding couple announced Thursday. As promised, admission will be free.
But it'll cost $10 to get a one-day sneak preview Feb. 15.
The opening art display in September will offer an array of greatest hits from the more than 2,000 pieces the Broads have amassed. The show will range through some 60 years of post-World War II art, arranged in "predominantly chronological" order from the 1950s to a recently acquired massive video installation created in 2012.
Jasper Johns, Robert Rauschenberg, Andy Warhol, Cy Twombly, Roy Lichtenstein, Ed Ruscha, Jean-Michel Basquiat, Keith Haring, Cindy Sherman, Jeff Koons and Barbara Kruger are among the featured artists.
ESSENTIAL ARTS & CULTURE NEWSLETTER >> Get great stories delivered to your inbox
"It is our privilege to give this museum, the works in our art collections and a sizable endowment and free admission as gifts to the people of Los Angeles," Eli Broad said in the written announcement of the opening date.
Museum officials have put the cost of the building, designed by the architects Diller, Scofidio + Renfro, at $140 million. On top of that, the Broads will provide an endowment "well in excess of $200 million," said museum spokeswoman Alex Capriotti — enough to ensure that projected investment returns can cover all operating expenses, including ongoing art acquisitions "well into the future."
The free admission does come with an asterisk, eventually. The opening show that takes up the whole museum will be free, but when the Broad begins organizing or importing special exhibitions (which likely will include works borrowed from other collections), at least some of those shows will carry a charge. But the permanent collection galleries showing the museum's own art will remain free.
A combination of video and audio called "Sky-lit: Volume, Light and Sound at the Broad" will greet visitors to the Feb. 15 not-so-sneak preview, for which $10 reservations will be available starting Friday at www.thebroad.org/skylit. It's an invitation to see the museum's biggest space — the wide-open third floor — before it's partitioned for the museum's initial installation.
"DTLA" is an audio installation by Swedish composer and sound artist BJ Nilsen, who recorded sounds in more than a dozen locations to create what's described as "an abstract audio landscape of downtown Los Angeles."
After dark, "Stillness," a work in sound and light by Los Angeles artist Yann Novak, will aim to immerse museum-goers in an "environment for reflection" about "the effect of climate and light on their physical and emotional states."
One recent, and extremely large, acquisition on display when the Broad opens will be "The Visitors," a 64-minute video installation on nine screens by Icelandic artist Ragnar Kjartansson that the Broads acquired last year. The artist — seen and heard strumming a guitar while taking a bath — is one of eight musicians who each occupies an individual screen, all playing the same song. A group scene completes the piece, which Kjartansson recorded at an old mansion in upstate New York.
A 2013 opening was projected when lead architect Elizabeth Diller's design for the 120,000-square-foot building was unveiled in January 2011. It was pushed back to late 2014, and then to an unspecified date in fall 2015.
Last May, the Broad and its general contractor, Matt Construction, sued Seele Inc., the company responsible for creating and installing the museum's distinctive honeycombed exterior, alleging mistakes that had delayed the project 15 months and driven up costs by at least $19.8 million.
Seele remained on the job and asserted in court papers that the allegations were a "specious ... laundry list" of unsubstantiated complaints. The parties agreed last fall to put the legal battle on hold until the building was finished.
Twitter: @boehmm
---
Get our daily Entertainment newsletter
Get the day's top stories on Hollywood, film, television, music, arts, culture and more.
You may occasionally receive promotional content from the Los Angeles Times.