Change diaper, enter stage right: How these babies became the youngest actors ever on Broadway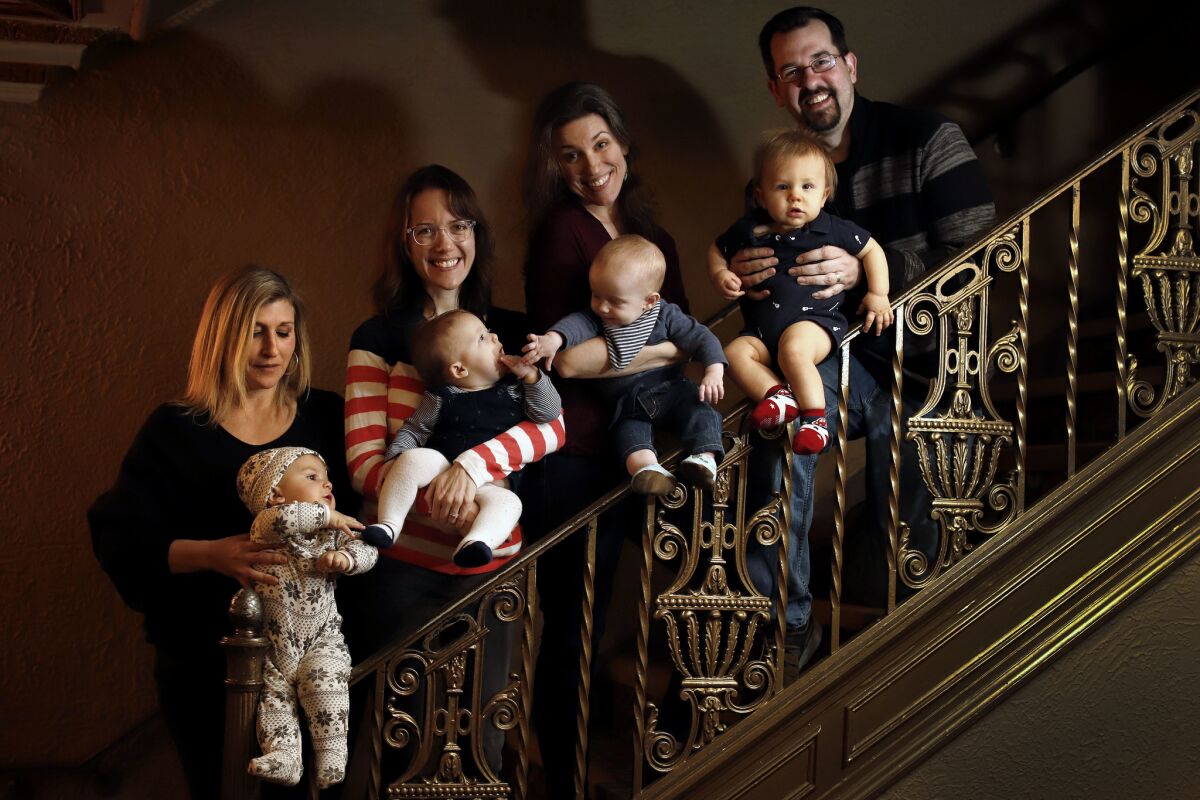 Reporting from New York —
Rafael West Valles, who plays Bobby Carney on Broadway in "The Ferryman," would not talk for this article. Neither would Sean Frank Coffey, who also plays Bobby Carney. Ditto for Annie Scarfuto and August Rhyner.
OK, so "would not talk" isn't accurate. "Could not talk" is more like it. The little scene stealers rotating through the role range from 7 to 10 months old, making them likely the youngest actors in Broadway history. ("Yerma" briefly used a baby off-Broadway last spring.)
"The Ferryman" follows an Irish clan living in a farmhouse with the (metaphorical) ghosts of the perpetual Troubles in Northern Ireland. Most plays would use a doll for the infant Carney, but playwright Jez Butterworth loves theater verite. In "The River" four years ago, Hugh Jackman gutted a real trout onstage, providing audiences with authentic smells.
"A doll would take the audience out of the moment," says Carla Langley, who plays Shena, the eldest Carney daughter who handles the baby the most onstage. (Audiences, however, do seem to find these babies' adorableness momentarily distracting.)
The show also includes a real rabbit and goose. This quest for realism has become more common in recent years with a live rat co-starring in "The Curious Incident of the Dog in the Night-Time" and an appearance by a goat and a chicken in "Once on This Island," but obviously a human baby is an entirely different animal.
"All of these draw us into this world a little more," says Andrew Femenella, one of the show's two baby casting directors. "Sure, it's theater and you could do without it, but a real baby makes the play more human."
In a world rife with violence and an endless ripple effect for every path chosen or not, a real baby helps the audience "realize what it means when the family is endangered," says Femenella's casting partner, Jillian Cimini. "It elevates the stakes."
In London, babies could sign on at 4 or 5 months, Femenella says, but American labor laws won't allow a work permit until 6 months. That means a short run because once the babies can roll and crawl, they can't be left onstage by themselves, as they are at the start of the second act. One budding star aged out before opening; others have come and gone, though their nameplates remain on a wall of honor in the theater.
The current cast:
Rafael, born in February, is the elder statesman. A Queens resident, he has been with the show since the first preview in early October. "He now looks at cue light, and when it goes on he gets so excited he kicks legs so hard," Langley says. Rafael's mother, Kat West, is a production stage manager (currently for "Fiddler on the Roof"); his father, Jaime Valles, has a video and photography production company that works mainly in theater.
Sean, born in March, is the quartet's chatterbox. This Manhattan resident doesn't speak words yet but maintains a steady stream of sounds during a group interview (pausing briefly to spit up). He recently added clapping to his onstage repertoire. Sean's mother, Liz Hayes, is an actor and dialect coach and teaches voice and speech at three New York colleges; his father, Paul Coffey, is rehearsing for Fiasco Theater's "Merrily We Roll Along" at the Roundabout Theatre.
Annie, born in April, is the lone girl playing Bobby. Annie lives down the block from Rafael in Queens. Her mother, Christine Scarfuto, is literary manager at the Long Wharf Theatre in New Haven, Conn., and commutes there twice a week; Annie's father, Robert Marcato, is the artistic producer at the Signature Theatre.
August, born in May, is the baby of the babies. His parents inquired about the role when he was 3 months and were told he needed to grow up. He joined after turning 6 months. He has the longest commute, from Yonkers. His mother, Georgia DeFalco, is a music and theater teacher, and his father, Charles Rhyner, is a music teacher. They also have a 3-year-old son, who DeFalco says is "a little jealous" of the attention paid to August's career. "He'll say, 'No talking,' when 'Ferryman' comes up," she says.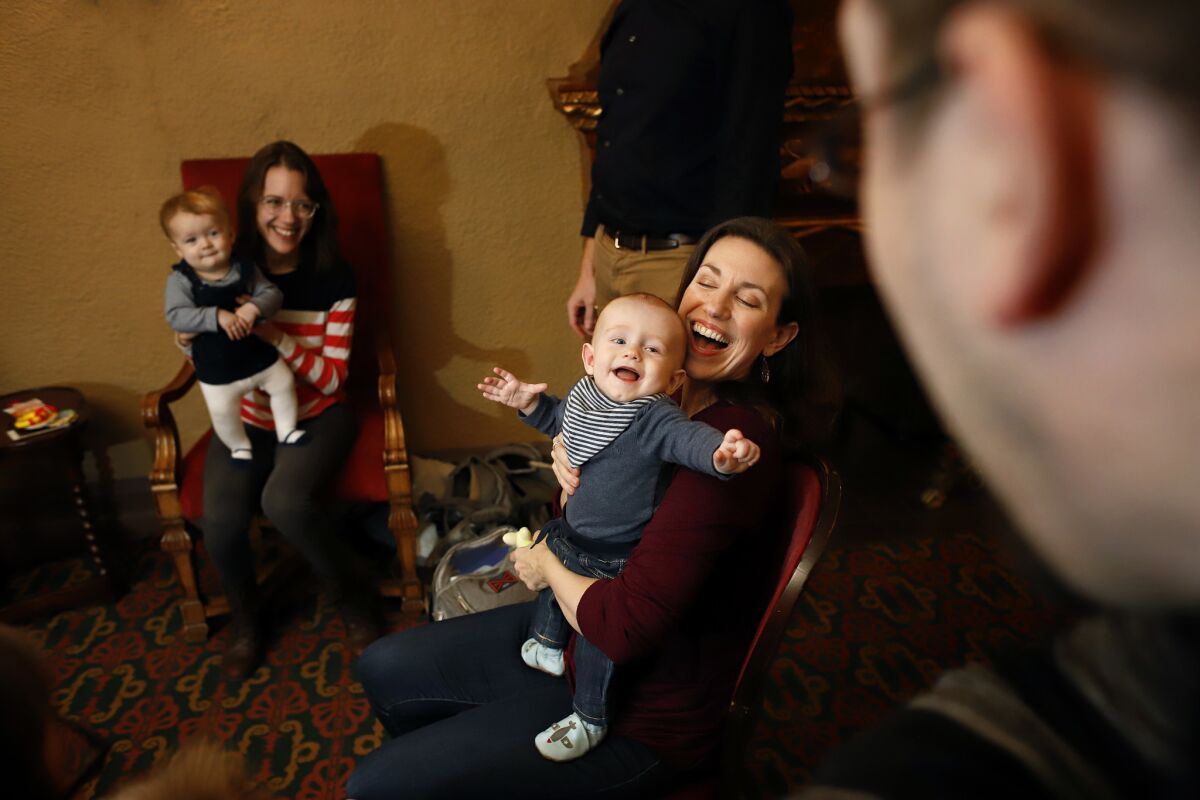 The infants sit on the floor and happily share toys, putting one in their mouths even if it was just chewed by another Bobby Carney. (The parents quickly rectify that.) The moms and dads have an easy rapport with one another, sharing wipes and lending a hand with babies that aren't theirs. "It's like a support group since everyone here is going through the same thing," West says.
The parents all learned about the casting from friends in the field.
"I had no desire to be a stage mom but I'm a huge Jez Butterworth fan so we submitted an application," Scarfuto says.
The first step was a Facetime interview with Femenella and Cimini, who explained what was expected of the babies and the parents, who must attend four performances a week. (Each baby gets $1,017 per week; law dictates that 15% percent goes into a trust for the child, Femenella says.) Show biz parents have a head start in that at least they know what backstage life is like, Cimini says.
"The biggest challenge is juggling our own schedules," says Scarfuto, who now has three family members working on separate shows.
Then comes the audition. "They have less material to work with than most actors," Femenella jokes. The babies must lie onstage in darkness (which happens at the start of Act 2) and show they're comfortable getting passed from a parent to Langley.
"Some like meeting new people and act like, 'Let me hang out with you now,'" Cimini says, "while others are shy about having mom or dad pass them off."
Valles says the baby who auditioned before Rafael wailed the entire time, so Rafael looked great by comparison.
After the audition? "Intense dialect training," Scarfuto jokes.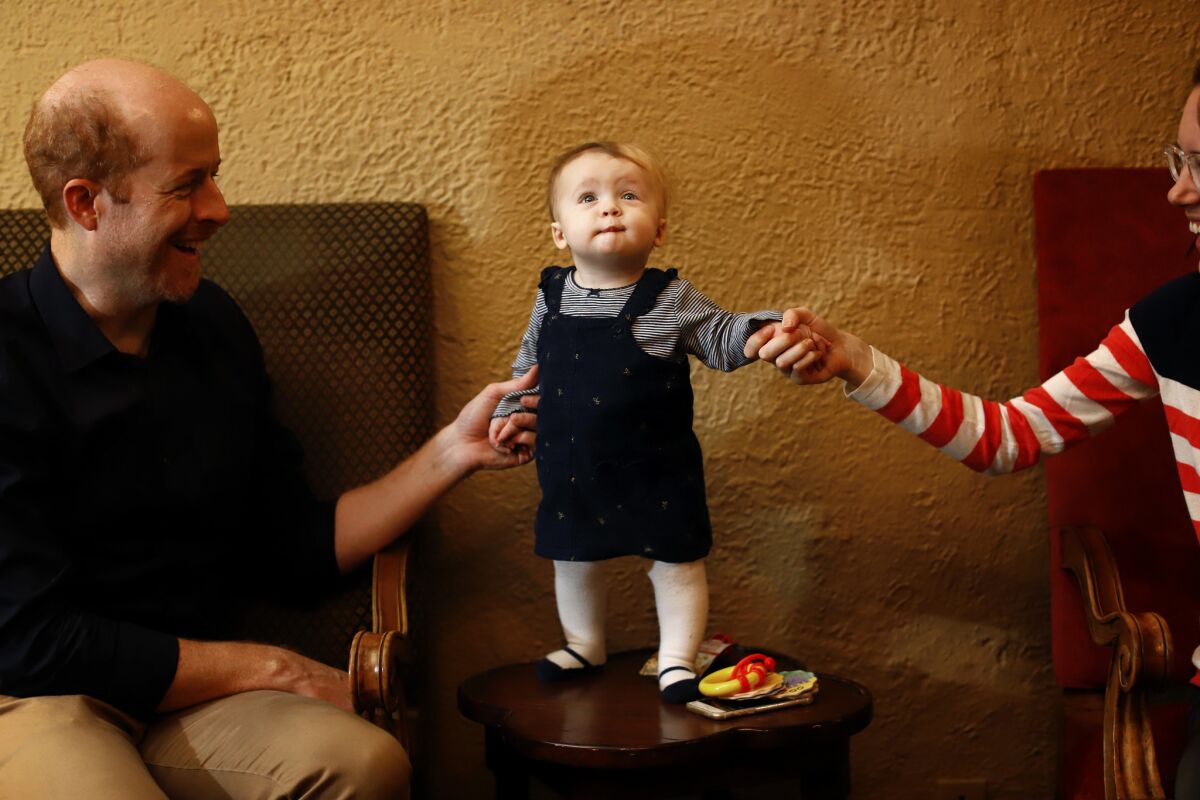 In reality, she says, the stage management team and cast take great care of the babies. The show's child actors shower the babies with love, one mother says, and Langley always comes in for a "cuddle" before they go on. "This whole experience has really helped socialize Rafael," his mother says.
When an infant is acting in "The Ferryman," the parent waits in the wings as a baby wrangler. The rest of the time, parent and child are in the dressing room or green room.
Two babies — one "On" and one "Standby" — are in costume every day. If family is in the audience you can request being On, though Valles says it still comes down to the last few moments. The Standby baby stays ready in case of a last-second meltdown or what West euphemistically calls "diaper action." (Crying offstage is fine, DeFalco explains, because it adds to the realism of this chaotic household.)
"They get used to the gig and seem to know, 'I'm going to see my friends onstage now,'" says Femenella. Annie, a true professional, has gotten hiccups several times but they vanish right when the cue light goes on. Sean has had Standby days where he hears sounds from the stage that start his scene and reacts as if he is saying, "That's me," his mother says.
Arriving onstage, "they sometimes give a cheek to other actors for a kiss and they react to the crowd," Langley says. They're usually only fussy when lying on the mat because they want to be held, and Langley can come out for Act 2 early if the baby demands it.
Just in case, Langley has a pacifier in her pocket and remains ready to perform her lines while doing the mom sway or bouncing around the stage to calm a fussy costar. "It's different every night," she says, adding that certain babies like to be held different ways.
The babies are excited when they come off stage, Rafael's mother says. It's tricky, adds Sean's mother, because of the long gap between Baby Bobby's first and second appearance: "You can't just say, 'Nap, now!'" DeFalco says she's just not worrying about sleep training until her son's run is over.
Babies get "retired" when they start going mobile, Cimini says. "Once they can get around, they'll be like, 'I'm no longer interested in staying put,' which means they can't be placed alone onstage."
Rafael's time may be coming first since he is getting moving, but, Valles says, he has that actor's sense. "When he's onstage, he knows not to sit up or roll over. He knows his role." What may finish his run off, Valles says, is weight: He's getting too heavy for Langley. While his colleagues weigh in at 17 or 18 pounds, Rafael already tips the scale at 21.
"He won't remember any of this," his mom says, "so now we're just getting as many pictures and videos as we can."
See all of our latest arts news and reviews at latimes.com/arts.
ALSO
Critic's Notebook: Star turns that serve the Broadway play — Elaine May, Daniel Radcliffe and Janet McTeer show how it's done
Review: In 'To Kill a Mockingbird' on Broadway, the words of Harper Lee but the voice of Aaron Sorkin
Times critics reflect on how the Great Recession affected theater, music and the arts
Review: 'The Cher Show,' a Broadway musical that hardcore fans can 'Believe' in
---
Get our L.A. Goes Out newsletter, with the week's best events, to help you explore and experience our city.
You may occasionally receive promotional content from the Los Angeles Times.