In life and on canvas, the 'tragic explosions' and L.A. dreamscapes of artist Carlos Almaraz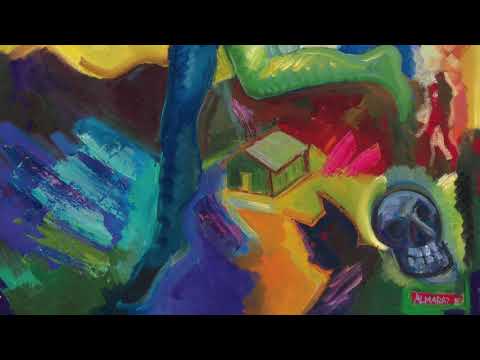 "Playing With Fire: Paintings by Carlos Almaraz" is one of the first Pacific Standard Time: L.A./L.A. exhibitions to open. Here's a look at what's on view.
Enter the downtown L.A. loft of painter Carlos Almaraz in the 1980s, and you'd first notice the artist himself, warm and charismatic, in black beard and paint-spattered overalls. Then you'd see Almaraz's work, vivid and personal, depicting Los Angeles and himself in extremes of peace and ferocity, on dreamlike canvases stacked four or five deep against the walls.
"You could tell immediately just walking into the room that he was enormously prolific, that he seemed to work in a profusion of painting and drawings and pastels simultaneously," recalls Howard N. Fox, who twice visited the studio during Fox's long tenure as curator of contemporary art at the Los Angeles County Museum of Art. "There was a lot going on in that crowded and cluttered space."
Decades later, some of that work is among 65 pieces in the exhibition "Playing With Fire: Paintings by Carlos Almaraz," at LACMA through Dec. 3. Fox left the museum in 2008 but is back to curate the show, partly because of the lobbying by actor and longtime Almaraz collector Cheech Marin. "He knew where all the bodies were buried," Marin said. "He knew Carlos. I just admired him from afar."
The Almaraz exhibition had been set for 2014 but was delayed so it could be part of this year's Pacific Standard Time: L.A./L.A. exhibitions focusing on Latino and Latin American art. It's the first large-scale Almaraz career survey at a major American museum.
Almaraz's career as a painter evolved through lively, disparate phases before his death from AIDS in 1989. For a time he was a leading force and muralist in L.A.'s Chicano arts movement. But Almaraz ultimately returned to his original ambition of becoming a studio-based painter creating personal work, and "Playing With Fire" focuses on that 11-year period.
"His aspiration was to be a great American artist," says his widow, artist Elsa Flores Almaraz, who is co-directing a documentary on his life. "I knew he would get there at some point. He had a very strong vision. He just didn't live long enough to see it.
"His spirit is everywhere. I can feel him. He sends us messages. He's definitely here with us."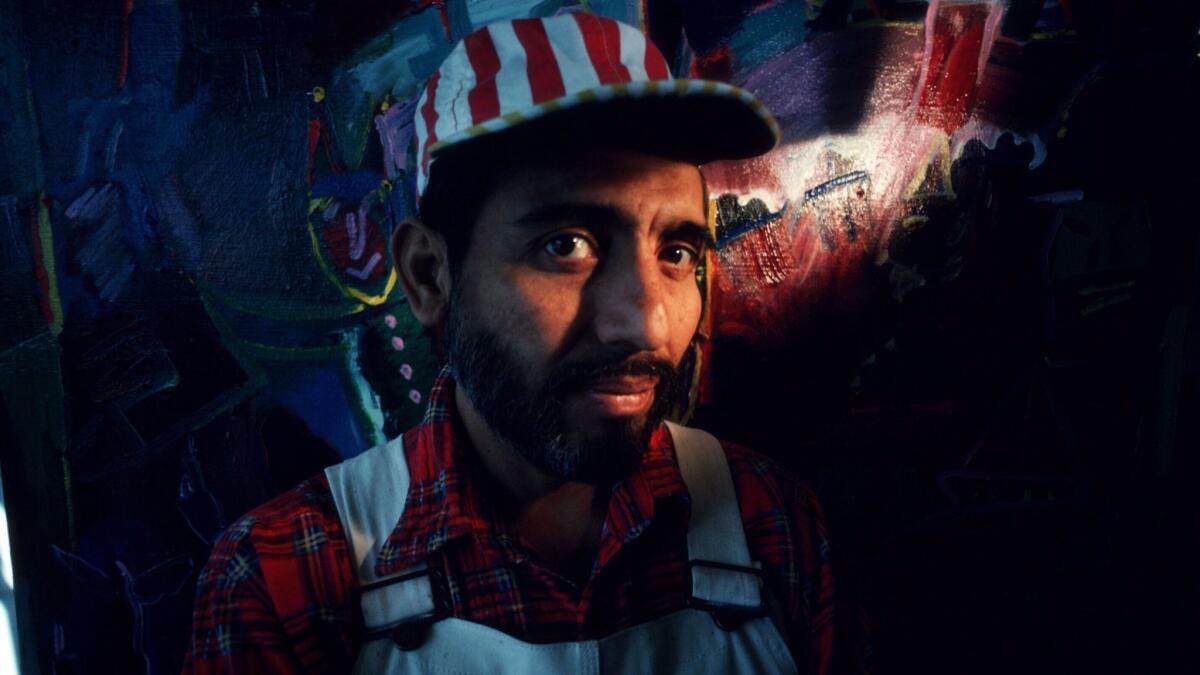 SIGN UP for the free Essential Arts & Culture newsletter »
The paintings typically use striking splashes of color to create scenes of dream imagery both tranquil and hard-boiled, from seductive landscapes of the bridge at Echo Park Lake to a modern-day shootout by the beach between cops and vatos locos gangsters. In 1983's "Suburban Nightmare," Almaraz shows a home burning on a perfect field of green, as small human figures quietly watch helplessly from the street.
The show collects many of his famous car crash paintings, which imagine explosive disasters on the highway — one driving catastrophe after another in abstract eruptions of fire and motion. Hanging nearby are erotic drawings never before exhibited, documenting the artist exploring his bisexuality, as naked lovers and demons intermingle.
"There are a lot of self-portraits in the exhibition, but they are often disguised self-portraits — he's wearing masks, he's dressed in costume, he's appearing on a stage," Fox says, suggesting that even the car crashes were a kind of self-portraiture. "Even though he was not leading a secret life, there is a duality in his oeuvre that is a reflection of his inner life and his sexuality."
Born in Mexico City, Almaraz grew up in the United States, first in the Midwest before the family moved to East L.A. when he was 10. After graduating from high school, he began studying art briefly at Cal State L.A. and Loyola Marymount before landing at Otis College of Art and Design for two years. He then made his big move into the art world of New York City, relocating there as a young man in the 1960s. But his natural interests lay outside the critical zeitgeist of the moment, which leaned toward the minimal and conceptual.
Almaraz left the East Coast frustrated and disappointed, returning to Los Angeles in 1970 at a politically charged moment. Shaken by the death of his younger brother from an overdose, he became active in the Chicano arts movement and co-founded the collective Los Four with painters Frank Romero, Gilbert Luján and Robert "Beto" de la Rocha.
"He was a theoretician," Marin says. "He got all these guys together and formulated the theory of Chicano art, and that we were unique and special and deserving of attention."
In the tradition of the great Mexican social realist muralist David Alfaro Siqueiros, Almaraz and the others created art and murals aligned with the growing awareness and cultural expression in their community. That included work supporting Cesar Chavez and the United Farm Workers. Little of Almaraz's political art survives, as several of his public murals were painted over or destroyed. (One large banner created for Chavez was preserved but was too large to include in "Playing With Fire.")
Los Four was the subject of a groundbreaking exhibition at LACMA in 1974. Even in that gifted company, Almaraz began drifting into a more idiosyncratic direction.
"It was the quality of his work," Fox says, "the passion, the exceptional colors and the mystery — the fact that it wasn't quite as declarative as Gilbert Luján, which was a deliberate attempt to give a quotient of pride and self-esteem to Chicano experience. Or Frank Romero, who painted images of contemporary historic, political events that affected the Chicano community. There was a mysteriousness to Carlos' work from the outset."
He got all these guys together and formulated the theory of Chicano art, and that we were unique and special and deserving of attention.
— Cheech Marin, on Carlos Almaraz and the artist collective he co-founded, Los Four
There was some resentment too when Almaraz finally chose to drift away from public art and activism to studio work, Fox says. During that final decade of his life, the painter was rewarded with recognition from curators and collectors, and income enough to purchase a second home in Hawaii.
"He was a very complex personality, and he was feeling very constrained by the essentialism implicit in Chicano notions of shared identity," Fox says. "At that point, he estranged himself from the political activism and became more of a traditional studio artist."
Among Almaraz's greatest champions is Marin, whose career famously began as one-half of the comedy team Cheech and Chong. He started collecting Almaraz pieces in the 1985; the first was a lithograph of "Greed," depicting two angry canines fighting over a bone on a deep red landscape.
Marin often refers to Almaraz as the John Coltrane of American painters. They never met, which keeps Almaraz a mythic figure to him. Four pieces in "Playing With Fire" are loans from Marin's collection, including a large painting, "California Natives."
"He was the depictor of that community and scene just as well as Monet or Renoir depicted their communities," Marin says.
When museum Director Michael Govan arrived at LACMA in 2006 after a career mostly spent on the East Coast, he chose to fill the blank space on his office wall with an Almaraz car crash painting, "Crash in Phthalo Green," from 1984.
"The freeways represent a kind of optimism," Govan says. "You get the sunset and you get the spectacular, tragic explosions. ... It had the sunshine and the noir, the brightness and the darkness of the L.A. situation in one."
When Almaraz was diagnosed with AIDS in 1987, he grew only more productive, piling up canvases as fast as he could create them. In his final days, Almaraz and his wife were planning a festive new mural for the Ronald Reagan State Building just up the street from his studio on Spring Street. She completed the mural after his death at age 48. It is called "California Dreamscape."
His work continues to inspire. After the LACMA opening this month, the band Chicano Batman visited the galleries to compose music in response to Almaraz's work. Commissioned by Josh Kun as part of a Getty grant for Pacific Standard Time, the music will be performed in the gallery on Oct. 18.
At a private preview of the exhibition days ahead of its official opening, Govan stood in a room of car crashes as Almaraz's wife, daughter, friends, colleagues and supporters celebrated this milestone.
"It's a discovery even for people who know the work," Govan said, then turned to Elsa Flores Almaraz. "You haven't seen this much work together, right?"
She laughed. "No one has seen this much work together," she said. "He didn't see this much work together."
For ongoing coverage of Pacific Standard Time: L.A./L.A., go to latimes.com/pst
♦ ♦ ♦ ♦ ♦ ♦ ♦ ♦ ♦ ♦
'Playing With Fire: Paintings by Carlos Almaraz'
Where: Los Angeles County Museum of Art, 5905 Wilshire Blvd., L.A.
When: Through Dec. 3.
Admission: $10-$15; ages 17 and younger free
Information: (323) 857-6010, www.lacma.org
Support coverage of the arts. Share this article.
MORE ART NEWS AND REVIEWS:
Resistance in clay: Ceramic artists speak out against Trump
Free admission day for Pacific Standard Time: LA/LA
Composer John Luther Adams' new campus 'Wind Garden' art installation
Get our L.A. Goes Out newsletter, with the week's best events, to help you explore and experience our city.
You may occasionally receive promotional content from the Los Angeles Times.