'Moon' and 'Fountain' composer Clint Mansell will perform soundtrack pieces at Theatre at Ace Hotel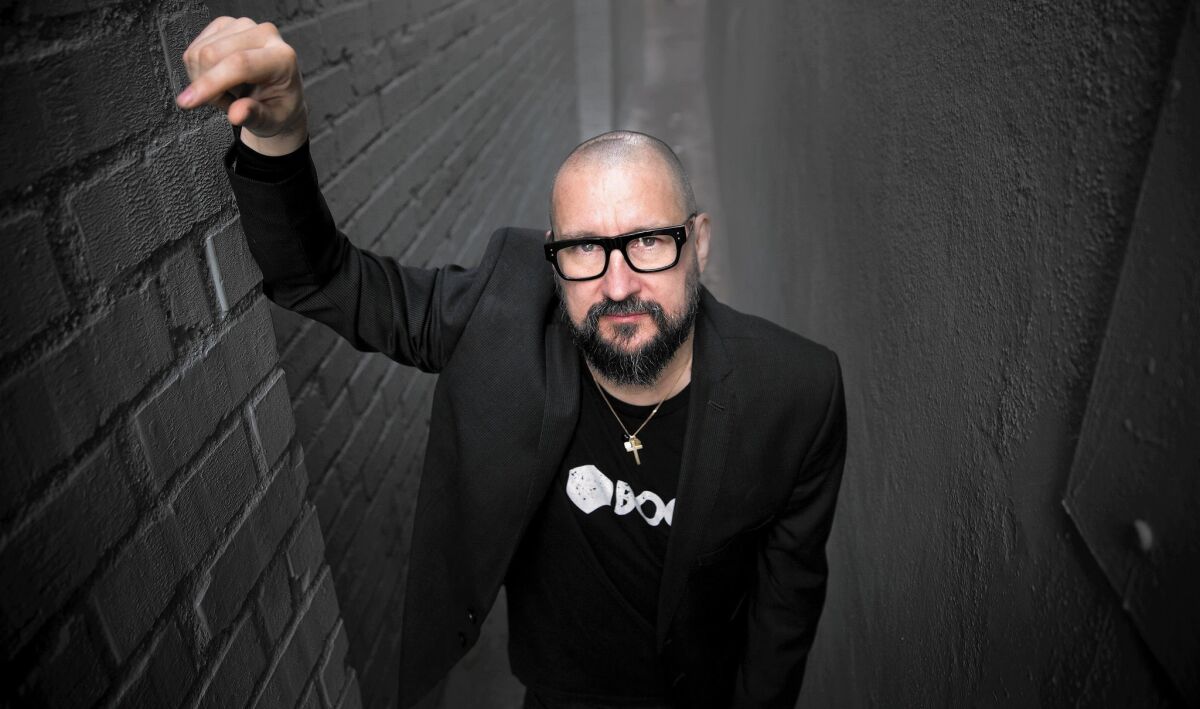 British film composer Clint Mansell is an outlier: blunt, formally untrained, unlikely to kowtow to convention.
It was that nonconformity that led director Duncan Jones, while cutting his film "Moon," to fill its temporary soundtrack with music Mansell composed for the Darren Aronofsky films "Requiem for a Dream" and "The Fountain." Jones, the son of Mansell's idol, David Bowie, eventually hired Mansell to compose the "Moon" score.
See more of Entertainment's top stories on Facebook >>
"I just loved his ideas," Jones said, "and the fact that he was willing to experiment and do things which, at the time, seemed a little bit off-the-wall, like putting a lullaby in this more dramatic scene."
Mansell will perform selections from "Moon," the Aronofsky scores and others (including "Filth" and "Stoker") on Friday at the Theatre at Ace Hotel in downtown Los Angeles. It's the same show he's been playing with a band (Mike Fonte, Clint Walsh and Eric Gardner) and the Sonus Quartet since 2008.
"I missed playing live," said Mansell, whose shows — inspired by nontraditional acts like Godspeed You! Black Emperor — play more like indie band sets than, say, John Williams at the Hollywood Bowl.
"You write this music for a film and spend however many months with it, and you deliver it and then it's gone," he said. "So rediscovering it through playing and arranging it, and then sharing that with people — it's a great experience."
At one time the composer would have scored any film he was asked to, "just for the experience as much as anything else," Mansell said. "Whereas now I'd rather turn down as much as I possibly can."
At 53, he gravitates toward more offbeat fare, from an upcoming episode of the British series "Black Mirror" to the indie film "Finding Vincent." (His newest score is for Ben Wheatley's "High-Rise.")
He's always been more of an auteur's composer than a populist, ever since writing the minimalist earworm score for Aronofsky's "Requiem for a Dream."
It was Aronofsky, in essence, who made Mansell a film composer, when the young director hired Mansell to score his debut, "Pi," in 1998. Back then, Mansell was known as singer-songwriter-guitarist for the English post-punk band Pop Will Eat Itself. The band's only chart success in the States was cracking the Billboard 200 with its sophomore album.
Mansell's descent down the rabbit hole of music began at age 9 in the West Midlands region of England referred to as the Black Country for its formerly soot-choked skies. He was glued to his grandmother's TV watching "Top of the Pops" when Bowie's "Starman" performance shook pop culture like an earthquake.
"I just remember a light went on," he said. "I got the album 'Ziggy Stardust' that weekend, and from the opening drumbeats of 'Five Years,' the sense of ominousness, danger, the apocalyptic nature … that was it for me."
He never took a music lesson, but he taught himself chords from a thrift-store guitar book — and soaked up the sounds on the radio. He left school at 18 and formed the first iteration of what would become Pop Will Eat Itself.
Five albums later, in 1996, Mansell was ready for a change. That's when Aronofsky invited him to weave his industrial- and samples-infused style into a film score. He has scored every Aronofsky film since — from the remixed Tchaikovsky in "Black Swan" to the biblical epic "Noah" — shaping the filmmaker's aesthetic with his churning, hypnotic music.
"I look back at some of my early film stuff and remember thinking at the time, 'Wow, this really sounds rudimentary — it's not as crafted as these big guys,'" Mansell said. "But I realized that people of my age probably responded to it because of shared experiences of other music."
His history in rock and dance songwriting is evident in his scores, which often take an intriguing chord pattern — a groove — and repetitively explore it, teasing out new colors and developments.
"I do very much like repetition," he acknowledged. "I like films that give an experience, like [the films of Andrei] Tarkovsky. The mood that's created lulls you into a different sense of thought. If you can find the right blend of meditative repetition without it being boring, that's what I'm searching for."
Mansell will reunite with Jones on the director's forthcoming sci-fi film, "Mute."
"He has a natural gift for elevating the emotional content of scenes," Jones said. "He's very empathetic himself. He's able to understand the feelings that you're trying to communicate."
In concert, Mansell's favorite piece to perform is the "Fountain" finale, "Death Is the Road to Awe." The film deals with a man desperately fighting to save his dying wife, and the score — a blend of heartache and exaltation — has been especially poignant since the composer's girlfriend died 18 months ago.
"The whole 'Fountain' story, and particularly the music, just really puts me in that place," he said.
"But it's very cathartic as well. Experiences like that actually change your outlook of what's important, and what your focus is. It makes you think differently about things you've done."
------------
'An Evening With Clint Mansell'
Where: The Theatre at Ace Hotel, 929 S. Broadway, Los Angeles
When: 9 p.m. Friday
Tickets: $25-$45
Info: (213) 623-3233 or www.clintmansell.com
Twitter: @culturemonster
Get our L.A. Goes Out newsletter, with the week's best events, to help you explore and experience our city.
You may occasionally receive promotional content from the Los Angeles Times.