Review: 'Soft Power' at the Ahmanson: Big, bold, overly complicated and spectacularly unique
Theater Critic
Rest assured, you've never seen a musical like "Soft Power" before.
The show, a collaboration between Tony-winning playwright David Henry Hwang ("M. Butterfly") and Tony-winning composer Jeanine Tesori ("Fun Home"), doesn't begin with traditional singing and dancing. The opening number is actually a short play, a cross-cultural comedy that serves as a frame for the musical lurking within.
Produced by Center Theatre Group in association with East West Players and San Francisco's the Curran, "Soft Power" is receiving its world premiere at the Ahmanson Theatre, where this smart, splashy, wonderfully funny and excessively complicated show had its official opening Wednesday under the direction of Leigh Silverman.
The spring season's most ambitious offering has been described as "a play with a musical," an acknowledgment that no existing category can contain this meeting of dauntingly innovative theatrical minds.
Hwang, a dramatist of extraordinary intellectual suppleness, and Tesori, a composer of seemingly limitless range, have joined forces to deconstruct the imperialist worldview that has informed such beloved Broadway musicals as "The King and I," which has inspired and provoked "Soft Power." That might sounds academic, but the show is a bouncy exploration of the shifting center of gravity in East-West relations in a theatrical package overflowing with Broadway showmanship.
Francis Jue plays DHH, the author's surrogate, a renowned Chinese American playwright who's being courted by a Chinese producer, Xue Xing (a wildly charismatic Conrad Ricamora) to develop a "Sex and the City" knockoff set in Shanghai. Their meeting, which takes place in Los Angeles in 2016 before the fateful presidential election, provides an opportunity for Hwang to humorously track the tricky negotiations involved in the acquisition of soft power, the assertion of cultural influence on the world stage.
Later that evening, DHH escorts Xing and his American girlfriend, Zoe (Alyse Alan Louis), to a Hillary Clinton fundraiser at the Music Center, where "The King and I" is being performed. Xing, a Clinton admirer, is romantically swept up by the musical, which Zoe, a politically savvy actress, explains is a powerful "delivery system" for transmitting cultural ideology straight to the heart.
DHH, who's ambivalent about this Rodgers & Hammerstein classic, loving the artistry but loathing the orientalist tropes, is preoccupied by Xing's insistence that he think more like a Chinese writer when working on a TV script for a society in which censorship is a fixed reality. After the election, which leaves DHH wondering if perhaps Xing is right about the dumbness of democracy, he is stabbed on the Brooklyn street where he lives (mirroring a horrible incident that happened to Hwang).
The attack, a likely biased crime that seems of a piece with the toxic intolerance unleashed by the Make America Great Again campaign, sends DHH to the hospital, where he hallucinates a Chinese musical based on everything that has been happening around him. The show, seen in revival in the early 22nd century, has become a classic, tantamount to "The King and I" in its flexing of cultural muscle.
Xing, the hero of this fantasy musical aptly titled "Soft Power," bids farewell to his concerned daughter, Jing (Kendyl Ito), as he boards a plane to "Hollywood Airport." (The details are as hilariously inexact as most Western stories set in Asia.) His assignment is to spend a year in the dangerous, gun-toting wilds of America establishing a studio, where he can share with the wider world the beauty of his culture.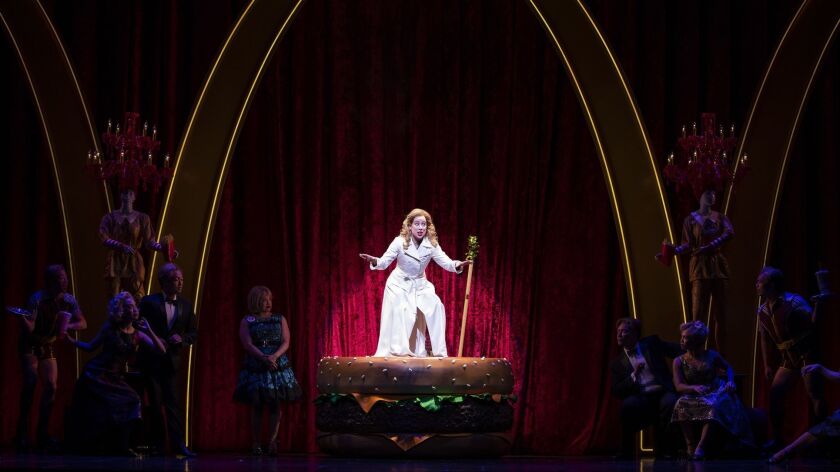 The musical gets nutty once Xing lands in California, where rednecks with firearms are always spoiling for a fight and McDonald's has become a lavish food palace. DHH appears in the musical as a writer grappling with his identity conflicts and the bigotry that's running riot in American society. But the real costar is Hillary Clinton (a role assumed by Louis with powerhouse panache), whom we meet both before and after her electoral defeat.
If you're confused by this synopsis, I'm slightly dizzy from writing it. The radical originality is both the show's blessing and burden. The delivery system the characters were talking about at the beginning of "Soft Power" is, to put it mildly, overloaded.
The distancing effects had me wondering whether the giddy cartoon parody of American culture was supposed to be a sendup of China doing to us what we've long done to them, a lampoon of China's kitschy appropriation of Broadway stagecraft or just the imaginative ravings of DHH's hallucination.
The raucous satire allows Hwang to poke fun at the way 21st America has started to behave like a tottering madman. But one of the great weapons of musicals is their simplicity, and the number of artistic layers in Hwang and Tesori's show works against this power by fostering our detachment.
While watching the show, I was simultaneously observing myself laughing, delighting and puzzling over what I was experiencing. The critical complexity is refreshing to see, but the engineering isn't quite there yet. (Sometimes Hwang's book is over-explanatory, as when DHH tries to set up in a monologue the musical we're about to see; other times the writing is too indulgent, as when the panel assembled to talk about the musical within the musical at the start of Act 2 overstays its welcome.)
The musical numbers, swirling with gorgeous golden age pastiche music by Tesori and witty lyrics by Hwang (with some help from Tesori), are delivered with polish and pizzazz. The cast, colorfully costumed by Anita Yavich, is set in motion on David Zinn's set by the over-the-top flamboyance of Sam Pinkleton's choreography.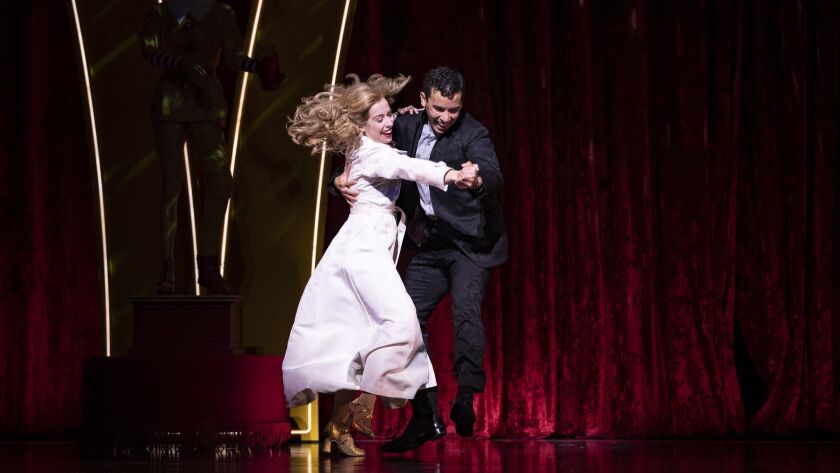 There's never a dull moment onstage, though some of the musical comedy spoofing about guns, violence and our crazy voting system is overstretched. The mix of tones adds to the confusion, but I was grateful that so much genuine emotion manages to survive the antic assault.
Credit for this goes in no small measure to the show's phenomenal leads, Ricamora, whose sumptuous voice could charm hooligans at a Trump rally, and Louis, whose portrayal of Hillary balances fearless comedy with tender pathos. The song Hillary sings after her defeat while stuffing herself with pizza and ice cream in a "rebel safe house" is a marvel of poignant burlesque. And the Sondheim-esque duet Xing and Hillary share had me reflexively tearing up for a love that could hardly be more farfetched.
Jue acquits himself of the more or less impossible task of playing the author who created his role. He exaggerates vocal inflections and mannerism in ways that can be distracting, but his DHH conveys the emotion behind the probing inquiry into a hyphenated American identity at a time of dizzying and often dismaying change. It's this passionate inquiry that has given rise to a show that, while passionately indebted to Broadway tradition, is spectacularly unique.
♦ ♦ ♦ ♦ ♦ ♦ ♦ ♦ ♦ ♦
'Soft Power'
Where: Ahmanson Theatre, 135 N. Grand Ave., L.A.
When: 8 p.m. Tuesdays-Fridays, 2 and 8 p.m. Saturdays, 1 and 6:30 p.m. Sundays; ends June 10 (call for exceptions)
Tickets: $30-$130 (subject to change)
Information: (213) 972-4400 or www.centertheatregroup.org
Running time: 2 hours, 20 minutes (including intermission)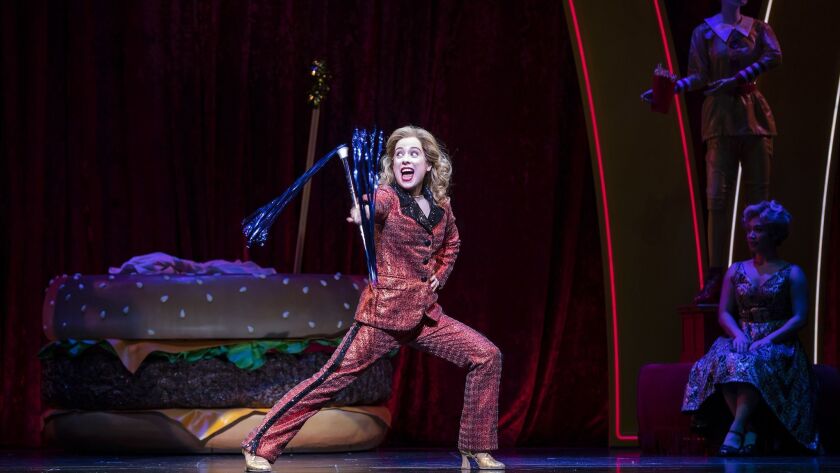 Follow me @charlesmcnulty
---
Your essential guide to the arts in L.A.
Get Carolina A. Miranda's weekly newsletter for what's happening, plus openings, critics' picks and more.
You may occasionally receive promotional content from the Los Angeles Times.