Confetti: It's an art thing on Instagram. Just ask the ladies who want to throw it on you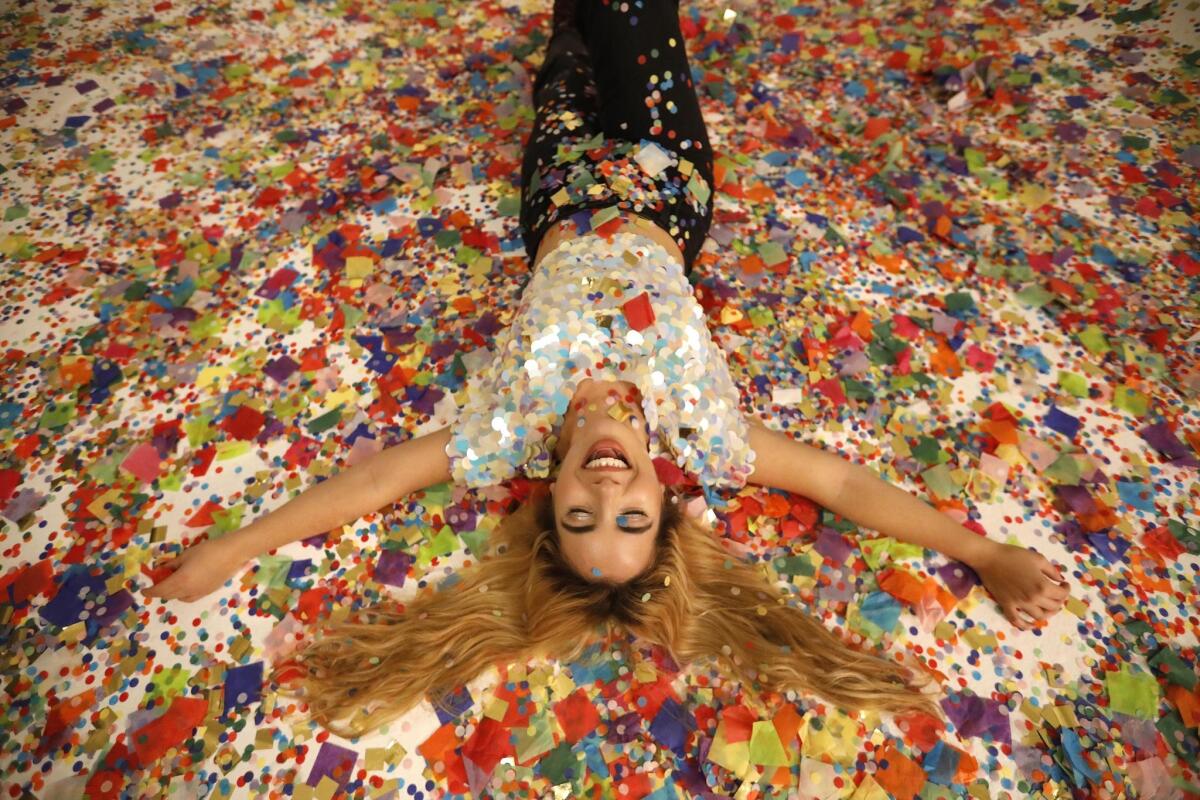 If New Year's Eve rolls around and you find yourself spinning dizzily in a shower of confetti like a toddler in falling snow, you might be doing more than celebrating. You might be making art.
Skeptical? Just ask Jelena Aleksich, who has parlayed the throwing of sparkly paper at people into a subgenre of photography for an Instagrammable world.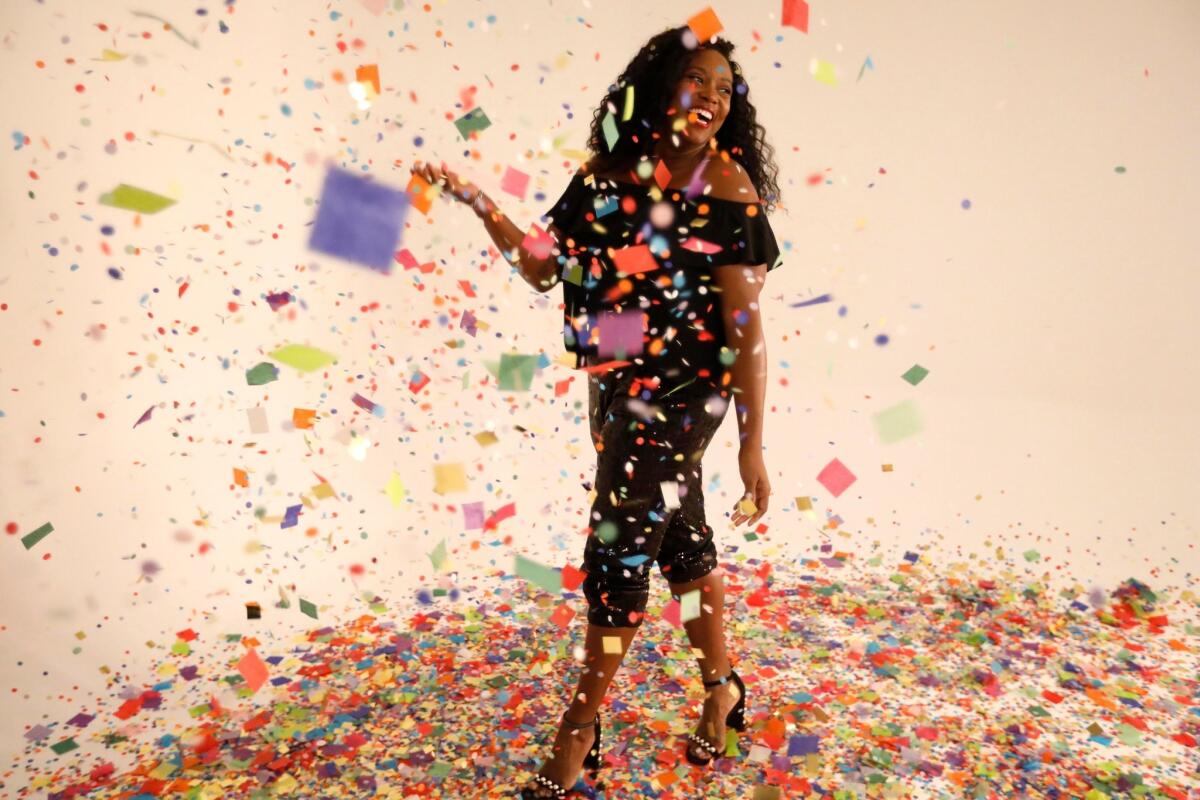 Called the Confetti Project, it's a business helmed by Aleksich and her chief growth officer, Megan Hey, who came onboard after witnessing the project at an L.A. pop-up last year.
At a recent session, colorful scraps of paper greet guests on the stoop of a downtown L.A. loft building. More tiny pieces are scattered here and there down the hall, in the elevator and on the landing of the eighth floor. They lead, like cosmic breadcrumbs, to a photography studio.
Open the door and you hit the confetti mother lode. Six pounds of the stuff sits in a huge pile at the center of a white cyclorama floor. A woman named Nichole Smith sits cross-legged in the mess, eyes closed, hands in a prayer position.
It's fascinating to see how different people react, and how people instantly light up and smile.
— Megan Hey, chief growth officer of the Confetti Project
Aleksich stands on a wooden box snapping photos as Hey scoops armfuls of confetti off the ground and joyfully tosses. The paper scraps flutter and float through the air, landing softly on Smith's shoulders, in her hair and on her eyelids, nose, hands and feet. Smith grins and a purple piece sticks to her teeth.
"It's fascinating to see how different people react, and how people instantly light up and smile," Hey says.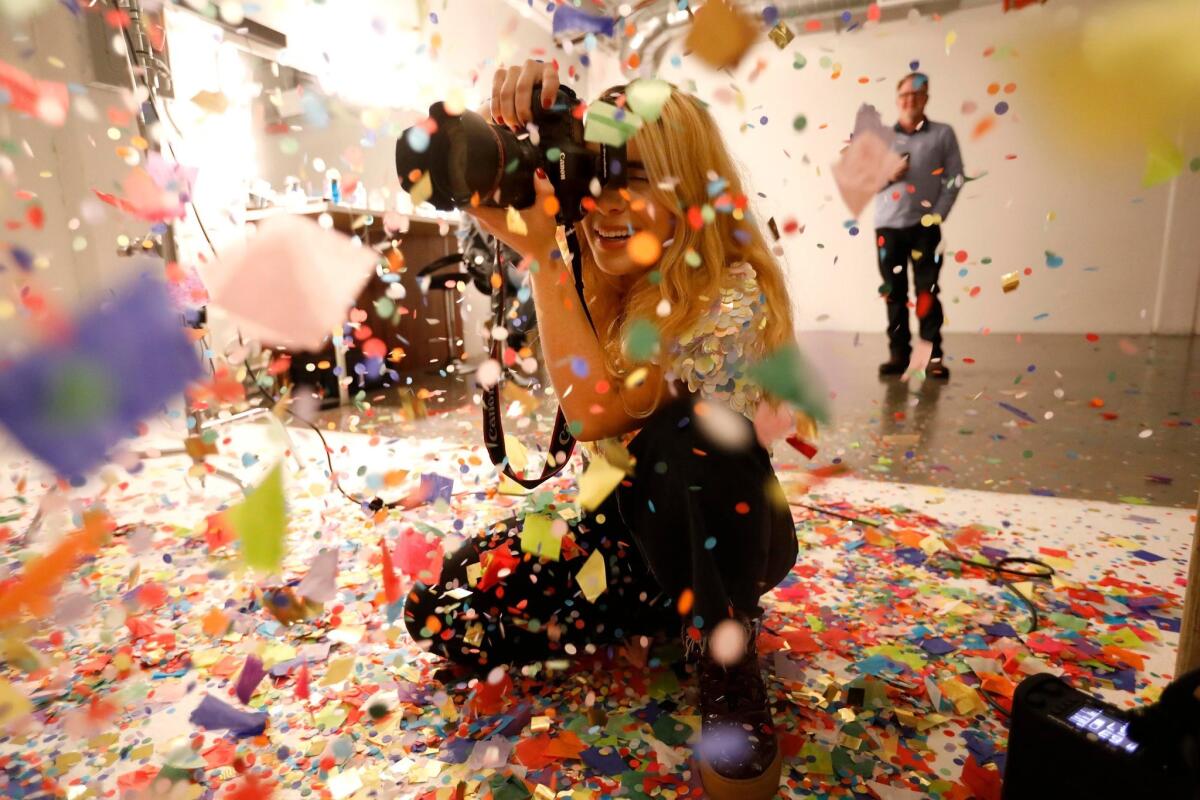 Aleksich hit on the idea for the Confetti Project after being glitter-bombed at a party. (Yes, glitter-bombing is when someone surprises you by throwing glitter all over you — sometimes as an act of protest, but mostly just for fun.) The glitter — as glitter tends to do — stayed in her hair for days.
"It was very nostalgic, it kept making me think of that night," Aleksich says.
After that revelatory glitter bomb, Aleksich had some significant experiences with confetti, including one at an OK Go concert (those guys really love confetti), where she stuffed a bunch of it in the pockets of her leather jacket. A few weeks later she put the jacket on and — viola! — confetti. That got her thinking, and she looked up the definition of confetti in the dictionary.
"It means 'celebration,' literally," she says with a smile. "Little pieces of paper meant to be thrown in a time of celebration."
Soon after, her father was diagnosed with cancer, and life got very dark. Aleksich started thinking about the transience of existence, and about what is truly important. She began to wonder why — and what — people celebrate, so she started photographing her friends frolicking in confetti in her Manhattan apartment while asking them questions about their purpose.
"There was this juxtaposition of cancer and confetti, and I was going back and forth between those two seemingly opposite spaces," Aleksich recalls.
What started as a personal project turned into a business as Aleksich realized that, like glitter-bombing, confetti could be a thing. These days she ping-pongs from the East to West coasts, holding open studios ($80 for an individual session) as well as staging events at public gatherings like a tree-lighting ceremony at Union Station. Venues or corporate sponsors pay a flat fee so guests or customers can get their pictures taken for free. At the end of two hours at Union Station, Aleksich and Hey had to turn away a line of at least 30 people.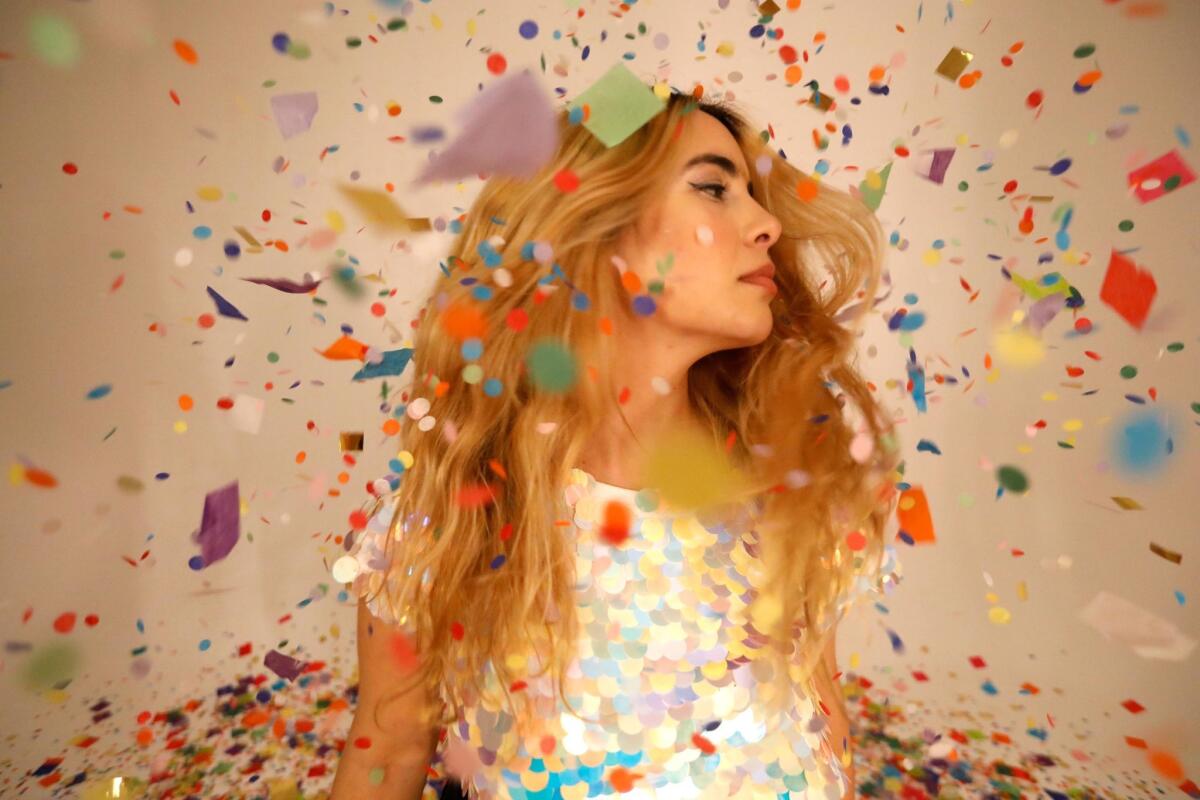 The photos live on Instagram (@the_confetti_project) as part of a feed that claims nearly 8,000 followers. Among the influencers Aleksich and Hey have invited to their open studios is Melissa Chataigne, a style consultant and speaker who focuses on size inclusivity (and has more than 15,000 followers on Instagram herself). Chataigne is completely at ease in the confetti, knowing just what poses to strike, smiling with unself-conscious abandon and clearly reveling in the experience.
"I think pop-ups like this will be more of the trend in 2019 because it's connecting to who the person is," she says after her shoot. "Everyone is so used to going to the art pop-up with a bunch of Instagrammers taking pictures of ice cream, and there's no connection. Whereas this is style and art with a purpose, because it's letting another side of you shine."
The demographic shining in the cascade of confetti is heavily slanted toward women. In two hours of observing an open studio, only one man — a father of two tech-savvy tweens — makes himself vulnerable to the paper onslaught.
Another man lends a hand during a shoot. His name is Phil Gonzalez, and he is a towering crane operator who lovingly snaps cellphone pictures of his wife as she dances in the confetti wearing knee-high black boots and ripped skinny jeans. Sandra Gonzalez has treated herself to this experience for her 50th birthday.
"Throw some on me, babe," Sandra shouts gleefully, and Phil gamely complies. He has a hard time making the confetti scatter, proving that confetti-throwing is an art form unto itself.
A common refrain uttered by Confetti Project participants is that it's easy to lose yourself in the colorful rain of soft, drifting paper — and that the happiness they feel in that lost moment is akin to the unfettered joy of childhood.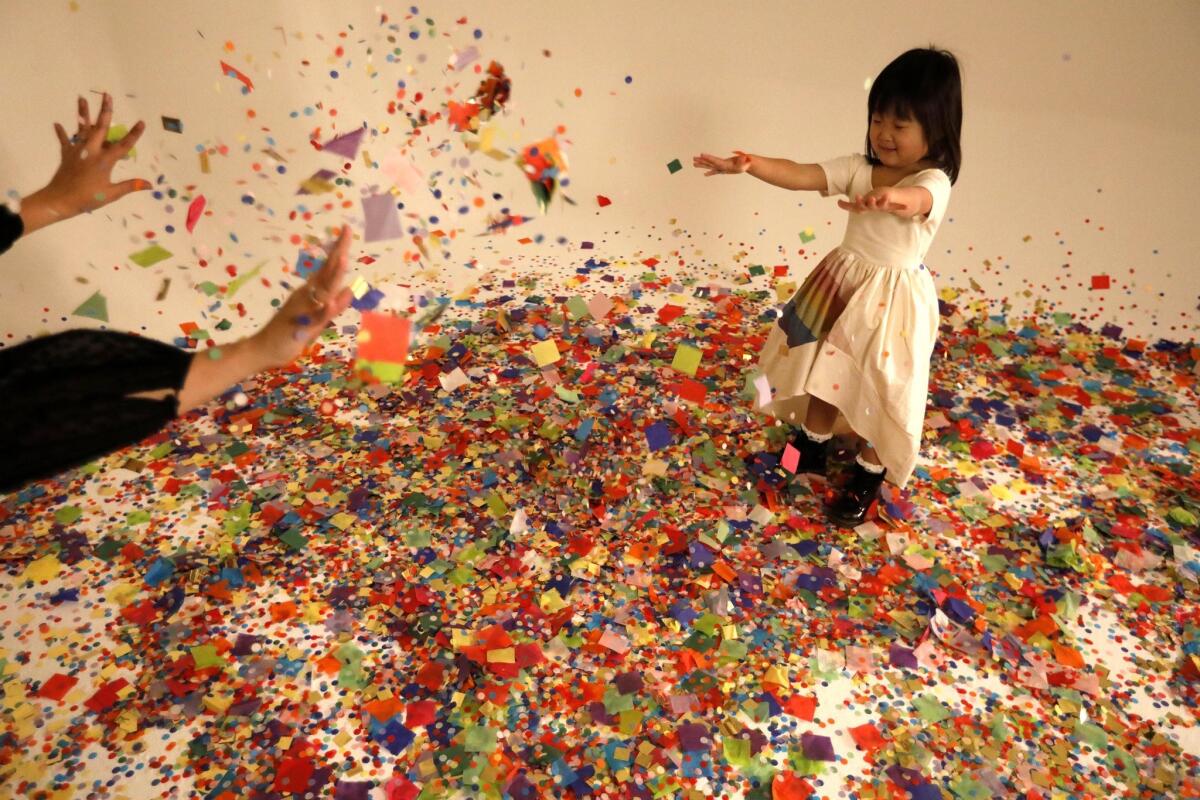 If only one could ask 2½-year-old Emily Eum, whose parents have brought her for a shoot. She wears a cream-colored dress with a rainbow print, plus tiny black combat boots. She lies on the ground and attempts to make a snow angel in the confetti as her mother, Catherine, tries to cover up her diaper.
The room is spellbound by this moment of unadulterated cuteness, and just like that, at least half a dozen phones have been pulled out as everyone in the studio rushes to capture the scene. Emily is oblivious to the melting hearts around her. She's just focused on the confetti.
MORE ARTS:
'Wildfires at Night': Photography captures a sinister beauty
Female artists finally outnumbered men in 2018 museum shows
Do you love 'Love Actually'? Then here's the lowdown on 'Love Actually Live'
Get our L.A. Goes Out newsletter, with the week's best events, to help you explore and experience our city.
You may occasionally receive promotional content from the Los Angeles Times.