Q&A: Darrell Hammond makes impression on 'SNL,' stage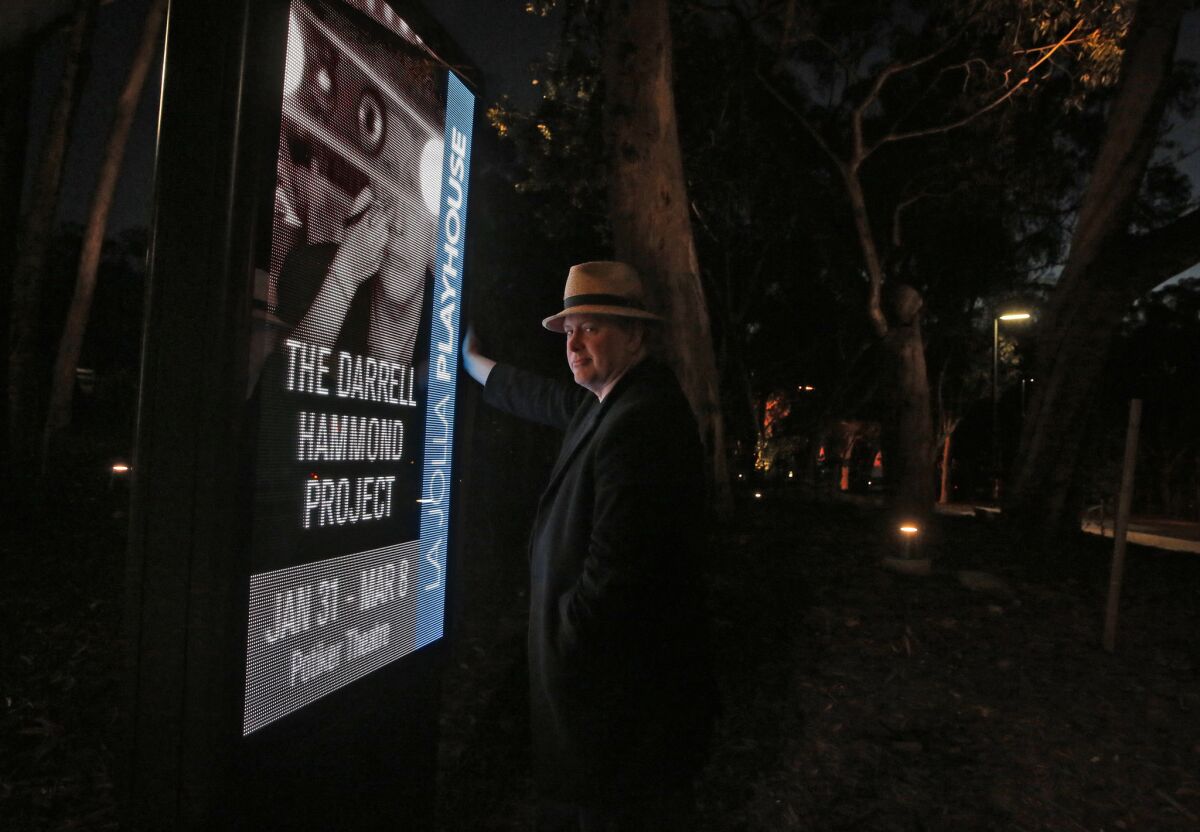 The versatile impressionist Darrell Hammond, 59, holds the record as the longest-running cast member on "Saturday Night Live" (1995-2009) and recently succeeded the late Don Pardo as the program's announcer. Now he is developing a one-man show, "The Darrell Hammond Project," at La Jolla Playhouse, opening Feb. 6. The piece is based on Hammond's 2011 book, "God, If You're Not Up There, I'm ….: Tales of Stand-Up, Saturday Night Live and Other Mind-Altering Mayhem," in which he revealed that he was abused as a child and struggled throughout his career with addiction, nightmares and self-mutilation. After a day of rehearsal in La Jolla, Hammond sat on the half-built set to discuss his troubled past and this new venture.
What gave you the idea to do a one-man show?
Christopher Ashley, the director of the La Jolla Playhouse, had the idea. Since the book came out, I've been to people who want to turn it into a movie, people who want to turn it into a TV series. None of that has ever happened, but Chris Ashley wanted to turn it into a one-man show in which I played all the characters in the book. Chris thought it up, inspired it, nursed it, rehearsed it, and put this together, piece by piece.
This won't be your first time on the stage.
When I got out of college, I went to New York City and did seven plays off-off Broadway. And then I did Broadway, "The 25th Annual Putnam County Spelling Bee," and then I did three plays at the Bay Street Theater. It's not my first time, but it doesn't mean I know what I'm doing. I don't think you ever really know what you're doing in front of a live audience.
You rose to fame as an impressionist, able to mimic more than a hundred public figures. Did it ever frustrate you that nobody really knew who you were?
No. I wanted to write the book because nothing is as bad as a victim being forced to stay quiet. That's the worst. The inherent contract between a perpetrator and a victim is, I get to live, but I don't get to tell anyone that you're doing this to me.
I found your memories of your mother's abuse heartbreaking. How do you make an entertaining theater piece out of those experiences? Or is that even the goal?
The goal is just to tell the story. But remember, one of the central themes in the second half of the play is that monsters can't make themselves. And whatever my mother was, this great doctor that I had would say mental illness is not an airborne virus. I was able to move on with my life when I realized that she had terrible things done to her. And that doesn't leave much room for love, or a Mother's Day card, but it helps you understand.
Won't it be painful to relive these experiences onstage?
I've been to so many doctors for so many years that the answer to that is no. The pain comes from not talking about it. Unanswered violence, unacknowledged violence: That breeds real soul sickness, and I had to live with it for a long time.
To me, the popularity of your impressions had a lot to do with their essential sweetness and childlike mischief. How much of your personality went into those characterizations?
I'm pretty dull. I didn't ever think they were good impressions. I thought they were funny impressions. We would start out and they would be accurate, and then we would italicize them, so they would become funny. I learned to start out by copying as precisely as I could, and then just exaggerating it, stretching it and pulling it out of shape.
What's it like being back on "SNL" as the announcer?
That's a blast. Talk about a cushy job. You're getting paid, and it's a fun place to hang out. And there's no pressure now.
Although you hold the record as the longest-running cast member on "SNL," you have said that you didn't feel like a "real" cast member.
None of my writing ever went on the air. They didn't want me to play original characters. They just kind of wanted me to hang out, so I was never part of the mix of things. I was just like a field goal kicker that got called in at different points during the week to learn a voice.
Do people still ask you to do Bill Clinton?
Yeah.
Are you fed up with it, or do you enjoy it?
I'm not fed up with it. It's an honor to be linked on some level to a president. But when you get out in public in the real world, people think you're going to be a little bit like him, and I'm not anything like him. You can see the disappointment in their eyes, like, "I don't know who this guy is, but he ain't the guy on TV."
Do you remember the first impression you ever did?
I believe it was Bob Cratchit. There was a record my mother was listening to of "A Christmas Carol."
You said that was the one way you bonded with your mother, by doing voices. She had a gift for it too, right?
She was better than I was.
It's quite a gift, isn't it?
If you want to call it that. I mean, what kind of gift is it? I developed it and practiced really hard. When I was 27, I came up with this idea of making one tiny improvement a week, no matter how small. And I followed that along, until one day somebody from "SNL" saw me, and by that time I had been doing that for a number of years.
Would you be willing to do Clinton for me?
You want me to talk to you like I'm Clinton? You're going to have to turn the recorder off for that.
Get our L.A. Goes Out newsletter, with the week's best events, to help you explore and experience our city.
You may occasionally receive promotional content from the Los Angeles Times.