Review: Abraham Cruzvillegas' deft view of L.A. car culture at Regen Projects
Ten wickedly imaginative new sculptures by Abraham Cruzvillegas manifest the hoary L.A. idiom of car culture, marvelously re-conceived in surprising and inventive ways.
The sculptures at Regen Projects are monumental drawings in space, vibrant mash-ups between art and automotive play. Each begins with beat-up seats, both bench and bucket, salvaged from an old automobile or pick-up truck and used as a sculptural pedestal.
It functions as the dead weight to balance a looming construction principally built from metal rods, wooden boxes and indigenous plants — palm, cactus, mulberry, nasturtium — common to area roadsides and edible. A few incorporate lumber, while two sprawl across the floor rather than rising high above it. Tucked into or suspended from each is a small radio, tuned at low volume to a variety of music and talk stations humming and chattering away.
Spatially, the sculptures swoop, zigzag and glide, a crisp sense of poise, balance, tension and exuberance brought to bear in the construction designs. The industrial-scrap gravity of Mark di Suvero is merged with the playful sculptural wit of Alexander Calder. Together, the assembled sculptures look something like Calder's delicate "Circus" re-envisioned as an urban gymnasium for pumping iron.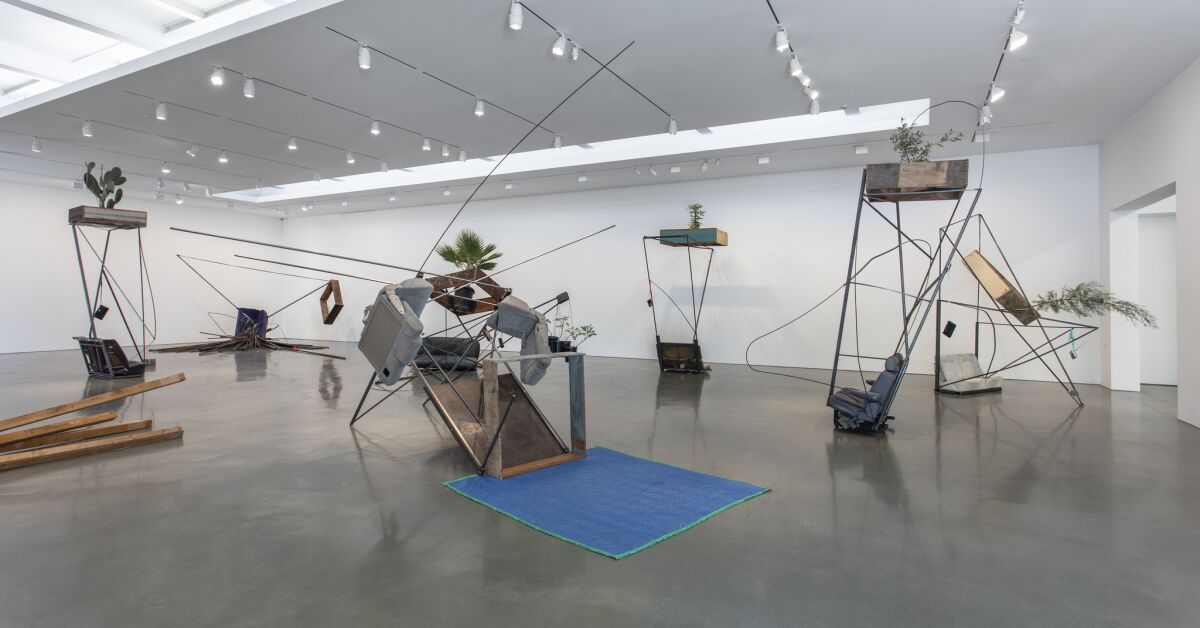 Cruzvillegas, who is based in Mexico City, is known for assembling his work from found objects in the environment in which it is to be shown. One thing he found here is the familiar conception of Los Angeles as the first world-city to be built from scratch around movement by way of the automobile — a conception as frayed and stained as the sculptures' beat-up car seats. These sculptures valorize history as a launch pad for something remarkable and productive.
He's titled the suite "Autoconcanción" — loosely, "auto with song." The word is also a play on the "auto-destructive" art of Gustav Metzger, whose self-demolishing work from the 1960s Cruzvillegas referred to in his Regen 2012 debut.
Also slyly embedded in the sculptures' artistic DNA is Edward Kienholz's 1964 "Back Seat Dodge '38," the charged assemblage of boozy eroticism that's a car culture classic. (Kienholz's car radio likewise works, tuned into the broadcast ether.) It's no small feat for an artist to grab hold of an overworked cliché, take it apart and reassemble it into something wholly unexpected. But Cruzvillegas does it here with dexterity and aplomb.
Regen Projects, 6750 Santa Monica Blvd., Hollywood, (310) 276-5424, through Oct. 22. www.regenprojects.com
christopher.knight@latimes.com
Twitter: @KnightLAT
ALSO
Tacita Dean's remarkable hand-drawn cloud prints at Gemini G.E.L.
Laurie Anderson and Todd Haynes are honored at Hammer Museum gala
An ode to an avant-garde Japanese dance legend, performed with body and soul
---
Get our daily Entertainment newsletter
Get the day's top stories on Hollywood, film, television, music, arts, culture and more.
You may occasionally receive promotional content from the Los Angeles Times.