Review: 'Vote or Die Laughing': Culture Clash fires off the jokes as fast as Hillary and Donald trade insults
"We're barely keeping up with reality here, folks," Culture Clash's Richard Montoya said, breaking character during a political comedy sketch Tuesday night at the Valley Performing Arts Center in Northridge.
Montoya was playing the Alex Trebek-esque host of a game show called "Viva La Raza Jeopardy!," and his contestants were Donald Trump, Hillary Clinton and a Mexican farmworker named Tarzan, a recurring Culture Clash character played by Ric Salinas, who answered every question with either "Cheech" or "Chong."
Salinas' Tarzan character evolved back when the comedy team Cheech and Chong, best known for marijuana humor, enjoyed more cultural currency than it does today. But even the sketch's more contemporary allusions, like the candidates not shaking hands or Trump calling things "yuge," felt slightly stale. Those memes are, after all, at least a few weeks old — ancient history in today's supersaturated media.
But the audience at "Vote or Die Laughing: A Post-Modern Political Vaudeville," a one-night-only variety show hosted by Culture Clash with an array of performers including comedians and music groups, didn't seem to mind. The mixed bag of acts — a little something for everybody — filled the austere, blond-wood auditorium with a warm and surprisingly optimistic community spirit despite the nation's uncertain political future.
SIGN UP for the free Essential Arts & Culture newsletter »
VPAC Executive Director Thor Steingraber said before the curtain that "Vote" was planned a year ago, before anybody had an inkling of what the political landscape would look like now. The evening, he said, wasn't intended to be topical, timely or partisan.
Of course, it couldn't avoid being all three. Merely bringing together Latino artists for a show about the presidential election made a strong political statement, even if none of the performers came right out and told the audience how to vote. The audience, for its part, didn't seem to need to be told. Only one person ventured a hand when comedian Marga Gomez, whose set early in the show was one of the more politically pointed, asked if anybody was still undecided.
"Just because you're a Gemini, don't destroy our country," Gomez said reproachfully.
Gomez was an original member of Culture Clash, founded in 1984 in San Francisco as a group of seven. She went her own way before the three remaining members — Montoya, Salinas and Herbert Siguenza — began winning a following with satirical plays such as "The Mission" and "Chavez Ravine."
"We still think of her as a sister," Salinas said when introducing Gomez. "And she thinks of us as brothers, meaning she was never attracted to any of us."
Gomez talked with pride and humor about Sonia Sotomayor, the first Latina Supreme Court Justice. When she heard Fox News pundits complaining about Sotomayor's appointment, Gomez said, she expected a stereotypical Latina in a tube top and Spandex, selling oranges, not an Ivy League-educated lawyer with a "slight Jewish accent."
After the intermission, comedian Cristela Alonzo, producer, writer and star of the canceled ABC sitcom "Cristela," delivered a set dealing punchily with politics. About Trump's promise to build a wall on the U.S.-Mexican border, she joked, "Doesn't he know we use tunnels now? The El Chapo tunnel had a Starbucks. You could get a Chapo-ccino."
Both comedians were bright spots in the lineup, as were the musical groups La Santa Cecilia and Buyepongo. La Santa Cecilia was a particular revelation, with its powerful lead singer, La Marisoul. Her gorgeous, soaring voice effortlessly filled the auditorium even when she stepped away from the microphone. The Pacifico Dance Company, dressed as Day of the Dead skeletons, performed several charming numbers accompanied by enormous, oddly compelling puppets of the two presidential candidates.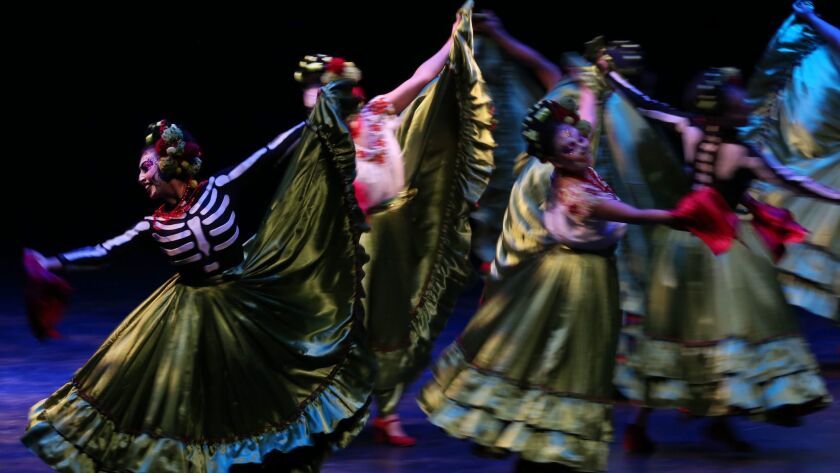 The members of Culture Clash made affable emcees, their bits sometimes relying on self-referential humor and in-jokes that only longtime fans could appreciate. Some ideas were plainly hauled out of mothballs for the occasion, such as another sketch featuring Tarzan and a farmworker played by Siguenza. A few clips from Culture Clash's eponymous 1990s sketch comedy show that aired on Fox and sent up Mexican American stereotypes were projected on a screen.
One clip, "American Border Gladiators," pitted would-be immigrants against Spandex-clad border patrol agents in fights to the death. In another, singer-songwriter Lalo Guerrero sang his song "No Chicanos on TV," ruefully and humorously listing the limited roles available to Latino performers. Guerrero's son, Dan, directed "Vote or Die Laughing," and he came out to introduce the clip, so there was a lovely sense of shared history onstage. But it reinforced an underlying, less comforting sense that Culture Clash's most vital political satire is a thing of the past. For their sake, and for ours, I hope there's lots more to come.
Follow The Times' arts team @culturemonster.
ALSO
Culture Clash adds more bite in 'Chavez Ravine: An L.A. Revival'
Dudamel brings his YOLA youth symphony's spirit, and message, to Oakland
At 85, Carmen de Lavallade is the rare L.A. legend much of L.A. doesn't know
---
The complete guide to home viewing
Get Screen Gab for weekly recommendations, analysis, interviews and irreverent discussion of the TV and streaming movies everyone's talking about.
You may occasionally receive promotional content from the Los Angeles Times.