Review: Culture Clash mines for laughs and, this time, something that cuts a lot deeper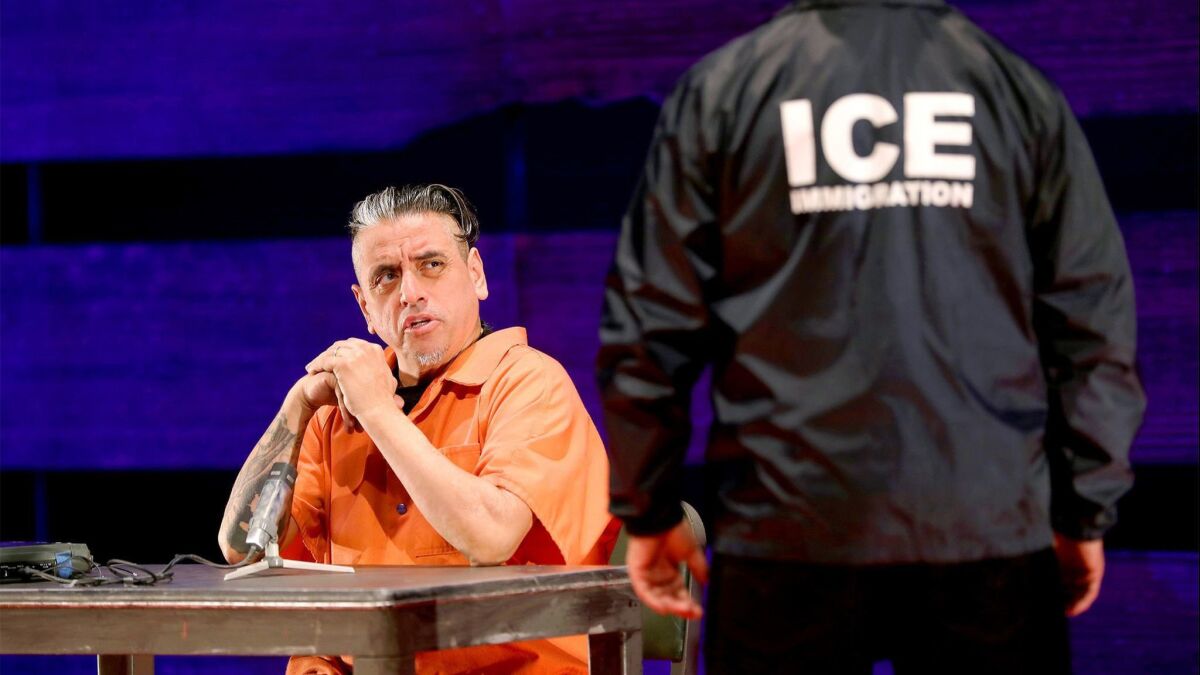 As a punctuation nerd, I may be reading too much into the parentheses in "Culture Clash (Still) in America," the satiric troupe's latest anthology of sketches at South Coast Repertory.
Isn't that "(Still)" doing a lot of work there? On the most basic level, its role is expository: letting us know that this production isn't totally new. Richard Montoya, Ricardo Salinas and Herbert Siguenza, the members of Culture Clash, did a version of it called "Culture Clash in AmeriCCa" at SCR 10 years ago under the direction of David Emmes. Lisa Peterson directs this time around.

For the record:
10:15 a.m. Jan. 9, 2019An earlier version of this article stated that Lisa Peterson was the director of "Culture Clash in AmeriCCa" in 2008. The director was David Emmes.
Culture Clash has long taken an eco-friendly approach to theater, recycling popular sketches for different markets and political eras by swapping out the topical references. When it's in Orange County, the characters joke about Fashion Island, Laguna Beach and Yorba Linda (but they cite different malls and neighborhoods when performing in San Francisco or Miami). Now that we're in the Trump era, a lesbian couple has a dog named Melania; back in 2008, the name of some other polarizing public figure may have gotten that laugh in a similar gag.
So the allusions, along with Christopher Acebo's scenic design and Carolyn Mazuca's costumes, are new. But we met most of the characters in the show in 2008. Along with the lesbians, the blue-collar couple of Todd and Francis is back. We hear again from Mohammad, a Muslim American caught between two cultures. An emotive Southern preacher reprises his sermon on the historical inaccuracy of white representations of Jesus. A "Nuyorican" (Puerto-Rican New Yorker) named Junior treats us afresh to a lively demonstration of how Latinos from various countries dance the salsa. The "Marijuana Mamas," two aging Fresno hippies, are still passing a joint back and forth, along with a lot of zany mumbo-jumbo about dashikis and yerba mate. Adelita, a delightful and plainspoken pre-op transgender social worker, continues to look forward to her surgery after all these years.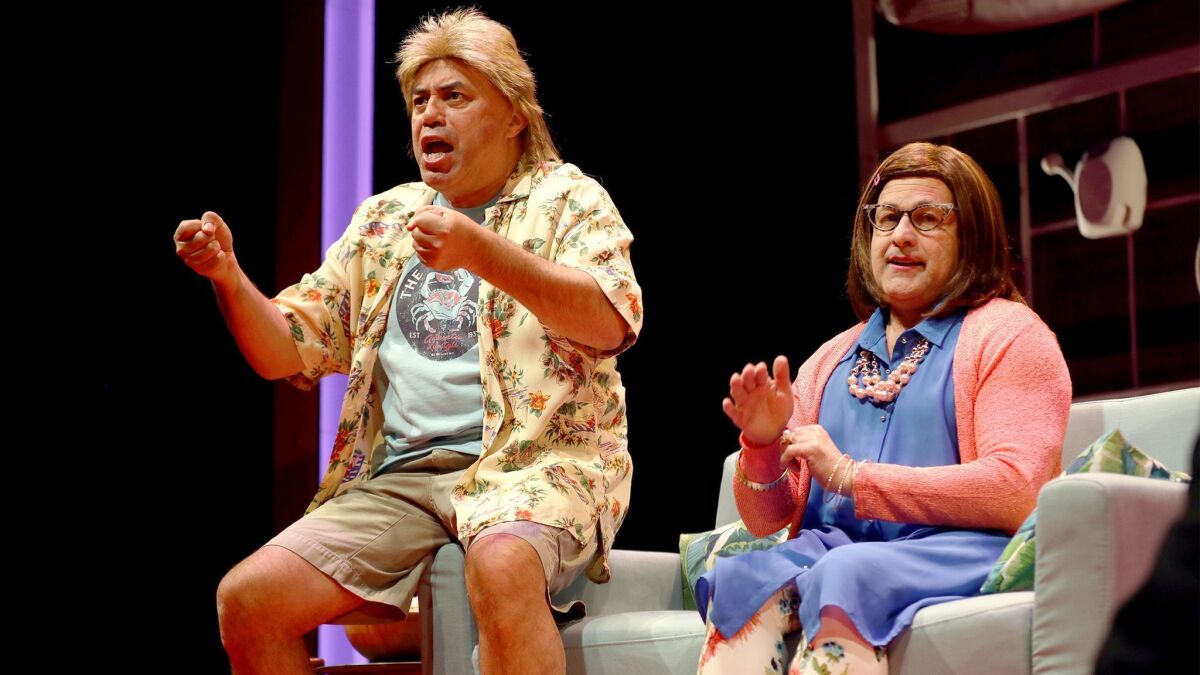 Culture Clash first created these colorful, occasionally un-PC but generally lovable personae in the 1990s, as it was developing its style of documentary theater. Having begun in 1984 as a sketch comedy troupe satirizing the experiences of Latinos in America, the members have expanded their focus to others on the fringes of American society. They traveled the country interviewing people whose ethnicity or sexual identity set them apart, then used the interviews as inspiration for characters and scenarios. "Culture Clash in AmeriCCa" was an anthology of sketches from those shows.
Back to that "(Still)" in the title: Could it be read as a wink, or a shrug, or an eye-roll, or a tight-jawed smile — an apologetic or unapologetic or even defiant acknowledgment that yes, Culture Clash is still here? And yes, its three members are basically doing the same thing they did 20 years ago? And yes, the script doesn't need a lot of tweaking to feel relevant, because none of the problems it explores has improved in the last decade, and some have even gotten worse?
At least two of the sketches are new or mostly new: Bracketing the 90-minute show, they tell the story of a father and his 7-year-old daughter wrenched apart at the U.S. border by Immigration and Customs Enforcement agents. To me, these scenes had a different energy from the others — raw and uncomfortable, even a little bit dangerous. Although they share the broad comic tone of the other bits, they're not funny. They have teeth, and their bite cuts deep.
There is value of course in revisiting the subversive theater of the past — particularly to honor an anniversary. (It's Culture Clash's 35th.) It's like watching old Lenny Bruce clips: You think, people were offended by that? How cute.
But if Lenny Bruce were around now, he'd be doing different jokes. Culture Clash is still in America. What is it thinking right now? It might help us — even if it hurts us — to find out.
♦ ♦ ♦ ♦ ♦ ♦ ♦ ♦ ♦ ♦
'Culture Clash (Still) in America'
Where: South Coast Repertory, 655 Town Center Drive, Costa Mesa
When: 7:45 p.m. Tuesdays-Fridays, 2 and 7:45 p.m. Saturdays-Sundays
Tickets: $31-$86
Info: (714) 708-5555 or scr.org
Running time: 1 hour, 30 minutes
See all of our latest arts news and reviews at latimes.com/arts.
Get our L.A. Goes Out newsletter, with the week's best events, to help you explore and experience our city.
You may occasionally receive promotional content from the Los Angeles Times.