Review: Trifonov and Babayan shine as student-master piano duo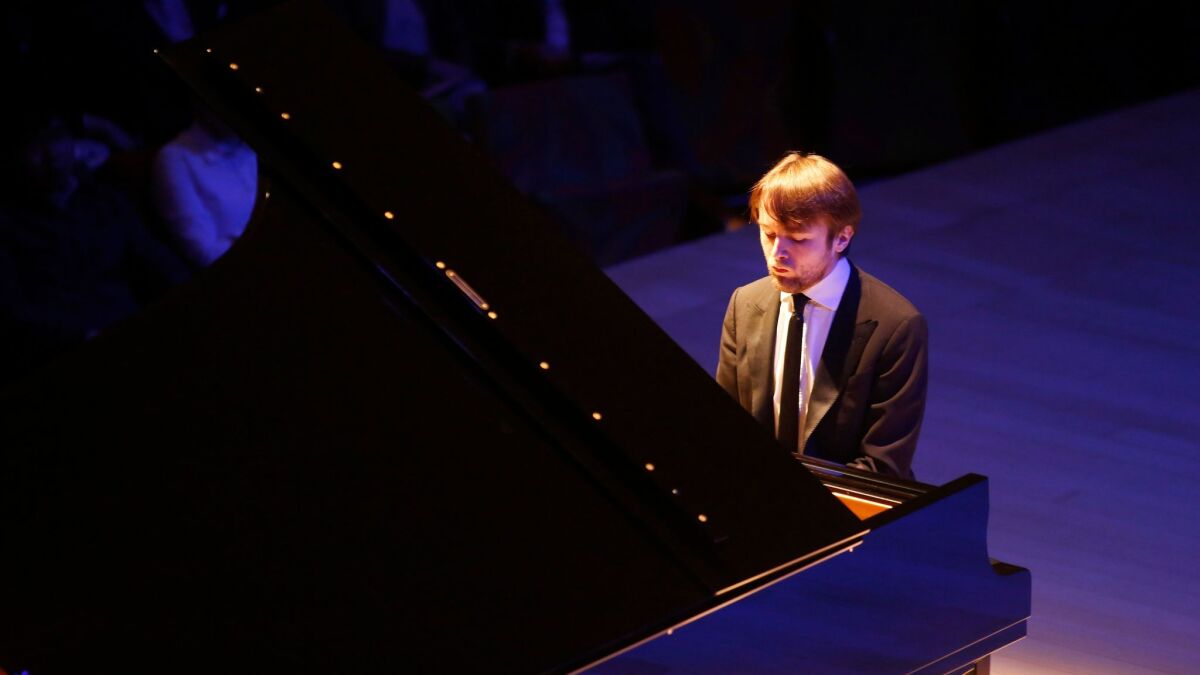 When a special kind of musical telepathy is required, never underestimate the power of the student-mentor relationship. On Sunday night, virtuoso pianists Daniil Trifonov and Sergei Babayan emphatically displayed a mysterious kind of thought transference in their recital at Walt Disney Concert Hall.
Babayan, an Armenian American pianist who studied at the Moscow Conservatory before coming to the U.S. in 1989, was Trifonov's teacher at the Cleveland Institute of Music. Despite their age difference — Trifonov is 27, Babayan 57 — the two musicians proved equal partners, a tribute to Babayan's teaching and to Trifonov's astonishing musical intelligence and technique.
Together, they gave towering accounts of two-piano works by Schumann, Pärt, Mozart and Rachmaninoff.
In two-piano performances, much depends on rhythm and timing. This partly explains why many duos are good friends, siblings (like Katia and Marielle Labèque) or married, like the famous 20th-century team of Vitya Vronsky and Victor Babin.
Because Trifonov and Babayan sat at nested pianos and couldn't see each other's hands, and given the mechanical nature of the instrument, a lot might have gone wrong. But that's what makes the best two-piano recitals so exciting.
The duo opened with Robert Schumann's Andante and Variations in B-flat major (Op. 46) — a big hit in the 19th century, when, as critic Bernard Holland put it, "The piano was the Romantic era's television set." (Clara Schumann gave the work's premiere in 1843 with Felix Mendelssohn as her partner.)
Trifonov's and Babayan's reading, tentative at first, gathered lyrical warmth as it unfolded, giving the composer's explosive bursts of harmonic- and cross-rhythmic passages a contrasting, finger-busting velocity.
Next came Arvo Pärt's otherworldly, subtly droning "Pari intervallo," a 1976 work originally scored for organ. Here a more pronounced resonance in the piano's bass from the duo might have conjured a hauntingly textured effect, especially in a live hall such as Disney, but each note of their performance was refreshingly spare and direct.
Trifonov and Babayan's pianos sounded like a mini-orchestra in a richly rewarding account of Mozart's Sonata in D major (K.448). Of the many felicities during their robust instrumental conversation, an especially memorable moment came when the two pianos sounded in unison in the recapitulation of the opening Allegro's main theme.
After intermission, the pianists gave magisterial performances of Rachmaninoff's youthful Suite No. 1, Op. 5 ("Fantaisie-tableaux"), and his more mature Suite No. 2, Op. 17. There were visceral thrills in the First Suite's "Easter" finale, with its Mussorgsky-like tolling bells and Russian liturgical chant. They also performed the Second Suite's melodies, reminiscent of Rachmaninoff's Second Piano Concerto, with sonorous warmth. More impressive, they showed subtle virtuosity in the seamless interplay between the two pianos in the rhythmically tricky second movement Waltz. The pianist's energetic Russian-flavored Tarantella finale brought the audience to its feet.
The duo's encore was especially apt: Babin's brilliant arrangement of Rimsky-Korsakov's "Dance of the Tumblers." Babin's career (he died in 1972) included serving as president of the Cleveland Institute of Music, where Babayan is artist-in-residence. Trifonov and Babayan's exuberant performance, which in its climactic pounding rhythms evoked "Petrushka," became not only a nod to Rimsky-Korsakov, Stravinsky's teacher, but also a touching tribute to Babin's memory.
SIGN UP for the free Essential Arts & Culture newsletter »
See all of our latest arts news and reviews at latimes.com/arts.
---
Get our L.A. Goes Out newsletter, with the week's best events, to help you explore and experience our city.
You may occasionally receive promotional content from the Los Angeles Times.