Stand-up comedy, super close up? Anything is possible at Don't Tell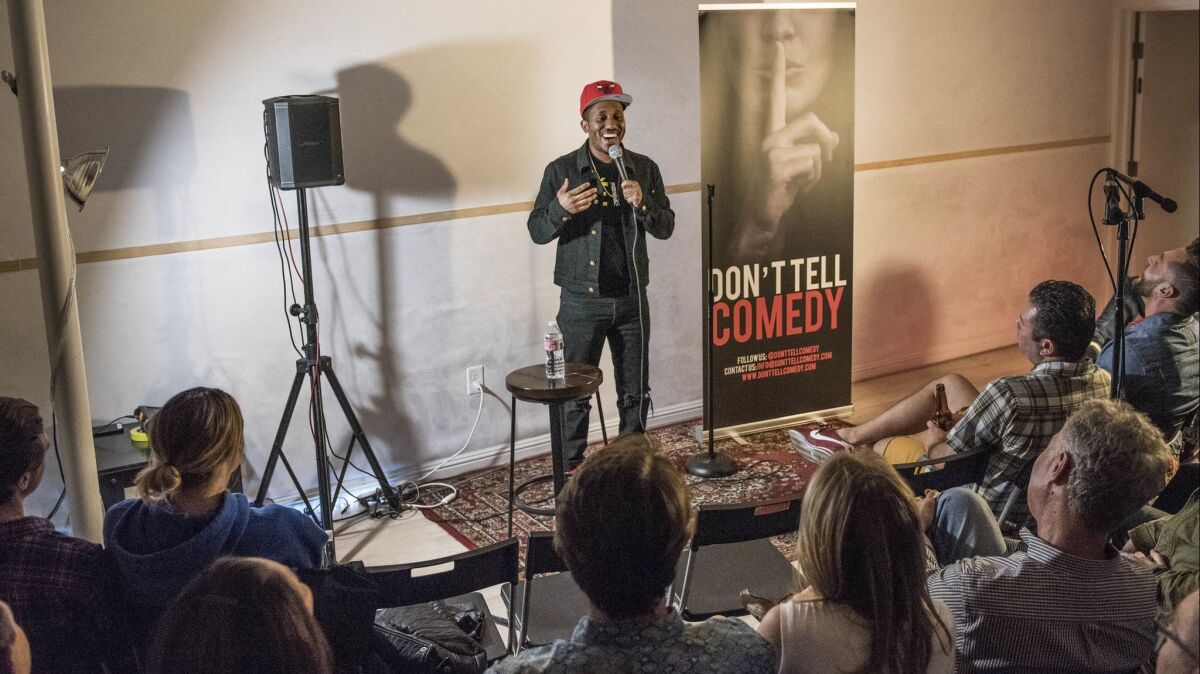 "Saturday Night Live" cast member Chris Redd is not so sure about the tiny room in which he's performing stand-up comedy. This is not a comedy club. It's a recording studio on Sunset Boulevard, down the street from Hollywood High School and next door to a Rodeway Inn.
An audience of only about 25 sits on IKEA folding chairs, staring at Redd. Those in the front row are maybe 3 feet from him; those in the back row aren't much farther. This is a BYOB show, and the beer-to-coffee ratio is about 50-50. A guy in the second row munches pistachios; a couple a few seats away noshes on something garlicky. The scent is unmistakable.
"This is almost too intimate to roast people," Redd says, feigning disappointment. "Because I can feel how you react to me."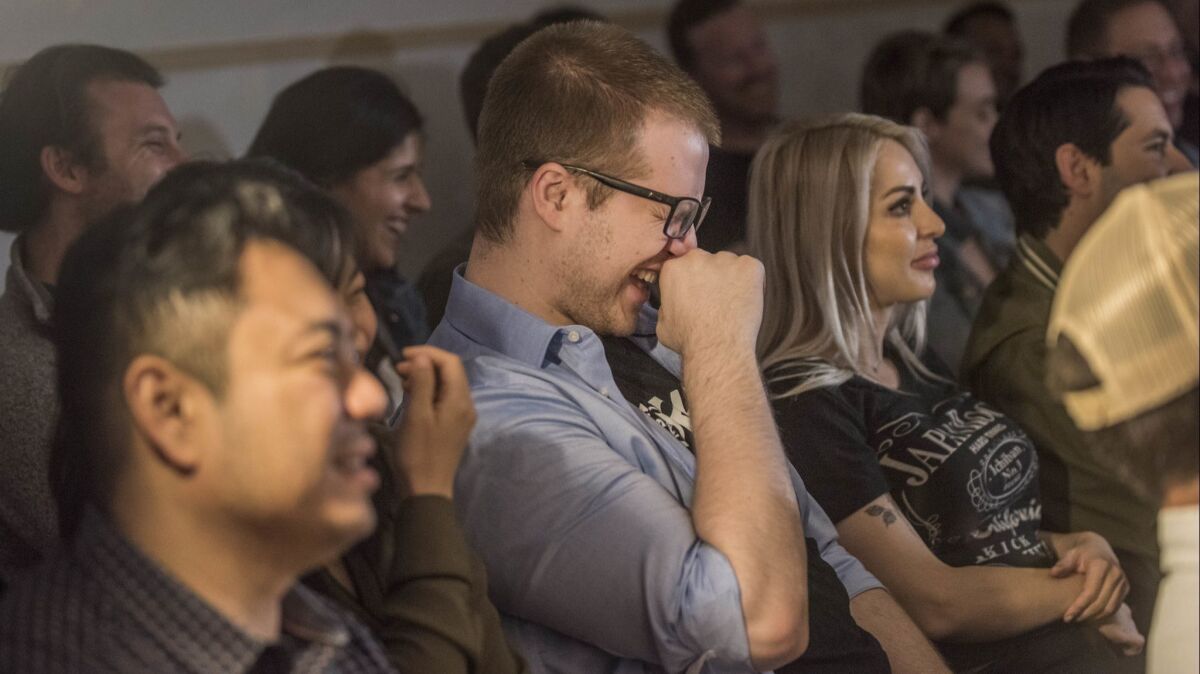 Roasting audience members, a common tactic of comics transitioning from bit to bit, is indeed more challenging when the guy you just insulted can stand up and punch you in the face.
Such are the perils and the joys of Don't Tell Comedy, a series that launched three years ago in Los Angeles with a focus on shows in unlikely places with unannounced comedians. Buy tickets online and you don't find out where you're going until noon the day of the show. The location might be a rooftop, a warehouse, a rock-climbing gym or a river boat.
Once you're there, you'll see comedians who you may or may not know. Ali Wong has worked with the group, as have Tom Segura, Iliza Shlesinger, Ian Edwards, David Koechner, Theo Von and Nikki Glaser. Bigger names are peppered in with up-and-coming talent and veritable unknowns. Part of the goal is introducing comedy lovers to the stars of tomorrow.
"Twenty years from now, people will say, 'Oh, I saw them in a yoga studio at Don't Tell Comedy,'" says Don't Tell founder Kyle Kazanjian-Amory.
Running in more than 40 U.S. cities (and growing), Don't Tell seeks to improve the showgoing experience for comedians and audience members alike by cutting out the costly barriers to entry, including steep cover charges, pricey two-drink minimums and fan-recruitment tactics that often alienate rather than entice potential audience members.
Kazanjian-Amory knows how hard it is to work in comedy because he is also a stand-up comedian, although he has paused that to run Don't Tell full time. The first few years he was doing comedy in the greater L.A. area, he got paid only once: for a gig in Palmdale.
"I had to drive and I had to bring the equipment," he says, shaking his head while his business partner, fellow comedian Alex Weber, laughs.
Our focus is making comedy more accessible, more affordable and more exciting.
— Kyle Kazanjian-Amory, founder, Don't Tell Comedy
"That's probably why they paid you," Weber says, adding that Don't Tell pays its comedians on a scale comparable to that of most paying clubs (usually not more than $50).
How it works: Fans sign up via an email list. Seats are coveted, so wait lists are common. On this particular night, the wait list has 30 people. Tickets cost $15.
Kazanjian-Amory says he can fit 50 chairs in his Prius, so he lugs these from place to place. He and Weber stay to fold up chairs after the show.
The DIY nature of Don't Tell is part of its charm. The secret nature of the shows, the anticipation of who might show up, the unfamiliar environments and the party atmosphere that BYOB tends to launch lend an air of unpredictability to the proceedings.
"They're always sold out," says comedian Shapel Lacey, who performed a few slots before Redd. "The vibe is so different from an actual comedy show."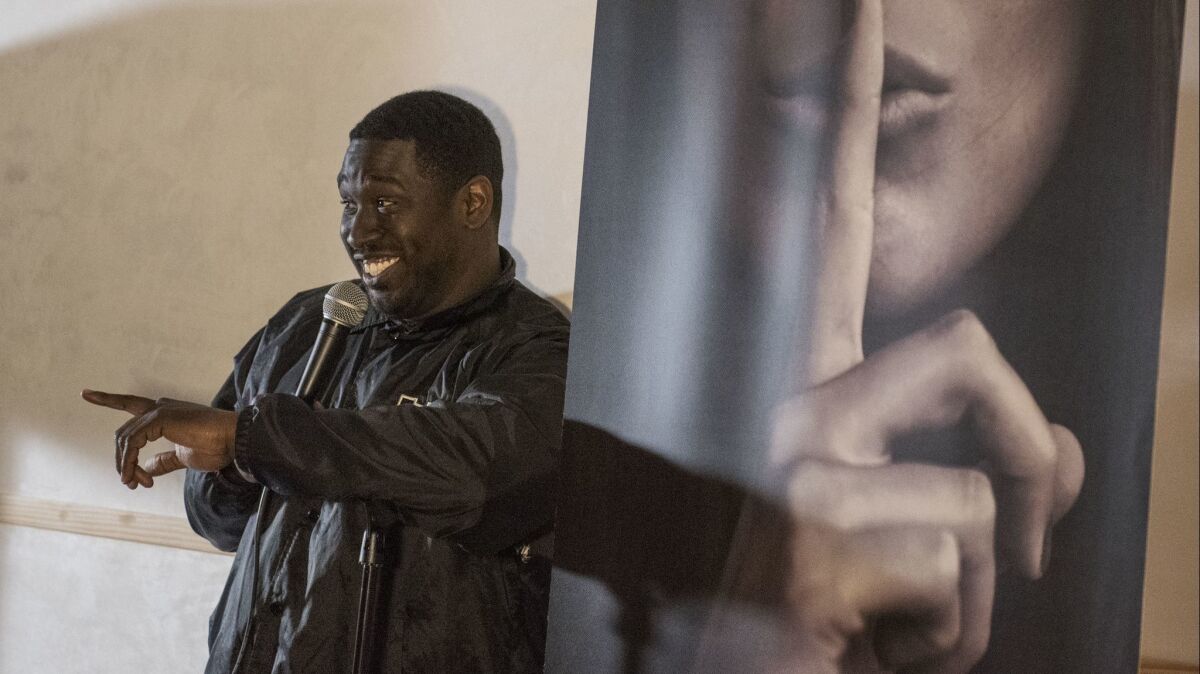 THE CAYTON: Kids review the new children's museum in Santa Monica »
Lacey is a regular. He's worked Don't Tell shows in Phoenix, San Diego and Santa Barbara. Whenever Kazanjian-Amory calls, he's in.
Community building — of audiences and of comics — is at the heart of Don't Tell's appeal. Those hosting in various sister cities are often comedians looking to build on their local scene in novel ways.
Kazanjian-Amory founded Don't Tell 2½ years ago. He and Weber hosted their first show in a friend's backyard, just to see if it would work. That first year, they put on 35 shows. In the second year, the number grew to 350. This year, they are on track to do 1,000.
Don't Tell hosted its first festival in June in Boston. It was called Boston Takeover and it consisted of eight shows at eight locations over four days. Comedians from L.A. and New York flew in as surprise guests.
"Our focus is making comedy more accessible, more affordable and more exciting," says Kazanjian-Amory. "We're big on giving back to the comedy community."
Don't Tell is also big on giving back to the audience. Sometimes a bit too much. Thomas Dale, the comedian who closed out the recording studio show, isn't as concerned as Redd about the feelings of the guy 3 feet away.
"What's the matter, you need a little water? You getting a little dehydrated? He's a little fragile boy, a little fragile thing," he says to a man in the front row with whom he's relentlessly flirting as part of his flamboyantly gay act.
The man, Chris Nicholas, inches closer to his girlfriend, blushing.
After the show, a laughing Nicholas says he couldn't bring himself to make eye contact with Dale. He was just too close.
SKYROCKETING RENTS: Dance studios are the latest pushed out of L.A. »
Get our L.A. Goes Out newsletter, with the week's best events, to help you explore and experience our city.
You may occasionally receive promotional content from the Los Angeles Times.