Dance studios are the latest pushed out by L.A.'s skyrocketing real estate
For a room full of teenage tap dancers, the studio at Dance Arts Academy was surprisingly quiet. About 40 dancers were sitting on the wooden floor, eagerly taking notes on jazz music structure and the proper etiquette for performing with a live band.
It wasn't long before 15-year-old Colton Hagler put the short lesson to practice, standing in front of the group near a four-piece jazz band in the corner. After counting the band in with his silver tap shoes, Hagler began a fast-paced tap improv to a light and breezy tune.
The tap workshop was a fitting final act for the Mid-Wilshire studio. After 19 years, Dance Arts shut down June 30 after the building was sold and following years of struggling to stay afloat amid real estate development in the area.
Flamenco dancer Carla Luna opened the 10,000-square-foot space in 2000 using savings and loans from family, friends and the Small Business Administration. She dreamed of Dance Arts becoming an inclusive home for multicultural performance including flamenco, West African, tap and Afro-Brazilian dance.
With its five studios, Dance Arts was the site of classes and a ballet school. It was where Beyoncé rehearsed steps for her 2003 debut single, "Crazy in Love." It became a home for independent performers like rising choreographer Micaela Taylor, who could not afford rent elsewhere.
And over the years, Dance Arts remained largely unchanged, its worn carpet and scuffed walls a reminder of its history, even as the Mid-Wilshire block became populated with high-rise apartments, a gourmet grocery store, cafes and bars.
"It's devastating," said Al Naz, a tap dancer and magician who paid to use Dance Arts' smallest studio a few times a week for years.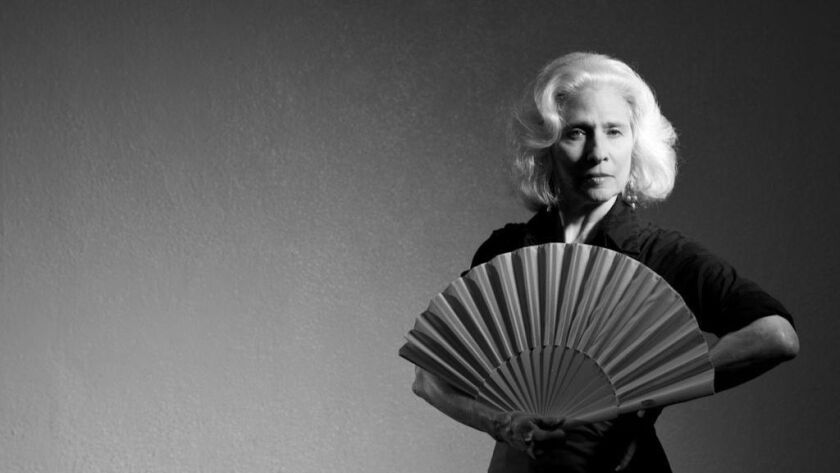 The demise of Dance Arts has become an all-too-familiar story. Several L.A. dance spaces have faced displacement in recent months, posting pleas to save their studios on crowdsourcing sites like GoFundMe as rising rents create the same pressures that have threatened to push artists out of their longtime studios and theater companies off their home stages across the city.
In February, the North Hollywood dance studio established by the late Debbie Reynolds in 1979 was demolished. Although the heart of the studio lives on with new owners and a new name in a temporary space, the original 19,000-square-foot facility — the place where Michael Jackson rehearsed "Thriller" choreography and that attracted stars including Lucille Ball and Madonna — is gone.
Last December, L.A.'s American Contemporary Ballet was forced out of its home on the 32nd floor of a downtown high-rise days before its production of "The Nutcracker Suite." Although the company found a new space, the founders had to launch a campaign to raise $100,000 to make up for a deficit.
It's not just a local issue. Dance spaces across the country are threatened, unable to reconcile the low profitability of the business with rising rents.
In May, Houston's METdance lost its studios in the popular Midtown neighborhood. The company, which paid rent significantly below market rate, suffered cash-flow problems following damage to the studio from Hurricane Harvey.
Dance Arts may not have been a top-tier cultural institution, but it was a place where both young dancers and professionals could hone their craft, where dance-makers could choreograph their latest work or generate income by teaching classes. It was a place where recreational dance lovers could stay connected to the art form.
The space was in an area ripe with cultural attractions, near the Los Angeles County Museum of Art, La Brea Tar Pits, Petersen Automotive Museum and the Academy Museum of Motion Pictures, which opens next year.
Dance spaces across the country are threatened, unable to reconcile the low profitability of the business with rising rents.
Luna — now in her 80s — struggled to make rent ever since Dance Arts' early days, said studio manager Claudia Ainza and longtime assistant May Charters. "Carla mainly worked alone because she couldn't afford to pay anyone," Ainza said. The stress of running the space, combined with a worsening illness, forced Luna to leave Dance Arts' management to a small staff in early 2017.
Although she would not disclose the exact amount, Ainza said Dance Arts' rent was under $20,000 per month and below market rate for the area, which is experiencing a boom with construction for the Metropolitan Transportation Authority's $9-billion project to extend the Purple Line.
Metro construction at the corner of La Brea Avenue and Wilshire Boulevard wiped out Dance Arts' parking lot in 2015, resulting in the loss of more than half its business, Ainza said.
In exchange for lower rent that Ainza described as "close to something that belongs in 1999," the studio had agreed to a 60-day notice-to-vacate policy with the landlord in 2018. About a year ago, the owner sold the building to real estate investment firm Langdon Street Capital.
With a Metro stop coming, buying the property was a "low-hanging-fruit opportunity," said Adam Daneshgar, founder and president of Langdon. Daneshgar, who bought Grand Central Market in 2017, said he plans to remodel the space, adding windows, fixing the roof, improving structural integrity — "bringing it up to the standard that a building of that caliber should be."
In March, Ainza learned that Dance Arts needed to vacate the building by April 30. Danesghar worked with Ainza on the transition, giving Dance Arts and the Marat Daukayev School of Ballet, which sublets studios, more time to close out the spring semester and final tap workshop.
Without Dance Arts, Naz plans to "take it to the streets," using his portable tap dance floor to rehearse outside. But for Marat and Pamela Daukayev, the loss of Dance Arts is not as simple, forcing the couple to find a new home for their ballet school before the fall semester.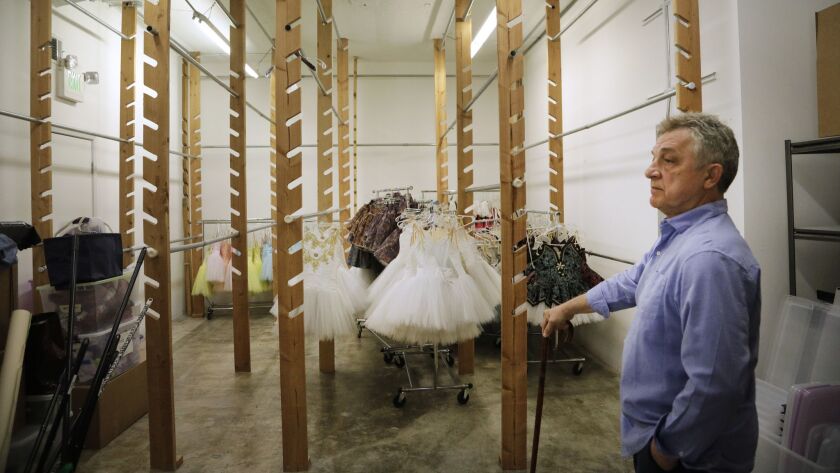 Marat Daukayev, a former principal dancer with Russia's famed Kirov Ballet (now called the Mariinsky Ballet), began teaching at Dance Arts in 2001, growing the youth program from a couple of students to about 300.
This spring Marat taught more than 50 classes a week with his staff of nearly 10 teachers. The couple also rented more than 2,000 square feet downstairs from the previous owner for an additional studio and space to store 6,000 ballet costumes.
Without a home, Pamela and Marat are struggling to find a similar space of 12,000 to 15,000 square feet that's within their budget. In Russia, ballet schools are funded with government support, Marat said.
"In the United States, it's completely different," he said. "We need to look for somebody who loves art and who can help."
According to research from commercial real estate organization Colliers International, the average monthly 2019 rent in the Miracle Mile area is $4.07 per square foot — or close to $48,840 for 12,000 square feet. Across much of West L.A., that rate increases to $4.82, Colliers International said.
That doesn't include the cost of building out suitable dance studios with ballet floors, mirrors and bars, Pamela Daukayev said. The couple launched a GoFundMe page to raise $123,000 and to support their transition into a permanent space. So far they have raised about $58,000.
Renting space at Dance Arts was "one of the reasons we were able to survive," Pamela said. "We only had to pay for what we used, so we could start very small and grow."
It's not surprising that the Daukayevs are struggling to find an affordable space in the area, said Adam Tischer, a senior vice president at Colliers International. "Most tenants don't take up 10,000 square feet," he said, adding that an average Starbucks is less than 1,500 square feet. For a booming neighborhood with a finite amount of rental properties, a ballet school isn't the "most efficient use of space."
"The issue is that we don't own the buildings," said L.A. choreographer and dance curator Deborah Brockus. Ten years ago, she founded Brockus Project studios, a place near downtown where concert dance companies hold rehearsals. Although it's difficult to make ends meet, Brockus says the L.A. dance community benefits from having a communal meeting space.
Last fall, Brockus and other tenants in the building were put on a short-notice leases by their landlord.
"It seems like they're getting ready to find a new buyer for the place," she said. In anticipation of being potentially displaced, Brockus is trying to to band together with other dance artists to buy property.
With the lack of funding for dance in L.A., "it's pretty much our only alternative unless something else happens," she said. "None of us can do it individually."
Charters wished someone could have swept in and saved Dance Arts by buying the building. "That was Carla's goal, but she wasn't able to do it."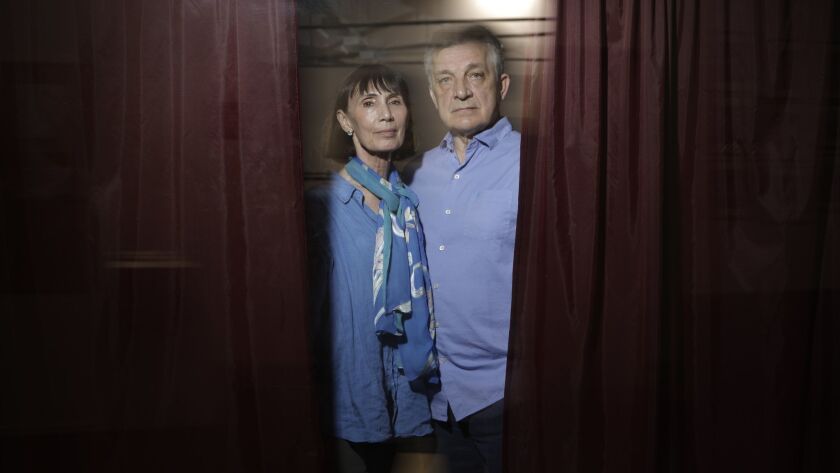 ---
Your essential guide to the arts in L.A.
Get Carolina A. Miranda's weekly newsletter for what's happening, plus openings, critics' picks and more.
You may occasionally receive promotional content from the Los Angeles Times.