'Always Be My Maybe's' Ali Wong and Randall Park are doing it for the Asians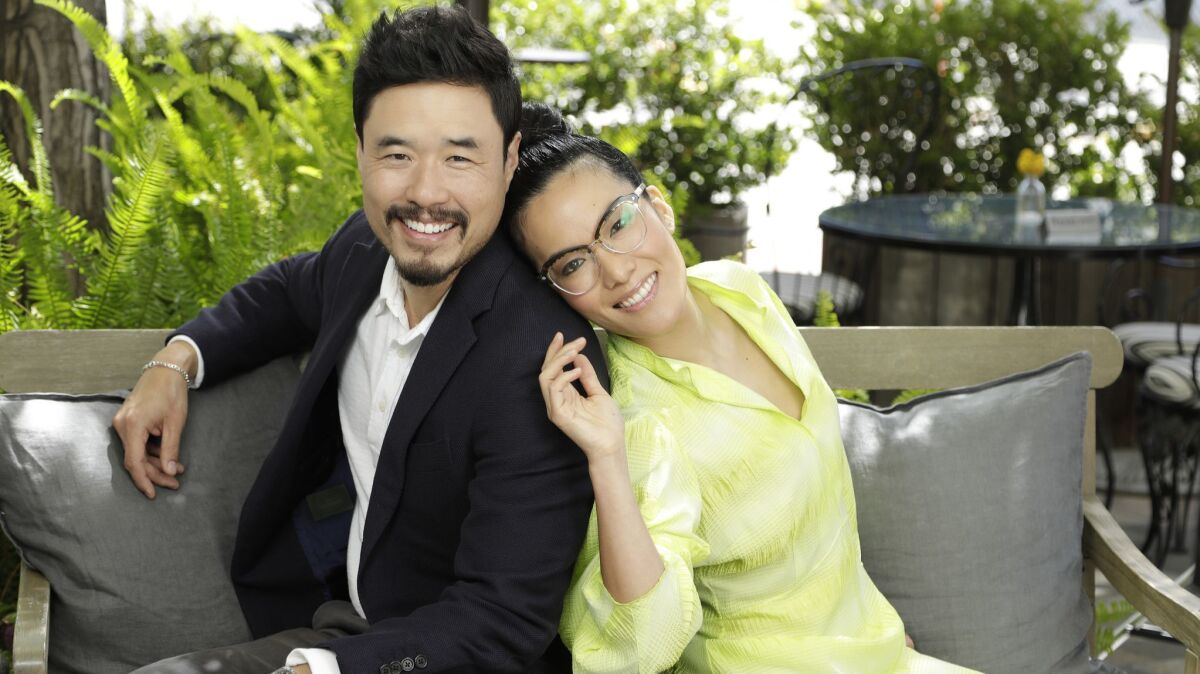 It's a sunny Friday morning in downtown Culver City and Ali Wong is adamantly trying to convince Randall Park, her costar and collaborator in the romantic comedy "Always Be My Maybe," that his life is about to change.
Wong stars in the Netflix original as Sasha Tran, a celebrity chef with a dashing fiance (Daniel Dae Kim) and a picture-perfect future within her grasp. In San Francisco to open a new restaurant, she reconnects with her childhood friend Marcus Kim (Park), an unambitious musician who still lives at home.
Years have passed since the blowout that led to their estrangement as teenagers. The old sparks have not. Marcus raps, Sasha lady-bosses, Keanu Reeves shows up and romance blooms anew in unexpected ways — all helmed by "Fresh Off the Boat" showrunner Nahnatchka Khan in her feature directorial debut.
"Everyone has seen [Park] in all these different things … but it's long overdue for him to be the leading man in a movie," says Wong, 37, a stand-up comic known for her raunchy fearlessness who shot to fame with her 2016 comedy special "Baby Cobra." "And that's the reason I'm most excited about it, frankly."
Park, sitting next to her on the patio of the Culver Hotel, shakes his head. "I tell Ali, it's not! It's just a gut feeling. I think the movie is great and I'm very proud of it, and I think a lot of people are going to like it. But I don't think it's going to drastically change my life."
It is an overabundance of modesty that makes Park, 45, demur whenever Wong champions him to his face — certainly more than most leads of a hit TV show going into their sixth season would.
The West L.A. native, the son of Korean immigrants, has played family patriarch Louis Huang opposite Constance Wu on "Fresh Off the Boat" for the last four years. Over his career he's stolen scenes in everything from "Veep" to "The Interview" (playing Kim Jong Un, a send-up that earned him death threats) and both the Marvel ("Ant-Man and the Wasp") and DC ("Aquaman") cinematic universes.
But a certain type of romantic leading role has eluded him, like most Asian American actors and performers of color in Hollywood, where inclusion numbers remain dismal.
Joining forces with Wong, who worked as a writer on "Fresh Off the Boat," the pair teamed up to write, star in and produce "Always Be My Maybe" after she mentioned in an interview that went viral that the friends were planning on scripting their own "When Harry Met Sally."
Momentum and eager fans were on their side. They wrote the screenplay with pal Michael Golamco, then Netflix and production company Good Universe came on board and the pair tapped their friend Khan to direct. A story of their own, for them to star in.
Last May, Wong's second comedy special, "Hard Knock Wife," hit Netflix — filmed while she was seven months pregnant, as she was in her first special. The same month, production commenced on "Always Be My Maybe" (a play on the Mariah Carey tune), which also marks Wong's biggest film role to date.
What Wong and Park are helping to change with their new Netflix rom-com is the landscape of what entertainment looks like: Who gets to play the lead in movies. Who gets to fall in love in rom-coms.
Or details like the mouthwatering Spam and rice with furikake a young Sasha makes for herself in "Always Be My Maybe," or the emotionally resonant role a perfect pot of kimchi jjigae plays in their lives.
Or the many shout-outs to growing up in the vibrantly diverse Bay Area of the late-'90s and early 2000s, a place and time when any hormonal teen might have turned the dial to 106.1 KMEL to get down to D'Angelo in the back seat of a Toyota Corolla — just a few years after the groundbreaking but short-lived Margaret Cho sitcom "All-American Girl" would have been on the air, set in the home of a Korean American family in San Francisco.
REVIEW: Ali Wong and Randall Park continue rom-com revival with 'Always Be My Maybe' »
"It was important because Ali is half-Vietnamese, half-Chinese, Randall is Korean, and we wanted it to be authentic to everyone's experience," said Khan. "And Randall's experience is different from Ali's experience. We wanted to show, but not make a huge meal out of it, that these things can coexist very peacefully. You don't have to just choose one thing."
Not to mention a strong female gaze. Wong wrote herself three love interests to snog throughout the movie, Park, Kim and Reeves — who had fans gasping when he showed up in the trailer — a move Khan appreciated with a laugh during a recent phone chat: "Isn't she a genius?"
Like their on-screen counterparts Sasha and Marcus, who grow up next door to each other in 1990s San Francisco, the history between the two stars runs deep. In 1995, Park co-founded the Asian American-centered LCC Theatre Company at UCLA. Seven years later, Wong joined the troupe. "I knew of him," she recalls. "Everyone was always saying nobody could hold a candle to Randall Park."
"My recollection is very different," he interjects with an embarrassed chuckle.
When Wong later moved back to the Bay Area to launch her stand-up career, Park would occasionally open for her. He credits the movie gaining traction to the world's love for Wong. "Ali is so important to our culture right now," he says.
Wong turns to him. "I remember in the beginning I couldn't even believe that we were friends," she says. "Well, now I can believe it!"
As writers and producers they give an unprecedented array of Asian American experiences space to exist in "Always Be My Maybe," a film that portrays the rich diversity and texture of Bay Area life within the bounds of a modern-day rom-com.
"That was not our intention when we set out to make the film," says Wong, who grew up in San Francisco. "I think it came out as a happy and welcome outcome … when we were in charge."
A thread connecting the emotional beats of the film and the cross-cultural, intra-Asian cultures that comprise its world is food — how we learn to make it, how we eat it, how we appreciate the legacies it comes from.
To help pull off dishes from different Asian cultures, from the Korean stew Marcus' mom makes to the over-the-top offerings of the exceptionally indulgent, conceptually ridiculous restaurant Maximal where a double date turns disastrous, the producers recruited Los Angeles celebrity chef Niki Nakayama of n/naka, who came on as consultant.
"She had such a keen sensibility about what the dishes should be," says Khan, who was born in Las Vegas to Iranian immigrant parents and grew up in Hawaii. "For me, food is so intertwined with memories. You can not see a family member for years and suddenly a dish, or a smell, or a taste will remind you and you're transported back. That was a key part of the movie, too, because they did have that history together."
"She had the time of her life doing it, I think " says Wong of Nakayama, whom she first saw on an episode of Netflix's "Chef's Table." "It was her way of expressing her sense of humor. All of that was her: that monochrome plate, the headphones, those were her ideas. That's also her roasting other people!"
Although she now lives in the L.A. area and has spent much of her time on tour of late, Wong laments how starkly her hometown has changed, a sentiment echoed by Marcus in the rap verses he spits with his band, Hello Peril — missives about gentrification and Asian American identity, backed by band mates played by Karan Soni, Charlyne Yi, and Bay Area rapper Lyrics Born, who also co-wrote songs with Park and Dan the Automator.
"I won't go on my diatribe about the San Francisco Punch Line closing, but the Punch Line is closing and it's very upsetting to me," says Wong of the oldest comedy club in SF, "so those lyrics mean even more to me now."
They say it was unintentional how they assembled a deep bench of Asian American creatives, many with Bay Area roots, to make the film. She leans forward with a smile. "When you watch the movie again you'll see a Filipino icon doing some background work," Wong teases. "It's DJ Qbert."
"As an Asian American, you're always going to be interested in other Asian Americans from entertainment and the creative fields," Wong says. "So you're always going to pay extra attention and you're always going to wonder: If I meet them, will there be a natural sisterhood or brotherhood? I think some of us bringing those people in kind of came from that curiosity. And we felt it, and it felt good."
They sing the praises of the friends they cast in supporting roles who deserve to break big themselves. Vivian Bang, who plays Marcus' hippie girlfriend Jenny, makes a sweetly eccentric and indelible impression.
Stand-up comedian Michelle Buteau delivers a master class in reaction takes as Sasha's best friend Veronica. "She's about to blow up," gushes Wong. "[Netflix Chief Content Officer] Ted Sarandos told me she's the breakout star of the film."
Veteran actor James Saito defies the common stereotype of an older Asian parent in America as Marcus' laidback dad. "He is so soulful and so perfect for the part, and he's had this illustrious career where he's worked so consistently," says Park, "and not enough people know that."
"Talk about being long overdue – it's long overdue for Daniel Dae Kim to be a lead in a movie," adds Wong. "You look at that guy and you're like, are you kidding me? You're that handsome? Someone needs to put a gun in his hand and put him in a tuxedo, running in snow, through a casino, making out with some bombshell in a slit dress."
And there's Reeves, who filmed his cameo while still in production on "John Wick: Chapter 3 — Parabellum."
Writing a secretive part with him specifically in mind, they sent Reeves the script. It turned out he was a huge fan of Wong's "Baby Cobra" special. He came to film his scenes at the Fairmont Hotel in San Francisco ready to improvise. "He got what we were going for and he was down," says Park. "And I still can't believe it."
"That's what's cool when you populate a movie with those characters," says Wong. "Then you're not the Asian Person; you're the insecure person, the artist, the [jerk]. You get to be somebody."
Park nods. "You get to be human."
Talking about those human foibles and of Marcus' struggle to aim higher than his hometown gets Park thinking.
"When Sasha says to Marcus, 'You have all this talent but you act like you don't care about it, and that's just you being scared' — I wonder if that's the case with me," Park admits. "I like the idea of just being cool with where I'm at, but part of me wonders if it's a fear-based thing."
Luckily, he's got Wong in his corner. After all, the moment the trailer debuted, so did his status as a leading man. "All these people have been commenting about how he's such a stud muffin, which we all knew, and he was like, 'Why are people responding like that?' Because you are, fool!" Wong admonishes Park. "He's a beautiful-ass man!"
Khan echoed the sentiment from her corner of the Randall Park Appreciation Society. "We were like, 'You are a sexy leading man. You are a snack out here on these streets. People are going to come for you!'" she recalls telling Park. "But that's not in his comfort zone, and he's never done that before. He'd say, 'Do you want to paint some abs on me?'"
To Golamco, who was born in the Philippines and grew up in the Bay Area, there's a traceable line from centering Asian American romantic leads to shifting societal perceptions. The more casually specific the experiences lived on screen, the more authentic they feel. "And you lose touch with your humanity once you think those little details are unimportant."
"For the audience to be able to put themselves in the shoes of someone who is Asian American or a person of color or anyone who up until now has not been the lead in a movie, to identify with that … it opens up the possibilities for our place in America," he says.
Time will tell if "Always Be My Maybe" is a tide-turner that cracks the door open a little wider for more inclusive and diverse stories, adding to the movement kick-started by last year's Warner Bros. hit "Crazy Rich Asians."
It certainly marks a turning point in the careers of its principals. In February Khan signed a splashy new deal with Universal TV, leaving her 20th Century Fox home as "Fresh Off the Boat" heads into its sixth season.
Golamco is celebrating both the release of "Always Be My Maybe" and the news that he'll be writing the big screen "Akira" movie for Warner Bros. with Taika Waititi.
Park returns to "Fresh Off the Boat" at the end of the summer, and plans to continue producing and writing. "I think this experience will prove very pivotal for me in terms of the place I want to take my career to. But it will never be like this. It was our first time doing all of this and it will never be the same, but I'd like to keep chasing after it."
Wong isn't necessarily planning on buckling down on a film career, either. She's still on tour through summer 2020. "This was such a magical experience that the next film that I do has to be just right."
"I'm good with where I'm at, and I really don't think my life's going to change from this," Park reiterates. "I'm not being modest."
Wong looks over and laughs. "That's going to be quoted over and over when he blows up."
Get our L.A. Goes Out newsletter, with the week's best events, to help you explore and experience our city.
You may occasionally receive promotional content from the Los Angeles Times.