Review: Five Beethoven piano concertos, five pianists and Lang Lang's new heights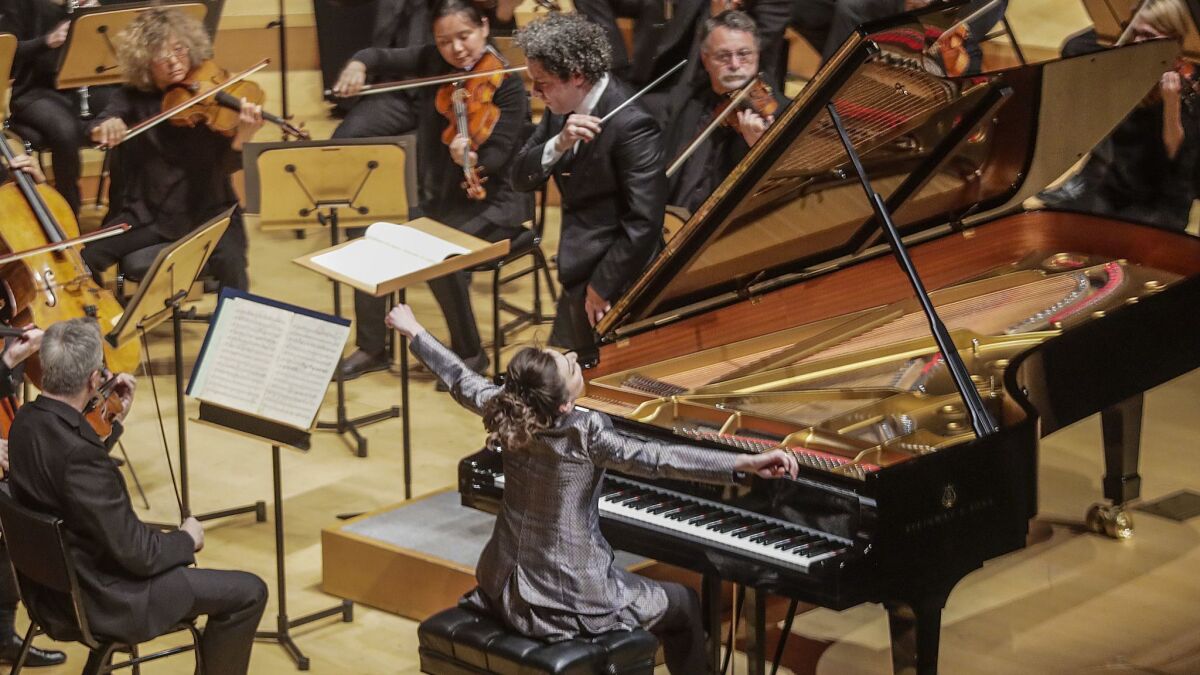 Music Critic
What's a little less Lang Lang and a little less Haydn in the over-the-top final weeks of the Los Angeles Philharmonic's exceedingly generous centennial season?
Gustavo Dudamel had planned a five-concert sequence of Beethoven's five piano concertos — with a different concerto each night performed by virtuoso pianist Lang Lang — paired with Haydn's last four symphonies at Walt Disney Concert Hall. While the L.A. Phil's music director loves nothing better than symphony cycles and intensive composer surveys, what this concerto cycle was really supposed to be was the return of Lang Lang.
After a 2017 arm injury that turned out to be tendinitis, Lang Lang canceled a year's worth of concerts and was expected to return to a regular schedule this season. But the throw-caution-to-the-wind pianist has been unexpectedly cautious. He scaled down his Beethoven concerto challenge to just two performances of the Second, the least heroic of the group.
Four other pianists, none approaching Lang Lang's box-office drawing power, were brought in for the other concertos. The planned Haydn symphony cycle was reduced to one, No. 104, which preceded Lang Lang's Beethoven Second. Then a family emergency kept Dudamel from conducting last Saturday night, a program featuring the First and Third concertos.
In the end, the cycle became less about Beethoven, Haydn or Dudamel, and more of a piano competition between young or youngish contenders: Conrad Tao, Beatrice Rana, Javier Perianes, and Julianna Avdeeva, who played the Beethoven Fourth with a startling pinpoint strength that made her the standout.
Still, this run of concerts was ultimately about Lang Lang. To say he's back doesn't quite sum it up.
He is back in the sense that in March, he finally released a new solo recording, "Piano Book," and it has some of the hallmarks of the old Lang Lang. The photos show him dressed in white with a red umbrella, an exuberant idol to adolescent fans. The set is a commercial collection of the kind of piano bonbons taught to beginning and intermediate students, a recording destined for the playlists of billions of brunches.
On the other hand, the Sunday afternoon performance of Beethoven's Second Piano Concerto was spectacular, and something people may well be talking about for years. This was not so much Lang Lang returning as Lang Lang arriving. The showmanship he's famous for remains but now is put to the profound service — that's right, "profound" and "Lang Lang" no longer make an oxymoron — of making every musical gesture come to life.
ALSO: Lang Lang packs Disney Hall for concert that's part thrill ride, part romantic swoon »
The performance made it seem possible that Lang Lang will one day be worthy of mention in the company of Glenn Gould, Vladimir Horowitz and Martha Argerich, the pantheon of pianists of personality, poetry, originality, astonishing virtuosity and enthralling musicality. Lang Lang's personality, his clownish need for approval, has in the past run interference. The poetry has always been there, but too often submerged. The virtuosity too often felt superficial.
Here, though, everything coalesced. Sure, he gave every bar a special character, the showy attention that purists who always hated him will no doubt bellyache over for as long as social media offers its megaphones.
But joy was the true hallmark of this approach. Lang Lang phrased every small gesture as an observer of the music, not just as a maker. In his monumental first movement cadenza, he went from elegant delicacy to a ferocious, life-affirming intensity. He also played with exquisite sensitivity to the orchestra around him, which allowed Dudamel to turn the performance into a true dialogue.
Beethoven was the winner. In this concerto, which was written first (if published second), a feisty Beethoven muscularized the Mozartean model, a young Turk showing the Viennese public who the next emperor would be, and that is exactly the energy that Lang Lang brought.
After that, Beethoven became increasingly epic and heroic in his concertos, winding up with a real "Emperor," as the gleaming, tuneful, showy Fifth is known. But it was the Fourth where the composer found a deeper meaning, and it was in this that Avdeeva, the 33-year-old Russian pianist, surprisingly excelled.
Surprising because Avdeeva has faltered since winning the 2010 Chopin Competition in Warsaw. Two years later, she made her Southern California debut with a somewhat ordinary rendition of a Chopin concerto with the Warsaw Philharmonic at Soka. Her recordings are nothing special.
But the concentration she brought to the Fourth Thursday night, especially her spiritual intensity in the last movement — aided by Dudamel's drama and grandeur — revealed something special indeed. Even her encore, the Bourrée movement from Bach's English Suite No. 2, had an otherworldly finesse that made it unrecognizable from her unremarkable recent recording of it. Hers may be an even bigger transformation than Lang Lang's.
As for the other concertos, the 24-year-old Tao brought a kind of rock 'n' roll excitement to the First, whereas the 26-year-old Rana was all grace in the ferocious Third. The capable accompaniment here was entrusted to L.A. Phil conducting fellow Stephen Mulligan, who was the last-minute replacement for Dudamel Saturday night.
The "Emperor" went to Perianes. The Spanish pianist — who was born in 1978, making him the oldest of the piano crew — is the kind of emperor everyone actually wants, graciously listening to and blending his voice in with that of the people. Except the people in this case were the orchestra and the voice was authoritarian Beethoven's, thus leading to a reasonable, if relatively bland, "Emperor," followed by an entrancing de Falla encore.
Get our L.A. Goes Out newsletter, with the week's best events, to help you explore and experience our city.
You may occasionally receive promotional content from the Los Angeles Times.