Review: Gustavo Dudamel taps into the power of sound at the Hollywood Bowl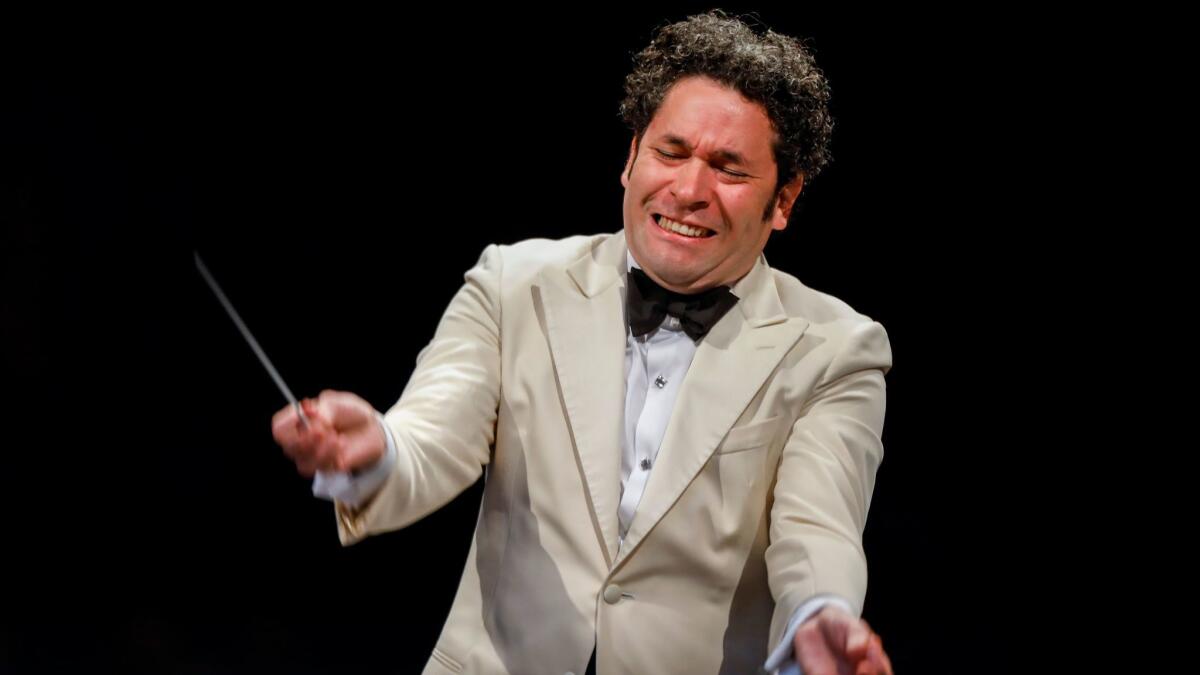 Music Critic
The Hollywood Bowl on Tuesday night may not have been a galaxy far, far away, but Holst's "The Planets" and the premiere of an Icelandic violin concerto did give Gustavo Dudamel some musical and emotional distance from the tensions in his native Venezuela.
The evening also provided a warm welcome from an enthusiastic and large crowd for the Los Angeles Philharmonic's music director, returning to the Bowl after a monthlong absence and a disheartening weekend. Venezuelan President Nicolás Maduro first attacked Dudamel for his nonpartisan, pro-democracy and anti-violence stance. Maduro then took his political pique out on the children, canceling the U.S. tour of the new Venezuelan National Youth Orchestra, one of Dudamel's pet educational projects.
Daníel Bjarnason's Violin Concerto must have provided Dudamel with particular relief. It is a work about sound and the theater of sound and nothing more. Commissioned by the L.A. Phil as part of its Reykjavík Festival in the spring, the concerto wasn't finished in time for Esa-Pekka Salonen to premiere it with Finnish violinist Pekka Kuusisto as soloist in Walt Disney Concert Hall. So, despite the difficulty of tackling a new work at the Bowl, with its limited rehearsal time and its supposed good-time outdoor audience, Dudamel decided to take it on Tuesday with Kuusisto. (Salonen and Kuusisto will perform the concerto with the Philharmonia Orchestra next month in London and on tour in Europe.)
The premiere was probably a wild ride for the performers, given the flamboyance of Bjarnason's violin writing, the technical orchestral challenges and the acoustical obstacles of the Bowl. Bjarnason had originally called the concerto "Scordatura," the Italian musical term for mistuning, but for some reason the composer changed his mind at the last minute (too late for the change to make it into the program book) and just called it Violin Concerto.
Still, it is a concerto all about tuning and what happens to sound when you mess with the acoustical properties of instruments. That could be magical in a space like Disney Hall, but I think it may have also been even more riveting in the artificial acoustic of the Bowl, where the loss of subtlety was replaced by the dazzle of amplification on a very large playing field.
While the concerto was hardly made for video, that too proved a major plus, with a soloist as charismatic as Kuusisto. I can't imagine a more musically dangerous way to start a Bowl concert than with a solo playing a drone on its lowest string unnervingly tuned down a fourth. And eerily whistling along at the same time.
But seeing Kuusisto doing that on the video screens and hearing the effect boldly over loudspeakers was just weird enough to get people's attention. The concerto was then interesting enough to keep that attention. Picnics could wait.
Kuusisto is an extravagant player whose party tricks include singing along as he plays and messing around with Finnish folk music with hipster irreverence. He does that in the concerto, and he also does a lot more, including sawing away on the strings in such a way that it got the whole Bowl vibrating. The orchestra follows his lead, whether going in for glitz or glassy stillness. The two big cadenzas are amazing showpieces. The center section between them is a static orchestral color field. The final section could be a rowdy rite at an Icelandic hot springs.
Following the concerto with "The Planets" proved crafty programming. Inspired by astrology, Holst's seven movements (Pluto hadn't yet been discovered a century ago when the score was composed) may not actually be about the distant starry sky, but we nevertheless can't help but hear it that way. John Williams is partly responsible, what with his "Star Wars" music being strongly influenced by Holst.
The L.A. Phil and the recording industry have also had a hand in this. Long loved as an orchestral spectacular, "The Planets" has been a favored work for trying out the latest hi-fi technology. A groundbreaking prime example of that was a recording the L.A. Phil made on a sound stage at the Samuel Goldwyn Studios in 1957 with Leopold Stokowski. If you can find a high-res download of it (which isn't easy — the only site I've been able to find is highdeftapetransfers.com), the colors dazzle more than ever on modern equipment, comparable to say the effect of a restoration of a Technicolor film projected in the highest resolution.
Dudamel similarly went for a Stokowski-style saturated color. He played for effect. Read into it what you like that Dudamel was particularly ferocious with the opening "Mars, the Bringer of War," giving the underlying ta-ta-ta-tah-tah-ta-ta-tah rhythmic pattern a distinctively Latin quality (something I had never heard before, but it fit). Dudamel followed that with an especially somber "Venus, the Bringer of Peace."
This, though, was part of Dudamel's general approach of throwing himself into the performance to finding extravagant character for each planet. "Jupiter" maybe wasn't as jolly as he might have been and "Saturn," standing for old age, was proved one weighty dude, but Dudamel lightened up, with "Mercury" and "Uranus" full of mischief.
Where this performance became one-of-a-kind was with "Neptune, the Mystic." In a marvelous stroke, Holst ends his suite with the surprise hush of offstage women's voices. Here, instead of invisible hush (never a good idea at the Bowl, and particularly not when people are getting ready to make a beeline to the parking lot), the offstage women of the Los Angeles Master Chorale were amplified loudly from side speakers so that they sounded like they were coming from the hills or another universe or simply our imagination.
They sounded, moreover, like they meant mystical business. It was a fabulous effect. As a substitute concert hall, the Bowl is no Disney. But as a venue where the L.A. Phil might start thinking about new ways to use technology, a program like this proved the Bowl need not remain so far, far away from the ensemble's larger mission of reinventing the orchestral wheel.
MORE MUSIC:
Venezuela youth orchestra tour is canceled, pushing Dudamel toward the center of a political storm
Interview with Daníel Bjarnason about his 'beast' of new Icelandic music
Composer John Luther Adams' new campus 'Wind Garden' art installation is heard more than it is seen
Get our L.A. Goes Out newsletter, with the week's best events, to help you explore and experience our city.
You may occasionally receive promotional content from the Los Angeles Times.