L.A. exhibition probes Shakespeare-California connections, including a rare Edwin Booth recording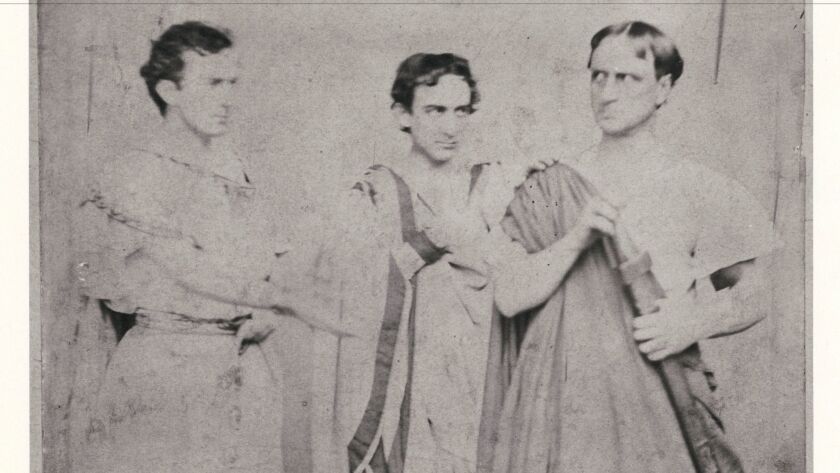 Deep within the belly of the Los Angeles Central Library downtown, a slender, plastic soundstick — a telephone receiver, basically — hangs from a gallery wall. On the other end of the line? The late thespian, Edwin Booth.
When Booth died in 1893, he was considered by many to be the greatest Shakespearean actor of his day. Years before, he had made a three-minute wax cylinder recording (the precursor to vinyl) of a passage from Shakespeare's "Othello" while staying in a Chicago hotel. The recording was made for his daughter, Edwina, in part so she'd have something to remember him by.
Now all of Los Angeles does, too. The one-minute excerpt of his "Othello" recital, on display in the Central Library's Getty Gallery, feels surprisingly intimate and powerful at once. The audio is scratchy, full of pops and crackles, but Booth's lines from Act 1, Scene 3 are pungent with emotion. "Upon this hint I spake," Booth bellows, defending his character's secret marriage to the beautiful Desdemona before her father and the Venetian Senate. "She lov'd me for the dangers I had pass'd, And I lov'd her that she did pity them."
The Booth recording is part of the exhibition "America's Shakespeare: The Bard Goes West," which opened Thursday and is presented by the Library Foundation of Los Angeles in partnerships with the L.A. Public Library and the Folger Shakespeare Library in Washington, D.C., in honor of the 400th anniversary of Shakespeare's death. It's an impressive collection of rare Shakespearean artifacts that connect the playwright to America from 14 institutions, including the Library of Congress, the Folger and the Hollywood Bowl Museum.
More than half the show is specific to California. Program manager Todd Lerew traveled up and down the California coast this year visiting libraries and small museums searching for West Coast connections to the Bard. One photograph, likely from the late 1880s, shows an itinerant theater troupe wagon passing through the town of Sonora. Other objects include a gold miner's worn, personal copy of Shakespeare's works with a handwritten inscription inside describing his 1849 journey across "the plains" of America, and Marlon Brando's arm cuffs from his Mark Antony costume in the 1953 film adaptation of "Julius Caesar."
The Booth recording came from Cal State Northridge. Booth's granddaughter's family ended up settling in Northridge. In 1972 the Edwin Booth Family Collection donated the "Othello" recording and other ephemera to the university.
The exhibit also includes, front and center, a First Folio (1623), the earliest attempt at a complete collection of Shakespeare's plays and without which about a third of his works, such as "The Tempest" and "As You Like It," would have been lost. Its pages are open to the beginning of "Macbeth," Abraham Lincoln's all-time favorite Shakespeare work. Lincoln was a passionate fan of Booth's as well; he saw the actor perform multiple times before Booth's brother, John Wilkes Booth, assassinated the president in 1865.
More than 100 events, across 22 L.A. library branches, are planned in conjunction with the exhibition. They run the Shakespearean gamut, including staged conversations between Shakespeare scholar Ayanna Thompson and theater director Peter Sellars, Elizabethan fencing lessons, and English and Spanish sonnet workshops.
The Booth audio snippet is just a small speck in an exhibition that's broad in scope and deep with cultural context. But it's a compelling one, a fleeting moment of lost history brought back to life.
------------
'America's Shakespeare: The Bard Goes West'
Where: Getty Gallery, L.A. Central Library, 630 W. 5th St., Los Angeles.
When: Through Feb. 26
Information: lfla.org/event/americas-shakespeare/
Follow me on Twitter: @debvankin
George Takei is giving 70 years of his belongings to a museum. Here's a sneak peek
Go to LACMA for John McLaughlin, possibly the most important postwar artist you don't know
Paul Sietsema's first L.A. show of new Conceptual art was worth the 14-year wait
Step inside a digital storm: Andy Warhol's 'Rain Machine' brought back to life after 45 years
---
The complete guide to home viewing
Get Screen Gab for weekly recommendations, analysis, interviews and irreverent discussion of the TV and streaming movies everyone's talking about.
You may occasionally receive promotional content from the Los Angeles Times.