Review: Sensuality, brutality, madness: The drama of Eifman Ballet in 'Red Giselle'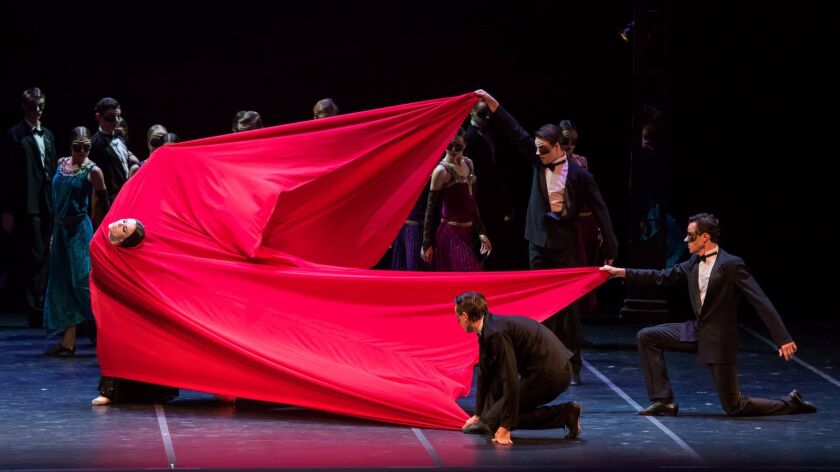 Eifman Ballet, the Russian contemporary ensemble from St. Petersburg on a 40th anniversary U.S. tour, rolled into Segerstrom Center for the Arts on Friday night with an updated version of the choreographer's seminal work, "Red Giselle."
Performed in Costa Mesa through Sunday, this tribute to the legendary Russian ballerina Olga Spessivtseva (1895-1991) is not company founder and artistic director Boris Eifman's first ballet, but it is certainly the template for his dance-theater melodramas. Premiered in 1997, it was the work that Los Angeles saw first, in 2000, at Universal Amphitheatre.
I am not among Eifman's devoted followers, who are numerous and loyal enough that Segerstrom and the Music Center of Los Angeles keep bringing the company back. (Eifman dances "Tchaikovsky" at the latter starting Friday.) But I think that "Red Giselle" is his most coherent work, his best piece to experience.
The scenic designs by Vyacheslav Okunev were updated two years ago, and the costumes look sumptuous with strikingly vivid colors such as the gold tutus in the imperial ballet scene. At the same time, Eifman made some incisive choreographic revisions. He has emphasized the story's political commentary, adding scenes in which the black-garbed revolutionary guards assassinate dissenters. A second-act fantasy, in which the Commissar's disembodied head floated against a black veil, has been excised; although that was a nifty moment, it is not missed. Eifman's favorite themes, his obsessions with the fragile artist, mental instability and the cruel, cruel world — often depicted as a mob — fit neatly and logically into "Red Giselle."
The Spessivtseva figure in the two-act ballet is known simply as Ballerina, and Maria Abashova portrayed her Friday night. An Eifman veteran, Abashova knows when and how to emphasize the roster of required characterizations, from reticence to joy, terror to charm. The company's leads are cast as much for their looks as their talent, and Abashova is an exotic beauty, her face glowing with artistic intelligence. Though she does a great job acting frail, make no mistake, she is composed of tough stuff — witness the multiple overhead lifts, human acrobatic towers that for their success depend as much on her one-armed hold as they do on her partners' strength.
She has three partners throughout the ballet, and each dancer fulfilled the expectations of his archetype. Sergey Volobuev's hooded brow made him the Commissar of choice, and he projected a fearsome brutality and an exciting sensuality. Oleg Markov was admirable as the Teacher who recognizes the Ballerina's gifts and gives his life for ideals of classical dance. Finally, Oleg Gabyshev is Ballerina's last and likable Partner; he is unable to save her from madness.
SIGN UP for the free Essential Arts & Culture newsletter »
Though they are exceptional performers, the principals lacked the fire that the corps de ballet brought to the evening. In the first act, corps dancers become the vigorously stomping proletariat, and then in the second act they transform into swishing Parisian flappers. I wager they are allowed more freedom to be spontaneous.
The recorded score includes selections from Tchaikovsky, Schnittke, Bizet and, in the final scene of "Red Giselle," the closing music from Adolphe Adam's ballet "Giselle." Eifman wrings real poignancy here as Abashova disappears into a maze of ballet studio mirrors, where, he implies, Spessivtseva's soul resides forever.
♦ ♦ ♦ ♦ ♦ ♦ ♦ ♦ ♦ ♦
Eifman Ballet
"Red Giselle": 1 p.m. Sunday, Segerstrom Center for the Arts, 600 Town Center Drive, Costa Mesa. $29-$149 (subject to change). (714) 556-2787, www.scfta.org.
"Tchaikovsky": 7:30 p.m. June 23-24, 2:30 p.m. June 25, Dorothy Chandler Pavilion, 135 N. Grand Ave., Los Angeles. $34-$138 (subject to change). (213) 972-0711, www.musiccenter.org
Support coverage of the arts. Share this article.
ALSO
American Contemporary Ballet digs back to 1890 with revelatory results
With 'Thumbprint,' witness an opera's power to empower women
Ben Vereen, Ronald Reagan and the travesty of blackface, potently remembered
---
Inside the business of entertainment
The Wide Shot brings you news, analysis and insights on everything from streaming wars to production — and what it all means for the future.
You may occasionally receive promotional content from the Los Angeles Times.