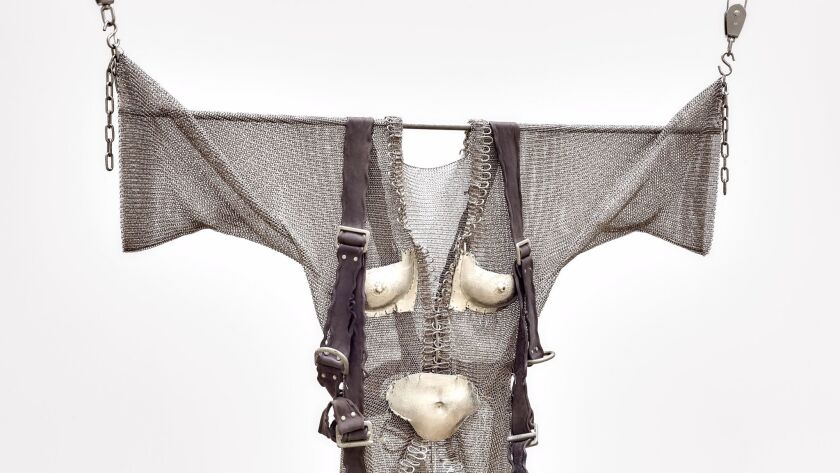 Elaine Cameron-Weir's recent sculptures exert a grip on the psyche that is formidable and mildly unsettling. The work leaves a mark — a tender bruise, it's tempting to say — on the memory and the senses, and not just sight, but also smell and touch.
Her show at Hannah Hoffman Gallery contains just six pieces, but each is so dense with disjunctive clues and irreconcilable textures that the work feels impossible to fully absorb. In "For Make Admit This Voide," the New York-based artist pairs what looks to be an ancient mariner's costume with what looks like a tool out of the torturous imagination of Hannibal Lecter. A black rubber jacket with rusted metal clasps hangs from an unnecessarily thick hook on the wall. A forbidding contraption (described as "orthopedic jaw fixation hardware"), studded with chunks of amber, encircles the neck. To what era does this scenario belong? To what narrative?
SIGN UP for the free Essential Arts & Culture newsletter »
Throughout, Cameron-Weir oscillates between the cold, functional surfaces of industrial-strength equipment (hooks, chains, pulleys) and the suppleness of surrogate skins (parachute silk, fine chain mail). Leather appears often, usually in the form of straps and harnesses, but in Cameron-Weir's hands it reads not as tough hide but as smoke solidified, a luscious gray, edged with whimsical tendrils.
In one piece here, a small brown pool of warmed labdanum resin rests within a zippered cloth clamshell, emitting faint, earthy wafts. In another, a chain-mail tunic is strung up with cable and pulleys and held aloft by sandbag counterweights. Cameron-Weir is a writer as well, and in the text that doubles as an artist's statement and press release, she sheds the conventions of grammar and punctuation, redacts some words and invents others, like "gridbondages."
Although the prose can feel excessive and solipsistic, the sculptures are tight, urgent. They knit together the scientific, erotic and esoteric, juxtaposing materials that promise protection and others that induce fear. The limitations of physical constraint come into play in the work, but so does the freedom of poetic flight. Cameron-Weir turns the gallery into a laboratory, where she traffics in the dark beauty of the indeterminate.
Hannah Hoffman Gallery, 1010 N. Highland Ave., L.A. Through Nov. 4; closed Sundays and Mondays. (323) 450-9106, www.hannahhoffmangallery.com
Support coverage of the arts. Share this article.
MORE ART:
Interview with Ai Weiwei and the global refugee crisis
Anna Maria Maiolino and art about being a woman
Why David Geffen is pledging $150 million for LACMA's new building
---