Q&A: Allen Leech and Ginnifer Goodwin on shifting to the stage, and the mind-bend that is 'Constellations'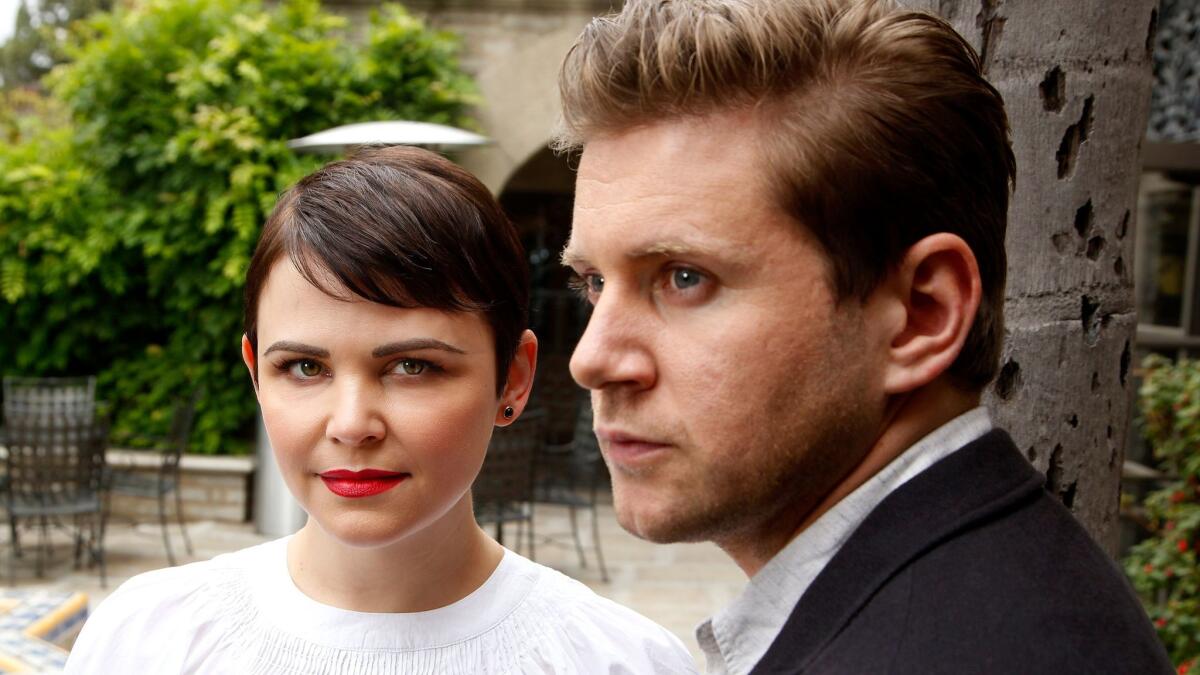 He was in "Downton Abbey," she was on "Big Love" and "Once Upon a Time." Now Ginnifer Goodwin and Allen Leech have taken to the stage, starring in English playwright Nick Payne's "Constellations" at the Geffen Playhouse.
The acclaimed play follows Marianne, a physicist, and Roland, a beekeeper, as they meet by chance, fall in love, break up and run into each other again — or do they? — across multiple realities. Payne's nonlinear narrative is inspired by quantum physics: the idea that the past, present and future all exist simultaneously, and that there are infinite versions of the universe in which infinite versions of us live out the consequences of the choices we didn't make.
Goodwin, who is from Tennessee, and Leech, who is Irish, hadn't met before "Constellations," although they admired one another's work from afar, but as they spoke to The Times during preview week for this edited conversation, they seemed like lifelong friends. It made sense for two people who live through infinite eternities together onstage each night.
I hope it won't bore you both to tell the story, again, of how you came to do this play?
Goodwin: I'm so pleasantly surprised that there's been so much press coverage. It indicates to me that people want to come see the show, that they're interested in the theater. And theater has existed for thousands of years. Since like, what? 534 BC? 536?
Leech: That was the first time I saw it, anyway.
Goodwin: The first actor, Thespis, stepped out of the chorus in, what was it? 534 BC?
Leech: You actually are asking me like I was there. I don't have my phone on me!
Goodwin: Anyway, the fact that shows still sell out and that there is still this kind of excitement about going to see them. In this age of using a device for everything, there's no substitute for live theater.
Leech: It's that shared experience that you can't get anywhere else.
Goodwin: And you can't get away with nearly as much on the stage.
Leech: You can't get away with anything! I've tried to leave loads of times!
So how did you both get involved in "Constellations"?
Leech: You'd better go first because you're the instigator. You're the stalker.
Goodwin: I was obsessing over a homesickness for theater. I have not done a professional show for 10 years. I love participating in television series, I love making movies, but theater is home for probably most of us in this business. I was talking to a theater director friend of mine, and he said, "Well, what are you looking to do? Like, what plays do you love? What characters are you itching to play? Are there kinds of stories you want to tell?"
And I realized, when I had zero answers, that I was completely out of touch with the contemporary theater scene. So I called the Drama Book Shop in New York and ordered boxes of plays and had them shipped up to Vancouver, Canada, where I was filming "Once Upon a Time," so I could just pleasure-read plays and educate myself a bit. And I fell very hard for "Constellations." And then I happened to be reading the L.A. Times — while in Canada! — and saw the announcement that they were putting it up at the Geffen. I immediately, in the middle of the night, called my manager and was like, "How can I get in a room with the director, Giovanna Sardelli?" They found out when she was going to be in Los Angeles, and I happened to have the day off, and I flew here and acted like I just happened to be in L.A., because I didn't want to seem desperate, but I was super desperate to play Marianne. And that was a long time ago! And they called me at Thanksgiving and offered me the role, and I screamed and cried, and there were a lot of expletives in front of my children.
And then I was sitting with Jennifer Morrison in a trailer on the set of "Once Upon a Time," and we were talking about these truly incredible actors that I knew the Geffen was considering, and Jen said, "What about my friend Allen Leech, who has just moved to L.A.?" I freaked out equally over that idea, and you can pick it up from here …
Leech: So Jen was saying what people were going on to once they finished "Once Upon a Time," and she said that Ginny was doing "Constellations." I said, "I saw it in the West End, it's unbelievable." And she said, "Well actually they haven't cast the lead guy, the costar." I was, "What!" I already was a massive fan of Ginny's work, so the opportunity to do a play with her, and the fact that it's such an intense piece and you have to put a lot of trust in your costar …
Goodwin: Which now he's questioning ...
Leech: Not at all! There is a weird alignment of stars, that this happened. It was bashert, which is Yiddish for meant to be.
Goodwin. I love that I'm Jewish and I didn't know that, and an Irish Catholic did.
What do you think it is about "Constellations" that exerted such a pull on you?
Goodwin: I'm usually drawn to characters I have a knee-jerk reaction to in terms of understanding them and what makes them tick. And this was the opposite. I find playing this character to be the challenge of my life. I come away with more questions than answers, and that terrifies me, and I was looking to be terrified.
What aspects of the role make it so challenging?
Leech: Don't say me!
Goodwin: In that case I don't have an answer. No, a lot of people have asked me if I had to do any research into quantum mechanics. Because not only is that Marianne's specialty, but the play is told in string theory; the very structure of the play is quantum mechanics. But that happens to be a passion of mine. I love reading about that branch of science. I did have to learn a lot about — not to blow anything. Allen, how do I not blow it? I had to learn a lot about …
Leech: The challenges the character faces?
Goodwin: Thank you! I had to learn a lot about the challenges the character faces, by not only doing a lot of reading and watching every documentary I could find but getting firsthand accounts from certain friends, and also sitting down with a specialist in the field.
And then trying to create a character whose story is not linear is almost impossible. Usually we can dissect our characters down to — well, it's kind of a cliche, especially coming out of theater school, but what we do is decide what this character had for breakfast. But every single one of our scenes involves these same exact characters, but they must have different histories leading up to these moments that are inevitably varying, and therefore you really can't find consistencies in the back story. I'm telling people I feel like a gymnast.
Leech: We're emotional gymnasts.
Goodwin: Not just emotional. I mean, I'm sweaty and disgusting by the end of every run.
Leech: I'm sweaty and disgusting at the start.
The two of you and your director, Giovanna, have been alone with this play for weeks now. Does a live audience change the dynamic?
Goodwin: We found at a point in rehearsals that we desperately needed an audience. We couldn't go any further without being given something by our 500 extra cast members.
Leech: It's a fairly intimate play. There is a voyeuristic element, and we needed to feel that energy, that we weren't alone. And also Gio [the director] just stopped laughing at us.
Goodwin: She found us unfunny at a point.
Leech: And we are egocentric humans, actors. So we're like, "I'm hilarious here!" But an audience can be unpredictable. At the first preview, when I said, "I'm a beekeeper," someone went, "Bah!" For the next four minutes onstage I'm like, "Now, is he a beekeeper? And he just finds it hilarious that I'm a beekeeper? Does he know a hilarious beekeeper? Does he not believe that it's a profession?" And then you have to deal with the audience laughing at that reaction. It's a funny thing. But we're getting there. We have the luxury of nine previews, which is unheard of in the U.K.
Goodwin: Is it really? This has been a cushy job anyway.
Leech: Shh! We're trying to pretend we've been working really hard.
Ginny: Well, we have been working hard. Ask my 3-year-old how hard Mommy's been working.
That's right, you're a working mom, with two little boys. They're 3 and what?
Three and 1. And it's hard. There's no, like, balance. I'm mostly at the theater. I guess things will equalize in that inevitably there will be massive periods of time where I don't work at all. This is such a bonkers career choice that I've made. But I have the best husband [Josh Dallas, who plays Prince Charming to her Snow White in "Once Upon a Time"] on the planet.
Leech: I'm jealous. I want Josh.
Allen, do you have kids?
Leech: No, not that I'm aware of. Stop! Don't print that. I'd like to someday. I come from four so I'd like to have four. And if I could emulate what Ginny and Josh have done. They're great parents.
This play reminded me that the tiniest choices can have huge repercussions. Is that a scary thought as a parent, Ginny?
Goodwin: I find it comforting. Somebody asked me the other day if I believe in those theories, specifically string theory. I was like, "You don't have to believe in it. It's scientifically sound. It's a thing that exists in the world." I find it to be a great relief, because, on a very shallow level, for instance, I told Giovanna when I was stalking her, "I'm totally cool if I don't get this role, because in some universe I totally do." But on a serious level, anyone you've ever lost is always here. Because there's no such thing as a past, present and future, because everything is always happening at once.
Leech: I'm going to be confident forever, because somewhere, in some universe, I've just given the greatest Hamlet. Fantastic! You're welcome.
Do you believe in the multiverse too, Allen?
Leech: I do, actually.
Goodwin: But you don't have to believe it or not believe it. It exists. It is. There's no believing. It's not like Santa Claus. And in some universe there's a Santa Claus, by the way.
Leech: What are you talking about? That's this one.
♦ ♦ ♦ ♦ ♦ ♦ ♦ ♦ ♦ ♦
'Constellations'
Where: Geffen Playhouse, 10886 Le Conte Ave., L.A.
When: 8 p.m. Tuesdays-Fridays, 3 and 8 p.m. Saturdays, 2 and 7 p.m. Sundays; ends July 16
Tickets: $32-$90 (subject to change)
Information: (310) 208-5454 or www.geffenplayhouse.org
Running time: 1 hour, 20 minutes
SIGN UP for the free Essential Arts & Culture newsletter »
Support coverage of the arts. Share this article.
ALSO
The review: 'Constellations,' the astrophysicist's rom-com
'Conduct of Life,' an American classic more often taught than staged
Embracing the chill in Jimmy Buffett's 'Escape to Margaritaville'
Get our L.A. Goes Out newsletter, with the week's best events, to help you explore and experience our city.
You may occasionally receive promotional content from the Los Angeles Times.