Review: Philip Glass takes David Bowie and the symphony to new places with a stupendous 'Lodger'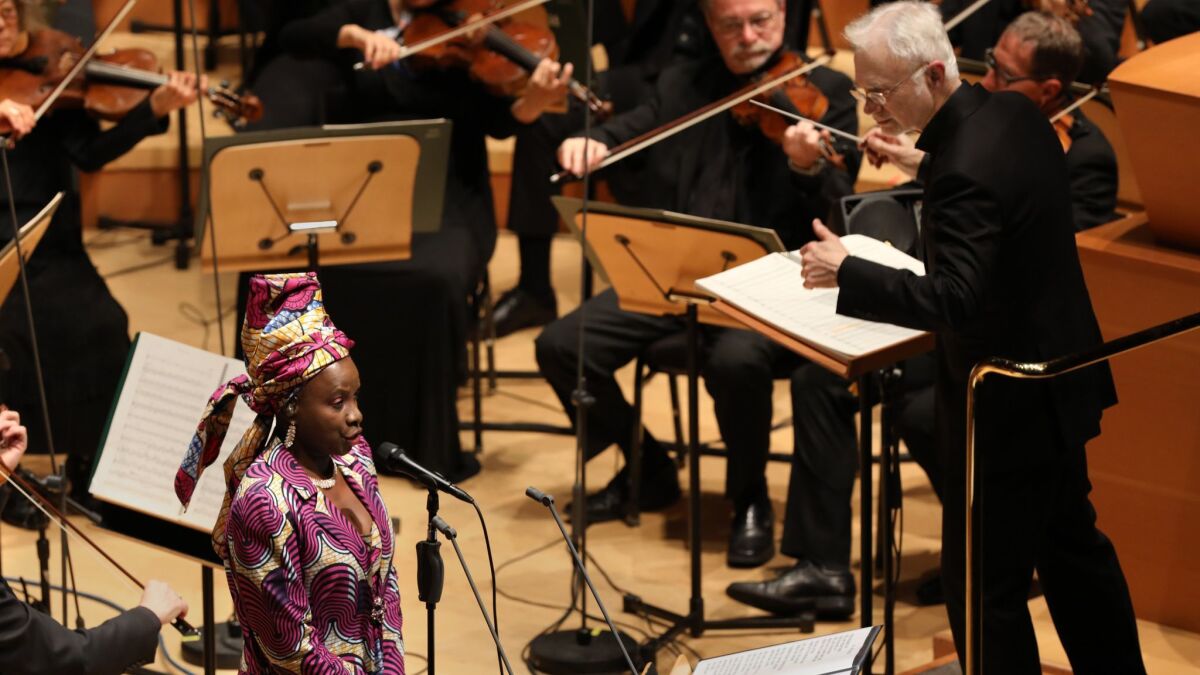 Music Critic
The first movement of Philip Glass' Symphony No. 12 ("Lodger"), which was given its world premiere by the Los Angeles Philharmonic on Thursday night at Walt Disney Concert Hall, is aptly titled "Fantastic Voyage." The score has attracted considerable attention for going where no symphony has gone before.
No significant symphonist has taken the lyrics of seven songs from a rock album (in this case David Bowie's "Lodger"), written new music to them and called that a symphony. No symphony of stature has been written to showcase a pop or world music star, here Angèlique Kidjo, the vocalist in the seven symphonic songs. Glass has over and over reimagined opera, film music, concerto and ballet, to say nothing of symphony. He's seemingly done it again.
"Lodger" is a stupendous symphony. It adds a new dimension to symphonic thought by expansively expounding on the essence of the lyrics written by Bowie and Brian Eno that the music of the 1979 album only hints at.
Glass has his devices, and you've probably heard the swirling arpeggios, the moody harmonic progressions and the propulsive rhythmic patterns a million times. Yet Glass' genius is in applying them in ways that suit an astonishing host of occasions, accommodating collaborators from pretty much all cultures and walks of artistic life.
"Lodger" completes Glass' trilogy of Bowie-inspired symphonies. The First Symphony, from 1992, is a kind of symphonic metamorphosis on three songs from the 1977 album "Low." The Fourth Symphony contains arrangements of six songs from 1977's "Heroes" intended as a dance score.
That "Lodger" uses a vocalist, the album's lyrics and its original music, is nothing new for Glass. His Sixth Symphony is a three-movement setting of Allen Ginsberg's poem "Plutonian Ode," for soprano and orchestra. Other composers have set well-known pop lyrics to their own music, most notably (if less successfully) John Corigliano's song cycle "Mr. Tambourine Man," which uses Bob Dylan poems. A few years ago, Glass wrote "Three Yoruba Songs" for Kidjo, using texts in her native Swahili.
Yet in a terrific performance conducted by John Adams, "Lodger" had no problem living up to its promise of being something fresh and original, no matter how recognizably Glassian it is from its first seconds to it last, 45 minutes later. It opened with percussion beating out triplets. Winds and strings swirled.
The orchestra was very large and includes a substantial enough part for organ (played by James McVinnie) that it could be called an organ symphony were it not so many other things. Early bass lines, enhanced by the tummy-tingling low organ pipes, offered satisfying foundation.
Once Kidjo entered, however, we were automatically someplace unexpected. Her earthy deep voice and African accented English took Bowie on as much of a fantastic voyage as Glass' music did. The perspective was not only symphonic but also culturally modulated, and there was, with Kidjo's strong personality, a woman's perspective.
Glass and Kidjo strip Bowie of his own charismatic arsenal of effects. His exoticism is no longer so exotic. Kidjo sees through him.
In "Repetition," Bowie decries domestic violence as a kind of warning to his mates. Kidjo, on the other hand, inhabits it. She becomes the world Bowie describes in "African Night Flight," which is radically slowed down, and hipster-ish lyrics that unflappably whiz by in Bowie's rendition open up into whole new vistas and then start to swing.
Where Bowie is cool, Kidjo is hot, and every so often it's the other way around. She is an observer of him, illuminating on every level.
Glass' orchestral writing demonstrates a magnificent complexity of intersecting polyrhythms and ever-changing textures. Often the orchestra acts like a huge, overwhelming sonic ocean, whirring with a mind of its own. His repertory of devices to take the breath away is not yet exhausted.
Adams began the program with the L.A. premiere of Gabriella Smith's also impressively oceanic "Tumblebird Contrails." Written in 2014 when the Berkeley composer, whom Adams mentored in her teens, was in her 20s, the score has the character of John Adams meets John Luther Adams, the environmentalist composer of "Become Ocean." The pace is glacial, but the winds and brass have agreeable harmonic motion of the other Adams.
Smith's secret weapon, though, is her unique development of raspy string techniques that mimic the awesome sound of the ocean in ways I have never heard before. You can't quite believe your ears. For a young composer, this is a stupendous achievement.
In the midst of the new, Adams' "Grand Pianola Music," with Marc-André Hamelin and Orli Shaham as piano soloists, was the one blast from the past. But what had seemed regressive in 1982, Adams' supposed cheapening of pure minimalism with show-off, almost Liberace-esque effects doesn't sound so regressive anymore.
In an expansive performance, Adams brought out a range of colors from the L.A. Phil winds. His soloists focused on rhythmic intricacies. Climaxes were operatic. Once booed, "Grand Pianola Music" is now wildly cheered. With perspective, the regressive has become progressive. You can hear in its theatricality the birth of an opera composer.
♦ ♦ ♦ ♦ ♦ ♦ ♦ ♦ ♦ ♦
Adams & Glass
When: 8 p.m. Friday, 2 p.m. Sunday
Where: Walt Disney Concert Hall, 111 S. Grand Ave., L.A.
Tickets: $49-$174
Info: laphil.com
---
Get our daily Entertainment newsletter
Get the day's top stories on Hollywood, film, television, music, arts, culture and more.
You may occasionally receive promotional content from the Los Angeles Times.